LIBYE – ANATOMIE D'UN CRIME UNE ENQUÊTE CHOC SUR LE SYSTÈME ORGANISÉ DE VIOLS INFLIGÉS AUX HOMMES DANS LE CONFLIT LIBYEN / LIBYA – ANATOMY OF A CRIME A SHOCK INVESTIGATION INTO THE ORGANIZED SYSTEM OF RAPE INFLICTED ON MEN IN THE LIBYAN CONFLICT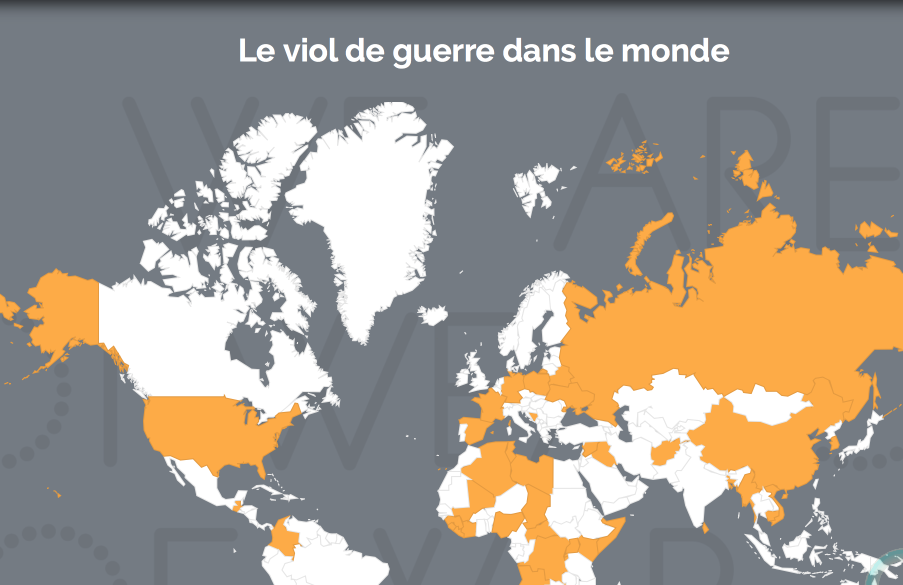 Faire de l'élimination des violences sexuelles dans les conflits un enjeu public mondial
Conduire, organiser et soutenir des campagnes publiques de sensibilisation sur la notion des violences sexuelles dans les conflits et leurs conséquences.
Informer sur ce processus pensé, organisé, planifié, qui constitue un crime de guerre, voire un crime contre l'humanité, notamment lorsque ces violences sexuelles s'inscrivent dans un processus génocidaire.
Lutter contre l'impunité, première cause de propagation des viols
Un procès pour viol comme crime de guerre nécessite une expertise particulière et un cheminement d'enquête spécifique. Il est nécessaire de former et surtout d'accompagner d'une part des magistrats, des procureurs et des policiers locaux dans leurs pratiques et d'autre part les victimes (et leurs familles) dans leurs démarches.
WWoW souhaite donc focaliser ses priorités, sur :
Le partage d'expertise judiciaire et l'accompagnement des procès
L'accompagnement des institutions locales pour adopter les cadres et pratiques juridiques nécessaires et adaptés
La représentation et l'accompagnement des victimes et de leur famille dans ce processus.
Redonner un pouvoir d'action aux victimes
Le trauma lié aux violences sexuelles est profond et singulier, avec des conséquences multiples qu'il est nécessaire de comprendre pour les enrayer. Suite à l'exclusion familiale et à la stigmatisation sociale, les victimes se retrouvent sans ressources. WWoW désire aider les victimes à reconstruire leur vie et à reprendre leur place dans la société.
Il est primordial de ne plus réduire ces personnes à leur statut de victime mais au contraire de mettre en avant leur combativité, énergie et capacités.
Make the elimination of sexual violence in conflict a global public issue
Conduct, organize and support public awareness campaigns on the concept of sexual violence in conflicts and its consequences.
Inform about this thoughtful, organized, planned process, which constitutes a war crime, or even a crime against humanity, especially when such sexual violence is part of a genocidal process.
Combating impunity, the main cause of the spread of rape
A trial for rape as a war crime requires special expertise and a specific investigative process. It is necessary to train and above all to support local magistrates, prosecutors and police officers in their practices on the one hand and victims (and their families) on the other hand in their efforts.
WWoW therefore wishes to focus its priorities on:
Sharing judicial expertise and support for trials
Supporting local institutions to adopt the necessary and appropriate legal frameworks and practices
Representation and support of victims and their families in this process.
Empowering victims
The trauma associated with sexual violence is profound and singular, with multiple consequences that need to be understood to stop it. As a result of family exclusion and social stigmatization, victims are left without resources. WWoW wants to help victims rebuild their lives and regain their place in society.
It is essential to no longer reduce these people to their status as victims but on the contrary to highlight their combativeness, energy and capacities.