LIBYE — ANATOMIE D'UN CRIME UNE ENQUÊTE CHOC SUR LE SYSTÈME ORGANISÉ DE VIOLS INFLIGÉS AUX HOMMES DANS LE CONFLIT LIBYEN / LIBYA — ANATOMY OF A CRIME A SHOCK INVESTIGATION INTO THE ORGANIZED SYSTEM OF RAPE INFLICTED ON MEN IN THE LIBYAN CONFLICT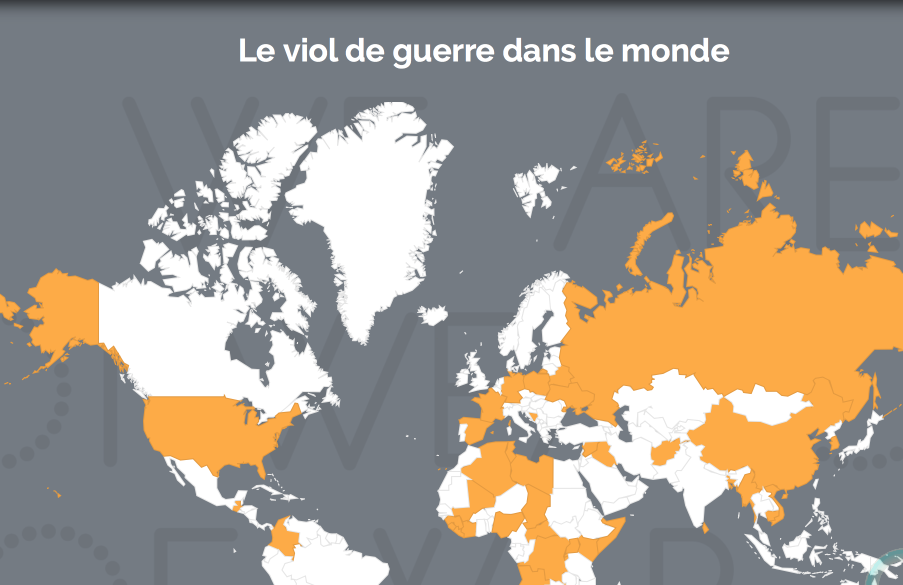 Faire de l'élimination des violences sexuelles dans les conflits un enjeu public mondial
Con­duire, organ­is­er et soutenir des cam­pagnes publiques de sen­si­bil­i­sa­tion sur la notion des vio­lences sex­uelles dans les con­flits et leurs conséquences.
Informer sur ce proces­sus pen­sé, organ­isé, plan­i­fié, qui con­stitue un crime de guerre, voire un crime con­tre l'humanité, notam­ment lorsque ces vio­lences sex­uelles s'inscrivent dans un proces­sus génocidaire.
Lutter contre l'impunité, première cause de propagation des viols
Un procès pour viol comme crime de guerre néces­site une exper­tise par­ti­c­ulière et un chem­ine­ment d'enquête spé­ci­fique. Il est néces­saire de for­mer et surtout d'accompagner d'une part des mag­is­trats, des pro­cureurs et des policiers locaux dans leurs pra­tiques et d'autre part les vic­times (et leurs familles) dans leurs démarches.
WWoW souhaite donc focalis­er ses pri­or­ités, sur :
Le partage d'expertise judi­ci­aire et l'accompagnement des procès
L'accompagnement des insti­tu­tions locales pour adopter les cadres et pra­tiques juridiques néces­saires et adaptés
La représen­ta­tion et l'accompagnement des vic­times et de leur famille dans ce processus.
Redonner un pouvoir d'action aux victimes
Le trau­ma lié aux vio­lences sex­uelles est pro­fond et sin­guli­er, avec des con­séquences mul­ti­ples qu'il est néces­saire de com­pren­dre pour les enray­er. Suite à l'exclusion famil­iale et à la stig­ma­ti­sa­tion sociale, les vic­times se retrou­vent sans ressources. WWoW désire aider les vic­times à recon­stru­ire leur vie et à repren­dre leur place dans la société.
Il est pri­mor­dial de ne plus réduire ces per­son­nes à leur statut de vic­time mais au con­traire de met­tre en avant leur com­bat­iv­ité, énergie et capacités.
Make the elim­i­na­tion of sex­u­al vio­lence in con­flict a glob­al pub­lic issue
Con­duct, orga­nize and sup­port pub­lic aware­ness cam­paigns on the con­cept of sex­u­al vio­lence in con­flicts and its consequences.
Inform about this thought­ful, orga­nized, planned process, which con­sti­tutes a war crime, or even a crime against human­i­ty, espe­cial­ly when such sex­u­al vio­lence is part of a geno­ci­dal process.
Com­bat­ing impuni­ty, the main cause of the spread of rape
A tri­al for rape as a war crime requires spe­cial exper­tise and a spe­cif­ic inves­tiga­tive process. It is nec­es­sary to train and above all to sup­port local mag­is­trates, pros­e­cu­tors and police offi­cers in their prac­tices on the one hand and vic­tims (and their fam­i­lies) on the oth­er hand in their efforts.
WWoW there­fore wish­es to focus its pri­or­i­ties on:
Shar­ing judi­cial exper­tise and sup­port for trials
Sup­port­ing local insti­tu­tions to adopt the nec­es­sary and appro­pri­ate legal frame­works and practices
Rep­re­sen­ta­tion and sup­port of vic­tims and their fam­i­lies in this process.
Empow­er­ing victims
The trau­ma asso­ci­at­ed with sex­u­al vio­lence is pro­found and sin­gu­lar, with mul­ti­ple con­se­quences that need to be under­stood to stop it. As a result of fam­i­ly exclu­sion and social stigma­ti­za­tion, vic­tims are left with­out resources. WWoW wants to help vic­tims rebuild their lives and regain their place in society.
It is essen­tial to no longer reduce these peo­ple to their sta­tus as vic­tims but on the con­trary to high­light their com­bat­ive­ness, ener­gy and capacities.