Report Meter 2020. La pedofilia, nuova forma di schiavitù per il traffico di minori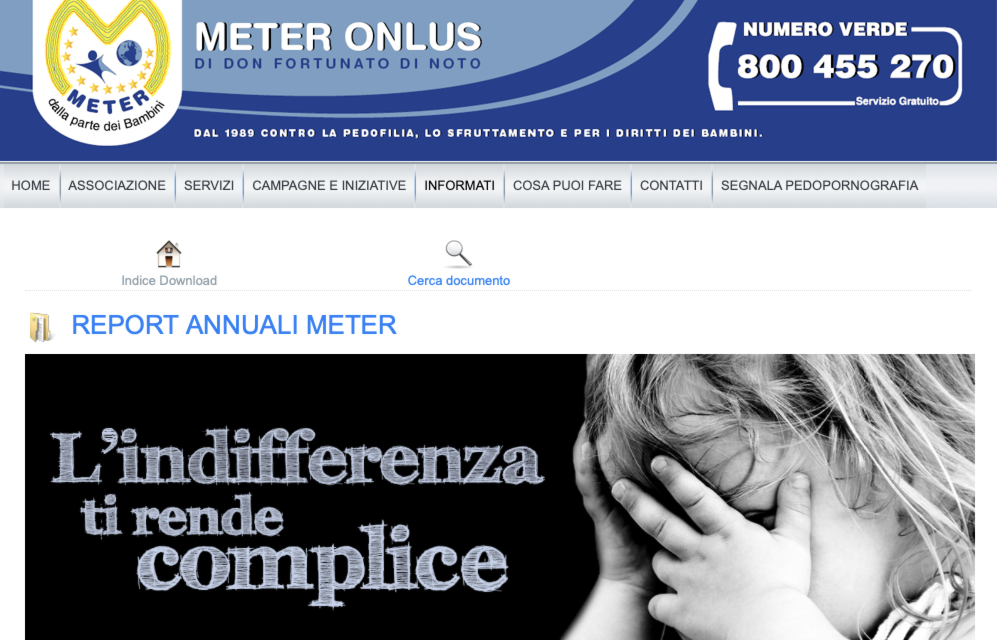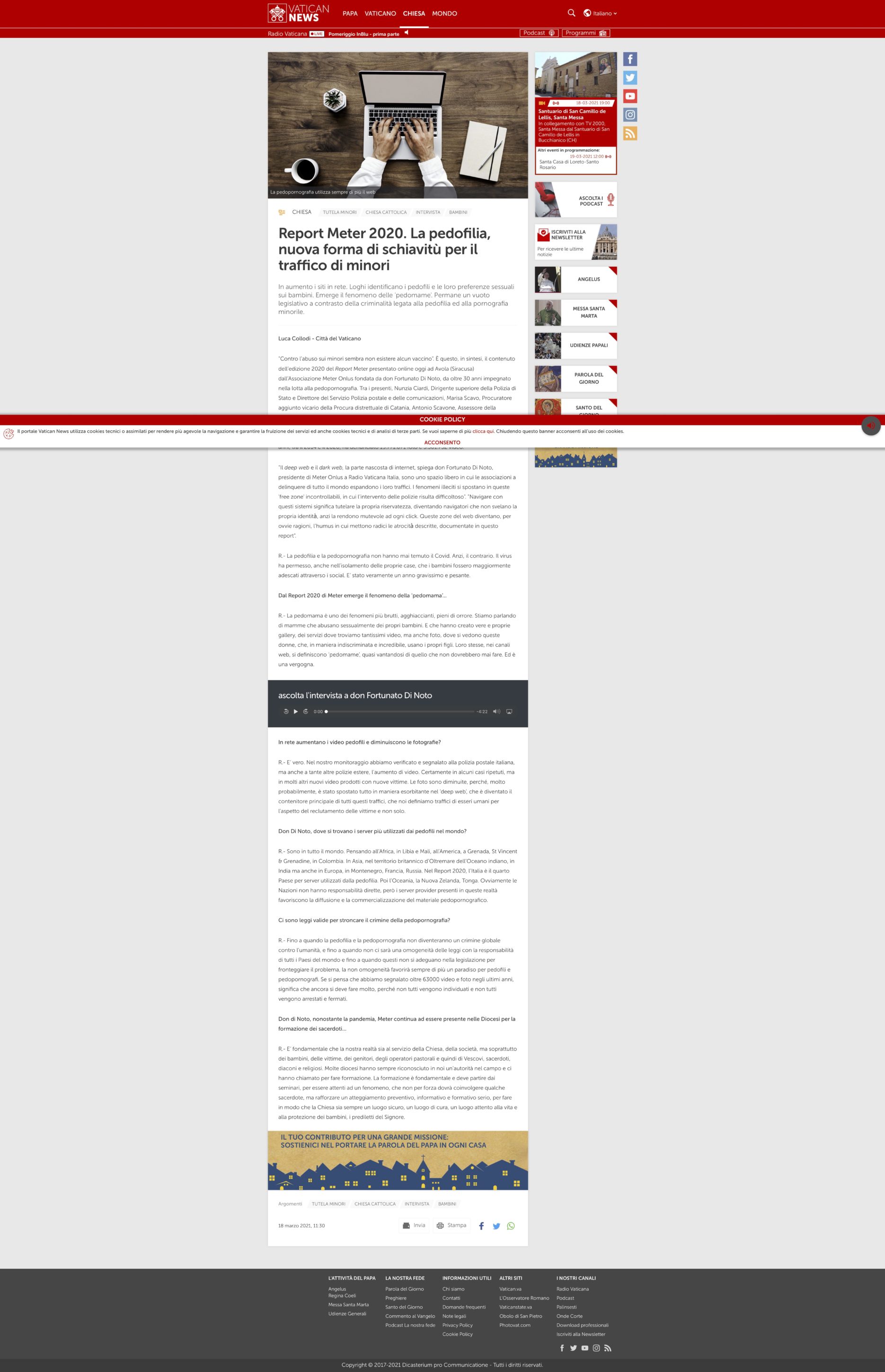 Meter 2020 Report. Pedophil­ia, a new form of slav­ery for child trafficking
Sites on the net on the rise. Logos iden­ti­fy pedophiles and their sex­u­al pref­er­ences for chil­dren. The phe­nom­e­non of 'pae­dophiles' emerges. A leg­isla­tive vac­u­um remains in place to con­trast the crim­i­nal­i­ty linked to pedophil­ia and child pornog­ra­phy.
Luca Col­lo­di — Vat­i­can City
"Against child abuse there seems to be no vac­cine". This is, in sum­ma­ry, the con­tent of the 2020 edi­tion of the Meter Report pre­sent­ed online today in Avola (Syra­cuse) by the Asso­ci­a­tion Meter Onlus found­ed by Don For­tu­na­to Di Noto, for over 30 years engaged in the fight against child pornog­ra­phy. Among those present, Nun­zia Cia­r­di, Senior Direc­tor of the State Police and Direc­tor of the Postal and Com­mu­ni­ca­tions Police Ser­vice, Marisa Sca­vo, Deputy Assis­tant Pros­e­cu­tor of the Dis­trict Attor­ney's Office of Cata­nia, Anto­nio Scav­one, Coun­cil­lor for Fam­i­ly, Social Poli­cies and Labour of the Sici­ly Region. Since 2002, Meter has sent 63,688 pro­to­cols to the police all over the world, con­tain­ing 189,252 report­ed links. It has fol­lowed up, thanks to the Lis­ten­ing Cen­ter, 1,832 cas­es and received 30,280 tele­phone requests. In six years, between 2014 and 2020, it report­ed 19,771,071 pho­tos and 5,501,752 videos.
"The deep web and the dark web, the hid­den part of the inter­net," explains Don For­tu­na­to Di Noto, pres­i­dent of Meter Onlus to Vat­i­can Radio Italy, "are a free space in which crim­i­nal asso­ci­a­tions around the world expand their traf­fick­ing. Illic­it phe­nom­e­na move into these uncon­trol­lable 'free zones', in which the inter­ven­tion of the police is dif­fi­cult". "Surf­ing with these sys­tems means to pro­tect one's pri­va­cy, becom­ing surfers who do not reveal their iden­ti­ty, on the con­trary they make it change­able at every click. These areas of the web become, for obvi­ous rea­sons, the humus in which the described atroc­i­ties, doc­u­ment­ed in this report, take root".
A.- Pedophil­ia and child pornog­ra­phy have nev­er feared the Covid. On the con­trary. The virus has allowed, even in the iso­la­tion of their homes, that chil­dren were more lured through social net­works. It was tru­ly a very seri­ous and heavy year.
From the 2020 Report of Meter emerges the phe­nom­e­non of 'pedo­ma­ma'…
A.- Pedo­ma­ma is one of the ugli­est phe­nom­e­na, chill­ing, full of hor­ror. We are talk­ing about moth­ers who sex­u­al­ly abuse their chil­dren. And they have cre­at­ed real gal­leries, ser­vices where we find many videos, but also pho­tos, where you can see these women, who, in an indis­crim­i­nate and incred­i­ble way, use their chil­dren. They them­selves, in web chan­nels, call them­selves 'pedo­mame', almost brag­ging about what they should nev­er do. And it is a shame.
lis­ten to the inter­view to don For­tu­na­to Di Noto
Are pedophile videos on the web increas­ing and pho­tographs decreas­ing?
A.- It is true. In our mon­i­tor­ing we have ver­i­fied and report­ed to the Ital­ian postal police, but also to many oth­er for­eign police, the increase of videos. Cer­tain­ly in some cas­es repeat­ed, but in many oth­ers new videos pro­duced with new vic­tims. The pho­tos have decreased, because, most like­ly, every­thing has been moved in an exor­bi­tant way in the 'deep web', which has become the main con­tain­er of all these traf­fics, that we define traf­fick­ing of human beings for the aspect of recruit­ment of vic­tims and not only.
Don Di Noto, where are the servers most used by pedophiles in the world?
A. They are all over the world. Think­ing about Africa, in Libya and Mali, Amer­i­ca, in Grena­da, St Vin­cent & Grenadines, in Colom­bia. In Asia, in the British Over­seas Ter­ri­to­ry of the Indi­an Ocean, in India, but also in Europe, in Mon­tene­gro, France, Rus­sia. In the 2020 Report, Italy is the fourth coun­try for servers used by pedophil­ia. Then Ocea­nia, New Zealand, Ton­ga. Obvi­ous­ly the nations have no direct respon­si­bil­i­ty, but the serv­er provider present in these real­i­ties favor the spread and mar­ket­ing of child pornog­ra­phy.
Are there valid laws to crush the crime of child pornog­ra­phy?
A.- Until the pedophil­ia and child pornog­ra­phy will not become a glob­al crime against human­i­ty, and until there will be a homo­gene­ity of laws with the respon­si­bil­i­ty of all the coun­tries of the world and until they adapt their leg­is­la­tion to face the prob­lem, the non-homo­gene­ity will favor more and more a par­adise for pedophiles and child pornog­ra­phers. If you think that we have report­ed more than 63000 videos and pho­tos in recent years, it means that we still have to do a lot, because not all are iden­ti­fied and not all are arrest­ed and stopped.
Don di Noto, despite the pan­dem­ic, Meter con­tin­ues to be present in the dio­ce­ses for the for­ma­tion of priests…
A.- It is fun­da­men­tal that our real­i­ty is at the ser­vice of the Church, of soci­ety, but above all of chil­dren, vic­tims, par­ents, pas­toral work­ers and there­fore of Bish­ops, priests, dea­cons and reli­gious. Many dio­ce­ses have always rec­og­nized in us an author­i­ty in the field and have called us to do train­ing. For­ma­tion is fun­da­men­tal and must begin in sem­i­nar­ies, in order to be atten­tive to a phe­nom­e­non that does not nec­es­sar­i­ly have to involve a few priests, but to rein­force a seri­ous pre­ven­tive, infor­ma­tive and for­ma­tive atti­tude, to ensure that the Church is always a safe place, a place of care, a place atten­tive to the life and pro­tec­tion of chil­dren, the Lord's favorites.