AN EXAMPLE FOR CATHOLIC ENTITIES TO FOLLOW: ERADICATE MODERN SLAVERY IN ALL ITS FORMS FROM THE OPERATIONS AND SUPPLY CHAINS OF CATHOLIC ENTITIES IN AUSTRALIA — PROPOSAL OF ACTION PLAN – MODERN SLAVERY RISK MANAGEMENT PROGRAM FROM 2021 TO 30 JUNE 2023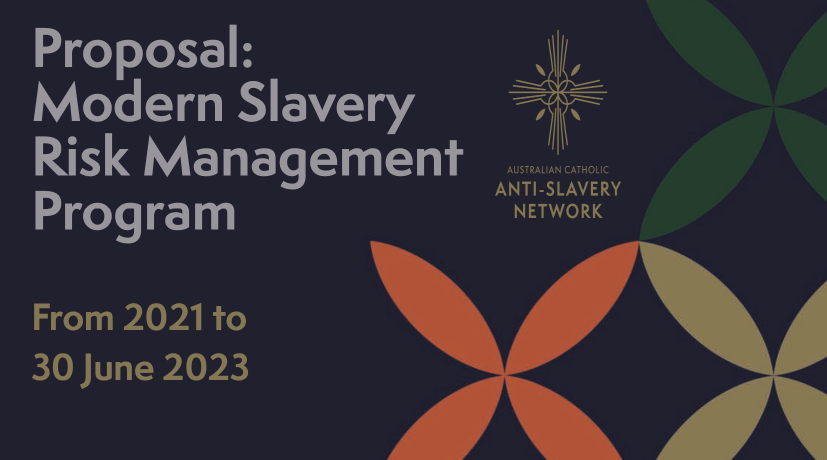 ACAN risk management program 2022–23 (the Australian Catholic Anti-slavery Network) OBJECTIVE:
Erad­i­cate mod­ern slav­ery in all its forms from the oper­a­tions and sup­ply chains of Catholic enti­ties in Aus­tralia. ACAN is at the fore­front of efforts to erad­i­cate mod­ern slav­ery nation­al­ly and globally.
The third par­ty costs for tools, con­sul­tants, train­ing and com­pli­ance are shared by ACAN enti­ties and under­writ­ten by the Arch­dio­cese of Syd­ney and coor­di­nat­ed by the Anti-Slav­ery Taskforce.
YOU CAN DOWNLOAD THE FULL DOCUMENT HERE.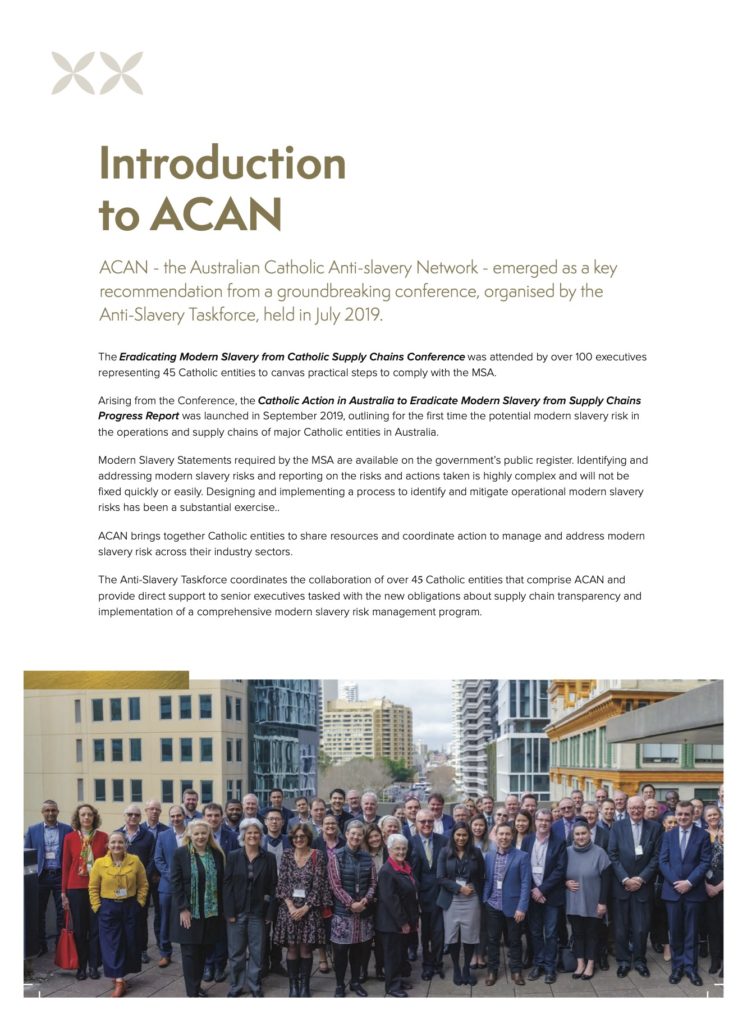 CATHOLIC ACTION TO ERADICATE MODERN SLAVERYSLAVERY:
ACAN par­tic­i­pat­ing enti­ties are unit­ed in the belief that action against mod­ern slav­ery is fun­da­men­tal to Catholic Social Teach­ing. So too is the pro­tec­tion of the life and dig­ni­ty of work­ers trapped in mod­ern slav­ery every­where. We seek to work for the Com­mon Good and active­ly col­lab­o­rate with all rel­e­vant sec­tors – Gov­ern­ment, busi­ness and com­mu­ni­ty. We will be open, respect­ful and inclu­sive with oth­er enti­ties and freely share learn­ings and resources which sup­port the deliv­ery of our mandate.
ACAN – the Australian Catholic Anti-slavery Network – emerged as a key recommendation from a groundbreaking conference, organised by the Anti-Slavery Taskforce, held in July 2019.
The Erad­i­cat­ing Mod­ern Slav­ery from Catholic Sup­ply Chains Con­fer­ence was attend­ed by over 100 exec­u­tives rep­re­sent­ing 45 Catholic enti­ties to can­vas prac­ti­cal steps to com­ply with the MSA.
Aris­ing from the Con­fer­ence, the Catholic Action in Aus­tralia to Erad­i­cate Mod­ern Slav­ery from Sup­ply Chains Progress Report was launched in Sep­tem­ber 2019, out­lin­ing for the first time the poten­tial mod­ern slav­ery risk in the oper­a­tions and sup­ply chains of major Catholic enti­ties in Australia.
Mod­ern Slav­ery State­ments required by the MSA are avail­able on the government's pub­lic reg­is­ter. Iden­ti­fy­ing and address­ing mod­ern slav­ery risks and report­ing on the risks and actions tak­en is high­ly com­plex and will not be fixed quick­ly or eas­i­ly. Design­ing and imple­ment­ing a process to iden­ti­fy and mit­i­gate oper­a­tional mod­ern slav­ery risks has been a sub­stan­tial exercise..
ACAN brings togeth­er Catholic enti­ties to share resources and coor­di­nate action to man­age and address mod­ern slav­ery risk across their indus­try sectors.
The Anti-Slav­ery Task­force coor­di­nates the col­lab­o­ra­tion of over 45 Catholic enti­ties that com­prise ACAN and pro­vide direct sup­port to senior exec­u­tives tasked with the new oblig­a­tions about sup­ply chain trans­paren­cy and imple­men­ta­tion of a com­pre­hen­sive mod­ern slav­ery risk man­age­ment program.
FOR MORE INFORMATION PLEASE CONTACT ACAN HERE, AND ACCESS THEIR WEBSITE: https://www.acan.org.au