New Cannibal Markets : Globalization and Commodification of the Human Body / Rainhorn Jean-Daniel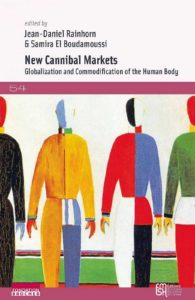 The use of new bio­med­ical tech­nolo­gies has led, among oth­er fac­tors, to an increase in demand for health care. How­ev­er, for rea­sons that are main­ly eco­nom­ic, legal, eth­i­cal or relat­ed to a short­age of human resources, pub­lic health ser­vices in devel­oped coun­tries can­not respond to this grow­ing demand, leav­ing some patients with unmet needs.
Lib­er­al­i­sa­tion of the inter­na­tion­al health­care mar­ket and ratio­nal­i­sa­tion of pub­lic health expen­di­ture over the past twen­ty years have result­ed in two fun­da­men­tal changes in the organ­i­sa­tion of health­care ser­vices at a glob­al lev­el. On the one hand, some emerg­ing coun­tries have devel­oped pri­vate, high­ly spe­cialised health ser­vices par­tic­u­lar­ly designed to meet for­eign demand at low cost. This new type of med­ical sup­ply has a grow­ing influ­ence on the behav­iour of patients who are more and more will­ing to go abroad for treat­ment. On the oth­er hand, lib­er­al­i­sa­tion has allowed greater mobil­i­ty of human resources, allow­ing health per­son­nel in poor regions to look for bet­ter-paid jobs out­side their coun­tries. This dou­ble move­ment of health pro­fes­sion­als and patients is one of the most note­wor­thy fea­tures of the new glob­alised health­care industry.
Trav­el­ing for med­ical care, known as med­ical tourism, has recent­ly grown in fields such as oncol­o­gy, car­dio­vas­cu­lar surgery, med­ical­ly assist­ed repro­duc­tion, and organ/tissue trans­plan­ta­tion. In the last two of these fields, devel­op­ment of med­ical ser­vices is sup­port­ed in some coun­tries by flex­i­ble leg­is­la­tion and the exis­tence of a large num­ber of social­ly vul­ner­a­ble peo­ple. The result is a wide avail­abil­i­ty of low-cost resources need­ed for spe­cif­ic treat­ments (organs, human mate­r­i­al, sur­ro­gate moth­ers, etc.). In order to meet the health needs of res­i­dent or for­eign patients who can afford the costs of these med­ical ser­vices, human body parts of social­ly dis­ad­van­taged per­sons are rent­ed or pur­chased on a more or less legal basis. Com­mod­i­fi­ca­tion of human body parts is anoth­er fea­ture of the glob­al health­care mar­ket. A new type of trade based on increas­ing social inequal­i­ty in most soci­eties and between coun­tries is devel­op­ing. The result is an econ­o­my that is not only com­pa­ra­ble to a neo-colo­nial one, but also to a kind of can­ni­bal market.
In order to bet­ter under­stand var­i­ous aspects of this new mar­ket and assess its impli­ca­tions for the future, it is pro­posed that an inter­na­tion­al and mul­ti­dis­ci­pli­nary con­fer­ence be organ­ised in Gene­va, Switzer­land on Feb­ru­ary 6–7, 2014. The major objec­tives of the con­fer­ence will be: (i) to analyse, from a social sci­ences per­spec­tive, the glob­alised devel­op­ment of the com­mod­i­fi­ca­tion of the human body for med­ical pur­pos­es; (ii) to devel­op the out­line of a research agen­da based on key ideas and find­ings that emerge from the dis­cus­sions; and (iii) to cre­ate an inter­na­tion­al net­work of social sci­en­tists for this top­ic. The dis­cus­sions will be based on these four case stud­ies: (a) the unreg­u­lat­ed mar­ket of assist­ed repro­duc­tion tech­nol­o­gy and in par­tic­u­lar the devel­op­ment of com­mer­cial sur­ro­ga­cy; (b) the con­di­tions for organ har­vest­ing that feeds the mar­ket for trans­plan­ta­tion; © the "brain drain" of health pro­fes­sion­als which reduces the capac­i­ty of poor coun­tries to meet their health chal­lenges; and (d) the devel­op­ment of pri­vate insti­tu­tions that col­lect, store and sell human mate­r­i­al (gametes, embryos, blood, tis­sues, etc.). Four areas in which the growth of this mar­ket has sig­nif­i­cant human, social, med­ical, eco­nom­ic, legal, reli­gious and eth­i­cal implications.