REVUE LIMITE – MÉTAUX RARES ET GROS MENSONGES : LA FACE CACHÉE DES HIGH TECH / RARE METALS AND BIG LIES: THE HIDDEN SIDE OF HIGH TECH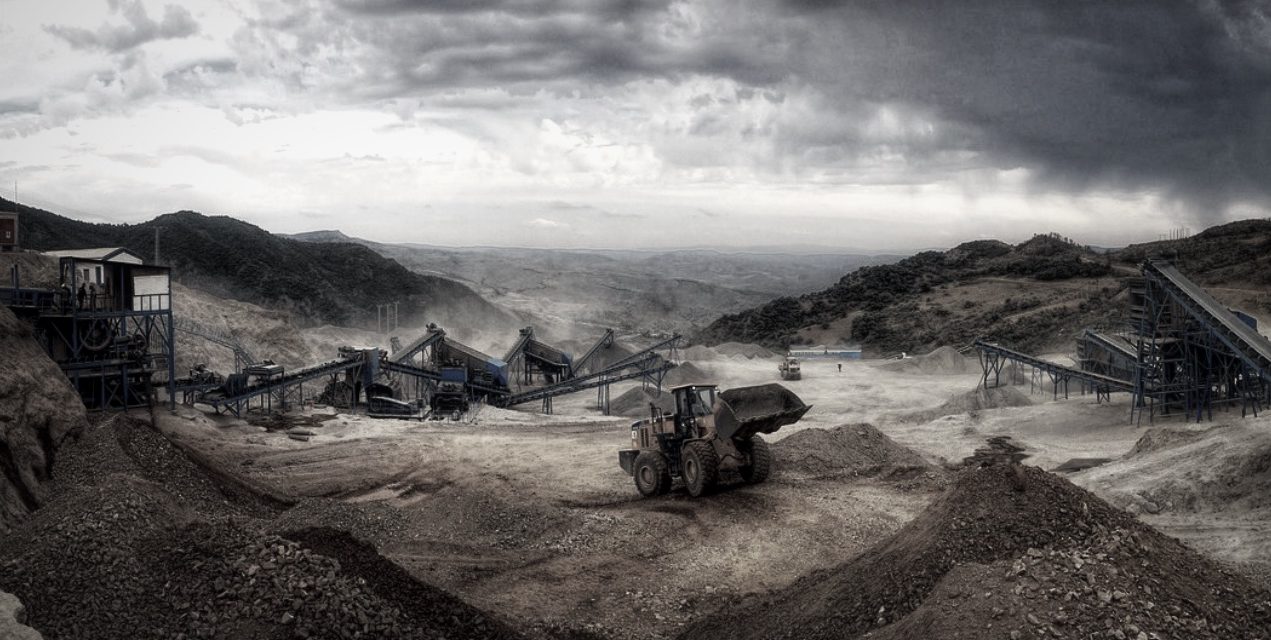 La guerre des métaux rares, Guillaume Pitron, Les Liens qui libèrent, January 2018.
Nothing is more polluting than new technologies. By magnifying the line a little, that is how we could summarize the very important survey recently published by Guillaume Pitron. In La Guerre des métaux rares (Les Liens qui libèrent, January 2018), he shows that green techs are far from being the panacea we are sold. This "counter-history of the coming world", prefaced by Hubert Védrine, opens our eyes to the "hidden side" of an energy and digital transition that we prefer to ignore.
Oil of the 21st century?
The proponents of "sustainable capitalism" promise us a world that is both more technological and cleaner, where human ingenuity would mitigate climate change, resource scarcity and ecosystem destruction. The energy transition claims to replace fossil fuels with "green" energies and the digital transition, by dematerializing exchanges, would promote a less polluting world. The reality is unfortunately a little more complicated.
The first industrial revolution in the 19th century was based on the steam engine, itself dependent on an indispensable fuel: coal. In the 20th century, it was the combustion engine that enabled the second industrial revolution thanks to the extraction of oil. And now, at the beginning of the 21st century, a third industrial revolution has begun, without the energy that conditions it being known.
Graphite, cobalt, indium, platinoids, tungsten, rare earths... doesn't ring a bell? Yet the connected objects we use every day are full of them." For a long time, people have exploited the main metals known to all: iron, gold, silver, copper, lead, aluminium... "We no longer know what the new technologies on which we have become dependent work. Unknown to the general public, but exploited since the 1970s, this "next oil" is the "fabulous magnetic and chemical properties of a multitude of small rare metals contained in earth rocks". Would this carbon-free energy, and therefore much less polluting, be the salvation of humanity?
"A plague become global"
Nothing is less certain, because these indispensable "rare metals" are as dirty as... rare. They are in fact already the object of rivalries and geopolitical tensions that we do not suspect: the "war of rare metals" has only just begun. We already consume more than two billion tons of various metals each year[and] studies predict that, by 2030, demand for germanium will double, demand for dysprosium and tantalum will quadruple, and demand for palladium will quintuple. The scadium market could be multiplied by 9, and the cobalt market by... 24!" (p. 39).
Guillaume Pitron first takes us to China, the world's leading producer of rare metals, and especially rare earths, the most precious of them, to investigate the ecological and social damage caused by their extraction. While becoming ubiquitous in the most exciting'green' and digital technologies, rare metals have also permeated their highly toxic slag into the water, earth, atmosphere and even the flames of blast furnaces - the four elements necessary for life" (p. 44). The Chinese people have sacrificed their environment to feed the entire planet with rare earths," concludes a Chinese expert with gravity (p. 48). Guillaume Pitron shows that, far from being the blessing hoped for, the industrial exploitation of rare metals has become a "scourge".
But China is far from being the only country affected by this "curse". Indeed, "extracting minerals from the ground is an intrinsically dirty activity and so far it has been conducted in such a manner that the virtuous purpose of the energy and digital transition is necessarily called into question". While the petrochemical industry "which everyone is trying to get rid of, is not even in the top ten", "mining is the second most polluting industry in the world", "behind lead battery recycling and ahead of dyeing, industrial landfills and tanneries" (p. 54).
"A damning ecological balance sheet"
In short, "even before they are put into service, a solar panel, a wind turbine, an electric car or a low-energy lamp bear the original sin of their deplorable energy and environmental balance" (p. 55). In reality, if we take into account the entire production process since the extraction of the manufacturing elements, and not only the operation itself, green technologies have a "damning ecological balance" (p. 58). For example, "the industrialization of an electric car alone consumes three to four times more energy than that of a conventional vehicle.
This does not include all the diseases generated among workers and residents of mining infrastructures.
In other words, according to Guillaume Pitron, the remedy (rare metals) could prove to be worse than the evil (oil) it was supposed to cure... Thus productivism, even repainted green, makes us fall from Charybdis to Scylla, "a bit like a drug addict who, to stop his addiction to cocaine, would sink into heroin". Basically, we are not addressing the challenge of the impact of human activity on ecosystems; we are simply shifting it" (p.70).
Always more: the industrial flight forward, and the destruction of the world it generates, will only intensify with the highly polluting extraction of rare metals. We will consume more minerals in the next generation than in the last 70,000 years, the 500 generations before us" (p. 214). And it is not COP21, focusing on the harmful effects of oil, that will limit the damage caused.
However, in addition to environmental and health disasters, there are economic and geopolitical struggles for control over resources and technologies.
Chinese revenge
The rest of the book shows how the West, and France in particular, has preferred to "relocate pollution""to poor countries willing to sacrifice their environment[and their population] to enrich themselves" rather than to assume the cost of an ecologically and socially sustainable extraction. It thus details the transfer of technical skills from a large industry such as Rhône-Poulenc, and the abandonment of public policies of "mineral sovereignty". We have gained in purchasing power what we have lost in purchasing knowledge," notes Guillaume Pitron. But this choice is likely to cost us dearly: "By organizing the transfer of rare metal production, we have done much more than leave the burden of 21st century oil to the forces of globalization, we have entrusted potential rivals with a precious monopoly" (p. 116).
And China, which has taken 99% of the world's rare earth production for itself, has already begun to take advantage of this situation by placing "the West under embargo". And it not only confiscates rare metals, it transforms them to make "low hand on high technologies". It has set up "a completely sovereign and integrated sector, which encompasses both smelly mines surveyed by black gules and ultra-modern factories populated by overgraduated engineers" (p. 155). Thus, China has become "the world's leading producer of green energy, the leading manufacturer of photovoltaic equipment, the leading hydroelectric power, the leading investor in wind power and the world's leading market for new energy cars" (p. 176), while France has lost 900,000 industrial jobs in the last fifteen years (p. 183).
However, Guillaume Pitron recalls, "each time a people has mastered a new metal, its use has been accompanied by tremendous technical and military progress - and ever more deadly conflicts" (p.192). And he takes as an example "the race for intelligent missiles" and the conquest of the oceans, which contain immense deposits of rare metals.
Relocate and/or decrease?
Faced with this situation, Guillaume Pitron recommended relocating our mining activities. A reindustrialization of France, then. Not so much to counter Chinese imperialism and not to find ourselves completely disarmed in this "war of rare metals" as to foster the emergence of a truly ecological society. Nothing will change radically until we experience, under our windows, the total cost of our standard happiness. The responsible mine here will always be better than the irresponsible mine elsewhere."
Guillaume Pitron's survey, which evokes "degrowth" without advocating it, ends with a question in the form of hope: "Will we know how to draw from ourselves the antidote to rare metals?
No matter how much we take the problem, and what we call this "escape route" of sobriety or decline, the profound simplification of our lifestyles appears more and more as a vital necessity and a condition for peace.
In any case, after reading this exciting book, you will no longer see your smartphone in the same way. And if that makes you want to do without it (which is not that difficult!), it will be one less weapon in this merciless war of humanity against itself.
Gaultier Bès
Assistant Director of Limite magazine