The Catholic Weekly — Making slavery unacceptable. The fight to end slavery demands patience, perseverance, and courage from all of us — By John McCarthy — February 7, 2023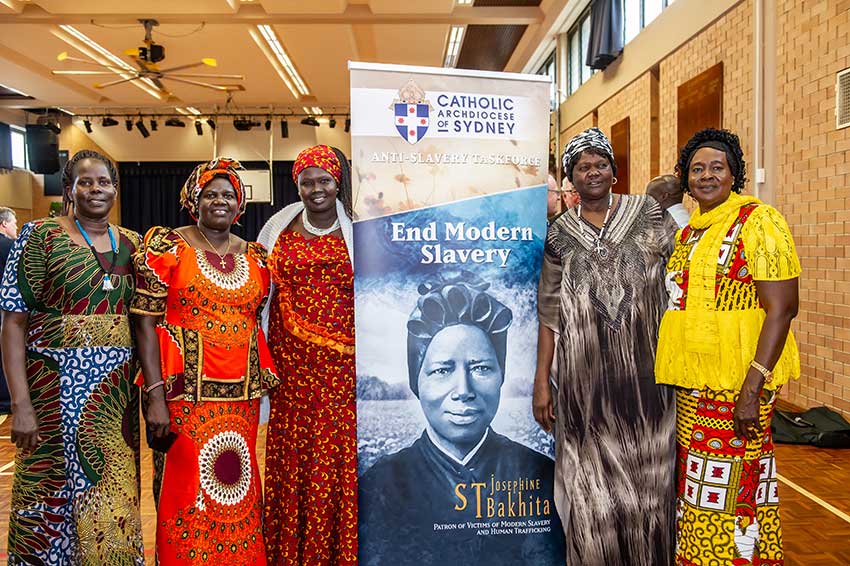 Pope Fran­cis calls for Catholic com­mu­ni­ties world­wide to join him in com­mem­o­rat­ing St Bakhita's Day, the Catholic Anti-Slav­ery Day on 8 Feb­ru­ary. Catholics around the world com­mem­o­rate the Feast Day Mass of St Josephine Bakhi­ta – the Patron Saint of South Sudan and Sudan, Patron Saint of vic­tims of mod­ern slav­ery and human traf­fick­ing – to encour­age the Catholic faith­ful to pray for all those affect­ed by the crimes of mod­ern slav­ery and human traf­fick­ing and work to erad­i­cate this crime. As Catholics, we're unit­ed in our belief that action against mod­ern slav­ery is a fun­da­men­tal Catholic Social Teaching.
The erad­i­ca­tion of mod­ern slav­ery and the pas­toral care of vic­tims is a pri­or­i­ty for the Catholic Church. The Holy Father con­tin­u­al­ly draws the atten­tion of the Church and the wider world to this moral and human crisis.
Mod­ern slav­ery deprives peo­ple of their basic human rights and dig­ni­ty. Mod­ern slav­ery harms indi­vid­u­als, fam­i­lies, com­mu­ni­ties, and soci­ety as a whole.
Over 50 mil­lion peo­ple are esti­mat­ed to be in mod­ern slav­ery world­wide. This is not just over­seas, with thou­sands of migrant work­ers expe­ri­enc­ing the worst forms of labour exploita­tion here in Australia.
Pope Fran­cis has called Catholic indi­vid­u­als and insti­tu­tions world­wide to cre­ate an econ­o­my of care, an econ­o­my that does not exploit workers.
Five years ago today the Most Rev­erend Antho­ny Fish­er OP Arch­bish­op of Syd­ney, respond­ed to the Holy Father's call to action with the launch of the Anti-slav­ery Taskforce's first report.
Four years ago the Mod­ern Slav­ery Act 2018 was intro­duced as an Aus­tralian Gov­ern­ment com­mit­ment to the Unit­ed Nations Sus­tain­able Devel­op­ment Goals, specif­i­cal­ly SDG 8.7, to end mod­ern slav­ery by 2030.
The Act requires large busi­ness­es and non-prof­its to assess, address and mit­i­gate mod­ern slav­ery risks to peo­ple in sup­ply chains and operations.
Today, the Catholic Arch­dio­cese of Syd­ney man­ages the Aus­tralian Catholic Anti-slav­ery Net­work, known as ACAN, and the ACAN mod­ern slav­ery risk man­age­ment program.
I am inspired to report to you that 90 per cent of Catholic organ­i­sa­tions, report­ing under the Mod­ern Slav­ery Act, par­tic­i­pate in the ACAN Program.
Through ACAN, Catholic organ­i­sa­tions now have unprece­dent­ed access to exper­tise in all facets of mod­ern slav­ery from sup­pli­er man­age­ment to remediation.
Walking the talk
To state again the words of Antho­ny Fish­er OP, Arch­bish­op of Syd­ney, in ref­er­ence to ACAN: "we are being giv­en the means to walk our talk about human dig­ni­ty in our agen­cies day to day.
As impor­tant as resources, pro­grammes, exper­tise, laws and report­ing are, they can only take us so far. For these things to real­ly work requires spir­i­tu­al, moral and cul­tur­al con­vic­tion, that, slav­ery is unac­cept­able. This in turn requires a real ded­i­ca­tion by lead­ers and staff to such change.
His Grace sum­mons us all, quote:
"We must be inten­tion­al about this, not regard­ing anti-slav­ery as a tick-a-box exer­cise in min­i­mal­ist com­pli­ance but as a defin­ing com­mit­ment with­out which we could not in con­science engage in our many activ­i­ties; not as some­thing only to trou­ble the busi­ness man­ag­er or mis­sion offi­cer, but as everyone's concern.
"Pope Fran­cis reminds us that the anti-slav­ery chal­lenge demands patience, per­se­ver­ance, and courage from each one of us."
Goal: freedom from links to slavery
Arch­bish­op Fish­er has spo­ken of his expec­ta­tions and vision:
"My hope is that there will be a time in the not-too-dis­tant future where we can walk into any Catholic insti­tu­tion or min­istry and be con­fi­dent that every ele­ment of their oper­a­tion, from the sourc­ing of prod­ucts like uni­forms, equip­ment, IT com­po­nents and build­ing mate­ri­als … are free from any ties to mod­ern slav­ery whatsoever."
ACAN annu­al Mod­ern Slav­ery State­ments offer a snap­shot of Catholic endeav­ours to help cre­ate what the Holy Father refers to as an 'econ­o­my of care'.
a mind­set and struc­tures that put peo­ple rather than prof­its at the cen­tre of things;
a com­mit­ment to fight­ing for the com­mon good and not just our per­son­al interests;
a prac­tice of jus­tice, com­pas­sion and decen­cy that demon­strates a deep rev­er­ence for others
and the steady imple­men­ta­tion of Catholic Social Doctrine
I must empha­sise that com­pli­ance with the Mod­ern Slav­ery Act requires much more than meet­ing annu­al report­ing obligations.
… com­pli­ance with the Mod­ern Slav­ery Act requires much more than meet­ing annu­al report­ing obligations
Demand for mod­ern slav­ery exper­tise and the ACAN Pro­gram is steadi­ly on the rise. Catholic organ­i­sa­tions have access to over 70 risk man­age­ment pro­gram tools, resources and deliv­er­ables. The pro­gram is deliv­ered by five full time staff, all with exper­tise cov­er­ing mod­ern slav­ery, busi­ness and human rights, pro­cure­ment, sup­ply chains, sup­pli­er engage­ment and remediation.
May St Josephine Bakhi­ta guide us and pray for us in all our work and pray that mod­ern slav­ery will be end­ed in our generation.
God Bless Arch­bish­op Fish­er and his great anti-slav­ery vision and pro­gram in Australia.