WATCH THE VIDEO OF OUR 13 APRIL WEBINAR — Demand As Root Cause For Human Trafficking – Sex Trafficking & Prostitution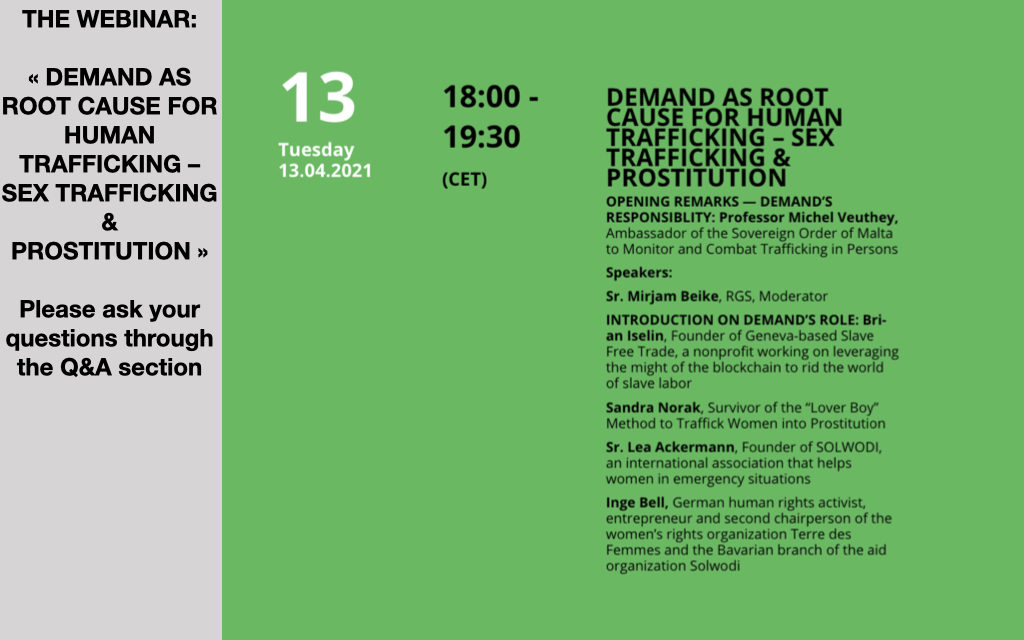 This webi­nar tried to answer the fol­low­ing questions:
What is the role of demand in rela­tion with sex trafficking?
How do present laws sup­port vic­tims of sex trafficking?
How to improve the situation?
Demand as root cause for human trafficking – sex trafficking & prostitution
"No little girl grows up dreaming of becoming a prostitute." — Sandra Norak, survivor of human trafficking.
Trig­ger warn­ing: this arti­cle includes top­ics of sex­u­al abuse, vio­lence and assault.
GENEVA, SWITZERLAND – Four inspir­ing speak­ers were invit­ed to our online round­table on 13 April 2021 to dis­cuss issues around sex traf­fick­ing and pros­ti­tu­tion. The ses­sion cov­ered three core top­ics — the role of demand, how we present laws sup­port­ing vic­tims and how we should improve the sit­u­a­tion. The webi­nar was host­ed by Pro­fes­sor Michel Veuthey, Ambas­sador of the Sov­er­eign Order of Mal­ta, to mon­i­tor and com­bat human traf­fick­ing, mod­er­at­ed by Sr. Mir­jam Beike, Rep­re­sen­ta­tive at the UN in Gene­va for the Sis­ters of Our Lady of Char­i­ty of the Good Shep­herd, and dis­cussed by the fol­low­ing con­trib­u­tors (in order of appearance):
Address­ing demand – the root cause for sex traf­fick­ing & prostitution.
Germany's con­tro­ver­sial leg­is­la­tion around legal­iz­ing pros­ti­tu­tion has sparked human rights activists and lawyers to speak out about the dam­age it has caused to young adults and chil­dren over the past two decades. They call for coun­tries like Ger­many to imple­ment the Nordic Mod­el to tack­le demand around sex traf­fick­ing, pros­ti­tu­tion and change how it is viewed in society.
San­dra Norak, from Ger­many, described her expe­ri­ence of being groomed into the sit­u­a­tion by her pimp. He tar­get­ed her as a young girl, des­per­ate for emo­tion­al sup­port that she couldn't receive from her ill par­ent. Norak explained that the attack­ers prey on neglect­ed chil­dren and young adults, com­ing from bro­ken homes, hav­ing endured sex­u­al assault and who expe­ri­ence PTSD. More strik­ing­ly, it is some­times not the vul­ner­a­ble chil­dren who are drawn in, it is also young girls show­ing no evi­dence of trou­bled upbring­ing who find them­selves stuck in the same situation.
"No lit­tle girl grows up dream­ing of becom­ing a pros­ti­tute. Pros­ti­tu­tion steals these dreams and caus­es life­long dam­age to these girls. The only thing you're worth is what you're told by your traf­fick­er. In Ger­many, we have cre­at­ed a nation of bro­ken lives and souls." – San­dra Norak, sur­vivor of human trafficking.
Norak described the hor­rif­ic emo­tion­al abuse she received through her pimps, who repeat­ed­ly told her she was worth­less, after hav­ing earned her trust and tak­en her vir­gin­i­ty, as well as the vio­lence through end­less pen­e­tra­tions and assault.
The sur­vivor com­pares Germany's laws that legal­ize pros­ti­tu­tion to buy­ing cig­a­rettes in a store – cre­at­ing and pro­mot­ing demand for an eas­i­ly acces­si­ble prod­uct. Norak says that "every state must be a role mod­el to its women and show them the truth about what pros­ti­tu­tion real­ly is – vio­lence, dan­ger and abuse. It is about expe­ri­enc­ing the deep­est abysses of our soci­ety." Women who wish to flee will do so phys­i­cal­ly but will nev­er be freed emo­tion­al­ly. The men­tal dam­age sex traf­fick­ing inflicts on women takes decades of ther­a­py and pain to heal from. It is a degrad­ing and dif­fi­cult sce­nario to exit from. Pimps become rich as they hide behind legal struc­tures and are glo­ri­fied on tele­vi­sion pro­grams as suc­cess­ful busi­ness­men, who con­tin­ue to groom young women dai­ly, by traf­fick­ing, abus­ing, and tak­ing advan­tage of them.
We must work towards end­ing pros­ti­tu­tion and decreas­ing demand.
More­over, Sis­ter Lea Ack­er­mann is con­cerned for young women being dragged into pros­ti­tu­tion. She has ded­i­cat­ed her life to the cause through the Foun­da­tion for Chil­dren in Dis­tress and Mis­ery to get chil­dren back into school, pro­tect and make them proud of what they can achieve.
Sis­ter Ack­er­mann vows to nev­er label women as pros­ti­tutes: "By call­ing them 'women in pros­ti­tu­tion', we are able todis­as­so­ci­ate them from being 'pros­ti­tutes' as they are not free and did not choose it as a profession."
Inge Bell, cel­e­brat­ed jour­nal­ist, inves­ti­gat­ed her most scan­dalous sto­ry in the 90s fol­low­ing the war in Koso­vo, where she dis­cov­ered the traf­fick­ing of chil­dren for pros­ti­tu­tion, recruit­ed specif­i­cal­ly for inter­na­tion­al peace­keep­ers and Unit­ed Nations sol­diers. These young girls were brought to Mace­do­nia and Balkan coun­tries to sat­is­fy the peo­ple who were meant to be the ones main­tain­ing human rights, not con­tribut­ing to their abuse.
"Please stop the demand. Pros­ti­tu­tion is con­trary to gen­der equal­i­ty – it's a pure act of vio­lence against women." – Inge Bell, sec­ond chair­per­son of Terre des Femmes and Ger­man human rights activist.
The Nordic Mod­el towards pros­ti­tu­tion laws is about decrim­i­nal­iz­ing women and crim­i­nal­iz­ing the buy­ers. The mod­el­helps women leave pros­ti­tu­tion and stops demand. Bell states that 'sex work' is not about sex nor is it about work – it is about rape, vio­lence and is a non-con­sen­su­al act. Women give con­sent to receiv­ing mon­ey, but nev­er to receiv­ing sex. It's impor­tant for us to raise aware­ness in schools and tell chil­dren that sex is not a com­mod­i­ty, nor some­thing that can be bought or exchanged.
Data reports show that coun­tries which adopt the Nordic Mod­el, such as Swe­den, have a neg­a­tive con­no­ta­tion towards users of such ser­vices, like how one might view drug addicts. In Ger­many, pros­ti­tu­tion is sim­ply seen as 'sex work', giv­ing Ger­many the image of being 'the broth­el of Europe' by oth­er countries.
It is up to coun­tries like Ger­many, who have failed to lib­er­al­ize pros­ti­tu­tion, to become lead­ers of change and advo­cate towards the Nordic Mod­el to end the absurd leg­is­la­tion they cur­rent­ly hold, which Bell describes as anti-humanistic.
"We need to change Germany's leg­is­la­tion to show we've hurt thou­sands of chil­dren, to help women out of pros­ti­tu­tion and crim­i­nal­ize the pimps who are cre­at­ing vio­lence against women." – Inge Bell, founder and vice-pres­i­dent of Terre des Femmes.
So, how do we reduce the number of buyers?
Reduc­ing sex traf­fick­ing can be achieved by shrink­ing the illic­it mar­ket in a giv­en pop­u­la­tion, rather than by reduc­ing vulnerabilities.
Through reduc­ing the trans­ac­tions, and block­ing the com­mu­ni­ca­tion chan­nels, we reduce exploita­tion. Accord­ing to Bri­an Iselin, we must break the com­mu­ni­ca­tion chan­nels, intro­duce more women into par­lia­ment, imprison the broth­el own­ers and change how nations address the issue of women in prostitution.
Addi­tion­al­ly, Iselin stat­ed that sex is treat­ed as a com­mod­i­ty and an object for sale. He is infu­ri­at­ed by our fail­ure glob­al­ly to have any impact at all towards traf­fick­ing. We are ignor­ing its root cause – traf­fick­ing is not lin­ear, it is cir­cu­lar. Every­thing points back towards demand. In order to tack­le sex traf­fick­ing, we must acknowl­edge demand as the root of the prob­lem. We must also rec­og­nize fac­tors which cause this demand.
"Every­thing points back to demand. It is not by treat­ing a headache with parac­eta­mol that one will get rid of the tumor caus­ing it."– Bri­an Iselin, founder of Slave Free Trade.
Bell encour­ages you to go and talk to your local politi­cian, sup­port the grass­root NGOs who are tack­ling the issue, and to raise aware­ness through sim­ply talk­ing about it with your peers or fam­i­ly at the din­ner table.
Ack­er­mann adds that we must do so for vul­ner­a­ble chil­dren, to ensure they are not mis­used and that they do not end up liv­ing on the streets.
Norak argues that when you treat pros­ti­tu­tion as a job, it cre­ates high demand – and demand is nev­er per­ceived as some­thing neg­a­tive to soci­ety, par­tic­u­lar­ly in nations like Ger­many. To tack­le the prob­lem at hand we must show that this demand is wrong. We must imple­ment the Nordic Mod­el to com­bat the human beings who are being used and abused. We must crim­i­nal­ize sex­u­al ser­vices and edu­cate our soci­ety on the con­se­quences of what hap­pens to these young women in the trade.
We need to give children a chance to give society a chance.
Author: Ali­cia Pat­ter­son-Wait­es (aliciapwaites@gmail.com)