VATICAN NEWS — 30/07/18 La lutte contre la traite humaine, un combat du Pape François / The fight against human trafficking, a struggle of Pope Francis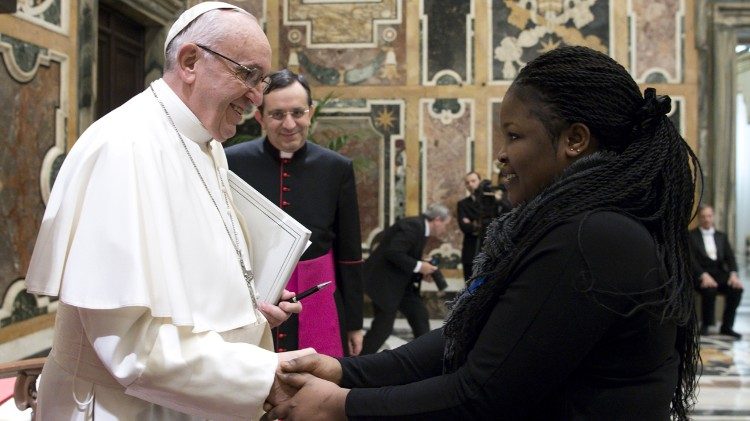 The fight against human trafficking, a struggle of Pope Francis
30/07/2018
On this inter­na­tion­al day against human traf­fick­ing insti­tut­ed by the Unit­ed Nations, Pope Fran­cis denounced the com­mod­i­fi­ca­tion of all "these broth­ers exploit­ed for crim­i­nal traf­fick­ing". The fight against traf­fick­ing is a cause dear to the Supreme Pon­tiff. He him­self estab­lished a world day of prayer ded­i­cat­ed to this plague.
"Let us lis­ten to the cry of so many broth­ers exploit­ed for crim­i­nal traf­fick­ing: they are not a com­mod­i­ty, but are human per­sons, and must be con­sid­ered as such. This tweet by Pope Fran­cis, pub­lished for the Inter­na­tion­al Day against Human Traf­fick­ing on July 30, is a fur­ther illus­tra­tion of the Holy Father's sup­port and com­mit­ment to the dig­ni­ty of the many vic­tims of human trafficking.
The fight against human trafficking, a struggle of Pope Francis
Accord­ing to UNICEF, 28% of vic­tims of traf­fick­ing are chil­dren. A per­cent­age that even reach­es 64% and 62% in sub-Saha­ran Africa, Cen­tral Amer­i­ca and the Caribbean and large­ly con­cerns refugee, migrant or dis­placed chil­dren, reports the UN agency.
An annual day of prayer against trafficking
Since 2015, Pope Fran­cis has cho­sen Feb­ru­ary 8, the litur­gi­cal mem­o­ry of Saint Josephine Bakhi­ta, the first saint in Sudan, to estab­lish a day of prayer against human traf­fick­ing. On the eve of this third World Day of Prayer and Reflec­tion against Traf­fick­ing last Feb­ru­ary, the Pope launched an appeal, tar­get­ing in par­tic­u­lar this year the vic­tims of traf­fick­ing in migra­to­ry flows.
"Hav­ing lit­tle chance of using reg­u­lar chan­nels, many migrants decide to ven­ture in oth­er ways, where abus­es of all kinds, such as exploita­tion and slav­ery, often await them," the Holy Father said, adding that crim­i­nal orga­ni­za­tions, ded­i­cat­ed to human traf­fick­ing, use these migra­tion routes to hide their own vic­tims, migrants and refugees.
"A crime against humanity"
"Traf­fick­ing in per­sons is a crime against human­i­ty. We must join forces to free the vic­tims and stop this increas­ing­ly aggres­sive crime," were the words of Pope Fran­cis at the begin­ning of his pon­tif­i­cate. In 2015, dur­ing the first edi­tion of the day of prayer, Car­di­nal Peter Turk­son, then Pres­i­dent of the Pon­tif­i­cal Coun­cil for Jus­tice and Peace, recalled that mil­lions of peo­ple through­out the world were deprived of free­dom and forced "to live prac­ti­cal­ly in a sit­u­a­tion of slavery".
The strength of civil societies
Today, Pope Fran­cis wants all human­i­ty to become aware of this scourge, which goes beyond the respon­si­bil­i­ty of one State or anoth­er. "I invite every­one, cit­i­zens and insti­tu­tions, to join forces to pre­vent traf­fick­ing, guar­an­tee pro­tec­tion and assis­tance to vic­tims," he said at his gen­er­al audi­ence on Feb­ru­ary 7, before receiv­ing two days lat­er mem­bers of the Sainte-Marthe Group. This infor­mal organ­i­sa­tion brings togeth­er polit­i­cal and reli­gious fig­ures from the forces of order and uni­ver­si­ty research "to con­front the caus­es and effects of human traf­fick­ing, which con­tin­ues to cause untold human suffering".
The need for awareness
"On the sub­ject of traf­fick­ing, there is much igno­rance", the Holy Father final­ly advanced before the par­tic­i­pants of the World Day of Prayer Against Traf­fick­ing this year. Accord­ing to him, "traf­fick­ing is a real form of slav­ery, unfor­tu­nate­ly more and more wide­spread, which affects all coun­tries, even the most devel­oped. It affects the most vul­ner­a­ble in soci­ety: women and girls, chil­dren, the dis­abled, the poor­est, those who come from sit­u­a­tions of fam­i­ly and social disintegration.
Achieve integral human development
These are seri­ous chal­lenges that only the "inte­gral human devel­op­ment" of coun­tries of extreme pover­ty can solve, accord­ing to the Pope; that is, "the devel­op­ment of every man and of the whole man", with­out con­sid­er­ing devel­op­ment sole­ly through an eco­nom­ic and social prism, but rather an approach that also embraces cul­ture, fam­i­ly life and religion.
La lutte contre la traite humaine, un combat du Pape François
En cette journée inter­na­tionale con­tre la traite des per­son­nes insti­tuée par l'Onu, le Pape François a dénon­cé la marchan­di­s­a­tion de tous «ces frères exploités pour des trafics crim­inels». La lutte con­tre la traite est une cause chère au Sou­verain pon­tife. Il a lui-même instau­ré une journée mon­di­ale de prière dédié à ce fléau.
«Écou­tons le cri de tant de frères exploités pour des trafics crim­inels: ils ne sont pas une marchan­dise, mais sont des per­son­nes humaines, et doivent être con­sid­érés comme telles». Ce tweet du Pape François pub­lié pour la Journée inter­na­tionale con­tre la traite des per­son­nes ce 30 juil­let, est une illus­tra­tion sup­plé­men­taire du sou­tien et de l'attachement du Saint-Père à la dig­nité des nom­breuses vic­times du traf­ic humain.
Selon l'Unicef, 28% des vic­times de la traite sont des enfants. Un pour­cent­age qui atteint même les 64% et 62% en Afrique sub­sa­hari­enne, en Amérique cen­trale et aux Caraïbes et con­cerne en grande par­tie les enfants réfugiés, migrants ou déplacés, rap­porte encore l'organisme onusien.
Une journée de prière annuelle contre la traite
Depuis 2015, le Pape François, lui, a choisi le 8 févri­er, mémoire liturgique de Sainte Joséphine Bakhi­ta, pre­mière sainte du Soudan, pour instau­r­er une journée de prière con­tre la traite humaine. À la veille de cette troisième journée mon­di­ale de prière et de réflex­ion con­tre la traite, en févri­er dernier, le Pape avait d'ailleurs lancé un appel, visant en par­ti­c­uli­er cette année les vic­times de la traite dans les flux migratoires.
«Ayant peu de chances d'emprunter des canaux réguliers, de nom­breux migrants déci­dent de s'aven­tur­er par d'autres voies, où des abus de toutes sortes, comme l'ex­ploita­tion et l'esclavage, sou­vent les atten­dent», déclarait le Saint-Père, pré­cisant que les organ­i­sa­tions crim­inelles, vouées à la traite des per­son­nes, util­i­saient ces routes migra­toires pour cacher leurs pro­pres vic­times, migrants et réfugiés.
«Un crime contre l'humanité»
«La traite des per­son­nes est un crime con­tre l'humanité. Nous devons unir nos forces pour libér­er les vic­times et arrêter ce crime de plus en plus agres­sif», tels étaient déjà les mots du Pape François au début de son pon­tif­i­cat. En 2015, lors de la pre­mière édi­tion de la journée de prière, le car­di­nal Peter Turk­son, alors prési­dent du Con­seil pon­tif­i­cal Jus­tice et Paix, avait rap­pelé que des mil­lions de per­son­nes dans le monde entier étaient privées de lib­erté et con­traintes «à vivre pra­tique­ment en sit­u­a­tion d'esclavage».
La force des sociétés civiles
Aujourd'hui, le Pape François désire que toute l'humanité prenne con­science de ce fléau, qui dépasse la respon­s­abil­ité de tel ou tel État. «J'in­vite tout le monde, citoyens et insti­tu­tions, à unir leurs forces pour prévenir la traite, garan­tir la pro­tec­tion et l'as­sis­tance aux vic­times», avait-il déclaré lors de son audi­ence générale du 7 févri­er, avant de recevoir deux jours plus tard les mem­bres du Groupe Sainte-Marthe. Cette organ­i­sa­tion informelle regroupe juste­ment des per­son­nal­ités poli­tiques, religieuses, issues des forces de l'ordre ou de la recherche uni­ver­si­taire «pour affron­ter les caus­es et les effets de la traite humaine, qui con­tin­ue à causer d'indicibles souf­frances humaines».
La nécessaire sensibilisation
«Sur le sujet de la traite, il y a beau­coup d'ig­no­rance», avançait enfin le Saint-Père devant les par­tic­i­pants à la Journée mon­di­ale de prière con­tre la traite cette année. Selon lui, «la traite est une véri­ta­ble forme d'esclavage, mal­heureuse­ment de plus en plus répan­due, qui touche tous les pays, même les plus dévelop­pés. Elle touche les plus vul­nérables de la société: les femmes et les filles, les enfants, les hand­i­capés, les plus pau­vres, ceux qui vien­nent de sit­u­a­tions de dés­in­té­gra­tion famil­iale et sociale».
Accomplir le développement humain intégral
De graves enjeux que seul le «développe­ment humain inté­gral» des pays d'extrême pau­vreté peut résoudre, estime le Pape; soit «le développe­ment de tout homme et de tout l'homme», sans con­sid­ér­er le développe­ment unique­ment par un prisme économique et social, mais plutôt une approche embras­sant aus­si la cul­ture, la vie famil­iale et la religion.