GRETA (Group of Experts on Action against Trafficking in Human Beings) — Online and technology-facilitated trafficking in human beings Full report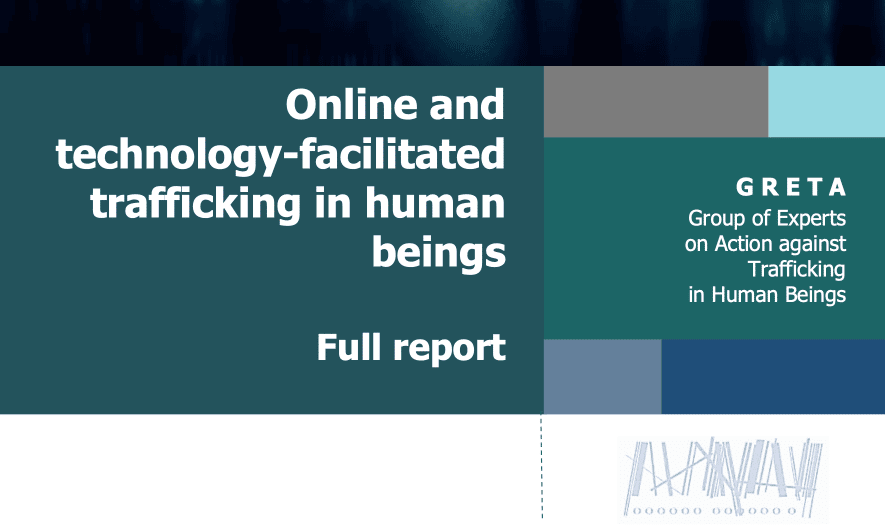 Inter­net, and infor­ma­tion com­mu­ni­ca­tion tech­nol­o­gy (ICT) more gen­er­al­ly, play a major role in shap­ing our lives. The Covid-19 pan­dem­ic has laid bare the extent to which the Inter­net and ICTs are now inte­gral to a vari­ety of activ­i­ties and social inter­ac­tions – and it has accel­er­at­ed their rel­e­vance. The crim­i­nal land­scape is no excep­tion – and this extends to traf­fick­ing in human beings (THB).
There is lit­tle doubt that tech­nol­o­gy pos­es chal­lenges – as well as oppor­tu­ni­ties – to law enforce­ment and NGOs alike. At the same time, the evi­dence base on online and tech­nol­o­gy- facil­i­tat­ed THB remains lim­it­ed and patchy. At the moment, the best evi­dence avail­able comes from a rather small set of stud­ies, typ­i­cal­ly based on a small num­ber of inter­views with police offi­cers and NGO per­son­nel – often car­ried out in a very lim­it­ed num­ber of coun­tries – as well as from a hand­ful of reports from inter­na­tion­al organ­i­sa­tions. This study moves beyond anec­do­tal evi­dence by offer­ing an analy­sis of online and tech­nol­o­gy-facil­i­tat­ed THB based on evi­dence sys­tem­at­i­cal­ly col­lect­ed from State Par­ties to the Coun­cil of Europe (CoE) Con­ven­tion on Action against Traf­fick­ing in Human Beings. Such evi­dence has been sup­ple­ment­ed with infor­ma­tion from NGOs pro­vid­ing assis­tance to THB vic­tims as well as tech companies.
The scope of the present study is rather broad. It offers an assess­ment of the extent to which tech­nol­o­gy impacts THB as well as an explo­ration of the traf­fick­ers' modus operan­di in the con­text of online and tech­nol­o­gy-facil­i­tat­ed THB. At the core of this study is an explo­ration of the oper­a­tional and legal chal­lenges that State Par­ties – and to some extent NGOs – face in detect­ing, inves­ti­gat­ing and pros­e­cut­ing online and ICT-facil­i­tat­ed THB, as well as iden­ti­fy­ing vic­tims and rais­ing aware­ness among at-risk groups. Cru­cial­ly, the study also explores the strate­gies, tools and 'good prac­tices' adopt­ed by State Par­ties and NGOs to over­come such chal­lenges and enhance their response to online and tech­nol­o­gy-facil­i­tat­ed THB. This work teas­es out sim­i­lar­i­ties across coun­tries as well as coun­try-spe­cif­ic expe­ri­ences. Par­tic­u­lar empha­sis is placed on train­ing – as invest­ments in human cap­i­tal are as impor­tant as those in tech­ni­cal tools.
This study has been con­duct­ed as part of a long-stand­ing inter­est of the Coun­cil of Europe in the issue of tech­nol­o­gy and human traf­fick­ing. Besides offer­ing a sys­tem­at­ic assess­ment of the cur­rent evi­dence base, this study also seeks to pro­vide the Coun­cil of Europe Group of Experts of Action against Traf­fick­ing in Human Beings (GRETA) and oth­er enti­ties with a tool to car­ry out future assess­ments and track changes in both the tech­no­log­i­cal and behav­iour­al landscapes.