Stanford University: free Human Trafficking online course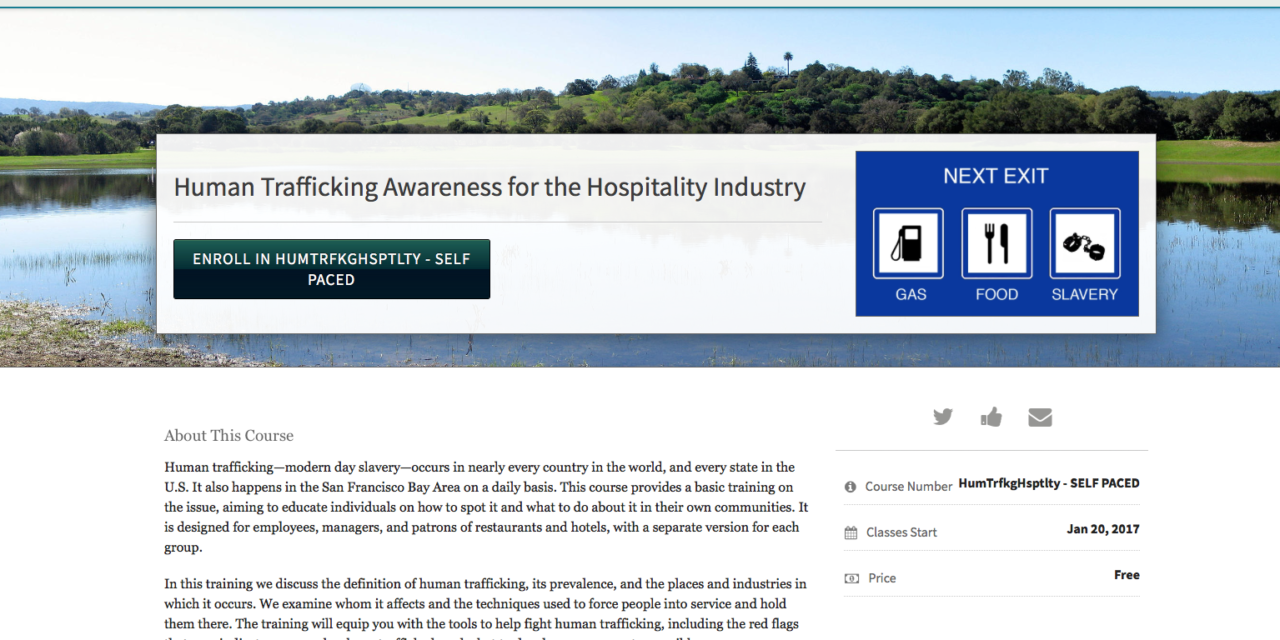 Ex .Human Trafficking Awareness for the Hospitality Industry
https://lagunita.stanford.edu/courses/course-v1:HumanitiesSciences+HumTrfkgHsptlty+SelfPaced/about
Ex .Human Trafficking Awareness for the General Public
https://lagunita.stanford.edu/courses/course-v1:HumanitiesSciences+HumTrfkgAwrns+SelfPaced/about
Ex . Human Trafficking Awareness for the Restaurant Industry
https://lagunita.stanford.edu/courses/course-v1:HumanitiesSciences+HumTrfkgRestrnt+SelfPaced/about
https://online.stanford.edu/courses/sohs-yhisthtawrns-human-trafficking-awareness-general-public
Link from Human Rights Careers
https://www.humanrightscareers.com/magazine/free-online-courses-human-trafficking-awareness-stanford-university/
About This Course
Human trafficking—modern day slavery—occurs in near­ly every coun­try in the world, and every state in the U.S. It also hap­pens in the San Fran­cis­co Bay Area on a dai­ly basis. This course pro­vides a basic train­ing on the issue, aim­ing to edu­cate indi­vid­u­als on how to spot it and what to do about it in their own com­mu­ni­ties. It is designed for employ­ees, man­agers, and patrons of restau­rants and hotels, with a sep­a­rate ver­sion for each group.
In this train­ing we dis­cuss the def­i­n­i­tion of human traf­fick­ing, its preva­lence, and the places and indus­tries in which it occurs. We exam­ine whom it affects and the tech­niques used to force peo­ple into ser­vice and hold them there. The train­ing will equip you with the tools to help fight human traf­fick­ing, includ­ing the red flags that may indi­cate a per­son has been traf­ficked, and what to do when you sus­pect a pos­si­ble case.
To begin the train­ing, click on the "ENROLL" but­ton above.
Pre­req­ui­sites
There are no pre­req­ui­sites to take this course. It assumes no pre­vi­ous knowl­edge of human trafficking.