Paris — Colloque du Mardi 8 octobre 2019 — Comment mieux lutter, ensemble, contre la traite des femmes d'Afrique de l'Ouest à des fins d'exploitation sexuelle ? / ORDRE Malte France — PARIS / How to better fight, together, the sexual trafficking of women in West Africa?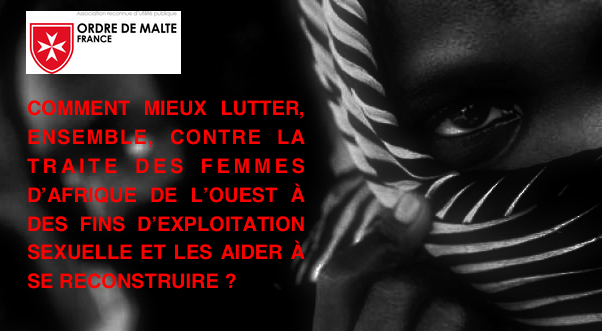 SYNTHÈSE DE LA CONFÉRENCE — CONFERENCE SUMMARY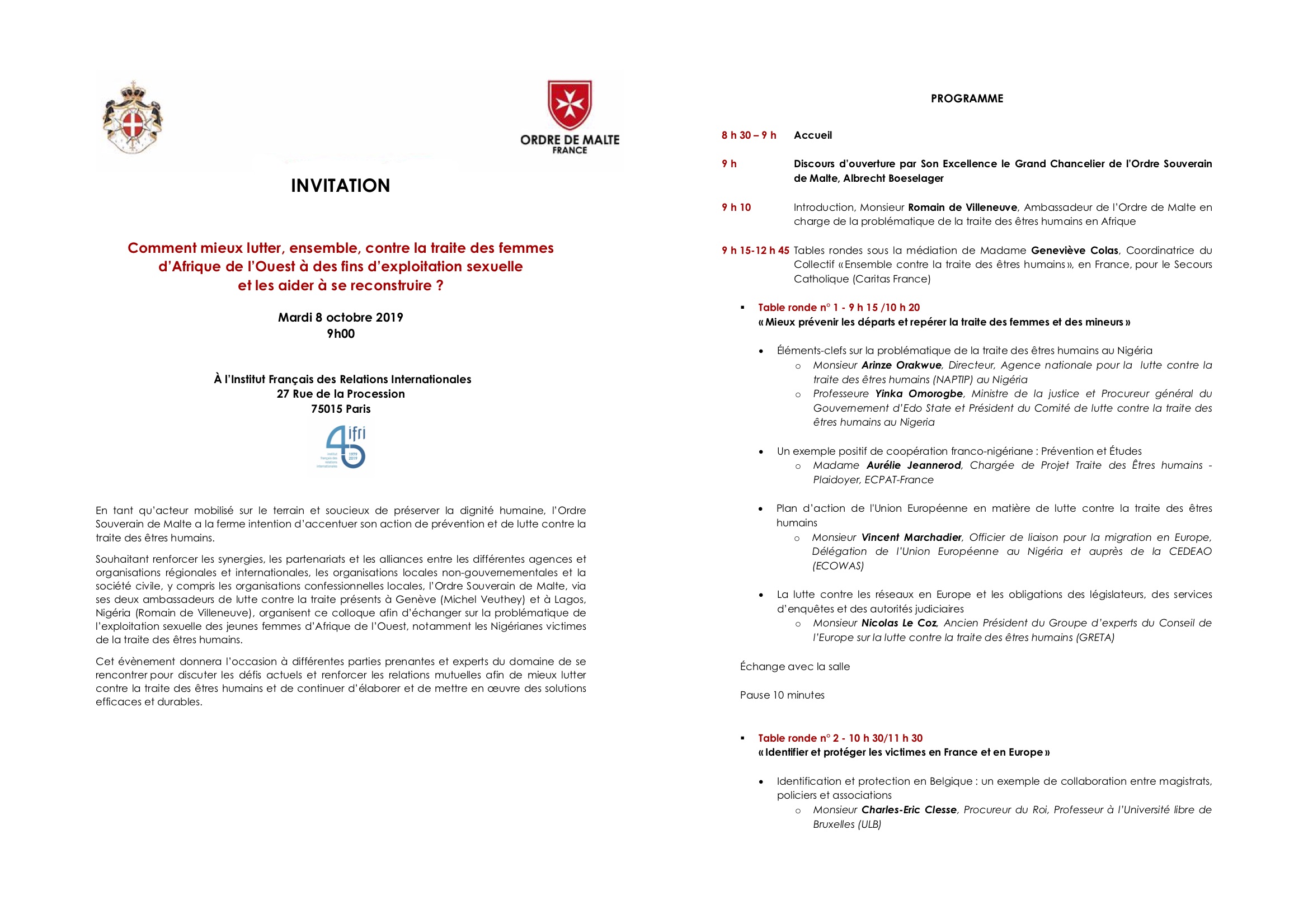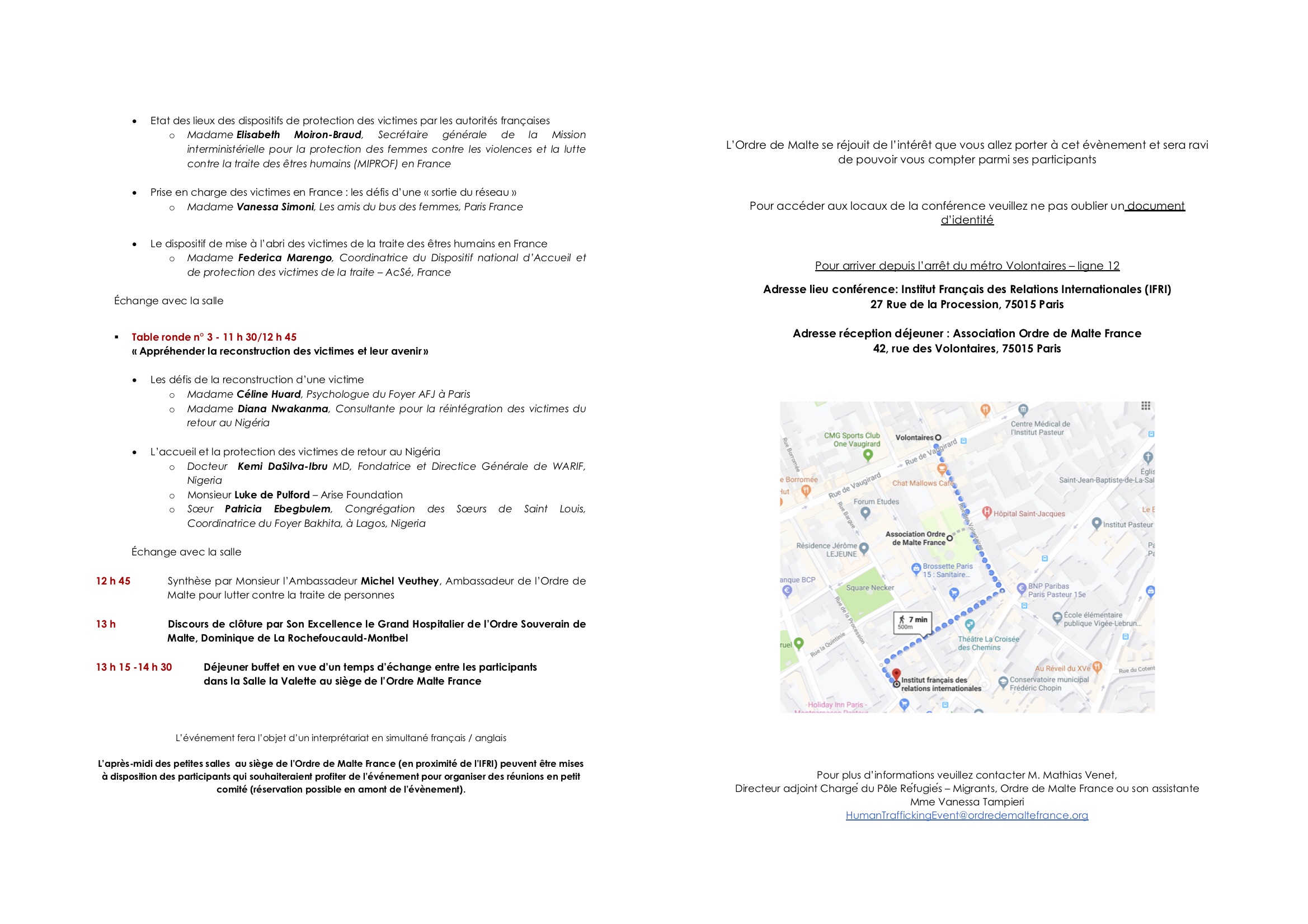 VIDEO Paris, 8 oct. 2019 — Inter­ven­tion de Mon­sieur Nico­las Le Coz, Ancien Prési­dent du Groupe d'experts du Con­seil de l'Europe sur la lutte con­tre la traite des êtres humains (GRETA) : La lutte con­tre les réseaux en Europe et les oblig­a­tions des lég­is­la­teurs, des ser­vices d'enquêtes et des autorités judiciaires.
VIDEO Paris 8 oct. 2019 — Table ronde 3 — 11h30/12h45 — « Appréhen­der la recon­struc­tion des vic­times et leur avenir »
Les défis de la recon­struc­tion d'une vic­time
o Madame Céline Huard, Psy­cho­logue du Foy­er AFJ à Paris
o Madame Diana Nwakan­ma, Con­sul­tante pour la réin­té­gra­tion des vic­times du retour au Nigéria
L'accueil et la pro­tec­tion des vic­times de retour au Nigéria :
o Doc­teur Kemi DaSil­va-Ibru MD, Fon­da­trice et Direc­tice Générale de WARIF, Nige­ria
o Mon­sieur Luke de Pul­ford – Arise Foun­da­tion
o Sœur Patri­cia Ebeg­bulem, Con­gré­ga­tion des Sœurs de Saint Louis, Coor­di­na­trice du Foy­er Bakhi­ta, à Lagos, Nigeria
Échange avec la salle
Syn­thèse par Mon­sieur l'Ambas­sadeur Michel Veuthey, Ambas­sadeur de l'Ordre de Malte pour lut­ter con­tre la traite de personnes
Dis­cours de clô­ture par Son Excel­lence le Grand Hos­pi­tal­ier de l'Ordre Sou­verain de Malte, Dominique de La Rochefoucauld-Montbel.
Luke de Pulford's presentation — 'Grasping the issue of the rehabilitation of victims and reconstruction of their future'