NZZ — Ob unfruchtbar, schwul oder single: Ein Baby ist heute nur noch eine Frage des Geldes / Whether infertile, gay or single: having a baby today is just a question of money / Stériles, gays ou célibataires : aujourd'hui, avoir un bébé n'est plus qu'une question d'argent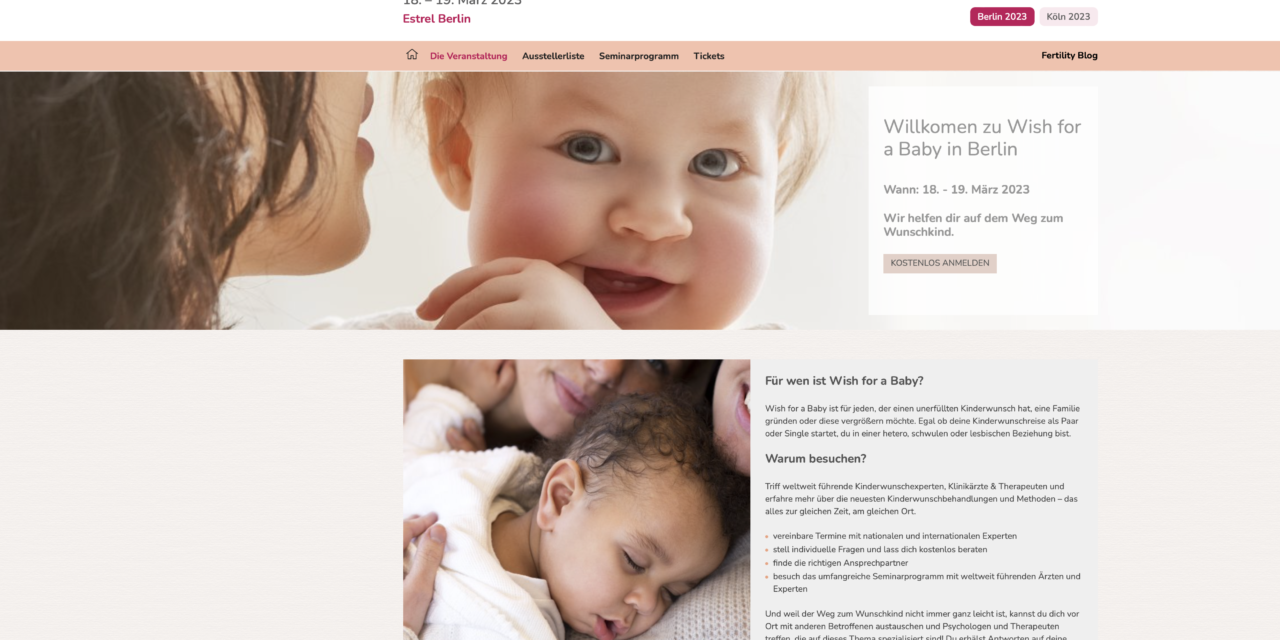 SEE: https://www.wishforababy.de/berlin/2023/die-messe/ueber-die-messe/
https://www.nzz.ch/impressum/barbara-klingbacher-bak-ld.1605930
ENGLISH TRANSLATION:
Whether infertile, gay or single, having a baby today is just a question of money. A visit to the fertility fair in Berlin
Fer­til­i­ty yoga, egg dona­tions and sur­ro­gate moth­ers in every price range — the busi­ness with the desire for one's own fam­i­ly is flour­ish­ing and is controversial.
Bar­bara Kling­bach­er (text), Joana Kelén (illus­tra­tion)
04/28/2023, 05:30 PM.
An Amer­i­can, a Cana­di­an, a North­ern Cypri­ot and a Colom­bian sit on a podi­um and com­pare. 150 000 to 200 000 dol­lars, says the Amer­i­can. 85 000 to 115 000 dol­lars, says the Cana­di­an. 65 000 euros, says the North­ern Cypri­ot. From 55 000 dol­lars, says the Colom­bian. These are the prices for a baby.
It's a Sun­day morn­ing in March, and the Kinder­wun­sch Fair in Berlin is all about chil­dren who haven't been born yet. In the
Rain­bow Sem­i­nar Room, a round­table dis­cus­sion is tak­ing place on the top­ic of "sur­ro­ga­cy world­wide." The four par­tic­i­pants not only announce the prices, but also explain the legal sit­u­a­tion in their coun­tries, explain which ser­vices their offer includes and from which point in time the child belongs to the "intend­ed par­ents". At the same time, a Span­ish woman gives a talk on sperm banks in anoth­er room, while fer­til­i­ty-pro­mot­ing fer­til­i­ty yoga is demon­strat­ed in the Stork Whis­per Lounge; "we make hap­pi­ness," promis­es the slogan.
The two-day fair at the Estrel con­ven­tion cen­ter is aimed at peo­ple who are hav­ing trou­ble con­ceiv­ing. The 50 booths and 60 lec­tures all promise the same thing: that no wish for a child need remain unful­filled. "Wish for a baby" is a fair of hope and a mar­ket for life's dreams. And as with every mar­ket, this one ulti­mate­ly revolves around mon­ey — lots of money.
As you walk around, one rule of thumb crys­tal­lizes: the high­er the hur­dles, the more expen­sive the solu­tion. If a woman does­n't get preg­nant for unclear rea­sons, she can get "in touch with her female cre­ative pow­er" at booth 10 (39 euros for a two-hour online sem­i­nar). Or she can book the coach­ing "Fer­til­i­ty hero­ines" at booth 30, where micronu­tri­ents are rec­om­mend­ed (239 euros, with­out micronutrients).
If preg­nan­cy fails to mate­ri­al­ize because the man's sperm are not good enough or there is no man at all, the friend­ly staff of the Dan­ish "Born Donor Bank" will help, with "the best donors, the best sperm qual­i­ty and the best ser­vice on the mar­ket" (from 575 euros for half a thim­ble, plus ship­ping). If the prob­lem lies with the female eggs, the Span­ish team of the fer­til­i­ty insti­tute "Vida" is ready with an "egg dona­tion guar­an­tee pro­gram". If the woman still does not give birth to a child after three fer­til­ized eggs have been implant­ed, the insti­tute reim­burs­es the costs (17,950 euros for women up to fifty).
Only against the dis­ap­point­ment there is no insurance.
Pens from sperm banks
Stef­fi* and Jan* know all about dis­ap­point­ment. The cou­ple stands in the qui­et cor­ner between the two halls and takes a breath for a moment. "Wish for a baby" is as busy and exhaust­ing as any trade fair. But this fair is also emo­tion­al­ly tir­ing. All the posters with preg­nan­cy bel­lies, cute babies, beam­ing fam­i­lies: vis­i­tors are remind­ed anew at every stand what they are miss­ing for their happiness.
Stef­fi and Jan have been try­ing to have a child for years. In the process, they have pushed the lim­its of what they were will­ing to take on for it. Stef­fi is 43 and has had sev­er­al arti­fi­cial insem­i­na­tions. The last one got her preg­nant. But a few weeks ago she lost the child. She has tears in her eyes when she talks about it.
What do they hope for from this fair? That it will help them make a deci­sion, says Stef­fi: Should they go one step fur­ther and try egg dona­tion, or should they say good­bye to their desire to have a child? How­ev­er, this occa­sion seems sur­re­al to them. All the give­aways, for instance: Who walks around with a burlap bag with the name of a fer­til­i­ty clin­ic print­ed on it? Who uses the pen of a sperm bank or drinks from a water bot­tle adver­tis­ing sur­ro­ga­cy? "Still," says Stef­fi. "Here you can see the pos­si­bil­i­ties that you would oth­er­wise hard­ly learn about."
Many of them are banned in Ger­many — as they are in Switzer­land — egg dona­tion, for exam­ple, or sur­ro­ga­cy. Ger­man doc­tors are also not allowed to rec­om­mend clin­ics abroad to their patients. Assist­ing in egg dona­tion" is a crim­i­nal offense in Ger­many, as is arrang­ing sur­ro­gate motherhood.
sur­ro­ga­cy. Stef­fi and Jan's doc­tor only vague­ly men­tioned that they could google "fer­til­i­ty fair." An event like "Wish for a baby" is only allowed to take place because the orga­niz­ers take the posi­tion that the exhibitors would only inform, but not make sales pitches.
So Stef­fi and Jan went to sev­er­al booths to get infor­ma­tion and took brochures. If they decide to donate eggs, it would be in Spain or Den­mark, where an attempt costs around 6,000 euros. It would be their very last, says Stef­fi. "After that, we would have to ask our­selves: how do we shape our lives if our great­est wish does­n't come true?" They rule out the next stage. Sur­ro­ga­cy is out of the ques­tion for them for eth­i­cal, but also finan­cial reasons.
Two radi­ant fathers with baby
Sur­ro­ga­cy, often called sur­ro­ga­cy here as in Eng­lish, is at the top of the price pyra­mid. India long had a rep­u­ta­tion as the cheap­est des­ti­na­tion; a baby there could be had for under $20,000. But since 2019, only infer­tile Indi­an cou­ples have been allowed to take advan­tage of the offer. Today, Geor­gia and Ukraine are con­sid­ered cheap, with prices start­ing at
$35,000. Before the war, Ukraine was the coun­try with the sec­ond high­est num­ber of sur­ro­gates, just behind the Unit­ed States.
Of course, price is not the only cri­te­ri­on. In the rain­bow sem­i­nar room, some­thing else is now being com­pared: Who gets to par­ent in the U.S., Cana­da, Colom­bia and North­ern Cyprus — a repub­lic of Turkey? The audi­ence con­sists of 51 men and one woman.
This seems sur­pris­ing at first, but it is not. Three quar­ters of the peo­ple who stroll through "Wish for a baby" are men. After all, where could the hur­dles to baby hap­pi­ness be high­er than among gay cou­ples? They not only need a sur­ro­gate moth­er, but usu­al­ly also a donat­ed egg. While sur­ro­gate moth­ers were often the bio­log­i­cal moth­ers of the babies in the past, a dif­fer­ent mod­el is pop­u­lar today: the sur­ro­gate moth­er is implant­ed with an embryo cre­at­ed from anoth­er wom­an's egg. This is more expen­sive, say the providers. But the emo­tion­al and legal risk of the woman want­i­ng to keep the child is smaller.
More than half of the exhibitors offer sur­ro­ga­cy ser­vices. The busi­ness is lucra­tive and com­pet­i­tive. Glob­al Mar­ket Insight, a mar­ket research firm, esti­mates the sur­ro­ga­cy indus­try will gen­er­ate $14 bil­lion in glob­al sales in 2022. By 2032, the sum will increase almost ten­fold, the firm pre­dicts. This is because, on the one hand, the num­ber of peo­ple with fer­til­i­ty prob­lems is increas­ing. On the oth­er hand, demand among homo­sex­u­al cou­ples — and sin­gles — is ris­ing sharply.
The audi­ence in the rain­bow sem­i­nar room can breathe a sigh of relief: in the coun­tries being coun­tries that are being com­pared, same-sex cou­ples or sin­gles are also allowed to become par­ents. It's not by chance that the room is called that. Here, where col­or­ful bal­loons form an arch over the speak­ers, only providers who are "inclu­sive" or "LGBT-friend­ly" get a chance to speak. How impor­tant this tar­get group has become can be seen in the brochures, which often show two fathers with a baby.
Fair trade in the sur­ro­gate moth­er business.
There's anoth­er rule of thumb at Wish for a baby: if there's a man stand­ing behind a booth, it's usu­al­ly a gay father who has made a career out of his good for­tune. Take Brett, the head of inter­na­tion­al cus­tomer ser­vice at "Cir­cle Sur­ro­ga­cy." This is one of the many agen­cies that "accom­pa­ny intend­ed par­ents step by step on their jour­ney": with the choice of egg donor and sur­ro­gate moth­er, dur­ing preg­nan­cy and with all legal issues. Brett scrolls through the pho­tos on his phone. "Here," he says, glow­ing with pride, "are my three children."
Brett was a banker before becom­ing a father with his hus­band. An Eng­lish sur­ro­gate car­ried the first son 13 years ago; the bio­log­i­cal father is Bret­t's part­ner. The cou­ple adopt­ed their daugh­ter when she was 8 months old; she is now 10. With the third child, the cou­ple dis­agreed: Bret­t's part­ner plead­ed for anoth­er adop­tion, Brett want­ed anoth­er sur­ro­ga­cy, this time with his sperm. Which he says was nev­er about bio­log­i­cal kinship.
Brett is dis­arm­ing­ly hon­est when talk­ing about his var­i­ous paths to father­hood. He would give his life for any of his chil­dren today, he says. But the "jour­ney" has been quite dif­fer­ent, he says. With the first son, he says, he and his part­ner went through the preg­nan­cy full of antic­i­pa­tion. Adopt­ing their daugh­ter, on the oth­er hand, he says, was a process full of intru­sive ques­tions. Because the adop­tion agency want­ed to pre­pare prospec­tive par­ents for the worst pos­si­ble out­come, there was no anticipation.
the worst pos­si­ble out­come, there was no antic­i­pa­tion, but rather con­cern. Emo­tions after­ward were also dif­fer­ent, he said: With his son, Brett fell in love imme­di­ate­ly after birth; with his daugh­ter, he says, it took months before he felt she was "his child."
Brett pushed through, and he has no regrets. The time lead­ing up to the birth of their third baby, born in the U.S. thanks to a sur­ro­gate, was again an "all-around joy­ful expe­ri­ence," he said. This time, the cou­ple had also cho­sen the sex of the child. Because there are cas­es of breast and uter­ine can­cer in Bret­t's fam­i­ly, they want­ed a boy.
Brett scrolls fur­ther until he finds anoth­er fam­i­ly pho­to: The two fathers, two sons and daugh­ter at a Dal­las restau­rant, with a laugh­ing woman sit­ting in the mid­dle. "Our youngest's sur­ro­gate moth­er," Brett says; the pho­to was tak­en dur­ing a recent vis­it. "And," he asks rhetor­i­cal­ly, "is this what an exploit­ed woman looks like?" Brett left his job as a banker because he sees mean­ing in help­ing oth­er peo­ple have babies. But he knows how con­tro­ver­sial the busi­ness is. "Every­one should be able to ful­fill their desire to have chil­dren. But they should make sure it's a fair trade."
"It's like livestock."
There are some big ques­tions in this busi­ness: is there a right to have a child? And, is the hap­pi­ness of some based in the unhap­pi­ness of oth­ers? At the inter­sec­tion in front of the con­ven­tion cen­ter, a group of women are shout­ing against the traf­fic noise: "Women are not your slaves, chil­dren are not your com­mod­i­ty," they shout, hold­ing ban­ners that read, "There is no fair trade in surrogacy."
The protest was called by the orga­ni­za­tion "Terre des femmes," which cam­paigns against human rights vio­la­tions against women. When a few of the
When a few of the demon­stra­tors want­ed to look at the fair, secu­ri­ty guards put them in front of the door. What peo­ple out­side think of the busi­ness mod­el inside is already evi­dent from the choice of words: "buy­ing par­ents", "rent­ing moth­ers". It is a form of pros­ti­tu­tion and human traf­fick­ing: women from pre­car­i­ous back­grounds make their bod­ies avail­able for a fee, but oth­ers earn the big mon­ey. "It's like live­stock," says one demonstrator.
In fact, the busi­ness with sur­ro­gate moth­ers is often dubi­ous, for exam­ple in the much-pub­li­cized "guar­an­tee pro­grams." The intend­ed par­ents pay a high­er fixed price and get a child for sure. Embryos are sim­ply used as often as nec­es­sary until a baby is born, if nec­es­sary also with a sec­ond or third sur­ro­gate moth­er. The prob­lem is that such guar­an­teed pro­grams are par­tic­u­lar­ly lucra­tive for the providers if it works out on the first try. To increase the chances of this, some clin­ics do not implant one embryo in the sur­ro­gate moth­ers, but four or five. If sev­er­al then sur­vive, the sur­plus ones are abort­ed; after all, the par­ents want­ed one baby, not five.
Ukrain­ian women report on oth­er dubi­ous busi­ness prac­tices in the radio report "Babies for the World" by Deutsch­land­funk, which was pro­duced short­ly before the war. It fea­tures a sur­ro­gate moth­er who gave birth to a pre­ma­ture baby. Because his Chi­nese intend­ed par­ents feared that the boy might be hand­i­capped, they refused to pick him up. The moth­er got much less mon­ey, the child prob­a­bly end­ed up in a home, and the par­ents ordered a new baby. Anoth­er sur­ro­gate was forced into a late-term abor­tion because she was preg­nant with a boy — the client had want­ed a daughter.
As a sin­gle man, he should not have been admit­ted to a sur­ro­ga­cy pro­gram in Ukraine at all; intend­ed par­ents here must be mar­ried and het­ero­sex­u­al. But the agen­cies have found ways to get around the law. They ship sur­ro­gate moth­ers to clin­ics abroad, such as in the Czech Repub­lic, for embryo implan­ta­tion and lat­er for birth. The founder of Ukraine's "Fes­kov Human Repro­duc­tion Group" was charged with human traf­fick­ing in 2021 on the basis of such a "remote pro­gram"; his com­pa­ny alleged­ly sold more than 30 babies through Prague, earn­ing 1.2 mil­lion euros.
Fes­kov also has a stand at the fair in Berlin; 18,000 chil­dren had been helped into the world, a poster pro­claims. At the begin­ning of the war, the media had report­ed babies who could not be picked up. The prob­lem has been solved, says the Fes­kov rep­re­sen­ta­tive, pro­mot­ing the "remote pro­gram," in which births can take place in oth­er coun­tries. "So the intend­ed par­ents nev­er have to enter Ukraine at all."
A fast and cheap way to have a child
One thing is undis­put­ed: the sur­ro­gate moth­er busi­ness is based on inequal­i­ty. Wealthy peo­ple pay less wealthy women to car­ry their child. To be sure, there are sur­ro­gate moth­ers whose main moti­va­tion is to help oth­er peo­ple. But with them, the demand could nev­er be met.
In the rain­bow sem­i­nar room, the wait­ing times in the dif­fer­ent coun­tries are now com­pared; they depend direct­ly on the remu­ner­a­tion. In Cana­da, only altru­is­tic sur­ro­ga­cy is allowed, and the women receive only an expense allowance of $15,000 to $25,000. In the U.S., how­ev­er, a com­mer­cial "sur­ro­gate" can earn $50,000 to $100,000 per child. As a result, intend­ed par­ents in Cana­da have to wait two to three years to find a sur­ro­gate, where­as in the U.S. it takes only a few weeks.
When it comes to the ques­tion of where a child's wish can be ful­filled as quick­ly as pos­si­ble and at the same time at a rea­son­able price, Colom­bia and north­ern Cyprus are in the lead. In Colom­bia, a sur­ro­gate moth­er gets only $5,000. The clin­ic in North­ern Cyprus has found anoth­er mod­el to reduce costs: they recruit women in poor coun­tries like Kaza­khstan or Kyr­gyzs­tan, who are flown in for treat­ment and stay on site until the birth.
But North­ern Cyprus has anoth­er argu­ment on its side. Some sur­ro­ga­cy pro­grams stip­u­late that sin­gles must be no more than 54 years old at the start; for cou­ples, the sum of their years of life should not exceed 110. The North­ern Cyprus clin­ic explic­it­ly adver­tis­es that there is no age lim­it for intend­ed parents.
As open as the providers are to cus­tomers, they become sus­pi­cious when con­front­ed by a jour­nal­ist. When asked about the liv­ing con­di­tions of the Kaza­kh and Kyr­gyz sur­ro­gate moth­ers, the rep­re­sen­ta­tive of the clin­ic in north­ern Cyprus replies that she does­n't know any­thing about it and is only here to dis­trib­ute brochures. The Cana­di­an, who found­ed an agency called "Babies come true," first wants to know whether it will be a text for or against sur­ro­ga­cy. He claims that he is not allowed to give infor­ma­tion for neg­a­tive arti­cles, as this is for­bid­den by the Cana­di­an government.
A Greek doc­tor also sud­den­ly becomes mono­syl­lab­ic. In his pre­sen­ta­tion, he had adver­tised that in his clin­ic all chil­dren were born by Cae­sare­an sec­tion, so that the birth date could be bet­ter planned for the par­ents. Now he says he was mis­un­der­stood; a cesare­an sec­tion is, of course, always a pure­ly med­ical decision.
"Cel­e­bra­tion of femininity"
Ralf has been think­ing for years about whether com­mer­cial sur­ro­ga­cy is eth­i­cal. But what, the IT pro­fes­sion­al asks, would be the alter­na­tive in the case of a desire for a child as insur­mount­able as his? "The alter­na­tive would be to cheat on a woman and pre­tend to be roman­ti­cal­ly involved with her in order to become a father. Or not hav­ing a child and com­mit­ting sui­cide out of despair over it."
Ralf has been with his part­ner for 13 years. A few months ago, he made his deci­sion: he wants to be a father by 45 at the lat­est; now he is 43.
Since then, he has approached his desire to have a child like a project, the most impor­tant one of his life. Before the trade show, he phoned all the providers who came into ques­tion. Now he has met the rep­re­sen­ta­tives at the booths. "That was good, more human some­how. It felt less like a sales pitch."
Ralf knows he can't resolve the moral dilem­ma, but he tries hard. He used to have the naive notion that sur­ro­ga­cy was an exploita­tion of the female body, he says. In the mean­time, he thinks that self-deter­mi­na­tion also includes the right to sell one's own body. And any­way: the fem­i­nists out­side the con­gress cen­ter should bet­ter fight against much more dan­ger­ous devel­op­ments. Against men sud­den­ly being allowed to be women and appear­ing in lock­er rooms or in wom­en's sports: "That's the real era­sure of women, isn't it?"
Ralf has decid­ed to see sur­ro­ga­cy as a "cel­e­bra­tion of fem­i­nin­i­ty." Now he is on the look­out for an agency that treats and pays its women well. Where­by: The real­ly well paid ones, those in the USA, he can­not afford. Instead, he says, the food in Colom­bia or East­ern Europe is more nat­ur­al, "that's also impor­tant to me for our child". Ralf has a dream: He would pre­fer the sur­ro­gate moth­er to move in with him and his part­ner dur­ing the preg­nan­cy; then they would cook for her, spoil her and invite her to the the­ater. That's not pos­si­ble, of course. But he def­i­nite­ly wants to build a very close rela­tion­ship with the sur­ro­gate, one that will last a life­time after the birth. "She will be the most impor­tant woman in the lives of me and my part­ner — except maybe our mothers."
The final ques­tion in the sur­ro­ga­cy round­table revolves around the same ques­tion: how much con­tact do expec­tant par­ents have with the sur­ro­gate moth­er? The Cana­di­an brings up the issue, believ­ing it to be an argu­ment in his favor. In Cana­da, he says tri­umphant­ly, intend­ed par­ents and "sur­ro­gate moth­ers" are in con­stant exchange; the women who become sur­ro­gate moth­ers for altru­is­tic rea­sons, want­ed it that way. "With us, it's not com­pul­so­ry," inter­jects the North­ern Cypri­ot, equal­ly con­fi­dent of vic­to­ry. Par­ents can order a baby there with­out ever com­ing into con­tact with the woman who gives birth to it. After all, they are cus­tomers, and their desire to have a child is an order.
* Names changed
This arti­cle is tak­en from the NZZ Folio on the sub­ject of "Desired Chil­dren" (to be pub­lished on May 2, 2023).
TRADUCTION FRANÇAISE
Que l'on soit stérile, gay ou célibataire, avoir un bébé n'est aujourd'hui qu'une question d'argent. Une visite au salon du désir d'enfant à Berlin
Yoga de la fer­til­ité, dons d'ovules et mères por­teuses à tous les prix — le busi­ness du désir d'avoir sa pro­pre famille est floris­sant et controversé.
Bar­bara Kling­bach­er (texte), Joana Kelén (illus­tra­tion)
28.04.2023, 05.30 heures
Un Améri­cain, un Cana­di­en, une Chypri­ote du Nord et un Colom­bi­en sont assis sur une estrade et com­par­ent. 150 000 à 200 000 dol­lars, dit l'Améri­cain. 85 000 à 115 000 dol­lars, dit le Cana­di­en. 65 000 euros, dit la Chypri­ote du Nord. A par­tir de 55 000 dol­lars, dit le Colom­bi­en. Ce sont les prix d'un bébé.
C'est un dimanche matin de mars, et au salon du désir d'en­fant à Berlin, tout tourne autour des enfants qui ne sont pas encore nés. Dans le
Salle de sémi­naire arc-en-ciel se déroule actuelle­ment une table ronde sur le thème "La mater­nité de sub­sti­tu­tion dans le monde". Les qua­tre par­tic­i­pants ne se con­tentent pas d'an­non­cer les prix, mais expliquent égale­ment la sit­u­a­tion juridique dans leurs pays respec­tifs, les presta­tions inclus­es dans leur offre et à par­tir de quel moment l'en­fant appar­tient aux "par­ents d'in­ten­tion". Au même moment, dans une autre salle, une Espag­nole fait un exposé sur les ban­ques de sperme, tan­dis que dans le salon des chu­chote­ments des cigognes, on fait du yoga du désir d'en­fant qui favorise la fer­til­ité ; "nous faisons le bon­heur", promet le slogan.
Le salon de deux jours au cen­tre de con­grès Estrel s'adresse aux per­son­nes qui ont des dif­fi­cultés à avoir des enfants. Les 50 stands et les 60 con­férences promet­tent tous la même chose : qu'au­cun désir d'en­fant ne doit rester inas­sou­vi. "Wish for a baby" est un salon de l'e­spoir et un marché des rêves de vie. Et comme tout marché, celui-ci tourne en fin de compte autour de l'ar­gent — beau­coup d'argent.
En faisant le tour, une règle générale se dégage : plus les obsta­cles sont élevés, plus la solu­tion est chère. Si une femme ne tombe pas enceinte pour des raisons peu claires, elle peut se ren­dre au stand 10 pour "entr­er en con­tact avec son pou­voir créa­teur féminin" (39 euros pour un sémi­naire en ligne de deux heures). Ou elle peut réserv­er au stand 30 le coach­ing "Héroïnes de la fer­til­ité", au cours duquel des micronu­tri­ments lui seront recom­mandés (239 euros, sans micronutriments).
Si la grossesse n'ar­rive pas parce que les sper­ma­to­zoïdes de l'homme ne sont pas assez bons ou qu'il n'y a pas d'homme du tout, le per­son­nel aimable de la "Born Donor Bank" danoise apporte son aide, avec "les meilleurs don­neurs, la meilleure qual­ité de sperme et le meilleur ser­vice sur le marché" (à par­tir de 575 euros pour un demi dé à coudre, sans compter les frais de port). Si le prob­lème vient des ovules féminins, l'équipe espag­nole de l'in­sti­tut de fer­til­ité "Vida" est prête à inter­venir avec un "pro­gramme de garantie de don d'ovules". Si, après avoir reçu trois ovules fécondés, la femme ne donne tou­jours pas nais­sance à un enfant, l'in­sti­tut rem­bourse les frais (17 950 euros pour les femmes de moins de 50 ans).
Mais il n'y a pas d'as­sur­ance con­tre la déception.
Sty­los des ban­ques de sperme
Stef­fi* et Jan* s'y con­nais­sent en décep­tions. Le cou­ple se tient dans le coin repos entre les deux halls et respire un moment. "Wish for a baby" est aus­si affairé et fati­gant que n'im­porte quel salon. Mais ce salon fatigue aus­si émo­tion­nelle­ment. Toutes ces affich­es mon­trant des ven­tres de femmes enceintes, des bébés adorables, des familles ray­on­nantes : à chaque stand, les vis­i­teurs se voient rap­pel­er à nou­veau ce qui leur manque pour être heureux.
Stef­fi et Jan essaient d'avoir un enfant depuis des années. Ce faisant, ils n'ont cessé de repouss­er les lim­ites de ce qu'ils étaient prêts à assumer pour cela. Stef­fi a 43 ans et a subi plusieurs insémi­na­tions arti­fi­cielles. Lors de la dernière, elle est tombée enceinte. Mais il y a quelques semaines, elle a per­du l'en­fant. Elle a les larmes aux yeux lorsqu'elle en parle.
Qu'e­spèrent-ils de cette foire ? Qu'elle les aide à pren­dre une déci­sion, dit Stef­fi : doivent-ils faire un pas de plus et essay­er de faire un don d'ovules ou doivent-ils dire adieu à leur désir d'en­fant ? Cette occa­sion leur sem­ble toute­fois sur­réal­iste. Tous ces cadeaux pub­lic­i­taires, par exem­ple : Qui se promène avec un sac en toile de jute sur lequel est imprimé le nom d'une clin­ique de fer­til­ité ? Qui utilise le sty­lo d'une banque de sperme ou boit dans une bouteille d'eau qui fait la pro­mo­tion de la mater­nité de sub­sti­tu­tion ? "Quand même", dit Stef­fi. "Ici, on voit les pos­si­bil­ités dont on n'en­tend guère par­ler ailleurs".
Beau­coup d'en­tre elles sont inter­dites en Alle­magne — comme en Suisse -, comme le don d'ovules ou la mater­nité de sub­sti­tu­tion. Les médecins alle­mands n'ont pas non plus le droit de recom­man­der à leurs patientes des clin­iques à l'é­tranger. L' "aide au don d'ovules" est puniss­able en Alle­magne, tout comme l'en­trem­ise de la ges­ta­tion pour autrui.
les mater­nités de sub­sti­tu­tion. Le médecin de Stef­fi et Jan a vague­ment men­tion­né qu'ils pou­vaient taper "salon de la fer­til­ité" sur Google. Un événe­ment tel que "Wish for a baby" ne peut avoir lieu que parce que les organ­isa­teurs ont adop­té le point de vue selon lequel les exposants se con­tentent d'in­former et ne mènent aucun entre­tien de vente.
Stef­fi et Jan se sont donc infor­més à plusieurs stands et ont pris des prospec­tus. S'ils déci­dent de faire un don d'ovules, ce sera en Espagne ou au Dane­mark, où une ten­ta­tive coûte env­i­ron 6000 euros. Ce serait leur toute dernière, dit Stef­fi. "Ensuite, nous devri­ons nous deman­der : com­ment organ­is­er notre vie si notre vœu le plus cher ne se réalise pas ?" Ils exclu­ent l'é­tape suiv­ante. Une mater­nité de sub­sti­tu­tion n'en­tre pas en ligne de compte pour eux, pour des raisons éthiques mais aus­si financières.
Deux pères ray­on­nants avec leur bébé
Les mater­nités de sub­sti­tu­tion, sou­vent appelées ici comme en anglais "sur­ro­ga­cy", se trou­vent au som­met de la pyra­mide des prix. L'Inde a longtemps eu la répu­ta­tion d'être la des­ti­na­tion la moins chère ; un bébé pou­vait y être obtenu pour moins de 20 000 dol­lars. Mais depuis 2019, seuls les cou­ples indi­ens stériles peu­vent y avoir recours. Aujour­d'hui, la Géorgie et l'Ukraine sont con­sid­érées comme bon marché, avec des prix à par­tir de 35 000 dol­lars. Avant la guerre, l'Ukraine était le deux­ième pays où l'on recourait le plus aux mères por­teuses, juste der­rière les États-Unis.
Bien sûr, le prix n'est pas le seul critère. Dans la salle de sémi­naire arc-en-ciel, la com­para­i­son porte désor­mais sur autre chose : Qui est autorisé à devenir par­ent aux États-Unis, au Cana­da, en Colom­bie et à Chypre du Nord — une république de Turquie ? Le pub­lic est com­posé de 51 hommes et d'une femme.
Cela sem­ble sur­prenant au pre­mier abord, mais ne l'est pas. Les trois quarts des per­son­nes qui déam­bu­lent dans "Wish for a baby" sont des hommes. En effet, où les obsta­cles au bon­heur d'avoir un bébé pour­raient-ils être plus élevés que chez les cou­ples gays ? Ils n'ont pas seule­ment besoin d'une mère por­teuse, mais aus­si, la plu­part du temps, d'un ovule don­né. Car si autre­fois les mères por­teuses étaient sou­vent les mères biologiques des bébés, un autre mod­èle est aujour­d'hui très appré­cié : la mère por­teuse se fait implanter un embry­on issu de l'ovule d'une autre femme. C'est certes plus cher, dis­ent les prestataires. En revanche, le risque émo­tion­nel et juridique que la femme veuille garder l'en­fant est moindre.
Plus de la moitié des exposants pro­posent des ser­vices autour de la sub­sti­tu­tion. Le marché est lucratif et très dis­puté. Le cab­i­net d'é­tudes de marché Glob­al Mar­ket Insight estime le chiffre d'af­faires mon­di­al de l'in­dus­trie de la sub­sti­tu­tion à 14 mil­liards de dol­lars en 2022. D'i­ci 2032, ce mon­tant sera presque mul­ti­plié par dix, prévoit la société. Car d'une part, le nom­bre de per­son­nes souf­frant de trou­bles de la fer­til­ité aug­mente. D'autre part, la demande des cou­ples homo­sex­uels — et des céli­bataires — aug­menterait fortement.
Le pub­lic présent dans la salle de sémi­naire arc-en-ciel peut respir­er : dans les pays qui sont sont com­parés, les cou­ples de même sexe ou les per­son­nes seules peu­vent égale­ment devenir par­ents. Ce n'est pas par hasard que la salle s'ap­pelle ain­si. Ici, où des bal­lons mul­ti­col­ores for­ment un arc au-dessus des inter­venants, seuls les prestataires "inclusifs" ou "LGBT-friend­ly" ont la parole. L'im­por­tance qu'a prise ce groupe cible se reflète dans les prospec­tus, qui mon­trent sou­vent deux pères avec un bébé.
Le com­merce équitable dans les affaires avec les mères porteuses
Il y a une autre règle générale à "Wish for a baby" : si un homme se tient der­rière un stand, il s'ag­it générale­ment d'un père homo­sex­uel qui a fait de son bon­heur un méti­er. Par exem­ple Brett, le chef du ser­vice clien­tèle inter­na­tion­al de "Cir­cle Sur­ro­ga­cy". Il s'ag­it d'une des nom­breuses agences qui "accom­pa­g­nent pas à pas les par­ents d'in­ten­tion dans leur voy­age" : dans le choix de la don­neuse d'ovules et de la mère por­teuse, pen­dant la grossesse et pour toutes les ques­tions juridiques. Brett fait défil­er les pho­tos sur son télé­phone portable. "Voilà", dit-il, brûlant de fierté, "ce sont mes trois enfants".
Brett était ban­quier avant de devenir père avec son mari. Le pre­mier fils a été porté par une mère por­teuse anglaise il y a 13 ans ; le père biologique est le parte­naire de Brett. Ils ont adop­té leur fille à l'âge de huit mois, elle a main­tenant dix ans. Pour le troisième enfant, le cou­ple n'é­tait pas d'ac­cord : le parte­naire de Brett plaidait pour une autre adop­tion, Brett souhaitait une autre mater­nité de sub­sti­tu­tion, cette fois avec son sperme. Il n'a jamais été ques­tion de par­en­té biologique, dit-il.
Brett est d'une hon­nêteté désar­mante lorsqu'il par­le de ses dif­férentes voies vers la pater­nité. Aujour­d'hui, il don­nerait sa vie pour cha­cun de ses enfants, dit-il. Mais le "voy­age" est très dif­férent. Pour le pre­mier fils, lui et son parte­naire auraient accom­pa­g­né la grossesse avec impa­tience. L'adop­tion de leur fille, en revanche, a été un proces­sus rem­pli de ques­tions intru­sives. Comme l'a­gence d'adop­tion pré­parait les futurs par­ents au pire scé­nario pos­si­ble, il n'y a pas eu de préparation.
L'an­tic­i­pa­tion n'est donc pas de mise, mais plutôt de l'in­quié­tude. Les émo­tions qui suiv­ent sont égale­ment dif­férentes : Brett est tombé amoureux de son fils dès sa nais­sance, pour sa fille, il a fal­lu des mois avant qu'il ait le sen­ti­ment qu'elle était "son enfant".
Brett s'est imposé, et il ne l'a pas regret­té. Le temps qui s'est écoulé jusqu'à la nais­sance du troisième bébé, né aux États-Unis grâce à une mère por­teuse, a de nou­veau été une "expéri­ence joyeuse à tous les niveaux". Cette fois, le cou­ple avait égale­ment choisi le sexe de l'en­fant. Comme il y a des cas de can­cer du sein et de l'utérus dans la famille de Brett, ils voulaient un garçon.
Brett con­tin­ue à faire défil­er la page jusqu'à ce qu'il trou­ve une autre pho­to de famille : Les deux pères, les deux fils et la fille dans un restau­rant de Dal­las, une femme souri­ante assise au milieu. "La mère por­teuse de notre plus jeune", dit Brett ; la pho­to a été prise récem­ment lors d'une vis­ite. "Et", demande-t-il de manière rhé­torique, "est-ce à cela que ressem­ble une femme exploitée ?" Brett a quit­té son méti­er de ban­quier parce qu'il trou­ve un sens à aider d'autres per­son­nes à avoir des bébés. Mais il sait à quel point ce busi­ness est con­tro­ver­sé. "Tout le monde devrait pou­voir réalis­er son désir d'en­fant. Mais ils devraient veiller à ce que ce soit un com­merce équitable".
"Comme pour le bétail d'élevage"
Dans ce busi­ness, il y a quelques grandes ques­tions : y a‑t-il un droit à l'en­fant ? Et : le bon­heur des uns se fonde-t-il sur le mal­heur des autres ? Au car­refour devant le cen­tre de con­grès, un groupe de femmes hurle con­tre le bruit de la cir­cu­la­tion : "Les femmes ne sont pas vos esclaves, les enfants ne sont pas votre marchan­dise", cri­ent-elles en ten­ant des ban­deroles sur lesquelles on peut lire : "There is no fair trade in Surrogacy".
C'est l'or­gan­i­sa­tion "Terre des femmes", qui lutte con­tre les vio­la­tions des droits de l'homme à l'en­con­tre des femmes, qui a appelé à man­i­fester. Lorsque quelques-unes des man­i­fes­tantes voulaient vis­iter le salon, des agents de sécu­rité les ont placées devant la porte. Ce que l'on pense ici, à l'ex­térieur, du mod­èle com­mer­cial à l'in­térieur se voit déjà dans le choix des mots : "par­ents acheteurs", "mères locataires". Il s'ag­it d'une forme de pros­ti­tu­tion et de traf­ic d'êtres humains : les femmes issues de milieux pré­caires met­tent leur corps à dis­po­si­tion con­tre rémunéra­tion, mais ce sont d'autres qui gag­nent le gros lot. "Comme le bétail", dit une manifestante.
En fait, le com­merce avec les mères por­teuses est sou­vent dou­teux, par exem­ple dans le cas des "pro­grammes de garantie" dont on fait grand cas. Les par­ents d'in­ten­tion paient un prix fixe plus élevé et obti­en­nent en échange un enfant à coup sûr. Des embryons sont tout sim­ple­ment implan­tés autant de fois que néces­saire jusqu'à ce qu'un bébé naisse, si néces­saire avec une deux­ième ou une troisième mère por­teuse. Le prob­lème : de tels pro­grammes de garantie sont par­ti­c­ulière­ment lucrat­ifs pour les four­nisseurs si le pre­mier essai est con­clu­ant. Afin d'aug­menter les chances, cer­taines clin­iques n'im­plantent pas un embry­on mais qua­tre ou cinq aux mères por­teuses. Si plusieurs sur­vivent, ceux qui sont en surnom­bre sont avortés ; après tout, les par­ents souhaitaient un seul bébé, pas cinq.
Des Ukraini­ennes témoignent d'autres pra­tiques com­mer­ciales dou­teuses dans l'émis­sion de radio "Babys für die Welt" de la Deutsch­land­funk, réal­isée peu avant la guerre. On y entend la voix d'une mère por­teuse qui a mis au monde un bébé pré­maturé. Comme ses par­ents d'in­ten­tion chi­nois craig­naient que le garçon soit hand­i­capé, ils ont refusé d'aller le chercher. La mère a reçu beau­coup moins d'ar­gent, l'en­fant a prob­a­ble­ment fini dans un foy­er, les par­ents ont com­mandé un nou­veau bébé. Une autre mère por­teuse a été con­trainte à un avorte­ment tardif parce qu'elle était enceinte d'un garçon — le client souhaitait une fille.
En tant qu'homme céli­bataire, il n'au­rait même pas pu être admis à un pro­gramme de mère por­teuse en Ukraine ; les par­ents d'in­ten­tion doivent ici être mar­iés et hétéro­sex­uels. Mais les agences ont trou­vé des moyens trou­vé des moyens de con­tourn­er la loi. Elles envoient les mères por­teuses dans des clin­iques à l'é­tranger, en République tchèque par exem­ple, pour l'im­plan­ta­tion de l'embryon puis pour l'ac­couche­ment. Le fon­da­teur de l'en­tre­prise ukraini­enne "Fes­kov Human Repro­duc­tion Group" a été inculpé en 2021 pour traf­ic d'êtres humains en rai­son d'un tel "pro­gramme à dis­tance" ; son entre­prise aurait ven­du plus de 30 bébés via Prague et gag­né ain­si 1,2 mil­lion d'euros.
Fes­kov a égale­ment un stand à la foire de Berlin, 18 000 enfants auraient été aidés à venir au monde, annonce une affiche. Au début de la guerre, les médias avaient fait état de bébés qui n'avaient pas pu être récupérés. Le prob­lème est résolu, affirme la représen­tante de Fes­kov, qui fait la pro­mo­tion du "pro­gramme à dis­tance", dans le cadre duquel la nais­sance peut avoir lieu dans d'autres pays. "Les par­ents d'in­ten­tion n'ont donc jamais besoin de se ren­dre en Ukraine".
Un enfant rapi­de et bon marché
Il est indé­ni­able que le com­merce des mères por­teuses repose sur l'iné­gal­ité. Les per­son­nes aisées paient des femmes moins for­tunées pour porter leur enfant. Certes, il existe aus­si des mères por­teuses dont la moti­va­tion prin­ci­pale est d'aider d'autres per­son­nes. Mais avec elles, la demande ne pour­rait jamais être satisfaite.
Dans la salle de sémi­naire arc-en-ciel, on com­pare main­tenant les temps d'at­tente dans les dif­férents pays, ils dépen­dent directe­ment de la rémunéra­tion. Au Cana­da, seule la mater­nité de sub­sti­tu­tion altru­iste est autorisée et les femmes ne reçoivent qu'une indem­nité de 15 000 à 25 000 dol­lars. Aux États-Unis, en revanche, une "sub­sti­tut" com­mer­ciale peut gag­n­er de 50 000 à 100 000 dol­lars par enfant. Par con­séquent, les par­ents d'in­ten­tion doivent patien­ter deux à trois ans au Cana­da avant de trou­ver une mère por­teuse, alors que cela ne prend que quelques semaines aux États-Unis.
Lorsqu'il s'ag­it de savoir où il est pos­si­ble de sat­is­faire un désir d'en­fant le plus rapi­de­ment pos­si­ble et à moin­dre coût, la Colom­bie et le nord de Chypre arrivent en tête. En Colom­bie, une mère por­teuse ne reçoit que 5 000 dol­lars. La clin­ique du nord de Chypre a trou­vé un autre mod­èle pour réduire les coûts : on recrute des femmes dans des pays pau­vres comme le Kaza­khstan ou le Kirghizs­tan, qui sont amenées par avion pour le traite­ment et restent sur place jusqu'à la naissance.
Mais Chypre du Nord a un autre argu­ment de son côté. Cer­tains pro­grammes de mater­nité de sub­sti­tu­tion stip­u­lent que les céli­bataires ne doivent pas dépass­er 54 ans au départ.
54 ans ; pour les cou­ples, la somme de leurs années de vie ne doit pas dépass­er 110 ans. La clin­ique chypri­ote du nord annonce explicite­ment qu'elle n'im­pose aucune lim­ite d'âge aux par­ents d'intention.
Autant les prestataires sont ouverts aux clients, autant ils devi­en­nent méfi­ants lorsqu'une jour­nal­iste se trou­ve en face d'eux. Inter­rogée sur les con­di­tions de vie des mères por­teuses kaza­khes et kirghizes, la représen­tante de la clin­ique chypri­ote du nord répond qu'elle ne s'y con­naît pas, qu'elle n'est là que pour dis­tribuer des prospec­tus. Le Cana­di­en, qui a fondé une agence appelée "Babies come true", veut d'abord savoir s'il s'a­gi­ra d'un texte pour ou con­tre la mater­nité de sub­sti­tu­tion. Il affirme qu'il n'a pas le droit de don­ner des infor­ma­tions pour des arti­cles négat­ifs, le gou­verne­ment cana­di­en l'ayant interdit.
Un médecin grec devient lui aus­si soudaine­ment mono­syl­labique. Dans son exposé, il avait affir­mé que dans sa clin­ique, tous les enfants nais­saient par césari­enne afin que les par­ents puis­sent mieux plan­i­fi­er la date de nais­sance. Main­tenant, il dit qu'on l'a mal com­pris, qu'une césari­enne est bien sûr tou­jours une déci­sion pure­ment médicale.
"Célébra­tion de la féminité"
Ralf réflé­chit depuis des années à la ques­tion de savoir si la mater­nité de sub­sti­tu­tion com­mer­ciale est éthique­ment défend­able. Mais quelle serait l'al­ter­na­tive, demande l'in­for­mati­cien, face à un désir d'en­fant aus­si insur­montable que le sien ? "L'al­ter­na­tive serait de tromper une femme et de lui faire croire à une rela­tion roman­tique pour devenir père. Ou de ne pas avoir d'en­fant et de se sui­cider par dés­espoir à ce sujet".
Ralf est en cou­ple avec son parte­naire depuis 13 ans. Il y a quelques mois, il a pris sa déci­sion : à 45 ans au plus tard, il veut être père ; il a main­tenant 43 ans.
Depuis, il abor­de son désir d'en­fant comme un pro­jet, le plus impor­tant de sa vie. Avant le salon, il a téléphoné à tous les prestataires entrant en ligne de compte. Main­tenant, il a ren­con­tré les représen­tants sur les stands. "C'é­tait bien, plus humain en quelque sorte. Ça ressem­blait moins à un pitch de vente".
Ralf sait qu'il ne peut pas résoudre le dilemme moral, mais il essaie de toutes ses forces. Autre­fois, il avait l'idée naïve que la mater­nité de sub­sti­tu­tion était une exploita­tion du corps de la femme, dit-il. Aujour­d'hui, il pense que l'au­todéter­mi­na­tion implique aus­si le droit de ven­dre son pro­pre corps. Et de toute façon, les fémin­istes qui se trou­vent devant le cen­tre de con­grès feraient mieux de lut­ter con­tre des évo­lu­tions bien plus dan­gereuses. Con­tre le fait que les hommes puis­sent soudain être des femmes et appa­raître dans les ves­ti­aires ou dans le sport féminin : "C'est quand même la véri­ta­ble extinc­tion de la femme".
Ralf a décidé de con­sid­ér­er la mater­nité de sub­sti­tu­tion comme une "célébra­tion de la féminité". Il est main­tenant à la recherche d'une agence qui traite et rémunère bien ses femmes. Il ne peut pas se per­me­t­tre de pay­er celles qui sont vrai­ment bien payées, celles des Etats-Unis. En revanche, l'al­i­men­ta­tion en Colom­bie ou en Europe de l'Est est plus naturelle, "c'est aus­si impor­tant pour moi, pour notre enfant". Ralf a un rêve : il aimerait que la mère por­teuse s'in­stalle chez lui et son parte­naire pen­dant la grossesse ; ils pour­raient alors lui faire la cui­sine, la gâter et l'in­viter au théâtre. Bien sûr, ce n'est pas pos­si­ble. Mais il veut en tout cas établir une rela­tion très étroite avec la mère por­teuse, une rela­tion qui dur­era toute la vie après la nais­sance. "Elle sera la femme la plus impor­tante de ma vie et de celle de mon parte­naire — à part peut-être nos mères".
La dernière ques­tion de la table ronde sur la mater­nité de sub­sti­tu­tion tourne autour de la même ques­tion : quel con­tact les futurs par­ents ont-ils avec la mère por­teuse ? Le Cana­di­en soulève la ques­tion, pen­sant que c'est un argu­ment en sa faveur. Au Cana­da, dit-il tri­om­phale­ment, les par­ents d'in­ten­tion et les "mères de sub­sti­tu­tion" sont en échange per­ma­nent ; les femmes qui, pour des raisons devi­en­nent mères por­teuses pour des raisons altru­istes, le souhait­ent. "Chez nous, ce n'est pas une oblig­a­tion", lance la Chypri­ote du Nord, tout aus­si sûre de sa vic­toire. Les par­ents peu­vent y com­man­der un bébé sans jamais entr­er en con­tact avec la femme qui le met au monde. Après tout, ils sont des clients et leur désir d'en­fant est un ordre.
* Noms modifiés
Cet arti­cle est tiré du NZZ-Folio sur le thème des "enfants désirés" (à paraître le 2 mai 2023).