Paris – Colloque du Mardi 8 octobre 2019 – Comment mieux lutter, ensemble, contre la traite des femmes d'Afrique de l'Ouest à des fins d'exploitation sexuelle ? / ORDRE Malte France – PARIS / How to better fight, together, the sexual trafficking of women in West Africa?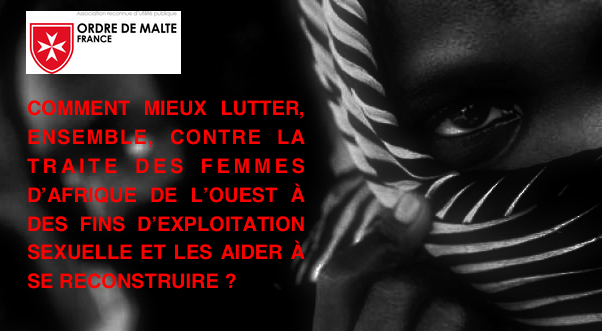 SYNTHÈSE DE LA CONFÉRENCE - CONFERENCE SUMMARY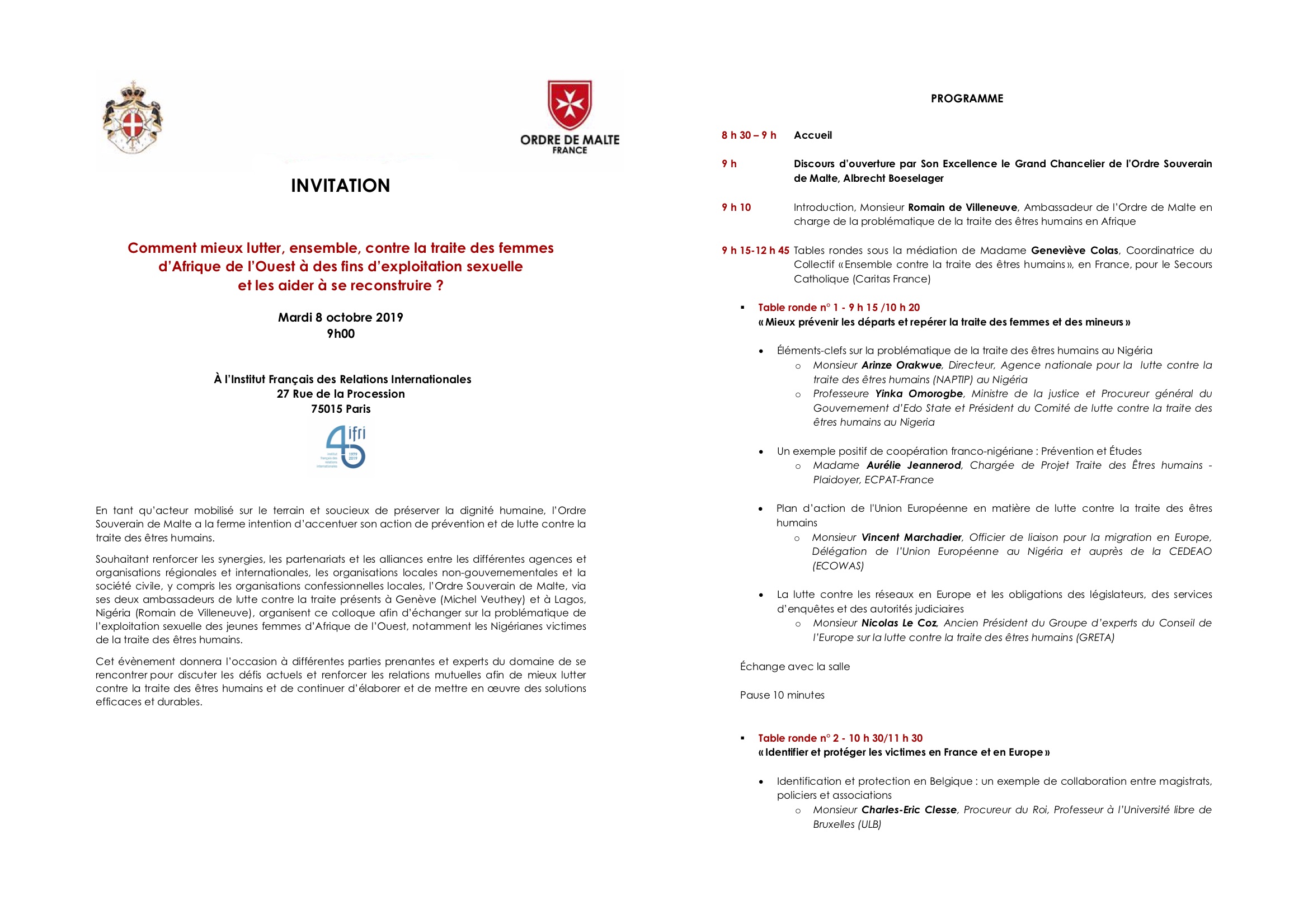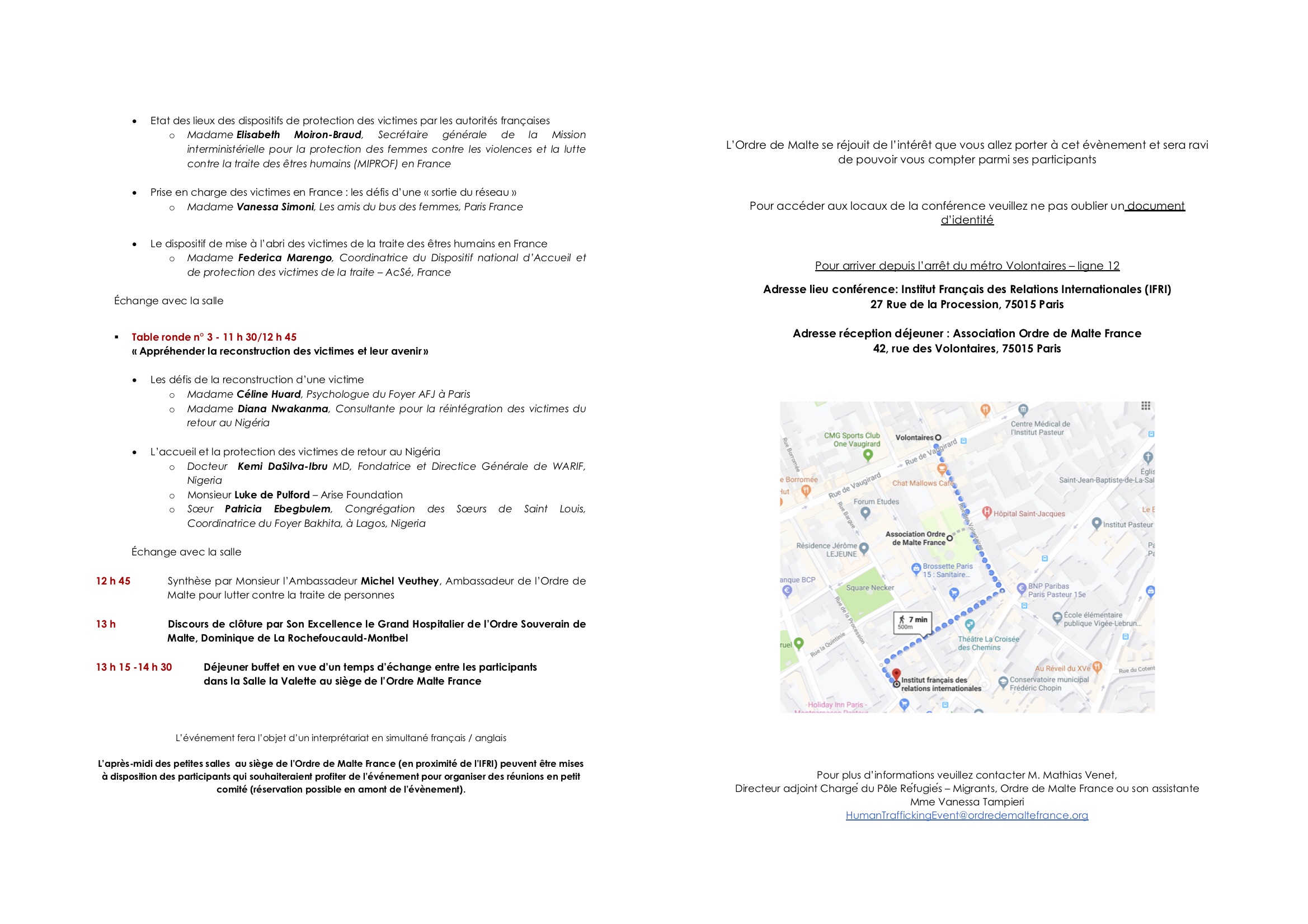 VIDEO Paris, 8 oct. 2019 - Intervention de Monsieur Nicolas Le Coz, Ancien Président du Groupe d'experts du Conseil de l'Europe sur la lutte contre la traite des êtres humains (GRETA) : La lutte contre les réseaux en Europe et les obligations des législateurs, des services d'enquêtes et des autorités judiciaires.
VIDEO Paris 8 oct. 2019 - Table ronde 3 - 11h30/12h45 - « Appréhender la reconstruction des victimes et leur avenir »
Les défis de la reconstruction d'une victime
o Madame Céline Huard, Psychologue du Foyer AFJ à Paris
o Madame Diana Nwakanma, Consultante pour la réintégration des victimes du retour au Nigéria
L'accueil et la protection des victimes de retour au Nigéria :
o Docteur Kemi DaSilva-Ibru MD, Fondatrice et Directice Générale de WARIF, Nigeria
o Monsieur Luke de Pulford – Arise Foundation
o Sœur Patricia Ebegbulem, Congrégation des Sœurs de Saint Louis, Coordinatrice du Foyer Bakhita, à Lagos, Nigeria
Échange avec la salle
Synthèse par Monsieur l'Ambassadeur Michel Veuthey, Ambassadeur de l'Ordre de Malte pour lutter contre la traite de personnes
Discours de clôture par Son Excellence le Grand Hospitalier de l'Ordre Souverain de Malte, Dominique de La Rochefoucauld-Montbel.
Luke de Pulford's presentation - 'Grasping the issue of the rehabilitation of victims and reconstruction of their future'
Synthèse par l'Ambassadeur Michel Veuthey