OUVRE LES YEUX ! – CAMPAGNE D'INFORMATION DE L'OIM ET LES PRINCIPAUX PARTENAIRES SUISSES DE LA LUTTE CONTRE LA TRAITE DES ÊTRES HUMAINS – Genève 13 octobre 2018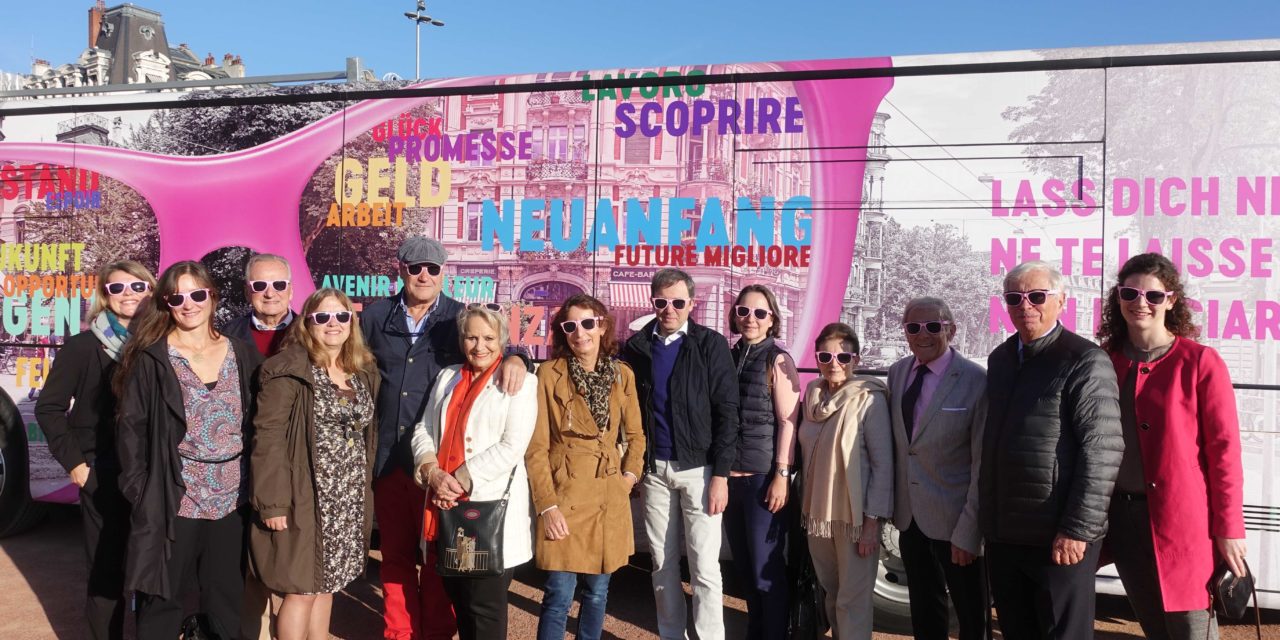 Le bus d'information sur le thème de la traite des êtres humains a été inauguré le 18 octobre 2017. D'octobre 2017 à octobre 2018, il parcourt toute la Suisse afin d'informer la population.
Les passants sont invités à visiter le bus afin d'en apprendre davantage sur les différentes formes de la traite des êtres humains. Ils peuvent également obtenir des informations sur les diverses organisations qui peuvent être contactées en cas de suspicion.
Avec le symbole des lunettes roses, le bus vise à représenter les fausses promesses avec lesquelles les victimes tombent dans la situation d'exploitation jusqu'à ce qu'elles réalisent que la réalité n'est pas rose du tout.
OPEN YOUR EYES! - IOM'S INFORMATION CAMPAIGN AND SWITZERLAND'S MAIN PARTNERS IN THE FIGHT AGAINST TRAFFICKING IN HUMAN BEINGS
The information bus on the theme of trafficking in human beings was inaugurated on 18 October 2017. From October 2017 to October 2018, he travelled all over Switzerland to inform the population.
Passengers are invited to visit the bus to learn more about the different forms of trafficking in human beings. They can also obtain information on the various organizations that can be contacted in case of suspicion.
With the symbol of the pink glasses, the bus aims to represent the false promises with which victims fall into the exploitative situation until they realize that reality is not pink at all.
ÖFFNE DEINE AUGEN! - DIE INFORMATIONSKAMPAGNE VON IOM UND DIE WICHTIGSTEN PARTNER DER SCHWEIZ BEI DER BEKÄMPFUNG DES MENSCHENHANDELS
Der Informationsbus zum Thema Menschenhandel wurde am 18. Oktober 2017 in Bern eingeweiht. Zwischen Oktober 2017 und Oktober 2018 durchquert er die ganze Schweiz und informiert die Schweizer Bevölkerung über die Thematik.
Passanten sind eingeladen, den Bus zu besuchen und im Inneren mehr über die verschiedenen Formen von Menschenhandel zu erfahren, sowie Organisationen kennenzulernen, die im Verdachtsfall kontaktiert werden sollten.
Mit dem Design der rosa Brille soll der Bus einerseits auf die falschen Versprechen hinweisen, mit welchen die Opfer in die Ausbeutungssituation gelockt werden, bis sie realisieren, dass das die Realität ganz und gar nicht rosa ist.
APRITE GLI OCCHI! - LA CAMPAGNA D'INFORMAZIONE DI IOM E I PRINCIPALI PARTNER SVIZZERI NELLA LOTTA CONTRO LA TRATTA DI ESSERI UMANI
Il bus informativo sul tema della tratta di esseri umani è stato inaugurato il 18 ottobre 2017. Da ottobre 2017 a ottobre 2018, ha viaggiato in tutta la Svizzera per informare la popolazione.
I passeggeri sono invitati a visitare l'autobus per saperne di più sulle diverse forme di tratta di esseri umani. Possono anche ottenere informazioni sulle varie organizzazioni che possono essere contattate in caso di sospetto.
Con il simbolo dei bicchieri rosa, l'autobus mira a rappresentare le false promesse con cui le vittime cadono nella situazione di sfruttamento fino a quando non si rendono conto che la realtà non è affatto rosa.