OUVRE LES YEUX ! — CAMPAGNE D'INFORMATION DE L'OIM ET LES PRINCIPAUX PARTENAIRES SUISSES DE LA LUTTE CONTRE LA TRAITE DES ÊTRES HUMAINS — Genève 13 octobre 2018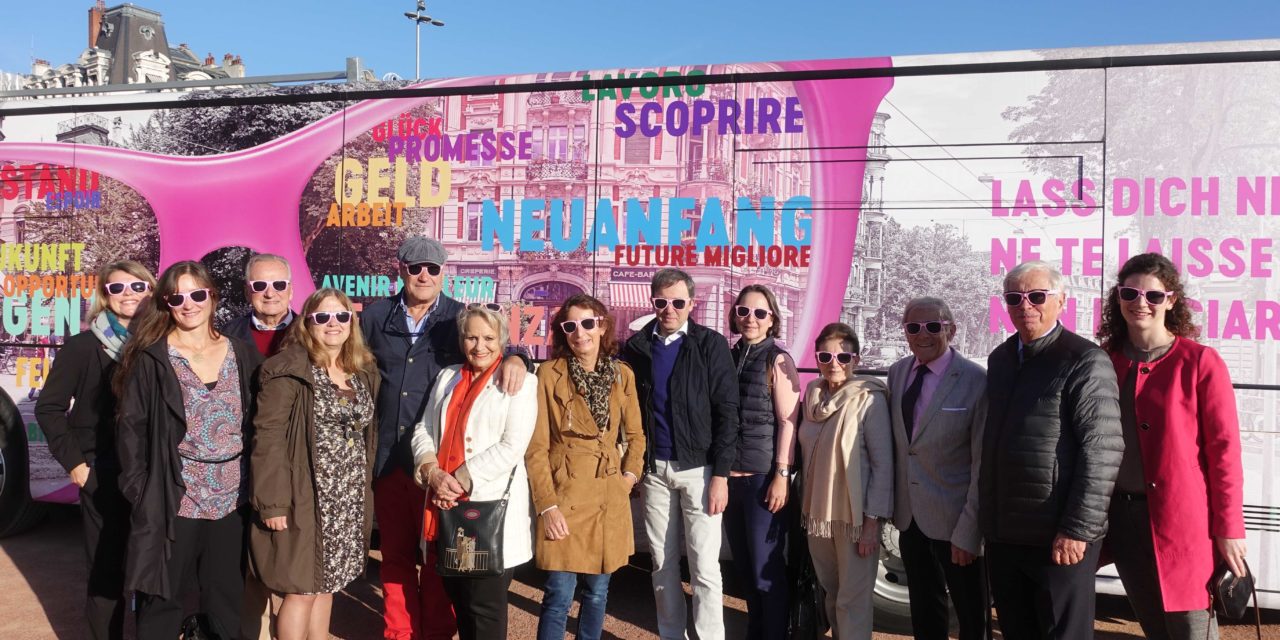 Le bus d'information sur le thème de la traite des êtres humains a été inau­guré le 18 octo­bre 2017. D'octobre 2017 à octo­bre 2018, il par­court toute la Suisse afin d'informer la population.
Les pas­sants sont invités à vis­iter le bus afin d'en appren­dre davan­tage sur les dif­férentes formes de la traite des êtres humains. Ils peu­vent égale­ment obtenir des infor­ma­tions sur les divers­es organ­i­sa­tions qui peu­vent être con­tac­tées en cas de suspicion.
Avec le sym­bole des lunettes ros­es, le bus vise à représen­ter les fauss­es promess­es avec lesquelles les vic­times tombent dans la sit­u­a­tion d'ex­ploita­tion jusqu'à ce qu'elles réalisent que la réal­ité n'est pas rose du tout.
OPEN YOUR EYES! — IOM'S INFORMATION CAMPAIGN AND SWITZERLAND'S MAIN PARTNERS IN THE FIGHT AGAINST TRAFFICKING IN HUMAN BEINGS
The infor­ma­tion bus on the theme of traf­fick­ing in human beings was inau­gu­rat­ed on 18 Octo­ber 2017. From Octo­ber 2017 to Octo­ber 2018, he trav­elled all over Switzer­land to inform the population.
Pas­sen­gers are invit­ed to vis­it the bus to learn more about the dif­fer­ent forms of traf­fick­ing in human beings. They can also obtain infor­ma­tion on the var­i­ous orga­ni­za­tions that can be con­tact­ed in case of suspicion.
With the sym­bol of the pink glass­es, the bus aims to rep­re­sent the false promis­es with which vic­tims fall into the exploita­tive sit­u­a­tion until they real­ize that real­i­ty is not pink at all.
ÖFFNE DEINE AUGEN! — DIE INFORMATIONSKAMPAGNE VON IOM UND DIE WICHTIGSTEN PARTNER DER SCHWEIZ BEI DER BEKÄMPFUNG DES MENSCHENHANDELS
Der Infor­ma­tions­bus zum The­ma Men­schen­han­del wurde am 18. Okto­ber 2017 in Bern eingewei­ht. Zwis­chen Okto­ber 2017 und Okto­ber 2018 durch­quert er die ganze Schweiz und informiert die Schweiz­er Bevölkerung über die Thematik.
Pas­san­ten sind ein­ge­laden, den Bus zu besuchen und im Inneren mehr über die ver­schiede­nen For­men von Men­schen­han­del zu erfahren, sowie Organ­i­sa­tio­nen ken­nen­zuler­nen, die im Ver­dachts­fall kon­tak­tiert wer­den sollten.
Mit dem Design der rosa Brille soll der Bus ein­er­seits auf die falschen Ver­sprechen hin­weisen, mit welchen die Opfer in die Aus­beu­tungssi­t­u­a­tion gelockt wer­den, bis sie real­isieren, dass das die Real­ität ganz und gar nicht rosa ist.
APRITE GLI OCCHI! — LA CAMPAGNA D'INFORMAZIONE DI IOM E I PRINCIPALI PARTNER SVIZZERI NELLA LOTTA CONTRO LA TRATTA DI ESSERI UMANI
Il bus infor­ma­ti­vo sul tema del­la trat­ta di esseri umani è sta­to inau­gu­ra­to il 18 otto­bre 2017. Da otto­bre 2017 a otto­bre 2018, ha viag­gia­to in tut­ta la Svizzera per infor­mare la popolazione.
I passeg­geri sono invi­tati a vis­itare l'au­to­bus per saperne di più sulle diverse forme di trat­ta di esseri umani. Pos­sono anche ottenere infor­mazioni sulle varie orga­niz­zazioni che pos­sono essere con­tat­tate in caso di sospetto.
Con il sim­bo­lo dei bic­chieri rosa, l'au­to­bus mira a rap­p­re­sentare le false promesse con cui le vit­time cadono nel­la situ­azione di sfrut­ta­men­to fino a quan­do non si ren­dono con­to che la realtà non è affat­to rosa.