RTS – Témoignage du Père Mussie Zerai, appelé l'Ange Gardien des Migrants "Le futur des jeunes africains est en Afrique, ils doivent lutter pour le changement, il doivent lutter contre la corruption qui ronge notre continent et détruit son futur…" / "Il futuro dei giovani africani è in Africa, devono lottare per il cambiamento, devono lottare contro la corruzione che rosicchia il nostro continente e distrugge il suo futuro…" / "The future of young Africans is in Africa, they must fight for change, they must fight against the corruption that gnaws at our continent and destroys its future…"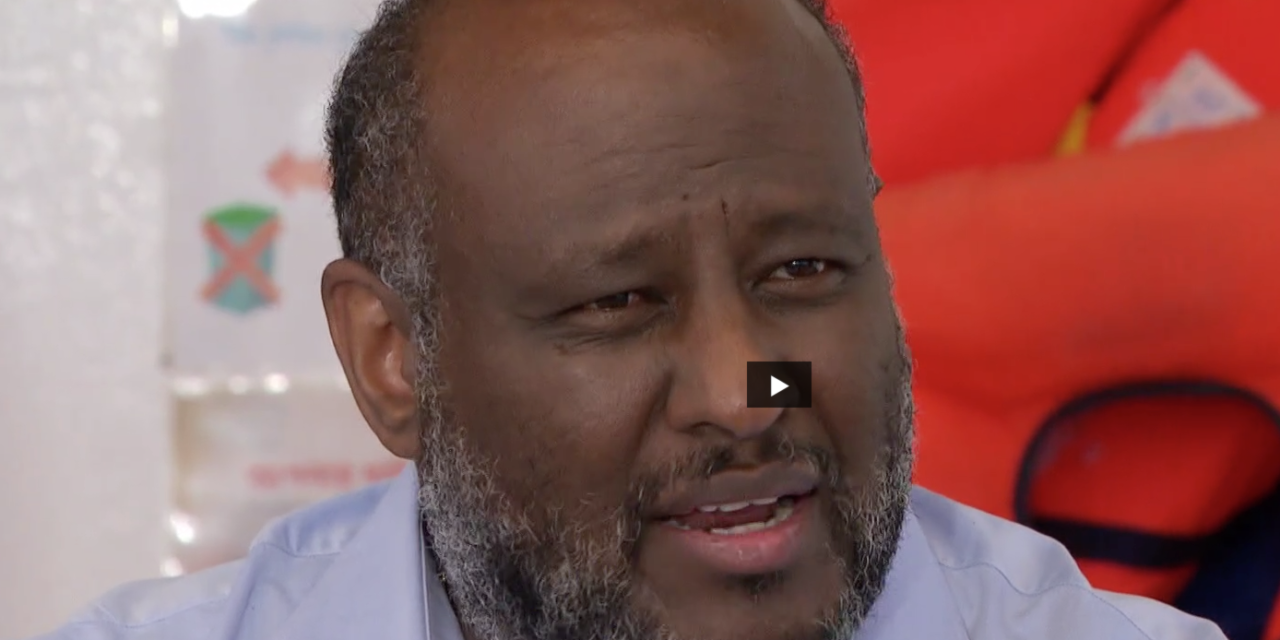 A la 14ème minutes de l'extrait ci-dessous du reportage de la TSR : "Le futur est en Afrique...! Il faut construire l'Afrique...!"
Le témoignage du  Père Mussie Zerai est en italien. La testimonianza di padre Mussie Zera è in italiano. 
De l'information sur le Père Mussie Zerai et son activité pour les migrants sont disponibles sur les sites :
Agenzia Habeshia per la Cooperazione allo Sviluppo
You will find a translation of Father Mussie Zerai's interview in English, Italian and German below. 
EXTRAIT DE L'INTERVIEW DU PERE MUSSIE ZERA :
Voir le reportage complet à l'adresse web suivante :
https://www.rts.ch/play/tv/emission/faut-pas-croire?id=6176&station=a9e7621504c6959e35c3ecbe7f6bed0446cdf8da
Depuis 2016, l'Aquarius a sauvé plus de 28'000 vies en Méditerranée. Le bateau de l'ONG « SOS Méditerranée » navigue aux frontières des eaux territoriales libyennes à la recherche de migrants en détresse, palliant l'absence de politique européenne de sauvetage. « Faut pas croire » monte à bord à la rencontre des sauveteurs, médecins, sage-femme, médiateurs culturels qui redonnent espoir et dignité à ceux qui sont prêts à tout pour fuir l'enfer libyen, et croise les regards des sauveteurs et des rescapés, en donnant la parole à ceux qui sont parvenus à traverser la Méditerranée. Avec aussi le prêtre érythréen Mussie Zerai et le réalisateur sénégalais Moussa Touré. Durée : 52'
FRANCAIS: 
Mussie Zerai: Parce qu'ils n'ont pas le choix. Ils y sont contraints. Ils essaient de fuir la situation de leur pays en allant dans les pays voisins. Parfois dans ces pays voisins, la situation est pire que celle qu'ils ont quitté. Mais ces personnes ne peuvent pas rentrer souvent parce qu'elles sont persécutées dans leur pays d'origine ou alors parce qu'ils n'y ont aucun avenir, donc elles sont contraintes à aller de l'avant en espérant trouver un lieu sûr où elle trouveront protection et où elles pourront recommencer une vie digne, vivre en liberté et trouver un peu de justice (…)
Aline Bachofner: (…) l'Afrique se vide, comment expliquer tous ces départs?
Mussie Zerai: Vous savez l'an dernier 150'000 italiens ont quitté l'Italie pour aller chercher du travail dans le nord de l'Europe, en Australie ou ailleurs. Ils n'ont pas été obligés de monter dans des embarcations de fortune, ils ont pu voyager confortablement en avion. Aucun Etat ne s'est permis d'ériger des murs ou des barbelés contre eux. En revanche contre les pauvres africains, contre des personnes désespérées qui fuient la guerre comme en Syrie, en Afghanistan, en Iraq, au Sud Soudan, en Somalie, contre tous ces gens, on érige des murs et des fils de fer barbelés, on promulgue des lois restrictives pour empêcher l'arrivée de ces gens et on criminalise ceux qui tentent de les aider comme les ONG et les activistes qui essaient de sauver des vies (…)
Aline Bachofner: Si vous avez un message très court à faire passer aux jeunes qui sont tentés par la migration aujourd'hui qu'est ce que vous leur diriez?
Mussie Zerai: Ce que je leur dirai c'est que leur futur est en Afrique, pas en Europe, le futur du monde est en Afrique, parce que c'est un continent jeune, riche en ressources. Donc s'ils restent à lutter pour changer leur pays, leur continent, ils auront leur propre avenir et leurs enfants aussi en auront un. S'ils continuent à fuir, à migrer le changement n'aura jamais lieu, le continent restera toujours esclave des pouvoir extérieurs et il n'y aura pas d'avenir, ni pour nous, ni pour nos enfants.
Mon message c'est de rester et de lutter pour la justice, pour le changement, de lutter contre la corruption qui est le vrai cancer de l'Afrique et contre les pouvoirs qui aujourd'hui vendent et volent l'avenir des jeunes africains. Il faut lutter contre tout cela mais en restant en Afrique parce qu'en fuyant c'est impossible d'obtenir le changement.
Ce dernier propos est particulièrement intéressant car le parcours du prêtre est exemplaire et son engagement envers les personnes migrantes exceptionnel. Il a pu aider et sauver beaucoup de personnes mais il a aussi compris la souffrance des personnes maltraitées durant le parcours migratoire et maltraitées en Europe, la souffrance de leur famille aussi. Voilà un homme de terrain avec des convictions humanitaires profondes qui dit ce que peu de responsables humanitaires osent exprimer.
Voir aussi le document L'Aquarius en chiffres
Lire aussi: La justice italienne  enquête sur un prêtre défenseur des migrants
"Faut pas croire" est un magazine hebdomadaire de vingt-neuf minutes destiné au grand public et diffusé le samedi vers 13h25 sur RTS Un. Il aborde les questions éthiques, philosophiques et religieuses qui traversent notre société avec des débats et des reportages. Produite par Cyril Dépraz et Emmanuel Tagnard, présentée par Aline Bachofner, l'émission a pour objectif de décrypter les événements qui font l'actualité en questionnant l'humain dans toutes ses dimensions.
Mussie Zerai est né en 1975 à Asmara en Érythrée. À l'âge de 14 ans, il fuit vers l'Italie où il demande l'asile et obtient un permis de résidence. Il entre au séminaire en 2000 et étudie pendant trois ans auprès des missionnaires scalabriniens à Plaisance. Il est ordonné prêtre catholique en Italie en 2010 et réside actuellement à Erlinsbach, en Suisse, où il assiste la communauté éry­thréenne et éthiopienne. Il est Frère scalabrinien, un ordre qui accompagne les migrants. Fondateur de l'agence d'information humanitaire Habeshia, il s'est fait connaître du grand public après le naufrage du 3 octobre 2013 au large de Lampedusa, dont la plupart des 366 victimes étaient des Érythréens. Depuis plusieurs années il reçoit des appels de détresse de migrants égarés en pleine mer et organise autant que possible leur sauvetage avec le Centre de contrôle maritime (Maritime rescue coordination centre, MRCC) de Rome et les ONG opérant en Méditerranée centrale.
Avec une expérience juridique auprès des requérants d'asile à l'aéroport de Genève, Jasmine Caye aime décrypter l'information sur les réfugiés et les questions de migration. Elle a présidé le Centre suisse pour la défense des droits des migrants (CSDM) et continue d'assister des personnes en procédure d'asile. Les articles sur ce blog paraissent en version courte sur un autre blog ForumAsile.
ENGLISH:
Mussie Zerai: Because they have no choice. They are forced to. They try to flee the situation in their country by going to neighbouring countries. Sometimes in these neighbouring countries, the situation is worse than the one they left. But these people cannot return often because they are persecuted in their country of origin or because they have no future there, so they are forced to go forward hoping to find a safe place where they will find protection and where they can start a dignified life again, live in freedom and find some justice (...)
Aline Bachofner: (...) Africa is empty, how to explain all these departures?
Mussie Zerai: You know last year 150'000 Italians left Italy to look for work in Northern Europe, Australia or elsewhere. They did not have to board makeshift boats, they could travel comfortably by plane. No state has allowed itself to erect walls or barbed wire against them. On the other hand, against the poor Africans, against desperate people fleeing the war as in Syria, Afghanistan, Iraq, Southern Sudan, Somalia, against all these people, walls and barbed wire are erected, restrictive laws are enacted to prevent the arrival of these people and those who try to help them are criminalized as NGOs and activists who try to save lives (...)
Aline Bachofner: If you have a very short message for young people who are tempted by migration today, what would you tell them?
Mussie Zerai: What I will tell them is that their future is in Africa, not in Europe, the future of the world is in Africa, because it is a young continent, rich in resources. So if they remain struggling to change their country, their continent, they will have their own future and their children will have one too. If they continue to flee, to migrate change will never take place, the continent will always remain slave to external powers and there will be no future, neither for us, nor for our children.
My message is to stay and fight for justice, for change, to fight against the corruption that is Africa's real cancer and against the powers that today sell and steal the future of young Africans. We have to fight against all this but stay in Africa because by fleeing it is impossible to obtain change.
The latter is particularly interesting because the priest's journey is exemplary and his commitment to migrants is exceptional. He was able to help and save many people but he also understood the suffering of the mistreated people during the migration process and the mistreated people in Europe, the suffering of their families too. This is a man from the field with deep humanitarian convictions who says what few humanitarian leaders dare to express.
ITALIANO :
Musée Zerai: Perché non hanno altra scelta. Sono costretti a farlo. Cercano di fuggire dalla situazione nel loro paese recandosi nei paesi vicini. Talvolta, in questi paesi vicini, la situazione è peggiore di quella che hanno lasciato. Ma queste persone non possono tornare spesso perché perseguitate nel loro paese d'origine o perché non vi hanno futuro, per cui sono costrette ad andare avanti sperando di trovare un luogo sicuro dove trovare protezione e dove ricominciare una vita dignitosa, vivere in libertà e trovare un po' di giustizia (...).
Aline Bachofner: (...) L'Africa è vuota, come spiegare tutte queste partenze?
Musée Zerai: Sapete che l'anno scorso 150.000 italiani hanno lasciato l'Italia per cercare lavoro nel Nord Europa, in Australia o altrove. Non dovevano salire a bordo di barche di fortuna, potevano viaggiare comodamente in aereo. Nessuno Stato si è permesso di erigere muri o filo spinato contro di essi. D'altra parte, contro i poveri africani, contro le persone disperate in fuga dalla guerra come in Siria, Afghanistan, Iraq, Sudan meridionale, Somalia, contro tutte queste persone, vengono eretti muri e filo spinato, vengono emanate leggi restrittive per impedire l'arrivo di queste persone e chi cerca di aiutarle viene criminalizzato come ONG e attivisti che cercano di salvare vite (...).
Aline Bachofner: Se avete un messaggio molto breve per i giovani che oggi sono tentati dalla migrazione, cosa direste loro?
Mussie Zerai: Quello che dirò loro è che il loro futuro è in Africa, non in Europa, il futuro del mondo è in Africa, perché è un continente giovane, ricco di risorse. Quindi, se continueranno a lottare per cambiare il loro paese, il loro continente, avranno un futuro proprio e anche i loro figli ne avranno uno. Se continuano a fuggire, a migrare il cambiamento non avverrà mai, il continente rimarrà sempre schiavo delle potenze esterne e non ci sarà futuro, né per noi né per i nostri figli.
Il mio messaggio è quello di rimanere e lottare per la giustizia, per il cambiamento, per combattere la corruzione che è il vero cancro dell'Africa e contro i poteri che oggi vendono e rubano il futuro dei giovani africani. Dobbiamo lottare contro tutto questo, ma rimanere in Africa, perché fuggire è impossibile per ottenere un cambiamento.
Quest'ultimo è particolarmente interessante perché il cammino del sacerdote è esemplare e il suo impegno verso i migranti è eccezionale. Ha potuto aiutare e salvare molte persone, ma ha anche compreso la sofferenza delle persone maltrattate durante il processo migratorio e delle persone maltrattate in Europa, anche delle loro famiglie. Si tratta di un uomo sul campo con profonde convinzioni umanitarie che dice ciò che pochi leader umanitari osano esprimere.
DEUTSCH :
ZEUGNIS VON VATER MUSIE ZERAI, GENANNT DER SCHUTZENGEL DER MIGRANTEN "DIE ZUKUNFT DER JUNGEN AFRIKANER LIEGT IN AFRIKA, SIE MÜSSEN FÜR DEN WANDEL KÄMPFEN, SIE MÜSSEN GEGEN DIE KORRUPTION KÄMPFEN, DIE AN UNSEREM KONTINENT NAGT UND SEINE ZUKUNFT ZERSTÖRT....".
Mussie Zerai: Weil sie keine Wahl haben. Sie sind dazu gezwungen. Sie versuchen, der Situation in ihrem Land zu entfliehen, indem sie in die Nachbarländer gehen. Manchmal ist die Situation in diesen Nachbarländern schlimmer als die, die sie verlassen haben. Aber diese Menschen können nicht oft zurückkehren, weil sie in ihrem Herkunftsland verfolgt werden oder weil sie dort keine Zukunft haben, also sind sie gezwungen, in der Hoffnung, einen sicheren Ort zu finden, wo sie Schutz finden und wo sie wieder ein würdiges Leben beginnen können, in Freiheit leben und etwas Gerechtigkeit finden (....)
Aline Bachofner: (....) Afrika ist leer, wie erklärt man all diese Abfahrten?
Mussie Zerai: Sie wissen, dass im letzten Jahr 150'000 Italiener Italien verlassen haben, um in Nordeuropa, Australien oder anderswo Arbeit zu suchen. Sie mussten keine Behelfsboote besteigen, sie konnten bequem mit dem Flugzeug reisen. Kein Staat hat sich erlaubt, Mauern oder Stacheldraht gegen sie zu errichten. Andererseits werden gegen die armen Afrikaner, gegen verzweifelte Menschen, die vor dem Krieg fliehen, wie in Syrien, Afghanistan, Irak, Südsudan, Somalia, gegen all diese Menschen Mauern und Stacheldraht errichtet, restriktive Gesetze erlassen, um die Ankunft dieser Menschen zu verhindern, und diejenigen, die versuchen, ihnen zu helfen, werden als NGOs und Aktivisten kriminalisiert, die versuchen, Leben zu retten (....)
Aline Bachofner: Wenn Sie eine sehr kurze Botschaft für junge Menschen haben, die heute von der Migration versucht sind, was würden Sie ihnen sagen?
Mussie Zerai: Ich werde ihnen sagen, dass ihre Zukunft in Afrika liegt, nicht in Europa, die Zukunft der Welt liegt in Afrika, denn es ist ein junger Kontinent, reich an Ressourcen. Wenn sie also weiterhin darum kämpfen, ihr Land, ihren Kontinent zu verändern, werden sie ihre eigene Zukunft haben, und ihre Kinder werden auch eine haben. Wenn sie weiter fliehen, wird es nie zu Veränderungen kommen, der Kontinent wird immer Sklave externer Mächte bleiben, und es wird keine Zukunft geben, weder für uns noch für unsere Kinder.
Meine Botschaft ist es, zu bleiben und für Gerechtigkeit, für Veränderung zu kämpfen, gegen die Korruption, die der wahre Krebs in Afrika ist, und gegen die Mächte, die heute die Zukunft der jungen Afrikaner verkaufen und stehlen. Wir müssen gegen all dies kämpfen, aber in Afrika bleiben, denn durch Flucht ist es unmöglich, Veränderungen zu erreichen.
Letzteres ist besonders interessant, weil die Reise des Priesters vorbildlich ist und sein Engagement für Migranten außergewöhnlich ist. Er konnte vielen Menschen helfen und sie retten, aber er verstand auch das Leid der misshandelten Menschen während des Migrationsprozesses und der misshandelten Menschen in Europa, das Leid ihrer Familien. Das ist ein Mann aus dem Feld mit tiefen humanitären Überzeugungen, der sagt, was nur wenige humanitäre Führer zu sagen wagen.