ALETEIA — 20 quotes from Chesterton to help you find reason in this senseless world / 20 citations de Chesterton pour vous aider à retrouver la raison dans ce monde insensé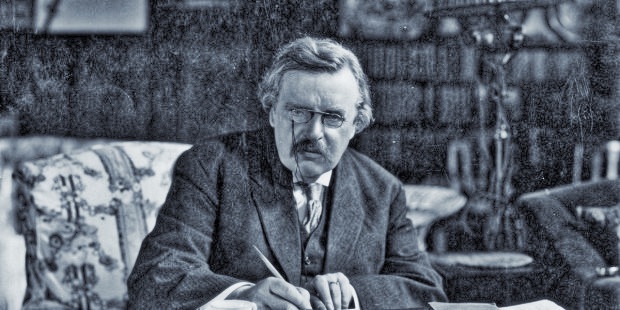 It is tempt­ing to think "this world is crazy and out of con­trol" but each era has always felt that its own mad­ness was unprecedented.
When all this becomes too heavy, it is good to turn to G.K. Chester­ton, who saw and described the world as it is. A few lines of Chester­ton are enough to find a sem­blance of reason.
1) Our civ­i­liza­tion has right­ly con­sid­ered that the con­vic­tion of guilt or inno­cence is too impor­tant a mat­ter to be entrust­ed to spe­cial­ists. Tremen­dous Trifles
2) When a man says that democ­ra­cy makes no sense because most peo­ple are idiots, hit him gen­tly and pre­cise­ly on the tip of his nose. Illus­trat­ed Lon­don News (ILN), 1905
3) Democ­ra­cy is vot­ing for those peo­ple who would nev­er have had the gall to gov­ern and (accord­ing to Chris­t­ian ethics), the peo­ple who must gov­ern are pre­cise­ly those who do not have the gall to do so. Tremen­dous Trifles
4) A new phi­los­o­phy is often in prac­tice the exal­ta­tion of an old vice. —ILN, 1906
5) Men speak of phi­los­o­phy and the­ol­o­gy as if it were some­thing reserved for spe­cial­ists and aca­d­e­mics. But phi­los­o­phy and the­ol­o­gy are not only demo­c­ra­t­ic fields, they are so vul­gar […]. "G. F. Watts"
6) There are a hun­dred news­pa­pers, but only about five news items. —ILN 1926
7) The faster the jour­nal­ist goes, the slow­er he thinks.Our news­pa­pers are being deliv­ered faster and faster, but less and less wor­thy of deliv­ery — Eugen­ics and Oth­er Evils
8) Pride is a weak­ness; it dries up laugh­ter, won­der, cour­tesy and ener­gy. Heretics
9) If peo­ple can­not look after their own affairs, it is no more eco­nom­i­cal to pay them to look after the affairs of oth­ers; it is a bit like water­ing a plant with a gar­den hose while hold­ing an umbrel­la to pro­tect it from the rain — The Super­sti­tion of Divorce.
10) When you choose some­thing, you reject every­thing else. Orthodoxy
11) Why is it a great career to teach oth­er peo­ple's chil­dren the rule of three, and a small career to talk to your own chil­dren of the uni­verse? What's Wrong With the World?
12) Our fathers instinc­tive­ly knew all that we know today because of the infor­ma­tion. Sidelights.
13) We do not want a reli­gion that is right when we are right. We want a reli­gion that is right when we are wrong — The Church and Conversion
14) Hav­ing the right to do some­thing does not mean being right to do it. A Short His­to­ry of England
15) The good is good even if no one does it. Mis­takes are mis­takes, even if every­one is wrong. All Things Considered
16) The real advice I would give to a young jour­nal­ist is this: write an arti­cle for the Sport­ing Times and anoth­er for the Church Times and reverse the envelopes… ‑Auto­bi­og­ra­phy
17) A woman who cooks… can intro­duce a per­son­al and imper­cep­ti­ble vari­a­tion to the com­po­si­tion of her soup. On the oth­er hand, a notary is not encour­aged to intro­duce a per­son­al and imper­cep­ti­ble vari­a­tion in the fig­ures in a reg­is­ter. All Things Considered
18) It is easy to be heavy: dif­fi­cult to be light. Satan fol­lowed the laws of grav­i­ty. —Ortho­doxy
19) Man is an excep­tion […]. No ani­mal has ever invent­ed any­thing as dis­tress­ing as being drunk, nor any­thing as amaz­ing as drink­ing. —ILN 1907
20) The self is fur­ther than any star. ‑Ortho­doxy.