US STATE GOVERNMENT TIP REPORT 2020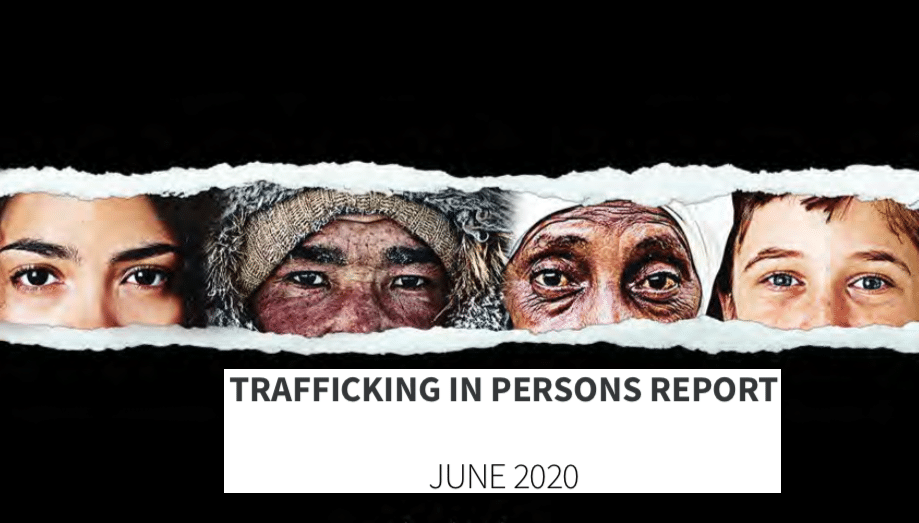 THE EVOLUTION OF THE TIP REPORT
Since 2001, the TIP Report has con­tin­ued to evolve in both sub­stance and design. Styl­is­ti­cal­ly, the 2003 TIP Report went through one of the most notice­able visu­al trans­for­ma­tions. This report was the first to fea­ture a col­or­ful front cov­er with the sig­na­ture eyes and a let­ter from the Sec­re­tary of State, as well as com­pelling pho­tos and images, vic­tim sto­ries, and a list of inter­na­tion­al "promis­ing prac­tices" in com­bat­ing human traf­fick­ing. The nar­ra­tive text of the intro­duc­to­ry sec­tion evolved from pro­vid­ing min­i­mal expla­na­tion of human traf­fick­ing and the pur­pose of the report, to cov­er­ing a vari­ety of human traf­fick­ing issues and cur­rent trends. Over time, the intro­duc­tion began to cov­er con­crete themes and a col­lec­tion of spe­cial top­ics inter­spersed through­out. Though not man­dat­ed by Con­gress, the intro­duc­tion has in many ways become a pub­lic out­reach tool in and of itself.
VICTIMS OF TRAFFICKING AND VIOLENCE PROTECTION ACT OF 2000
TRAFFICKING IN PERSONS REPORT
Every per­son, every­where, is inher­ent­ly vest­ed with pro­found, inher­ent, equal dig­ni­ty. Amer­i­ca was found­ed on a promise to defend those rights— includ­ing life, lib­er­ty, and the pur­suit of jus­tice. But too often we've fall­en short, and we can­not fall short on this challenge.
Michael R. Pompeo
U.S. Sec­re­tary of State
In addi­tion, the report method­ol­o­gy and con­tent changed as the years pro­gressed. Con­gress made many of these alter­ations through amend­ments to the TVPA and its reau­tho­riza­tions. Oth­ers reflect pol­i­cy pri­or­i­ties and efforts to pro­vide clar­i­fi­ca­tion and jus­ti­fi­ca­tion for the tier rank­ings and coun­try nar­ra­tives. Some of the most impor­tant changes are list­ed on pages 6–7.