INTERVIEW DU CARDINAL DIEUDONNÉ NZAPALAINGA ET DE L'IMAM ABDOULAYE OUASSELEGUE PAR MICHEL VEUTHEY ( 15 SEPTEMBRE 2021)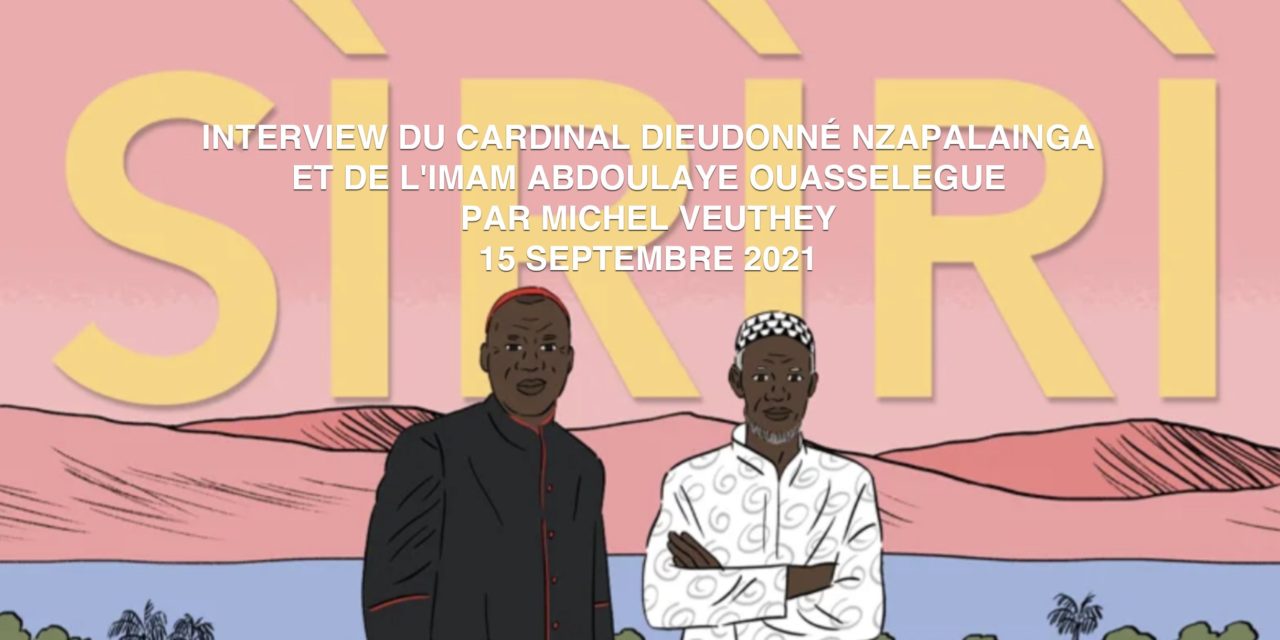 Depuis 2013, la République Cen­trafricaine s'en­lise dans un con­flit qui opposent groupes armés chré­tiens et musul­mans. Pen­dant que les dia­mants et l'or sont com­mer­cial­isés dans l'in­dif­férence glob­ale, un car­di­nal et un imam lut­tent ensem­ble pour la coex­is­tence inter­re­ligieuse car, pour eux, cette guerre n'a rien à voir avec la religion.
Le Car­di­nal Dieudon­né Nza­palain­ga et l'I­mam Abdoulaye Ouas­se­legue étaient à Genève (Suisse) pour la présen­ta­tion du lance­ment du film "SIRIRI Le Car­di­nal et l'I­mam" : https://www.outside-thebox.ch/siriri/ — depuis 2013, les rebelles instru­men­talisent la reli­gion et poussent chré­tiens et musul­mans à s'entretuer. Des chefs de guerre con­trô­lent la qua­si-total­ité du ter­ri­toire et ses ressources. à tra­vers la brousse ou la forêt, avec son équipe, le car­di­nal remonte les pistes au volant de son 4×4, tra­verse des riv­ières et des bar­rages. Sans aucune dis­crim­i­na­tion con­fes­sion­nelle, il écoute le peu­ple et recueille les témoignages. Il récon­forte les cœurs brisés, tente d'apaiser la colère et de ramen­er à la rai­son les hommes en armes. Inlass­able­ment et d'une même voix avec l'imam Kobine Lamaya, le car­di­nal implore le peu­ple à ne pas tomber dans le piège habituel, à ne pas suc­comber à l'usure de ce sce­nario répéti­tif. Leurs seules armes sont la foi, le bon sens et un mes­sage fort: « Nous sommes tous frères et sœurs, tous Cen­trafricains. » À l'image de son men­tor le pape François, le car­di­nal n'hésite pas non plus à deman­der que jus­tice soit faite, que les autorités et la com­mu­nauté inter­na­tionale pren­nent leurs respon­s­abil­ités et se deman­dent aus­si à qui prof­ite ce con­flit. Qui vend les armes aux rebelles, qui achète l'or et les dia­mants et où par­tent-ils ? Ce film se veut une parabole exac­er­bée des prob­lé­ma­tiques con­tem­po­raines : le partage des richess­es, le pou­voir des armes, le détourne­ment des paroles saintes et la mise à l'écart con­tin­ue des périphéries du monde. Porté par deux hommes réso­lus, ce film inter­roge l'ordre du monde, le vivre ensem­ble et les balis­es qui réson­nent en cha­cun de nous. Au-delà du témoignage his­torique sur une tragédie oubliée, le réal­isa­teur de Sìrìrì voit son film comme un film d'aventures poignant, une célébra­tion frater­nelle, un film qui soit une inspi­ra­tion pour cha­cun de nous. L'Imam Oumar Kobiné Laya­ma qui a créé avec le Car­di­nal Dieudon­né la plate­forme des reli­gions et des con­fes­sion de la Rébpublique Cen­trafricaine est décédé fin 2020 et a été rem­placé à la tête de la plate­forme par l'I­mam Abdoulaye Ouas­se­legue dans ce com­bat pour la dig­nité et la paix du peu­ple centrafricain.
INTERVIEW OF CARDINAL DIEUDONNÉ NZAPALAINGA AND IMAM ABDOULAYE OUASSELEGUE BY MICHEL VEUTHEY ( 15 SEPTEMBER 2021)
MICHEL VEUTHEY: Emi­nence, Excel­len­cy, thank you for com­ing to Gene­va to bring this mes­sage of dia­logue and fra­ter­ni­ty that the Plat­form of Reli­gions and denom­i­na­tions in the Cen­tral African Repub­lic is try­ing to spread thanks to the efforts of both of you. Today, I'd like to ask you the ques­tion: what does this Plat­form do? What are the dif­fer­ent faiths doing in the Cen­tral African Repub­lic against human trafficking?
CARDINAL NZAPALAINGA: Thank you for giv­ing us the floor. The Plat­form of Reli­gious Denom­i­na­tions was found­ed in the midst of a cri­sis. This means that ordi­nary Cen­tral Africans were humil­i­at­ed, mis­treat­ed and not con­sid­ered. The chil­dren were enrolled in the groups. Many women were raped. Human rights were no longer respect­ed. We stood up as fathers, because the man in charge of the plat­form, is a shep­herd, he must take care of his sheep, and we stood up and said, "No, we can't keep killing, rap­ing, destroy­ing, mort­gag­ing our chil­dren's future." Why did we get up? To go and meet those who have tak­en up arms and tell them: this child you enlist­ed, who is inno­cent, admit­ted­ly enthu­si­as­tic. That's why they're can­non fod­der. You, you have the future. Some­times we ask ques­tions to peo­ple and tell them, the lead­ers: "Do you have your son in the group?" In gen­er­al, they say no to me, they don't have their son. "You don't have your son, so why is anoth­er's son in this group? Is your wife in the group? No. " If what has been done, you're doing to this woman, rap­ing her, if we did it to your wife, would you be hap­py? No. We are here to raise aware­ness, to say that there are things we can­not tol­er­ate. There are things that destroy us. There are things, real­ly, that humil­i­ate us and which show that the human being has lost his val­ue. We must have the courage of truth, to go to those who only have weapons to talk to them and that's one of the roles, one of the mis­sions that the Plat­form not only tells in the dis­tance to jour­nal­ists, but to go in front of the exe­cu­tion­ers, in front of those who have only weapons to tell them. The role also, the mis­sion of the Plat­form, is to ques­tion the gov­ern­ment, because in a coun­try, a gov­ern­ment is respon­si­ble for pro­tect­ing the pop­u­la­tion. When we see that dig­ni­ty is threat­ened, in our mot­to, there is : Uni­ty, Dig­ni­ty, Work, dig­ni­ty is threat­ened. Gov­ern­ment, what are you doing? Peo­ple are cry­ing, since we become spokesper­sons of these peo­ple who are in the vil­lages and do not see the polit­i­cal author­i­ty, the admin­is­tra­tive author­i­ty, the judi­cial author­i­ty com­ing and meet them. Take respon­si­bil­i­ty. That is also our role. In a coun­try as frag­ile as ours, which is emerg­ing from a cri­sis that is still ongo­ing, there is the inter­na­tion­al com­mu­ni­ty that is present, this com­mu­ni­ty through the Blue Hel­mets, through the civil­ians work­ing or human­i­tar­i­ans, we say you can also make a con­tri­bu­tion to help so that this woman who has been raped, can be treat­ed in a rea­son­able amount of time, to avoid neg­a­tive con­se­quences. You can also give your con­tri­bu­tion, Unicef so that the child is not always in this group enrolled, and we can inte­grate him so that he can look for a job lat­er on to work. You can also make a con­tri­bu­tion if you can give an alter­na­tive to these peo­ple who took up arms, so we can leave the pop­u­la­tion to go about their busi­ness freely, not to take the pop­u­la­tion hostage. You see here some exam­ples of the com­mit­ment, the mis­sion also of the Plat­form, and of each reli­gion, that we car­ry out to those you have called, who are suf­fer­ing or who are still con­sid­ered to be vic­tims of traf­fick­ing, which are aban­doned and we come to their res­cue to make pleas and that we are here to hold their hands, to con­sole them, to encour­age them, to direct their com­plaints, their griev­ances in the right direction.
MICHEL VEUTHEY: Thank you, Emi­nence. And you, Excel­len­cy, what can you tell us about this?
IMAM ABDOULAYE OUASSELEGUE: You know that this is a very wor­ry­ing sub­ject for us reli­gious, because our fight is to give every liv­ing being its dig­ni­ty, it's in the Holy Scrip­tures, and there­fore our work at the lev­el of the Plat­form, but also in the con­gre­ga­tions, we rely much more on on the words. We don't have a prison, we don't have a law enforce­ment agency. Our repres­sive force, is the scrip­tures. These scrip­tures con­trast with the meth­ods of bar­barism, the meth­ods of humil­i­a­tion and the meth­ods that deprive the per­son of his or her rights. That is why we preach through our lec­tures, our hom­i­lies, our preach­ing. We call on every­one to respect the right of women. The woman is a crea­ture that I would describe as pre­cious for the future of the entire uni­verse, for the future of soci­ety. For us, we are bas­ing this on the fact that the woman is the first edu­ca­tor of the off­spring because it is she who gives the first care, so she deserves respect, she deserves that val­ue, that hon­or. So for us, it is out of the ques­tion to make her suf­fer dis­hon­or. That's why I base myself on the teach­ings of Islam. That's why it's for­bid­den, even for a man, to have a rela­tion­ship out­side of mar­riage with a woman. If it's already for­bid­den to have a rela­tion­ship out­side of mar­riage with a woman, what does this mean? This means that you would first have to meet cer­tain cri­te­ria, cer­tain steps to be able to be in com­mu­nion with a woman and pre­tend to share the same hope, the same future with this woman. She becomes one body with you and you form a house­hold. If you're going to have chil­dren, you have to edu­cate those chil­dren. It's quite a process for us to pro­tect a woman. So, in the end, we are in a State. The State is orga­nized. For us, most of the time, if there are things, we denounce pub­licly. We raise our voic­es. We talk, we index, but it is up to the State to take its respon­si­bil­i­ties to be able to get their hands on the gravedig­gers, those who vio­late women, those who humil­i­ate women. The State must get its hands on based on infor­ma­tion, cred­i­ble infor­ma­tion. That's what we do every day. This is to reas­sure you that we, as reli­gious enti­ties, you raise for us a sub­ject that con­cerns us on a dai­ly basis, this is our dai­ly work, the pro­tec­tion of women and children.
MICHEL VEUTHEY: Thank you very much. Per­haps you would like to add a word, what does, for exam­ple, parish­es or local groups do to rein­te­grate peo­ple who have been traf­ficked, whether they are chil­dren who are demo­bi­lized from armed groups, or women that we man­age to get out of pros­ti­tu­tion, whether they were adults who worked in mines or in agri­cul­ture and that we man­age to rein­te­grate into their group, that we man­age to get, I would say, on their feet, and out of slavery?
CARDINAL NZAPALAINGA: As you ask the ques­tion direct­ly, I will answer you direct­ly as well, the Catholic Church. I take the case of women who have been raped and some­times have lost their hon­or in some places and where some­times men reject them. We have a place, we built a house to say, the kind of peo­ple who are not well regard­ed else­where, we'll take them in. Well done. They will cul­ti­vate the field. They're going to redo the plan of their lives and maybe they can still leave to find the path of hope. At first, it's noth­ing. There are a few peo­ple there, but that's the point. We are look­ing to build a cen­ter for these young peo­ple. We already have the Sale­sians of Don Bosco who work with young peo­ple. They take care of young peo­ple who are in these dif­fi­cult sit­u­a­tions and they give them the chance, often to learn a trade, and be able to insert them, to be able to launch a new future, so I think that's impor­tant too. We have women, a group called the "Chris­t­ian Women", who spot oth­er women who are reject­ed. We're work­ing to inte­grate them because it's not easy, when you have been raped, point­ed out et cetera, well, there would have to be some who would defend you and who are like inter­me­di­aries to help you find your place and that you are a vic­tim. You are not an exe­cu­tion­er, so we don't add evil to evil again to exclude you from soci­ety. So there's this work that's being done too and oth­er. We ask each and every one to be atten­tive. There is the Jus­tice Com­mis­sion, that is true, the Jus­tice and Peace Com­mis­sion which is atten­tive in the neigh­bour­hood to see if there are any such sit­u­a­tions with the pros­ti­tutes, sit­u­a­tions with per­haps oth­er peo­ple, to see how to restore jus­tice. How can we make sure that peace returns in soci­ety, in the hearts of some and also in the com­mu­ni­ty. That is the role, these are some of the steps that we do at the parish lev­el or even at the lev­el of cer­tain groups, at the lev­el of cer­tain con­gre­ga­tions, which has as its voca­tion to com­mit itself to help chil­dren. That's what I can tell you.
MICHEL VEUTHEY: Thank you. Very inter­est­ing. Would you like to add anything?
IMAM ABDOULAYE OUASSELEGUE: Just a lit­tle bit at the lev­el of the Plat­form. The Plat­form, today, is struc­tured. There is a Youth Com­mit­tee that deals with the con­cern of youth. There is also an office that deals with wom­en's affairs. In this office… Every­thing that con­cerns women, some­times it becomes a taboo. We can't talk about this with just any­one. Now, women among them­selves, it's eas­i­er to deal with the issues that con­cern them. That's why there's an office there that deals with these issues. Women abused, raped or who have suf­fered dis­hon­our are some­times iden­ti­fied, list­ed. There is an approach that is some­times tak­en to come to their res­cue. I would go even fur­ther, to help them gain access to jus­tice. Very good. There are already mech­a­nisms in place. This is at the lev­el of the Plat­form of reli­gious denom­i­na­tions, of which we are the rep­re­sen­ta­tives. At the denom­i­na­tion­al lev­el, as the Car­di­nal said, at the lev­el of the Supreme Islam­ic Coun­cil, we have an office called Nation­al Office of Mus­lim Women. In this office, there is a com­mit­tee that takes care of orphans, wid­ows and abused women. It's very hier­ar­chi­cal and the sub­ject is dealt with at that lev­el. We can't afford to put in the pub­lic are­na the prob­lems that con­cern this dis­hon­oured class of peo­ple. But we are aware of this sit­u­a­tion. This is why mech­a­nisms are put in place to deal with the issue.
MICHEL VEUTHEY: Very well. Thank you very much. I know you are expect­ed, so I would like to not only thank you but real­ly wish you suc­cess in all that you do, and also that the mes­sage that you have tried to car­ry in the film "Siriri, the Car­di­nal and the Imam" is real­ly well under­stood and that your work on behalf of vic­tims of traf­fick­ing, to pre­vent traf­fick­ing, to fight it, to reha­bil­i­tate all these vic­tims can con­tin­ue. In any case, thank you. Best wish­es. I hope we stay in touch and that we can sup­port your action. Thank you.
L'Imam Oumar Kobiné Layama