Video Message 20 Dec. 2019 — El Papa y la ONU unidos en la defensa de la dignidad humana / The Pope and the UN united in defence of human dignity / Le Pape et l'ONU unis pour la défense de la dignité humaine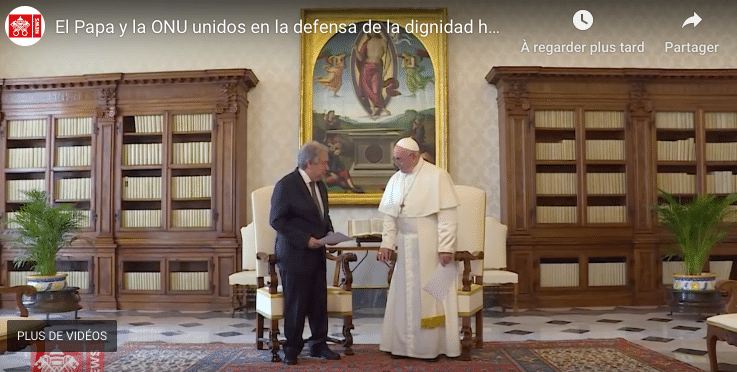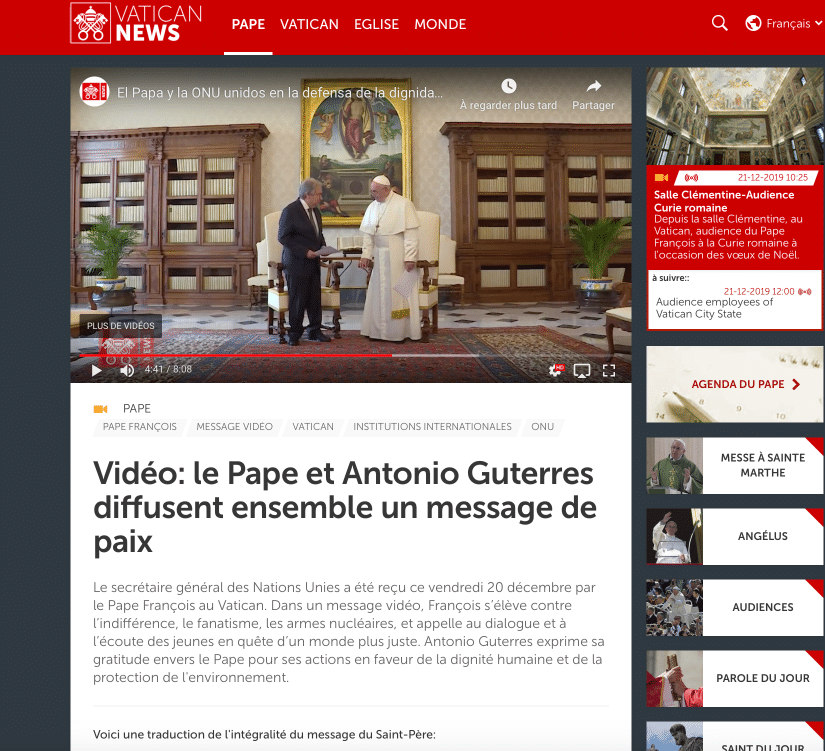 Voici une tra­duc­tion de l'in­té­gral­ité du mes­sage du Saint-Père:
Il est beau que notre ren­con­tre ait lieu en ces jours qui nous con­duisent vers Noël. Ce sont des jours où nos regards sont tournés vers le Ciel pour con­fi­er à Dieu les per­son­nes et les sit­u­a­tions qui nous tien­nent le plus à cœur. Dans ce regard, nous nous recon­nais­sons enfants d'un unique Père, et frères.
Ren­dons grâce pour tout le bien qu'il y a dans le monde, pour les nom­breuses per­son­nes qui s'engagent gra­tu­ite­ment, pour qui dépense sa pro­pre vie dans le ser­vice, pour qui n'abandonne pas et con­stru­it une société plus humaine et plus juste. Nous le savons: nous pou­vons pas nous sauver tout seul.
Nous ne pou­vons pas, nous devons pas détourn­er le regard face aux injus­tices, aux iné­gal­ités, au scan­dale de la faim dans le monde, de la pau­vreté, des enfants qui meurent parce qu'ils n'ont pas d'eau, ni de nour­ri­t­ure, ni les soins nécessaires.
Nous ne pou­vons pas détourn­er le regard face à quelque abus que ce soit com­mis con­tre les plus petits. Nous devons tous ensem­ble com­bat­tre cette plaie.
Nous ne pou­vons pas fer­mer les yeux face à nos si nom­breux frères qui, en rai­son de con­flits et de vio­lences, de la mis­ère ou des change­ments cli­ma­tiques, quit­tent leurs pays et vont sou­vent au-devant d'un triste destin.
Nous ne devons pas rester indif­férents face à la dig­nité humaine piét­inée et exploitée, face aux attaques con­tre la vie humaine, qu'il s'agisse d'une vie pas encore née ou de celle de chaque per­son­ne ayant besoin de soins.
Nous ne pou­vons pas, nous ne devons pas détourn­er le regard quand les croy­ants de dif­férentes con­fes­sions sont per­sé­cutés, en divers endroits du monde.
Elle crie vengeance devant Dieu, l'utilisation de la reli­gion à des fins de haine, de vio­lence, d'oppression, d'extrémisme et de fanatisme aveu­gle, ou dans le but de con­train­dre à l'exil et à la marginalisation.
Mais elle crie aus­si vengeance devant Dieu, la course aux arme­ments et au réarme­ment nucléaire. Et non seule­ment l'usage, mais aus­si la pos­ses­sion d'armes nucléaires est immoral, des armes qui ont une telle portée destruc­trice que même le seul dan­ger d'un inci­dent représente une som­bre men­ace pour l'humanité.
Ne restons pas indif­férents face aux nom­breuses guer­res qui con­tin­u­ent à être menées et voient suc­comber tant d'innocents.
La con­fi­ance dans le dia­logue entre les per­son­nes et entre les nations, par le mul­ti­latéral­isme, dans le rôle des organ­i­sa­tions inter­na­tionales, dans la diplo­matie comme instru­ment pour la com­préhen­sion et l'entente, est indis­pens­able pour con­stru­ire un monde pacifique.
Recon­nais­sons-nous mem­bres d'une human­ité unique, et prenons soin de notre terre qui, généra­tion après généra­tion, nous a été con­fiée par Dieu pour que nous la cul­tiv­ions et nous la lais­sions en héritage à nos enfants. L'engagement pour réduire les émis­sions pol­lu­antes et pour une écolo­gie inté­grale est urgente et néces­saire: faisons quelque chose avant qu'il ne soit trop tard!
Écou­tons la voix de tant de jeunes qui nous aident à pren­dre con­science de ce qui arrive aujourd'hui dans le monde et nous deman­dent d'être semeurs de paix et bâtis­seurs, ensem­ble et non pas seuls, d'une citoyen­neté plus humaine et plus juste.
Noël, par son authen­tique sim­plic­ité, nous rap­pelle que ce qui compte vrai­ment dans la vie, c'est l'amour.
Voici une tra­duc­tion de l'in­té­gral­ité du mes­sage d'An­to­nio Guter­res, secré­taire général de l'ONU:
Votre Sain­teté, mer­ci pour votre accueil très chaleureux.
Vous êtes un mes­sager d'e­spoir et d'hu­man­ité pour réduire la souf­france humaine et pro­mou­voir la dig­nité humaine. Votre voix morale claire transparaît, lorsque vous vous exprimez sur le sort des plus vul­nérables, y com­pris les réfugiés et les migrants, pour faire face à la pau­vreté et aux iné­gal­ités, lorsque vous appelez au désarme­ment, à con­stru­ire des ponts entre les com­mu­nautés et, bien sûr, quand vous soulignez l'ur­gence cli­ma­tique par le biais de votre ency­clique his­torique, Lauda­to Si', et tant d'autres efforts vitaux.
Ces mes­sages coïn­ci­dent avec les valeurs fon­da­men­tales de la Charte des Nations Unies, à savoir la réaf­fir­ma­tion de la dig­nité et de la valeur de la per­son­ne humaine. Pro­mou­voir l'amour de l'homme et le souci de notre planète. Défendre notre human­ité com­mune et pro­téger notre mai­son com­mune. Notre monde en a plus que jamais besoin.
En venant à Rome après la COP 25 à Madrid, j'ap­pelle tous les pays du monde à s'en­gager à attein­dre la neu­tral­ité car­bone d'i­ci à 2050, con­for­mé­ment à ce que la com­mu­nauté sci­en­tifique nous dit être néces­saire pour sauver la planète.
Votre Sain­teté,
je vous suis recon­nais­sant de votre engage­ment excep­tion­nel à l'échelle mon­di­ale et de votre ferme appui aux travaux des Nations Unies, notam­ment par votre vis­ite mémorable au siège de l'ONU en 2015, alors que le monde s'est enten­du sur les objec­tifs de développe­ment durable, nos lignes direc­tri­ces pour une mon­di­al­i­sa­tion équitable.
Notre réu­nion est par­ti­c­ulière­ment sig­ni­fica­tive en cette péri­ode de Noël.
C'est une péri­ode de paix et de bonne volon­té et je suis triste de con­stater que les com­mu­nautés chré­ti­ennes — y com­pris cer­taines des plus anci­ennes du monde — ne peu­vent pas célébr­er Noël en toute sécurité.
Trag­ique­ment, nous voyons des juifs assas­s­inés dans des syn­a­gogues, leurs pier­res tombales défig­urées par des croix gam­mées; des musul­mans abat­tus dans des mosquées, leurs sites religieux van­dal­isés; des chré­tiens tués lors des prières, leurs églis­es incendiées. Nous devons faire davan­tage pour pro­mou­voir la com­préhen­sion mutuelle et nous atta­quer à la haine croissante.
Votre Sain­teté,
je tiens à vous exprimer ma pro­fonde grat­i­tude pour le ser­vice extra­or­di­naire que vous avez ren­du en pro­mou­vant les rela­tions inter­con­fes­sion­nelles, notam­ment votre déc­la­ra­tion his­torique avec le Grand Imam d'Al-Azhar sur la fra­ter­nité humaine pour la paix mon­di­ale et la coex­is­tence com­mune.
Cette déc­la­ra­tion est extrême­ment impor­tante lorsque nous sommes témoins d'at­taques aus­si dra­ma­tiques con­tre la lib­erté religieuse et la vie des croyants.
L'ONU a lancé un plan d'ac­tion pour la sauve­g­arde des sites religieux et une stratégie pour lut­ter con­tre les dis­cours de haine.
En ces temps tur­bu­lents et éprou­vants, nous devons être sol­idaires pour la paix et l'har­monie. C'est l'e­sprit de cette sai­son. Et cela se reflète dans votre vision, vos con­seils et votre exemple.
Je vous remer­cie sincère­ment, Votre Sain­teté, et je souhaite à tous ceux et celles qui célèbrent cette fête un Noël en paix et une nou­velle année bénie.