Video Message 20 Dec. 2019 – El Papa y la ONU unidos en la defensa de la dignidad humana / The Pope and the UN united in defence of human dignity / Le Pape et l'ONU unis pour la défense de la dignité humaine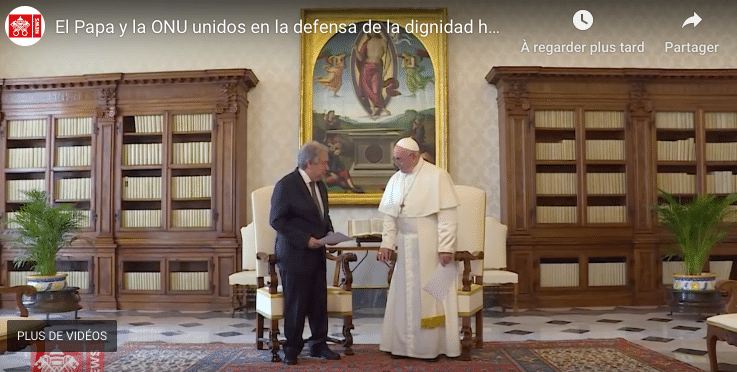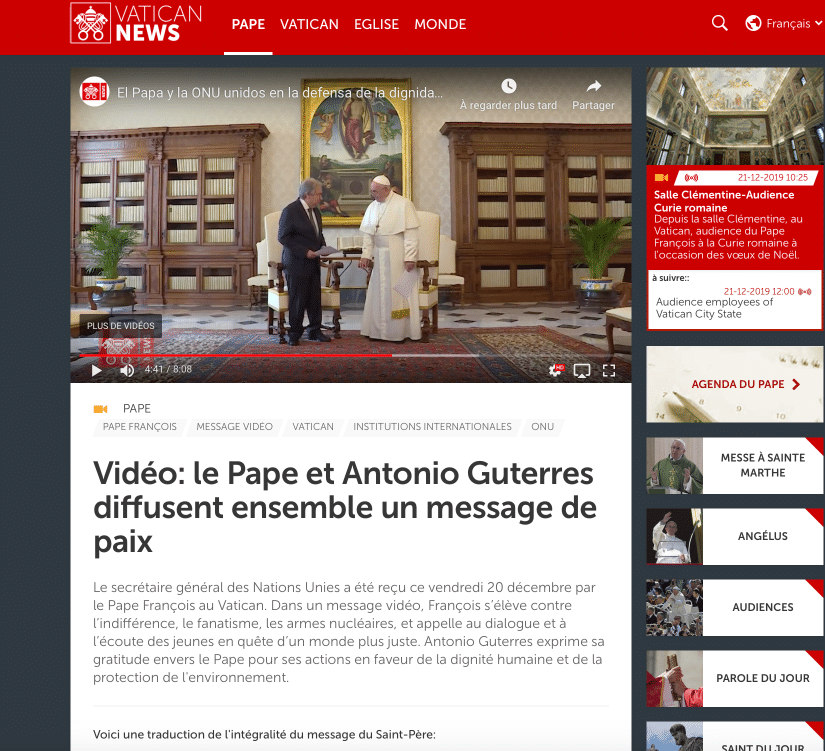 Voici une traduction de l'intégralité du message du Saint-Père: 
Il est beau que notre rencontre ait lieu en ces jours qui nous conduisent vers Noël. Ce sont des jours où nos regards sont tournés vers le Ciel pour confier à Dieu les personnes et les situations qui nous tiennent le plus à cœur. Dans ce regard, nous nous reconnaissons enfants d'un unique Père, et frères.
Rendons grâce pour tout le bien qu'il y a dans le monde, pour les nombreuses personnes qui s'engagent gratuitement, pour qui dépense sa propre vie dans le service, pour qui n'abandonne pas et construit une société plus humaine et plus juste. Nous le savons: nous pouvons pas nous sauver tout seul.
Nous ne pouvons pas, nous devons pas détourner le regard face aux injustices, aux inégalités, au scandale de la faim dans le monde, de la pauvreté, des enfants qui meurent parce qu'ils n'ont pas d'eau, ni de nourriture, ni les soins nécessaires.
Nous ne pouvons pas détourner le regard face à quelque abus que ce soit commis contre les plus petits. Nous devons tous ensemble combattre cette plaie.
Nous ne pouvons pas fermer les yeux face à nos si nombreux frères qui, en raison de conflits et de violences, de la misère ou des changements climatiques, quittent leurs pays et vont souvent au-devant d'un triste destin.
Nous ne devons pas rester indifférents face à la dignité humaine piétinée et exploitée, face aux attaques contre la vie humaine, qu'il s'agisse d'une vie pas encore née ou de celle de chaque personne ayant besoin de soins.
Nous ne pouvons pas, nous ne devons pas détourner le regard quand les croyants de différentes confessions sont persécutés, en divers endroits du monde.
Elle crie vengeance devant Dieu, l'utilisation de la religion à des fins de haine, de violence, d'oppression, d'extrémisme et de fanatisme aveugle, ou dans le but de contraindre à l'exil et à la marginalisation.
Mais elle crie aussi vengeance devant Dieu, la course aux armements et au réarmement nucléaire. Et non seulement l'usage, mais aussi la possession d'armes nucléaires est immoral, des armes qui ont une telle portée destructrice que même le seul danger d'un incident représente une sombre menace pour l'humanité.
Ne restons pas indifférents face aux nombreuses guerres qui continuent à être menées et voient succomber tant d'innocents.
La confiance dans le dialogue entre les personnes et entre les nations, par le multilatéralisme, dans le rôle des organisations internationales, dans la diplomatie comme instrument pour la compréhension et l'entente, est indispensable pour construire un monde pacifique.
Reconnaissons-nous membres d'une humanité unique, et prenons soin de notre terre qui, génération après génération, nous a été confiée par Dieu pour que nous la cultivions et nous la laissions en héritage à nos enfants. L'engagement pour réduire les émissions polluantes et pour une écologie intégrale est urgente et nécessaire: faisons quelque chose avant qu'il ne soit trop tard!
Écoutons la voix de tant de jeunes qui nous aident à prendre conscience de ce qui arrive aujourd'hui dans le monde et nous demandent d'être semeurs de paix et bâtisseurs, ensemble et non pas seuls, d'une citoyenneté plus humaine et plus juste.
Noël, par son authentique simplicité, nous rappelle que ce qui compte vraiment dans la vie, c'est l'amour.
Voici une traduction de l'intégralité du message d'Antonio Guterres, secrétaire général de l'ONU:
Votre Sainteté, merci pour votre accueil très chaleureux. 
Vous êtes un messager d'espoir et d'humanité pour réduire la souffrance humaine et promouvoir la dignité humaine. Votre voix morale claire transparaît, lorsque vous vous exprimez sur le sort des plus vulnérables, y compris les réfugiés et les migrants, pour faire face à la pauvreté et aux inégalités, lorsque vous appelez au désarmement, à construire des ponts entre les communautés  et, bien sûr, quand vous soulignez l'urgence climatique par le biais de votre encyclique historique, Laudato Si', et tant d'autres efforts vitaux.
Ces messages coïncident avec les valeurs fondamentales de la Charte des Nations Unies, à savoir la réaffirmation de la dignité et de la valeur de la personne humaine. Promouvoir l'amour de l'homme et le souci de notre planète. Défendre notre humanité commune et protéger notre maison commune. Notre monde en a plus que jamais besoin.
En venant à Rome après la COP 25 à Madrid, j'appelle tous les pays du monde à s'engager à atteindre la neutralité carbone d'ici à 2050, conformément à ce que la communauté scientifique nous dit être nécessaire pour sauver la planète.  
Votre Sainteté,
je vous suis reconnaissant de votre engagement exceptionnel à l'échelle mondiale et de votre ferme appui aux travaux des Nations Unies, notamment par votre visite mémorable au siège de l'ONU en 2015, alors que le monde s'est entendu sur les objectifs de développement durable, nos lignes directrices pour une mondialisation équitable.
Notre réunion est particulièrement significative en cette période de Noël. 
C'est une période de paix et de bonne volonté et je suis triste de constater que les communautés chrétiennes - y compris certaines des plus anciennes du monde - ne peuvent pas célébrer Noël en toute sécurité.
Tragiquement, nous voyons des juifs assassinés dans des synagogues, leurs pierres tombales défigurées par des croix gammées; des musulmans abattus dans des mosquées, leurs sites religieux vandalisés; des chrétiens tués lors des prières, leurs églises incendiées. Nous devons faire davantage pour promouvoir la compréhension mutuelle et nous attaquer à la haine croissante. 
Votre Sainteté,
je tiens à vous exprimer ma profonde gratitude pour le service extraordinaire que vous avez rendu en promouvant les relations interconfessionnelles, notamment votre déclaration historique avec le Grand Imam d'Al-Azhar sur la fraternité humaine pour la paix mondiale et la coexistence commune.
Cette déclaration est extrêmement importante lorsque nous sommes témoins d'attaques aussi dramatiques contre la liberté religieuse et la vie des croyants.
L'ONU a lancé un plan d'action pour la sauvegarde des sites religieux et une stratégie pour lutter contre les discours de haine.
En ces temps turbulents et éprouvants, nous devons être solidaires pour la paix et l'harmonie. C'est l'esprit de cette saison. Et cela se reflète dans votre vision, vos conseils et votre exemple.
Je vous remercie sincèrement, Votre Sainteté, et je souhaite à tous ceux et celles qui célèbrent cette fête un Noël en paix et une nouvelle année bénie.