University of Nottingham – Kevin Bales – Online course / Free – 4 weeks – 5 hours a week / Ending Slavery: Strategies for Contemporary Global Abolition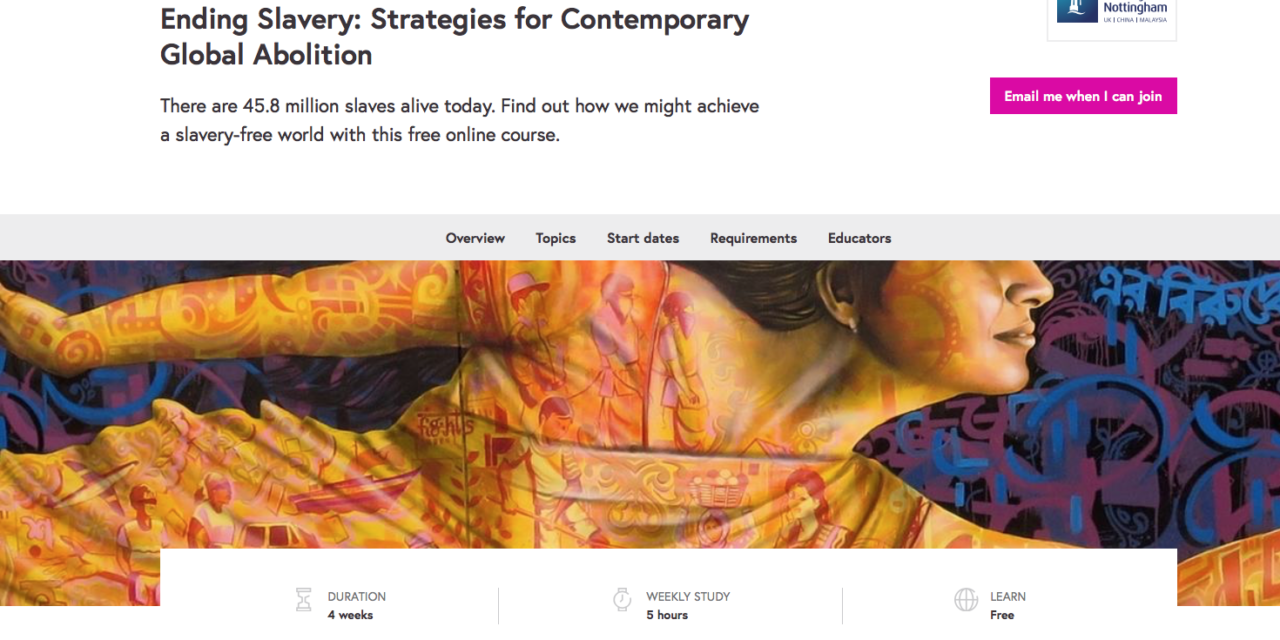 No prior knowledge is necessary, all are welcome.
https://www.nottingham.ac.uk/pgstudy/courses/politics-and-international-relations/slavery-and-liberation-ma.aspx
Topics:
Key facts, figures, definitions, causes and predictors for contemporary slavery
The similarities and differences between historical and contemporary slavery
Potential strategies that contemporary antislavery might adapt from historical antislavery
The strategies of past antislavery movements at the international, national and local levels
Ideas for how businesses and industry-wide initiatives can combat slavery
Ideas for how we can use technology like satellites to combat slavery
The connection between ending slavery and combating environmental destruction
The role of legislation and country-level plans in combatting slavery today
The strategy of community-based liberation and individual action
The antislavery ideas of enslaved people themselves via their narratives
What will you achieve?
By the end of the course, you'll be able to...
Investigate slavery throughout history and in today's world
Assess the strategies of past antislavery movements
Explore ideas for ending contemporary slavery at the international, national and local levels
Engage with new antislavery solutions to help design a new blueprint for ending slavery
Who is the course for?
No prior knowledge is necessary, all are welcome. The course is particularly relevant for
human rights and
NGO workers,
teachers, students,
activists,
supply chains professionals,
lawyers, and law enforcement professionals.
If you want to explore these themes in more depth, the University Of Nottingham also offers a Slavery and Liberation MA starting in October 2017.
Who will you learn with?
Zoe Trodd: Professor Zoe Trodd is director of the Rights Lab, a University of Nottingham Beacon of Excellence, and co-director of the university's Research Priority Area in Rights and Justice
Kevin Bales:I'm one of the educators on this MOOC and very excited to be part of it.
Katie Donington: I am a Post-Doctoral Research fellow with the Antislavery Usable Past project at the University of Nottingham.
Hannah-Rose Murray:PhD student researching nineteenth century slavery and abolition, specifically focusing on the legacy of African Americans on British society and the strategies they used to fight against slavery.
Rosemary Pearce:Rosemary Pearce is currently completing a PhD in American Studies at the University of Nottingham, where she is a member of the Centre for Research in Race and Rights.