University of Nottingham — Kevin Bales – Online course / Free – 4 weeks – 5 hours a week / Ending Slavery: Strategies for Contemporary Global Abolition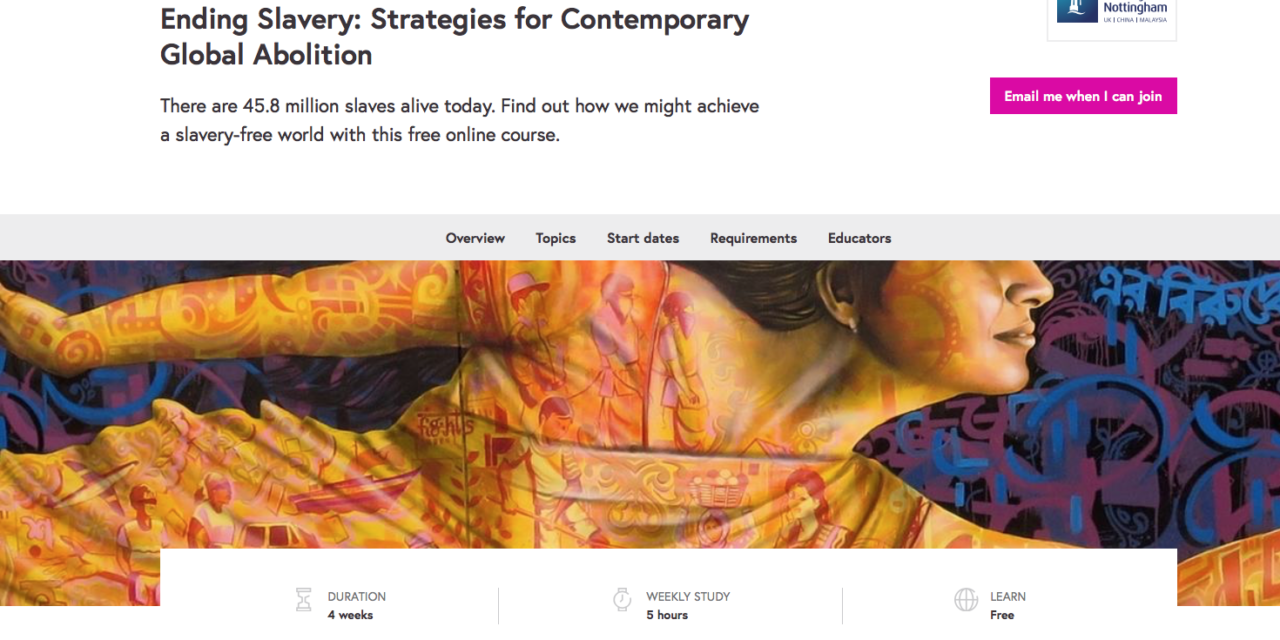 No pri­or knowl­edge is nec­es­sary, all are welcome.
https://www.nottingham.ac.uk/pgstudy/courses/politics-and-international-relations/slavery-and-liberation-ma.aspx
Top­ics:
Key facts, fig­ures, def­i­n­i­tions, caus­es and pre­dic­tors for con­tem­po­rary slavery
The sim­i­lar­i­ties and dif­fer­ences between his­tor­i­cal and con­tem­po­rary slavery
Poten­tial strate­gies that con­tem­po­rary anti­slav­ery might adapt from his­tor­i­cal antislavery
The strate­gies of past anti­slav­ery move­ments at the inter­na­tion­al, nation­al and local levels
Ideas for how busi­ness­es and indus­try-wide ini­tia­tives can com­bat slavery
Ideas for how we can use tech­nol­o­gy like satel­lites to com­bat slavery
The con­nec­tion between end­ing slav­ery and com­bat­ing envi­ron­men­tal destruction
The role of leg­is­la­tion and coun­try-lev­el plans in com­bat­ting slav­ery today
The strat­e­gy of com­mu­ni­ty-based lib­er­a­tion and indi­vid­ual action
The anti­slav­ery ideas of enslaved peo­ple them­selves via their narratives
What will you achieve?
By the end of the course, you'll be able to…
Inves­ti­gate slav­ery through­out his­to­ry and in today's world
Assess the strate­gies of past anti­slav­ery movements
Explore ideas for end­ing con­tem­po­rary slav­ery at the inter­na­tion­al, nation­al and local levels
Engage with new anti­slav­ery solu­tions to help design a new blue­print for end­ing slavery
Who is the course for?
No pri­or knowl­edge is nec­es­sary, all are wel­come. The course is par­tic­u­lar­ly rel­e­vant for
human rights and
NGO work­ers,
teach­ers, students,
activists,
sup­ply chains professionals,
lawyers, and law enforce­ment professionals.
If you want to explore these themes in more depth, the Uni­ver­si­ty Of Not­ting­ham also offers a Slav­ery and Lib­er­a­tion MA start­ing in Octo­ber 2017.
Who will you learn with?
Zoe Trodd: Pro­fes­sor Zoe Trodd is direc­tor of the Rights Lab, a Uni­ver­si­ty of Not­ting­ham Bea­con of Excel­lence, and co-direc­tor of the uni­ver­si­ty's Research Pri­or­i­ty Area in Rights and Justice
Kevin Bales:I'm one of the edu­ca­tors on this MOOC and very excit­ed to be part of it.
Katie Don­ing­ton: I am a Post-Doc­tor­al Research fel­low with the Anti­slav­ery Usable Past project at the Uni­ver­si­ty of Nottingham.
Han­nah-Rose Mur­ray:PhD stu­dent research­ing nine­teenth cen­tu­ry slav­ery and abo­li­tion, specif­i­cal­ly focus­ing on the lega­cy of African Amer­i­cans on British soci­ety and the strate­gies they used to fight against slavery.
Rose­mary Pearce:Rose­mary Pearce is cur­rent­ly com­plet­ing a PhD in Amer­i­can Stud­ies at the Uni­ver­si­ty of Not­ting­ham, where she is a mem­ber of the Cen­tre for Research in Race and Rights.