ONLINE COURSE ON HUMAN TRAFFICKING _ UNDERSTANDING AND COUNTERACTING TRAFFICKING IN PERSONS – AN ONLINE TRAINING COURSE FOR HELPERS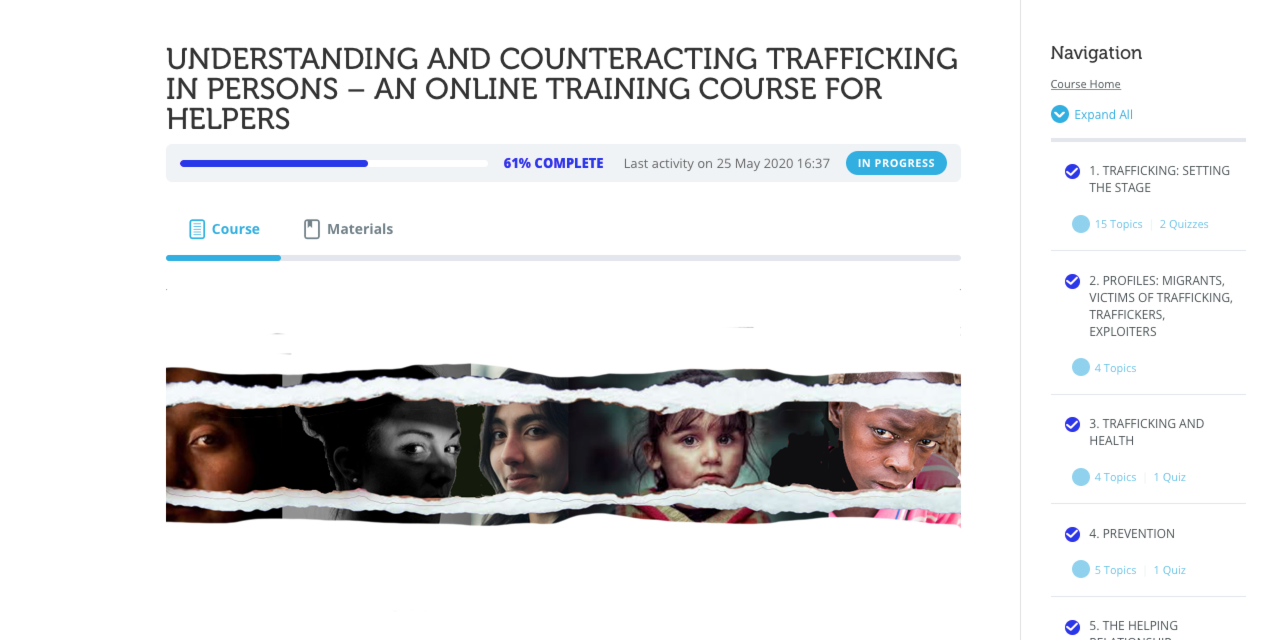 UNDERSTANDING AND COUNTERACTING TRAFFICKING IN PERSONS - ONLINE TRAINING COURSE FOR HELPERS FOR ORDER OF MALTA MEMBERS AND AUXILIARIES
The Ambassador of the Order of Malta  to monitor and combat trafficking in persons, with the help of a Swiss foundation, the "Collège universitaire Henry-Dunant", is working on an online course against human trafficking for helpers, which is available freely. Please feel free to participate in this course!
The online course "Understanding And Counteracting Trafficking In Persons – A Training Course For Helpers" is built to meet the expectations of an audience at different levels:
people who are active and responsible for projects in the field of human trafficking,
experts looking for a genuine reference library on trafficking, legislation and action plans by country, guides and research on trafficking in human beings from the most important legal and operational actors,
all who wish to understand the issue of human trafficking.
This course strives to offer professional and practical tools for counteracting trafficking and supporting victims. It does so by promoting three fields of action:
Prevention of conditions (poverty, inequality, familial abuse) favoring trafficking;
Assistance to victims and survivors, supporting their physical and psychological rehabilitation and assisting their social reintegration;
Coordination of activities with already existing support networks.
Navigate freely through the course and quickly reach the topic you are interested in.
Access the best practices: the course can be used as a library to find documents, examples, etc.
It is free of charge in order to make it available to a wide audience.
TABLE OF CONTENTS
1. TRAFFICKING: SETTING THE STAGE
Definitions & Forms of Trafficking
Trafficking in Persons and Migration
Trafficking and Gender
Dimensions and Process of Trafficking
Testimonies of Survivors
Responses: Institutional
Responses: Social
Responses: Networking
Pastoral Orientations on Human Trafficking – Holy See
Current and Emerging Forms of Slavery Including Its Causes and Consequences Contemporary Forms of Slavery Report of the U.N. Special Rapporteur
Organisations Fighting Against Human Trafficking & Data
Handbooks on Best Practices on Fighting Human Trafficking
Additional Resources
2. PROFILES: MIGRANTS, VICTIMS OF TRAFFICKING, TRAFFICKERS, EXPLOITERS
Migrants
Migrants as Victims of Trafficking
Other Actors: A Cast of Antagonists
Additional Resources
3. TRAFFICKING AND HEALTH
The Health Risks: Physical and Psychological
Sexually Transmitted Infections (STIS)
Health: A Human Rights Component
Additional Resources
4. PREVENTION
The Theoretical Framework of Prevention
Prevention and Information
Prevention Strategies
Prevention and Social Stigma
Additional Resources
5. THE HELPING RELATIONSHIP
The Evolving Helping Relationship
Helping Relationship Models
Psychological Profile of the Survivors in the Helping Relationship
Proposal of an Operational Model: "The Basic Postulate"
Proposal of an Operational Model: "The Psychic System"
Proposal of an Operational Model: "The Helper Skills"
Test: The Natural Response
Proposal of an Operational Model: "The Methodology for the Implementation of the Help Model"
Negotiating Conflict in the Helping Relationship
Additional Resources
6. EMPOWERMENT
Empowerment
Background, Process, Tools of Empowerment
Peer Support
Additional Resources
7. BURN OUT
A Psychological Perspective
Burn-Out Syndrome
Measures for Preventing Burn-Out
Spiritual Support
Bakhita Prayer
Additional Resources