The Distributist Review — EUGENICS: THE WAR OF CAPITALISM AND SOCIALISM AGAINST HUMANITY AND ITS NEW FORM AS TRANSHUMANISM / EUGÉNISME : LA GUERRE DU CAPITALISME ET DU SOCIALISME CONTRE L'HUMANITÉ ET SA NOUVELLE FORME EN TANT QUE TRANSHUMANISME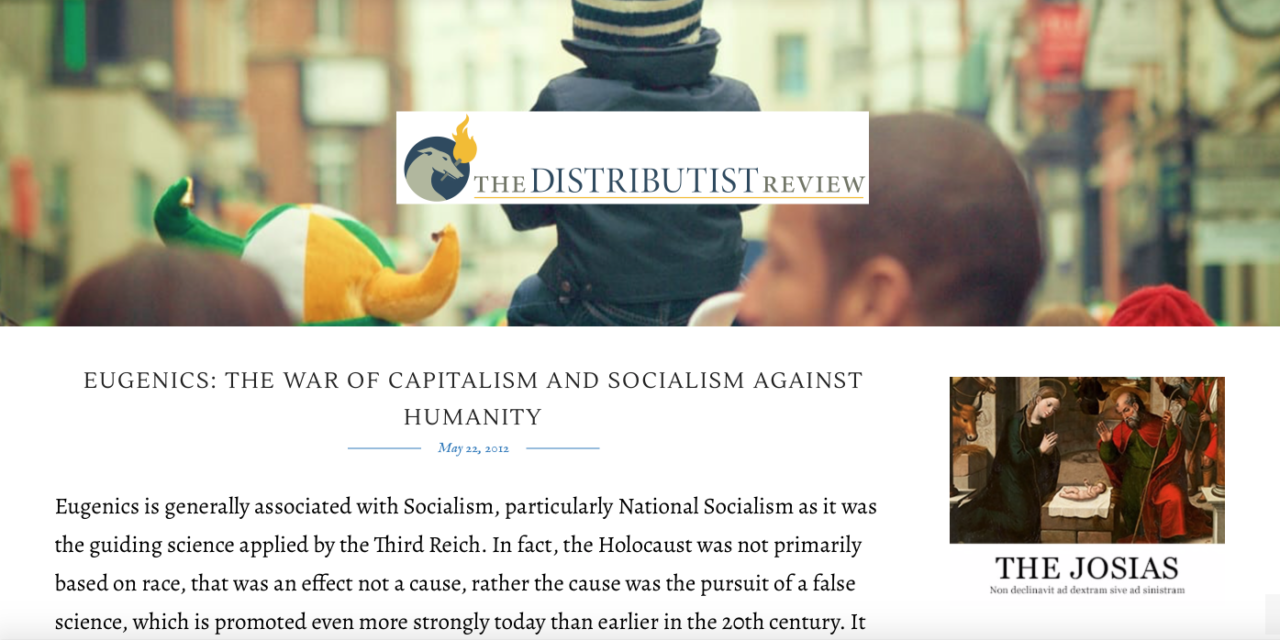 Click on the fol­low­ing image to get the orig­nal article :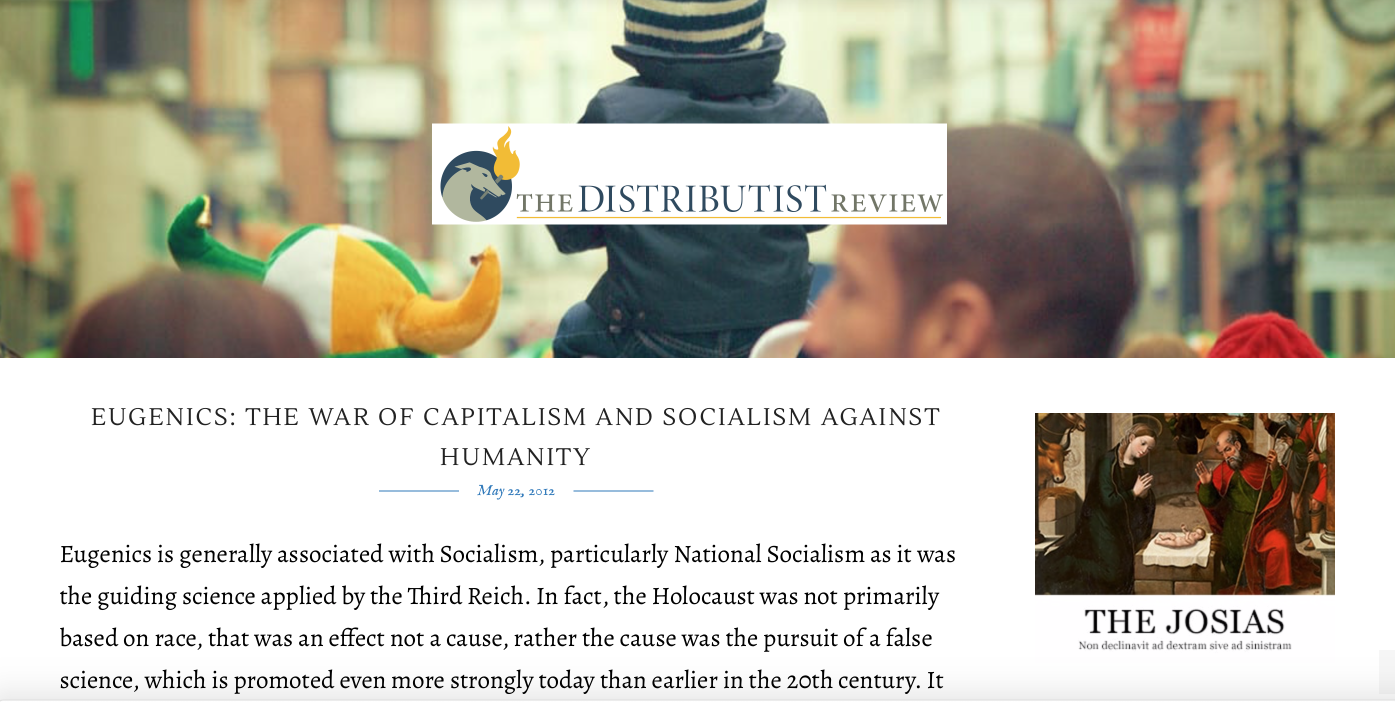 Vous trou­verez la tra­duc­tion française à la suite du texte anglais.
EUGENICS: THE WAR OF CAPITALISM AND SOCIALISM AGAINST HUMANITY
May 22, 2012 by Ryan Grant
Eugen­ics is gen­er­al­ly asso­ci­at­ed with Social­ism, par­tic­u­lar­ly Nation­al Social­ism as it was the guid­ing sci­ence applied by the Third Reich. In fact, the Holo­caust was not pri­mar­i­ly based on race, that was an effect not a cause, rather the cause was the pur­suit of a false sci­ence, which is pro­mot­ed even more strong­ly today than ear­li­er in the 20th cen­tu­ry. It has only gone under­ground. Rudolph Hess, the deputy Führer of the third Reich put it, "Nation­al Social­ism is noth­ing oth­er than applied biol­o­gy." The Nazi's were not just con­vinced that they were pur­su­ing sci­ence, but that they were assist­ing evo­lu­tion with the "sci­ence" of eugen­ics. Hitler, how­ev­er, did not come up with this out of the blue, he was inspired, as he says in Mein Kampf, by the laws already on the books in over 30 Amer­i­can States (put in place dur­ing the Free Mar­ket Roar­ing 20's) to force those con­sid­ered "fee­ble-mind­ed", or whose fam­i­ly had birth defects or chil­dren with low test scores to be forcibly ster­il­ized. Like the mon­ey which would even­tu­al­ly be donat­ed to Ger­many to fund Joseph Men­gele, the angel of death, the fund­ing and polit­i­cal pres­sure for forced ster­il­iza­tion laws were fund­ed by wealthy Cap­i­tal­ists, the Rock­e­feller foun­da­tion and Carnegie Mellon.
Most peo­ple today are under the impres­sion that Eugen­ics died with Hitler, but this is not the case. It is alive and well, fund­ed by the Cap­i­tal­ist sys­tem and pushed by Social­ist phi­los­o­phy. To under­stand why that is we have to look at exact­ly what Eugen­ics is, and how it started.
The first step in that process is to trace the roots of the found­ing of Eugen­ics, and that starts with Thomas Robert Malthus.
Malthus was a cler­gy­man and a pro­fes­sor of his­to­ry who wrote An Essay on Pop­u­la­tion(1798) where he pred­i­cat­ed, based pure­ly on arith­metic that the world's pop­u­la­tion will dou­ble every 25 years while food can nev­er catch up. As such mis­ery will increase and dis­ease will take its toll. For Malthus, this is a good thing and should be assisted:
Instead of rec­om­mend­ing clean­li­ness to the poor, we should encour­age con­trary habits. In our towns we should make the streets nar­row­er, crowd more peo­ple into the hous­es, and court the return of the plague. In the coun­try, we should build our vil­lages near stag­nant pools, and par­tic­u­lar­ly encour­age set­tle­ments in all marshy and unwhole­some sit­u­a­tions. But above all, we should repro­bate spe­cif­ic reme­dies for rav­aging dis­eases; and those benev­o­lent, but much mis­tak­en men, who have thought they were doing a ser­vice to mankind by pro­ject­ing schemes for the total extir­pa­tion of par­tic­u­lar diseases.
He adds in the Essay on Pop­u­la­tion:
It does not … by any means seem impos­si­ble that by an atten­tion to breed, a cer­tain degree of improve­ment, sim­i­lar to that among ani­mals, might take place among men. Whether intel­lect could be com­mu­ni­cat­ed may be a mat­ter of doubt; but size, strength, beau­ty, com­plex­ion, and per­haps longevi­ty are in a degree trans­mis­si­ble…. As the human race, how­ev­er, could not be improved in this way with­out con­demn­ing all the bad spec­i­mens to celiba­cy, it is not prob­a­ble that an atten­tion to breed should ever become general.
Apart from being uncon­cerned with human beings, Malthus was a cap­i­tal­ist philoso­pher advo­cat­ing a solu­tion to cap­i­tal­ist prob­lems. Thus the pop­u­la­tion buzz insti­gat­ed by Malthus comes to present an eco­nom­ic prob­lem. It also has polit­i­cal real­i­ties which come to bear on our sub­ject, name­ly the con­trol of resources. Kissinger advo­cat­ed a depop­u­la­tion of Africa so that the US and Europe could main­tain con­trol of Africa's resources, even by using food as a weapon in his Nixon era mem­o­ran­dum NSM 200.
Malthus' the­o­ries had a huge impact on Charles Dar­win, an admir­er of Malthus, who attempt­ed to explain by a nat­ur­al and bio­log­i­cal mod­el the sci­en­tif­ic appli­ca­tion of Malthus' eco­nom­ic thought. Irre­spec­tive of one's think­ing on what con­sti­tutes "Dar­win­ism" today or its truth or fan­ta­sy, (one can the­o­ret­i­cal­ly hold to it with­out sup­port Eugen­ics) Darwin's aim was to show, as a mem­ber of the nobil­i­ty, why those who were on top of the British Empire were in fact the strongest and the best and deserved their posi­tion. Essen­tial­ly, Malthus high­light­ed an eco­nom­ic prob­lem and Dar­win want­ed to find the eco­nom­ic cause. His work in Ori­gin of Species pro­duced one main doc­trine to keep track of: Sur­vival of the Fittest—that evo­lu­tion comes about through strug­gle, and nature selects the most fit. In a less­er known work by Dar­win, Descent of Man, which is vir­tu­al­ly nev­er read, he argues for what will become Eugenic teach­ing in the future:
Yet he might by selec­tion do some­thing not only for the bod­i­ly con­sti­tu­tion and frame of his off­spring, but for their intel­lec­tu­al and moral qual­i­ties. Both sex­es ought to refrain from mar­riage if they are in any marked degree infe­ri­or in body or mind; but such hopes are Utopi­an and will nev­er be even par­tial­ly realised until the laws of inher­i­tance are thor­ough­ly known. Every­one does good ser­vice, who aids towards this end. When the prin­ci­ples of breed­ing and inher­i­tance are bet­ter under­stood, we shall not hear igno­rant mem­bers of our leg­is­la­ture reject­ing with scorn a plan for ascer­tain­ing whether or not con­san­guineous mar­riages [mar­riages between close rel­a­tives] are inju­ri­ous to man.
Darwin's teach­ing, with the assis­tance of Thomas Hux­ley (Grand­fa­ther of Julian and Aldous Hux­ley), was spread quick­ly as "sci­ence" all over Eng­land, Europe and the Unit­ed States, and lat­er via Com­mu­nism to Rus­sia and Chi­na. Its influ­ence reached many spheres. Karl Marx explained that his phi­los­o­phy would be impos­si­ble if it were not for the vehi­cle of Dar­win­ian Sci­ence. We'll return to Marx and com­mu­nism lat­er. It also influ­enced Darwin's half-cousin Sir Fran­cis Gal­ton, the founder of the sci­ence of Sta­tis­tics. Gal­ton, who was also influ­enced by Malthus, saw a way to make a sci­ence apply­ing Malthus' eco­nom­ic think­ing, and his half-cousin's teach­ing on biol­o­gy as a new social sci­ence, name­ly Eugen­ics (From the Greek ευ, good; γενες, race, type, or clan from which today we derive the word "gene").
For Gal­ton, apply­ing Dar­win, it is obvi­ous that human beings pass on cer­tain traits to the next gen­er­a­tion. So if this can be done with ani­mals, why can we not breed humans? There­fore hered­i­ty could be manip­u­lat­ed by forced mat­ing (breed­ing) in order to pro­duce supe­ri­or human beings. For Gal­ton, this will come in three stages, first., he writes:
If a twen­ti­eth part of the cost and pains were spent in mea­sures for the improve­ment of the human race that is spent on the improve­ment of the breed of hors­es and cat­tle, what a galaxy of genius might we not cre­ate! We might intro­duce prophets and high priests of civ­i­liza­tion into the world, as sure­ly as we can prop­a­gate idiots by mat­ing cretins. Men and women of the present day are, to those we might hope to bring into exis­tence, what the pari­ah dogs of the streets of an East­ern town are to our own high­ly-bred varieties.
The fee­ble nations of the world are nec­es­sar­i­ly giv­ing way before the nobler vari­eties of mankind; and even the best of these, so far as we know them, seem unequal to their work. The aver­age cul­ture of mankind is become so much high­er than it was, and the branch­es of knowl­edge and his­to­ry so var­i­ous and extend­ed, that few are capa­ble even of com­pre­hend­ing the exi­gen­cies of our mod­ern civ­i­liza­tion; much less of ful­fill­ing them. We are liv­ing in a sort of intel­lec­tu­al anar­chy, for the want of mas­ter minds. The gen­er­al intel­lec­tu­al capac­i­ty of our lead­ers requires to be raised, and also to be dif­fer­en­ti­at­ed. We want abler com­man­ders, states­men, thinkers, inven­tors, and artists. The nat­ur­al qual­i­fi­ca­tions of our race are no greater than they used to be in semi-bar­barous times, though the con­di­tions amid which we are born are vast­ly more com­plex than of old. The fore­most minds of the present day seem to stag­ger and halt under an intel­lec­tu­al load too heavy for their pow­ers. No one, I think, can doubt, from the facts and analo­gies I have brought for­ward, that, if tal­ent­ed men were mat­ed with tal­ent­ed women, of the same men­tal and phys­i­cal char­ac­ters as them­selves, gen­er­a­tion after gen­er­a­tion, we might pro­duce a high­ly-bred human race, with no more ten­den­cy to revert to mean­er ances­tral types than is shown by our long-estab­lished breeds of race-hors­es and fox-hounds.
Or, to put it anoth­er way, Malthus dis­cov­ers an eco­nom­ic prob­lem: over­pop­u­la­tion and scarci­ty of resources. This is in fact false as there is no scarci­ty of resources but a scarci­ty of access based on a faulty eco­nom­ic sys­tem. Nev­er­the­less, Dar­win dis­cov­ers the bio­log­i­cal "sci­ence" that explains why there is over­pop­u­la­tion, i.e. some peo­ple do not evolve smart enough to be as wealthy as the British nobil­i­ty, and Gal­ton comes around with the social sci­ence which pred­i­cates how to solve the prob­lem. The ideas were in place, but need­ed mon­ey to be spread around, as they quick­ly would be by both Social­ism and Cap­i­tal­ism. In Eng­land, the Roy­al Soci­ety was eugenic in nature. In Amer­i­ca the Eugen­ics Record office was found­ed to research hered­i­ty in order to deter­mine who should be forcibly sterilized.
As I not­ed, Hitler did not wake up one day and say "Eure­ka! Courts of genet­ic puri­ty! Get these Jews and Slavs out of the mas­ter race gene pool". For that mat­ter nei­ther did Stal­in or Mao. Rather, they were stu­dents of the false sci­ence per­pet­u­at­ed by the best and bright­est and fund­ed by wealthy cap­i­tal­ists like Rock­e­feller, JP Mor­gan, Carnegie and oth­ers. In Britain, the Roy­al Soci­ety for sci­en­tif­ic stud­ies had for some time invest­ed a great deal of time and ener­gy into the study of eugen­ics, and keep­ing records on the pop­u­la­tion to deter­mine who might be fee­ble-mind­ed. In Britain alone, we can count among the adher­ents of Eugen­ics and its appli­ca­tion (i.e. forced ster­il­iza­tion) econ­o­mist John May­nard Keynes (who served as the direc­tor for the British Eugen­ics soci­ety), Fabi­an social­ists, the play­wright George Bernard Shaw, author H.G. Wells, Win­ston Churchill, Kings Edward VIII and George VI, and last­ly Queen Eliz­a­beth II. Keynes, the Cap­i­tal­ist, called Eugen­ics "the most impor­tant, sig­nif­i­cant and, I would add, gen­uine branch of soci­ol­o­gy which exists[!]." ("Open­ing remarks: The Gal­ton Lec­ture". Eugen­ics Review 38 (1): 39–40.) This was in 1946, after the Nazi's prac­tice of Eugen­ics was well-known and the Nurem­berg tri­als were com­ing to a conclusion.
In the Unit­ed States, Eugen­ics went into prac­tice at the begin­ning of the 1900s. Con­necti­cut, my home state, became the first to enact some type of Eugenic leg­is­la­tion and was quick­ly fol­lowed. They enact­ed a law in 1896 for­bid­ding mar­riage to any­one con­sid­ered to be "fee­ble-mind­ed", a catch phrase for Eugeni­cists to describe any­one with­out high enough test scores or enough good looks. Charles Dav­en­port, a sci­en­tist con­sid­ered the "Father of the Amer­i­can Eugen­ics move­ment", received fund­ing from Carnegie to found the Sta­tion for Exper­i­men­tal Evo­lu­tion, which he lat­er renamed sim­ply "The Carnegie depart­ment of genet­ics." Dav­en­port wrote numer­ous sci­en­tif­ic papers advo­cat­ing gov­ern­ment inter­ven­tion to man­age the human stock. He was elect­ed to the Nation­al Acad­e­my of the Sci­ences in 1912, and his work Hered­i­ty in rela­tion to Eugen­ics was used as a text­book in uni­ver­si­ties until World Ward II. Apart from that, Dav­en­port was also involved in the study of Bio­met­rics (which we will get to lat­er) that was also pio­neered by Gal­ton. Dav­en­port became the dar­ling of the Eugen­ics move­ment, and secured fund­ing for many projects includ­ing the Eugen­ics Records Office, which was designed to exam­ine genet­ic records from hun­dreds of thou­sands of Amer­i­can fam­i­lies, even by grave rob­bing, to deter­mine who had genet­ic stocks fit enough to breed. The ivory tow­er eugen­ics researchers then plot­ted whom among hun­dreds of thou­sands of fam­i­lies would be removed from his­to­ry by pos­i­tive law. With the "cut­ting edge research" of Dav­en­port and the main insti­tutes for sci­ence, Indi­ana became the first state of 30 states to pass invol­un­tary eugen­ics laws which would require forced ster­il­iza­tion on any that the state eugen­ics board would deem "fee­ble-mind­ed". To most of us this sounds like some­thing out of 1984, but this is pre­cise­ly what hap­pened, in 1907! Not only that, the Supreme Court upheld the Vir­ginia forced ster­il­iza­tion law in 1927 in Buck v. Bell, where Supreme Court Jus­tice Oliv­er Wen­dell Holmes wrote for an 8–1 majority:
We have seen more than once that the pub­lic wel­fare may call upon the best cit­i­zens for their lives. It would be strange if it could not call upon those who already sap the strength of the State for these less­er sac­ri­fices, often not felt to be such by those con­cerned, to pre­vent our being swamped with incom­pe­tence. It is bet­ter for all the world, if instead of wait­ing to exe­cute degen­er­ate off­spring for crime, or to let them starve for their imbe­cil­i­ty, soci­ety can pre­vent those who are man­i­fest­ly unfit from con­tin­u­ing their kind. The prin­ci­ple that sus­tains com­pul­so­ry vac­ci­na­tion is broad enough to cov­er cut­ting the Fal­lop­i­an tubes.
How could this hap­pen in the Unit­ed States? Mas­sive fund­ing from entre­pre­neurs, com­bined with the ide­ol­o­gy of Dar­win­ian social­ism. This was the estab­lished sci­ence, held by doc­tors, wealthy donors, and gov­ern­ment. The Vir­ginia law was craft­ed by Har­ry Laugh­lin, the super­in­ten­dent for Davenport's Eugenic Records Office. Laugh­lin was giv­en high praise by Ger­man doc­tors, and the Third Reich offered him an hon­orary doc­tor­ate from Hei­dle­burg Uni­ver­si­ty in 1936. All in all not a bad day's work I suppose.
Return­ing to the Third Reich, in 1924 Hitler explic­it­ly cit­ed Amer­i­can eugen­ics laws as the inspi­ra­tion for the gov­ern­ment he would create:
There is today one state in which at least weak begin­nings toward a bet­ter con­cep­tion [of immi­gra­tion] are notice­able. Of course, it is not our mod­el Ger­man Repub­lic, but [the US], in which an effort is made to con­sult rea­son at least par­tial­ly. By refus­ing immi­grants on prin­ci­ple to ele­ments in poor health, by sim­ply exclud­ing cer­tain races from nat­u­ral­iza­tion, it pro­fess­es in slow begin­nings a view that is pecu­liar to the People's State.
Hitler avid­ly read Madi­son Grant's (no rela­tion) work "The Pass­ing of the Great Race", and even wrote him a fan let­ter. In that text, Grant wrote:
A rigid sys­tem of selec­tion through the elim­i­na­tion of those who are weak or unfit—in oth­er words social failures—would solve the whole ques­tion in one hun­dred years, as well as enable us to get rid of the unde­sir­ables who crowd our jails, hos­pi­tals, and insane asy­lums. The indi­vid­ual him­self can be nour­ished, edu­cat­ed and pro­tect­ed by the com­mu­ni­ty dur­ing his life­time, but the state through ster­il­iza­tion must see to it that his line stops with him, or else future gen­er­a­tions will be cursed with an ever-increas­ing load of mis­guid­ed sen­ti­men­tal­ism. This is a prac­ti­cal, mer­ci­ful, and inevitable solu­tion of the whole prob­lem, and can be applied to an ever-widen­ing cir­cle of social dis­cards, begin­ning always with the crim­i­nal, the dis­eased, and the insane, and extend­ing grad­u­al­ly to types which may be called weak­lings rather than defec­tives, and per­haps ulti­mate­ly to worth­less race types.
This book was not only high­ly inspi­ra­tional to Hitler, but to many in the Amer­i­can sci­en­tif­ic estab­lish­ment. Grant, along with Dav­en­port, Laugh­lin, and of course Mar­garet Sanger (about whom more will be writ­ten in part 2) were high­ly respect­ed. Their laws reigned supreme in a major­i­ty of states and were even held up by the Supreme Court (Buck vs. Bell). Fur­ther­more Nazi sci­en­tists at the Nurem­berg tri­als used Jus­tice Holmes opin­ion in Buck v. Bell as a defense. The Third Reich's eugen­ics laws were mod­eled very close­ly off of the Vir­ginia law, and received fund­ing for Eugen­ics research from Rock­e­feller and Carnegie-Mel­lon, not to men­tion that IBM pro­vid­ed tremen­dous fund­ing and its key card tech­nol­o­gy as a track­ing sys­tem for con­cen­tra­tion camp inmates as they were exper­i­ment­ed on and mur­dered for sci­ence. The first com­put­ers were a cap­i­tal­ist ven­ture to test a track­ing sys­tem on inno­cent peo­ple in Tre­blin­ka, Sobi­bor and Auschwitz.
Nation­al Socialism's bloody foot­prints were cre­at­ed from a tri­an­gle of the Malthu­sian night­mare, Dar­win­ian Evo­lu­tion, and Galton's (even­tu­al­ly Hitler's) solu­tion for the prob­lem com­bined with big mon­ey from big busi­ness. We need not for­get that Rock­e­feller, IBM and Carnegie, of whom won­der­ful things are writ­ten of in text­books, were self-made men and suc­cess­ful entre­pre­neurs who used their mon­ey to fund Otmar Frei­herr von Ver­schuer and Josef Men­gele (the angel of death who worked in Auschwitz), both of whom escaped pros­e­cu­tion at Nurem­berg because the Allies jumped over each oth­er to see who could pony up more mon­ey to buy more Nazi sci­en­tists. The truth is Eugen­ics did not die with Hitler, even though it has fall­en into dis­re­pute, rather it is alive and well and the base idea for all gov­ern­ment, all busi­ness fund­ing, and our cur­rent eco­nom­ic woes, though it oper­ates on a new name: Transhumanism.
---
EUGÉNISME : LA GUERRE DU CAPITALISME ET DU SOCIALISME CONTRE L'HUMANITÉ
Le 22 mai 2012, Ryan Grant
L'eugénisme est générale­ment asso­cié au social­isme, en par­ti­c­uli­er au nation­al-social­isme car c'é­tait la sci­ence direc­trice appliquée par le Troisième Reich. En fait, l'Holo­causte n'é­tait pas prin­ci­pale­ment fondé sur la race, c'é­tait un effet et non une cause, mais plutôt sur la pour­suite d'une fausse sci­ence, dont la pro­mo­tion est encore plus forte aujour­d'hui qu'au début du XXe siè­cle. Elle n'a fait que pass­er sous terre. Rudolph Hess, le député Führer du troisième Reich a dit : "Le nation­al-social­isme n'est rien d'autre que la biolo­gie appliquée." Les nazis n'é­taient pas seule­ment con­va­in­cus qu'ils pour­suiv­aient la sci­ence, mais qu'ils aidaient l'évo­lu­tion avec la "sci­ence" de l'eugénisme. Hitler, cepen­dant, n'est pas arrivé à cela de façon inat­ten­due, il a été inspiré, comme il le dit dans Mein Kampf, par les lois déjà en vigueur dans plus de 30 États améri­cains (mis­es en place pen­dant les années 20 du libre marché) pour forcer ceux con­sid­érés comme "faibles d'e­sprit", ou dont la famille avait des défauts de nais­sance ou des enfants à faible score aux tests à être stéril­isés par la force. Tout comme l'ar­gent qui serait finale­ment don­né à l'Alle­magne pour financer Joseph Men­gele, l'ange de la mort, le finance­ment et la pres­sion poli­tique pour des lois de stéril­i­sa­tion for­cée ont été financés par de rich­es cap­i­tal­istes, la fon­da­tion Rock­e­feller et Carnegie Mel­lon.
La plu­part des gens aujour­d'hui ont l'im­pres­sion que l'eugénisme est mort avec Hitler, mais ce n'est pas le cas. Elle est bien vivante, financée par le sys­tème cap­i­tal­iste et poussée par la philoso­phie social­iste. Pour com­pren­dre pourquoi c'est le cas, nous devons exam­in­er ce qu'est exacte­ment l'eugénisme et com­ment il a com­mencé.
La pre­mière étape de ce proces­sus con­siste à retrac­er les racines de la fon­da­tion de l'eugénisme, et cela com­mence avec Thomas Robert Malthus.
Malthus était un ecclési­as­tique et un pro­fesseur d'his­toire qui a écrit An Essay on Pop­u­la­tion (1798) où il a prédit, en se bas­ant unique­ment sur l'arith­mé­tique, que la pop­u­la­tion mon­di­ale dou­blera tous les 25 ans alors que la nour­ri­t­ure ne pour­ra jamais rat­trap­er. Ain­si, la mis­ère aug­mentera et la mal­adie fera des rav­ages. Pour Malthus, c'est une bonne chose et il faut l'aider :
Au lieu de recom­man­der la pro­preté aux pau­vres, nous devri­ons encour­ager les habi­tudes con­traires. Dans nos villes, nous devri­ons ren­dre les rues plus étroites, entass­er plus de gens dans les maisons et cour­tis­er le retour de la peste. Dans le pays, nous devri­ons con­stru­ire nos vil­lages près des mares stag­nantes, et encour­ager par­ti­c­ulière­ment les étab­lisse­ments humains dans toutes les sit­u­a­tions marécageuses et mal­saines. Mais par-dessus tout, nous devri­ons réprou­ver les remèdes spé­ci­fiques pour rav­ager les mal­adies ; et ces hommes bien­veil­lants, mais beau­coup d'hommes erronés, qui ont pen­sé qu'ils rendaient ser­vice à l'hu­man­ité en pro­je­tant des plans pour la dis­pari­tion totale de mal­adies par­ti­c­ulières.
Il ajoute dans son Essai sur la pop­u­la­tion :
Il ne sem­ble en aucun cas impos­si­ble que par une atten­tion à la race, un cer­tain degré d'amélio­ra­tion, sem­blable à celui des ani­maux, puisse avoir lieu chez les hommes. Que l'in­tel­lect puisse être com­mu­niqué peut être une ques­tion de doute ; mais la taille, la force, la beauté, le teint, et peut-être la longévité sont dans un degré trans­mis­si­bles.….. Cepen­dant, l'e­spèce humaine ne pou­vant être améliorée de cette façon sans con­damn­er au céli­bat tous les mau­vais spéci­mens, il est peu prob­a­ble qu'une atten­tion à la race se généralise un jour.
En plus d'être indif­férent aux êtres humains, Malthus était un philosophe cap­i­tal­iste qui pré­con­i­sait une solu­tion aux prob­lèmes cap­i­tal­istes. Ain­si, le buzz démo­graphique ini­tié par Malthus vient pos­er un prob­lème économique. Il y a aus­si des réal­ités poli­tiques qui s'ap­pliquent à notre sujet, à savoir le con­trôle des ressources. M. Kissinger a pré­con­isé un dépe­u­ple­ment de l'Afrique afin que les États-Unis et l'Eu­rope puis­sent garder le con­trôle des ressources de l'Afrique, même en util­isant la nour­ri­t­ure comme une arme dans son mémoran­dum NSM 200 de l'ère Nixon.
Les théories de Malthus ont eu un impact énorme sur Charles Dar­win, un admi­ra­teur de Malthus, qui a ten­té d'ex­pli­quer par un mod­èle naturel et biologique l'ap­pli­ca­tion sci­en­tifique de la pen­sée économique de Malthus. Quelle que soit sa pen­sée sur ce qui con­stitue aujour­d'hui le "dar­win­isme", sa vérité ou sa fan­taisie (on peut théorique­ment s'y tenir sans sou­tien eugénique), le but de Dar­win était de mon­tr­er, en tant que mem­bre de la noblesse, pourquoi ceux qui étaient au pou­voir dans l'Em­pire bri­tan­nique étaient en fait les plus forts, les meilleurs et méri­taient leur posi­tion. Essen­tielle­ment, Malthus a mis en lumière un prob­lème économique et Dar­win voulait en trou­ver la cause économique. Son tra­vail sur l'O­rig­ine des espèces a pro­duit une doc­trine prin­ci­pale à suiv­re : Survie du Fittest-que l'évo­lu­tion est le fruit d'une lutte et que la nature sélec­tionne les plus aptes. Dans une œuvre moins con­nue de Dar­win, Descente de l'homme, qui n'est pra­tique­ment jamais lue, il plaide pour ce qui devien­dra l'en­seigne­ment eugénique dans le futur :
Pour­tant, il pour­rait, par sélec­tion, faire quelque chose non seule­ment pour la con­sti­tu­tion cor­porelle et le cadre de sa progéni­ture, mais aus­si pour ses qual­ités intel­lectuelles et morales. Les deux sex­es devraient s'ab­stenir de se mari­er s'ils sont, à quelque degré que ce soit, inférieurs de corps ou d'e­sprit ; mais de tels espoirs sont utopiques et ne se réalis­eront jamais, même par­tielle­ment, tant que les lois de l'héritage ne seront pas par­faite­ment con­nues. Tout le monde rend un bon ser­vice, qui aide à cette fin. Lorsque les principes de l'él­e­vage et de l'héritage seront mieux com­pris, nous n'en­ten­drons pas des mem­bres igno­rants de notre lég­is­la­ture rejeter avec mépris un plan visant à déter­min­er si les mariages consanguins[mariages entre par­ents proches] sont préju­di­cia­bles ou non à l'homme.
L'en­seigne­ment de Dar­win, avec l'aide de Thomas Hux­ley (grand-père de Julien et Aldous Hux­ley), se répan­dit rapi­de­ment comme "sci­ence" dans toute l'An­gleterre, l'Eu­rope et les Etats-Unis, et plus tard via le com­mu­nisme en Russie et en Chine. Son influ­ence s'est éten­due à de nom­breuses sphères. Karl Marx a expliqué que sa philoso­phie serait impos­si­ble sans le véhicule de la sci­ence dar­wini­enne. Nous revien­drons à Marx et au com­mu­nisme plus tard. Il a égale­ment influ­encé le demi-cousin de Dar­win, Sir Fran­cis Gal­ton, le fon­da­teur de la sci­ence de la sta­tis­tique. Gal­ton, qui a égale­ment été influ­encé par Malthus, a vu une façon de faire une sci­ence appli­quant la pen­sée économique de Malthus, et son demi-cousin l'en­seigne­ment de la biolo­gie comme une nou­velle sci­ence sociale, à savoir Eugénisme (Du grec ευ, bon ; γενες, race, type, ou clan dont on tire le mot "gene").
Pour Gal­ton, en appli­quant Dar­win, il est évi­dent que les êtres humains trans­met­tent cer­tains traits à la généra­tion suiv­ante. Donc, si cela peut être fait avec des ani­maux, pourquoi ne pou­vons-nous pas élever des humains ? Par con­séquent, l'hérédité pour­rait être manip­ulée par l'ac­cou­ple­ment for­cé (repro­duc­tion) afin de pro­duire des êtres humains supérieurs. Pour Gal­ton, cela se fera en trois étapes, d'abord, écrit-il :
Si une vingtième par­tie du coût et des douleurs a été dépen­sée en mesures pour l'amélio­ra­tion de la race humaine qui est dépen­sée sur l'amélio­ra­tion de la race des chevaux et du bétail, quelle galax­ie de génie nous ne pour­rions pas créer ! Nous pour­rions intro­duire des prophètes et des grands prêtres de civil­i­sa­tion dans le monde, aus­si sûre­ment que nous pou­vons propager des idiots par l'ac­cou­ple­ment des crétins. Les hommes et les femmes d'au­jour­d'hui sont, pour ceux que l'on peut espér­er voir naître, ce que les chiens parias des rues d'une ville ori­en­tale sont à nos pro­pres var­iétés haute­ment sélec­tion­nées.
Les nations faibles du monde sont néces­saire­ment en train de céder devant les var­iétés les plus nobles de l'hu­man­ité ; et même les meilleures d'en­tre elles, pour autant que nous les con­nais­sions, sem­blent iné­gales par rap­port à leur tra­vail. La cul­ture moyenne de l'hu­man­ité est dev­enue telle­ment plus élevée qu'elle ne l'é­tait, et les branch­es de la con­nais­sance et de l'his­toire telle­ment var­iées et éten­dues, que peu sont capa­bles de com­pren­dre les exi­gences de notre civil­i­sa­tion mod­erne, encore moins de les sat­is­faire. Nous vivons dans une sorte d'a­n­ar­chie intel­lectuelle, par manque de maîtres esprits. La capac­ité intel­lectuelle générale de nos dirigeants exige d'être élevé, et aus­si d'être dif­féren­cié. Nous voulons des com­man­dants, des hommes d'É­tat, des penseurs, des inven­teurs et des artistes plus aptes. Les qual­i­fi­ca­tions naturelles de notre race ne sont pas plus grandes qu'elles ne l'é­taient à l'époque semi-bar­bar­bare, bien que les con­di­tions dans lesquelles nous sommes nés soient beau­coup plus com­plex­es que par le passé. Les esprits les plus en vue d'au­jour­d'hui sem­blent chancel­er et s'ar­rêter sous une charge intel­lectuelle trop lourde pour leurs pou­voirs. Per­son­ne, je pense, ne peut douter, d'après les faits et les analo­gies que j'ai présen­tés, que si des hommes tal­entueux étaient accou­plés à des femmes tal­entueuses, ayant les mêmes car­ac­tères men­taux et physiques qu'eux, généra­tion après généra­tion, nous pour­rions pro­duire une race humaine haute­ment élevée, sans avoir plus ten­dance que nos races de chevaux et de renards de race établies depuis longtemps à se rabaiss­er aux types ances­traux plus méprisants.
Autrement dit, Malthus décou­vre un prob­lème économique : la sur­pop­u­la­tion et la rareté des ressources. En fait, c'est faux, car il n'y a pas pénurie de ressources, mais pénurie d'ac­cès en rai­son d'un sys­tème économique défail­lant. Néan­moins, Dar­win décou­vre la "sci­ence" biologique qui explique pourquoi il y a sur­pop­u­la­tion, c'est-à-dire que cer­taines per­son­nes n'évolu­ent pas assez intel­ligem­ment pour être aus­si rich­es que la noblesse bri­tan­nique, et Gal­ton arrive avec la sci­ence sociale qui prévoit com­ment résoudre le prob­lème. Les idées étaient en place, mais il fal­lait de l'ar­gent pour les dis­tribuer, comme le social­isme et le cap­i­tal­isme le feraient rapi­de­ment. En Angleterre, la Roy­al Soci­ety était de nature eugénique. En Amérique, le bureau Eugen­ics Record a été fondé pour faire des recherch­es sur l'hérédité afin de déter­min­er qui devrait être stéril­isé de force.
Comme je l'ai dit, Hitler ne s'est pas réveil­lé un jour en dis­ant "Eurê­ka ! Des cours de pureté géné­tique ! Sortez ces Juifs et ces Slaves du pat­ri­moine géné­tique de la race maîtresse". D'ailleurs, Staline et Mao non plus. Ils étaient plutôt des étu­di­ants de la fausse sci­ence per­pé­tuée par les meilleurs et les plus bril­lants et financée par de rich­es cap­i­tal­istes comme Rock­e­feller, JP Mor­gan, Carnegie et autres. En Grande-Bre­tagne, la Roy­al Soci­ety for sci­en­tif­ic stud­ies avait depuis un cer­tain temps investi beau­coup de temps et d'én­ergie dans l'é­tude de l'eugénisme et dans la tenue de reg­istres sur la pop­u­la­tion pour déter­min­er qui était peut-être faible d'e­sprit. Rien qu'en Grande-Bre­tagne, on compte par­mi les adeptes de l'eugénisme et de son appli­ca­tion (stéril­i­sa­tion for­cée) l'é­con­o­miste John May­nard Keynes (qui a dirigé la société eugénique bri­tan­nique), les social­istes Fabi­an, le dra­maturge George Bernard Shaw, l'au­teur H.G. Wells, Win­ston Churchill, King Edward VIII et George VI, et enfin la reine Eliz­a­beth II. Keynes, le cap­i­tal­iste, appelait l'eugénisme "la branche la plus impor­tante, la plus sig­ni­fica­tive et, j'a­jouterais, la plus authen­tique de la soci­olo­gie qui existe[ !]". "(" Mot d'ou­ver­ture : La Con­férence Gal­ton". Eugen­ics Review 38 (1) : 39–40.) C'é­tait en 1946, après que la pra­tique nazie de l'eugénisme fut bien con­nue et que les procès de Nurem­berg arrivèrent à leur terme.
Aux États-Unis, l'eugénisme est entré en vigueur au début des années 1900. Le Con­necti­cut, mon État d'o­rig­ine, a été le pre­mier à pro­mulguer une lég­is­la­tion eugénique et a été rapi­de­ment suivi. Ils ont pro­mul­gué une loi en 1896 inter­dis­ant le mariage à toute per­son­ne con­sid­érée comme "faible d'e­sprit", une phrase accrocheuse pour les eugénistes pour décrire toute per­son­ne n'ayant pas des résul­tats d'ex­a­m­en assez élevés ou une apparence assez belle. Charles Dav­en­port, un sci­en­tifique con­sid­éré comme le "père du mou­ve­ment eugénique améri­cain", a reçu des fonds de Carnegie pour fonder la Sta­tion for Exper­i­men­tal Evo­lu­tion, qu'il a ensuite rebap­tisée sim­ple­ment "The Carnegie depart­ment of genet­ics". Dav­en­port a rédigé de nom­breux arti­cles sci­en­tifiques pré­con­isant l'in­ter­ven­tion du gou­verne­ment pour gér­er le stock humain. Il a été élu à l'A­cadémie nationale des sci­ences en 1912, et son tra­vail Hérédité en rela­tion avec l'eugénisme a été util­isé comme un manuel dans les uni­ver­sités jusqu'à la Sec­onde Guerre mon­di­ale. En dehors de cela, Dav­en­port a égale­ment été impliqué dans l'é­tude de la bio­métrie (dont nous par­lerons plus loin) qui a égale­ment été lancé par Gal­ton. Dav­en­port est devenu le chou­chou du mou­ve­ment eugéniste et a obtenu du finance­ment pour de nom­breux pro­jets, y com­pris le Eugen­ics Records Office, qui a été conçu pour exam­in­er les dossiers géné­tiques de cen­taines de mil­liers de familles améri­caines, même par le vol de tombes, afin de déter­min­er qui avait des stocks géné­tiques assez aptes à la repro­duc­tion. Les chercheurs en eugénisme de la tour d'ivoire ont ensuite déter­miné qui, par­mi des cen­taines de mil­liers de familles, serait retiré de l'his­toire par le droit posi­tif. Avec la "recherche de pointe" de Dav­en­port et des prin­ci­paux insti­tuts sci­en­tifiques, l'In­di­ana est devenu le pre­mier des 30 États à adopter des lois sur l'eugénisme involon­taire qui exig­eraient la stéril­i­sa­tion for­cée de tous ceux que le con­seil de l'eugénisme jugerait "faibles d'e­sprit". Pour la plu­part d'en­tre nous, cela ressem­ble à quelque chose qui date de 1984, mais c'est pré­cisé­ment ce qui s'est passé en 1907 ! De plus, la Cour suprême a con­fir­mé la loi sur la stéril­i­sa­tion for­cée de la Vir­ginie en 1927 dans l'af­faire Buck c. Bell, où le juge Oliv­er Wen­dell Holmes, de la Cour suprême, a obtenu une majorité de 8 con­tre 1 :
Nous avons vu plus d'une fois que le bien-être pub­lic peut faire appel aux meilleurs citoyens pour leur vie. Il serait étrange qu'il ne puisse pas faire appel à ceux qui sapent déjà la force de l'É­tat pour ces sac­ri­fices moin­dres, sou­vent perçus comme tels par les intéressés, pour éviter que nous ne soyons sub­mergés d'in­com­pé­tence. Il vaut mieux pour le monde entier qu'au lieu d'at­ten­dre d'exé­cuter des enfants dégénérés pour com­met­tre des crimes, ou de les laiss­er mourir de faim à cause de leur imbé­cil­lité, la société puisse empêch­er ceux qui sont man­i­feste­ment inaptes de con­tin­uer leur espèce. Le principe qui sou­tient la vac­ci­na­tion oblig­a­toire est suff­isam­ment large pour cou­vrir la coupe des trompes de Fal­lope.
Com­ment cela a‑t-il pu se pro­duire aux États-Unis ? Un finance­ment mas­sif de la part des entre­pre­neurs, com­biné à l'idéolo­gie du social­isme dar­winien. C'é­tait la sci­ence établie, détenue par les médecins, les rich­es dona­teurs et le gou­verne­ment. La loi de Vir­ginie a été élaborée par Har­ry Laugh­lin, le sur­in­ten­dant du Eugenic Records Office de Dav­en­port. Laugh­lin a reçu de grands éloges des médecins alle­mands, et le Troisième Reich lui a offert un doc­tor­at hon­ori­fique de l'U­ni­ver­sité de Hei­dle­burg en 1936. Tout compte fait, ce n'est pas une mau­vaise journée de tra­vail, je sup­pose.
Revenant au Troisième Reich, Hitler, en 1924, a explicite­ment cité les lois eugéniques améri­caines comme source d'in­spi­ra­tion pour le gou­verne­ment qu'il allait créer :
Il y a aujour­d'hui un État où l'on con­state au moins de faibles débuts vers une meilleure conception[de l'im­mi­gra­tion]. Bien sûr, ce n'est pas notre mod­èle de République alle­mande, mais[les États-Unis], dans lequel on s'ef­force de con­sul­ter la rai­son au moins par­tielle­ment. En refu­sant par principe aux immi­grés des élé­ments en mau­vaise san­té, en exclu­ant sim­ple­ment cer­taines races de la nat­u­ral­i­sa­tion, elle pro­fesse, à ses débuts lents, une vision pro­pre à l'É­tat pop­u­laire.
Hitler a lu avec avid­ité l'œu­vre de Madi­son Grant (sans lien de par­en­té) "The Pass­ing of the Great Race", et lui a même écrit une let­tre de fan. Dans ce texte, Grant a écrit :
Un sys­tème rigide de sélec­tion par l'élim­i­na­tion de ceux qui sont faibles ou inaptes — en d'autres ter­mes, les échecs soci­aux — résoudrait toute la ques­tion en cent ans, tout en nous per­me­t­tant de nous débar­rass­er des indésir­ables qui entassent nos pris­ons, nos hôpi­taux et nos asiles de fous. L'in­di­vidu lui-même peut être nour­ri, éduqué et pro­tégé par la com­mu­nauté de son vivant, mais l'É­tat, par la stéril­i­sa­tion, doit veiller à ce que sa lignée s'ar­rête avec lui, faute de quoi les généra­tions futures seront mau­dites par un sen­ti­men­tal­isme tou­jours plus lourd et malav­isé. C'est une solu­tion pra­tique, mis­éri­cordieuse et inévitable de l'ensem­ble du prob­lème, qui peut s'ap­pli­quer à un cer­cle de plus en plus large de rejets soci­aux, en com­mençant tou­jours par les crim­inels, les malades et les fous, et en s'é­ten­dant pro­gres­sive­ment aux types que l'on peut appel­er les faibles plutôt que les défectueux, et peut-être finale­ment les races sans valeur.
Ce livre n'é­tait pas seule­ment très inspi­rant pour Hitler, mais aus­si pour beau­coup d'autres mem­bres de l'estab­lish­ment sci­en­tifique améri­cain. Grant, ain­si que Dav­en­port, Laugh­lin et, bien sûr, Mar­garet Sanger (dont nous par­lerons plus loin dans la deux­ième par­tie) étaient très respec­tés. Leurs lois rég­naient en maître dans une majorité d'É­tats et ont même été retardées par la Cour suprême (Buck c. Bell). De plus, les sci­en­tifiques nazis présents au procès de Nurem­berg ont util­isé l'opin­ion du juge Holmes dans l'af­faire Buck v. Bell comme défense. Les lois du Troisième Reich sur l'eugénisme ont été mod­elées très étroite­ment sur la loi de la Vir­ginie et ont reçu des fonds pour la recherche eugénique de Rock­e­feller et Carnegie-Mel­lon, sans compter qu'IBM a fourni un finance­ment énorme et sa tech­nolo­gie de carte clé comme sys­tème de suivi pour les détenus des camps de con­cen­tra­tion comme ils étaient expéri­men­tés et tués pour la sci­ence. Les pre­miers ordi­na­teurs ont été une entre­prise cap­i­tal­iste pour tester un sys­tème de pistage sur des inno­cents à Tre­blin­ka, Sobi­bor et Auschwitz.
Les empreintes sanglantes du nation­al-social­isme ont été créées à par­tir d'un tri­an­gle du cauchemar malthusien, de l'évo­lu­tion dar­wini­enne et de la solu­tion de Gal­ton (finale­ment Hitler) au prob­lème com­binée à l'ar­gent des grandes entre­pris­es. N'ou­blions pas que Rock­e­feller, IBM et Carnegie, dont les manuels sco­laires par­lent à mer­veille, étaient des auto­di­dactes et des entre­pre­neurs prospères qui ont util­isé leur argent pour financer Otmar Frei­herr von Ver­schuer et Josef Men­gele (l'ange de la mort qui tra­vail­lait à Auschwitz), qui ont échap­pé aux pour­suites à Nurem­berg car les alliés s'é­taient jetés les uns sur les autres pour trou­ver le moyen de faire pay­er plus de sci­en­tifiques Nazis. La vérité est que l'eugénisme n'est pas mort avec Hitler, même s'il est tombé dans le dis­crédit, mais qu'il est plutôt bien vivant et qu'il est l'idée de base de tout gou­verne­ment, de tout finance­ment com­mer­cial et de nos prob­lèmes économiques actuels, bien qu'il fonc­tionne sous un nou­veau nom : le tran­shu­man­isme.