UNODC and partners launch toolkit for tackling underreported crime of human trafficking for organ removal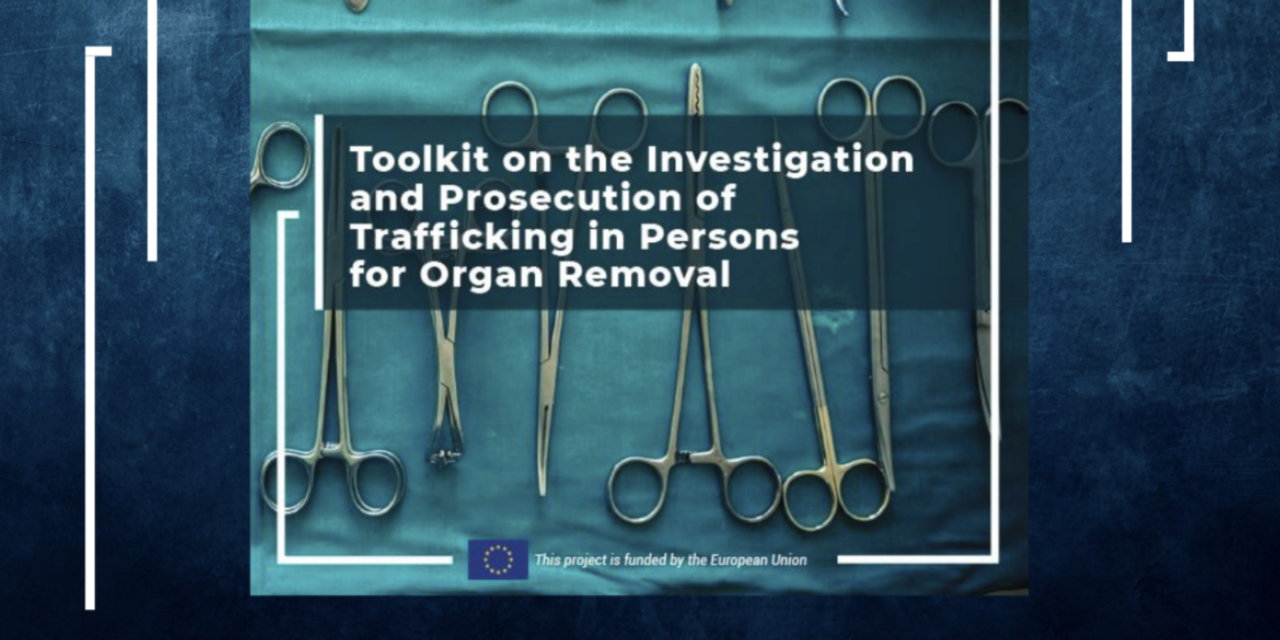 New York (Unit­ed States), 27 Octo­ber 2022 —
All forms of human traf­fick­ing tend to be hid­den, but human traf­fick­ing for organ removal is espe­cial­ly so. Dri­ven large­ly by the glob­al organ short­age for eth­i­cal trans­plants, it is esti­mat­ed that only 10 per cent of glob­al needs are cov­ered. Crim­i­nal net­works prof­it from the des­per­a­tion of patients and coerce vul­ner­a­ble peo­ple into sell­ing organs.
Despite being list­ed as one of the forms of exploita­tion in the Unit­ed Nations Pro­to­col to Pre­vent, Sup­press and Pun­ish Traf­fick­ing in Per­sons, Espe­cial­ly Women and Chil­dren, to date human traf­fick­ing for organ removal has received scant atten­tion from anti-traf­fick­ing stake­hold­ers and the inter­na­tion­al community.
On Tues­day, the Unit­ed Nations Office on Drugs and Crime (UNODC) launched a new Toolk­it on the Inves­ti­ga­tion and Pros­e­cu­tion of Traf­fick­ing in Per­sons for Organ Removal, designed to encour­age the proac­tive inves­ti­ga­tion of pos­si­ble cas­es or red flag indi­ca­tors. The toolk­it focus­es on orga­nized crim­i­nal net­works and the illic­it finan­cial flows stem­ming from them.
"For too long, traf­fick­ing for the removal of body organs has remained in the dark. Very few inves­ti­ga­tions exist, and even few­er pros­e­cu­tions take place. The new UNODC toolk­it will help train crim­i­nal jus­tice pro­fes­sion­als to iden­ti­fy vic­tims and bring traf­fick­ers to jus­tice," said Ami­na Mohammed, Unit­ed Nations Deputy Sec­re­tary-Gen­er­al, at the launch via video message.
Address­ing how the demand-sup­ply issue plays into the hands of traf­fick­ers, Dr Tedros Ghe­breye­sus, Direc­tor-Gen­er­al of the World Health Orga­ni­za­tion, said, "The demand for trans­plants is out­pac­ing sup­ply. Weak dona­tion and trans­plan­ta­tion ser­vices in many coun­tries have led to 'trans­plant tourism' and human traf­fick­ing for organ removal. The police and judi­cial agen­cies must work with health author­i­ties to pre­vent and pros­e­cute traf­fick­ing in per­sons for organ removal."
The broad spec­trum of actors involved in human traf­fick­ing for organ removal, from sur­geons and nurs­es to prepara­tors who can match patients with com­pat­i­ble donors, makes it a com­plex crime. The lack of exper­tise in iden­ti­fy­ing and inves­ti­gat­ing this com­plex crime results in it being per­sis­tent­ly under­re­port­ed. The few report­ed cas­es con­firm that this is a crime that spans the globe – all regions are affect­ed in some way as source, tran­sit or destination.
Not­ing that the new toolk­it is the first of its kind, UNODC Exec­u­tive Direc­tor Gha­da Waly said, "It will give crim­i­nal inves­ti­ga­tors and pros­e­cu­tors the pow­er to under­stand the method­ol­o­gy for estab­lish­ing a com­plex case of human traf­fick­ing for organ removal. Our ulti­mate aim is to iden­ti­fy poten­tial vic­tims before illic­it trans­plants take place."
Case data con­firms that crim­i­nal net­works prof­it from the des­per­a­tion of the unem­ployed, refugees, asy­lum seek­ers and migrants to pres­sure them into sell­ing organs. Myths that this hap­pens in back alleys and that vic­tims are kid­napped still hin­der the iden­ti­fi­ca­tion of vic­tims. In actu­al fact, donor vic­tims are recruit­ed fol­low­ing a pat­tern sim­i­lar to in oth­er types of human traf­fick­ing. It can involve the promise of an exchange of small amounts of mon­ey, which some may nev­er actu­al­ly receive. Many vic­tims suf­fer post-oper­a­tive com­pli­ca­tions and health problems.
Greater atten­tion must be paid to strength­en­ing the reg­u­la­to­ry frame­work around organ trans­plan­ta­tion and the means by which so-called 'buy­ers' can engage in 'trans­plant tourism' to per­form illic­it trans­plants. By iden­ti­fy­ing which health­care sec­tors may be at a high­er risk of exploita­tion, we can bet­ter iden­ti­fy pos­si­ble vic­tims and pre­vent the crime.
Ambas­sador Sil­vio Gon­za­to, Deputy Head of the Del­e­ga­tion of the Euro­pean Union (EU), stressed that the issue of traf­fick­ing in human beings for organ removal is also of grave con­cern to the EU, as reflect­ed in the EU's Strat­e­gy on Com­bat­ting Traf­fick­ing in Human Beings (2021–2025). He com­mend­ed UNODC for the part­ner­ships it built across all rel­e­vant stake­hold­ers to deliv­er this toolkit.
While the toolk­it is designed to strength­en the spe­cial­ized knowl­edge and capac­i­ty of crim­i­nal jus­tice actors, UNODC invites Mem­ber States, inter­na­tion­al part­ners and civ­il soci­ety to raise aware­ness of the issue and to take con­cert­ed and informed action.
To access the toolk­it, please click here.