RTS – Genève, rescapées de l'enfer de la prostitution en Suisse romande – Traite des êtres humains / Geneva, survivors of the hell of prostitution in French-speaking Switzerland – Trafficking in human beings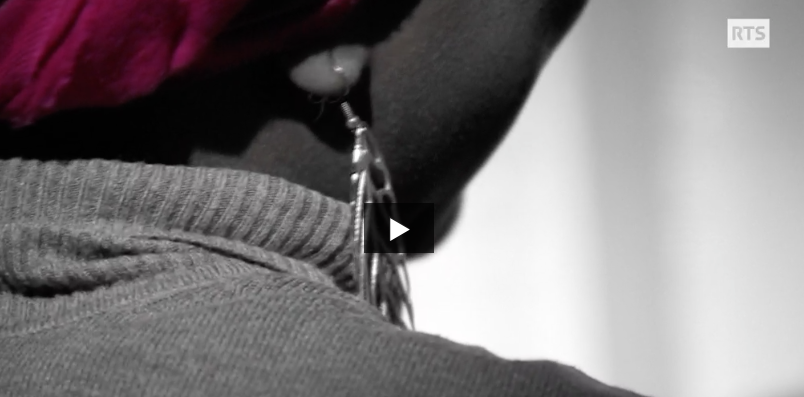 Rescapées de l'enfer de la prostitution
C'est une forme d'exploitation brutale, et cela se passe aussi chez nous, sur nos trottoirs, dans les clubs, dans les bars de Suisse romande : des femmes sont contraintes à la prostitution par la mafia du sexe, trafiquées depuis des pays africains comme le Nigeria, ou des pays de l'Est, comme la Roumanie ou la Bulgarie. Parfois, ces victimes de traite parviennent à s'échapper des griffes des proxénètes.
En Europe, on estime à plus de 20'000 le nombre de victimes de traite qui sont forcées à la prostitution. Dans ce milieu brutal, féroce, des filles et des femmes sont vendues comme de simples morceaux de viande, après avoir été trafiquées depuis l'Afrique, ou de pays plus proches comme la Roumanie ou la Bulgarie. La Suisse n'échappe pas à ce trafic, loin de là. Chaque année, les refuges pour victimes de traite accueillent des dizaines de femmes, qui ont réussi à échapper à leurs proxénètes. A partir de là, le chemin est très long, pour se réintégrer dans une vie normale.
A Lausanne, le nouveau refuge pour victimes de traite en a accueilli plus de 50, rien que ces trois dernières années. A leur arrivée, elles passent des entretiens de détection, pour déterminer si elles ont bien été trafiquées et contraintes à la prostitution. Elles ont ensuite 3 mois pour se décider à déposer plainte à la police. Une démarche difficile, car elles vivent encore souvent dans la peur. Et ce n'est que la première étape d'un long chemin vers une vie normale, en Suisse, ou dans leur pays d'origine.
Survivors of the hell of prostitution
It is a form of brutal exploitation, and it also happens on our streets, in our clubs, in bars in French-speaking Switzerland: women are forced into prostitution by the sex mafia, trafficked from African countries such as Nigeria, or Eastern countries such as Romania or Bulgaria. Sometimes, these victims of trafficking manage to escape from the pimps' claws.
In Europe, an estimated 20,000 victims of trafficking are forced into prostitution. In this brutal, fierce environment, girls and women are sold like mere pieces of meat, after having been trafficked from Africa, or from closer countries like Romania or Bulgaria. Switzerland is not immune to this traffic, far from it. Every year, shelters for victims of trafficking take in dozens of women who have managed to escape their pimps. From there, the path is very long, to reintegrate into a normal life.
In Lausanne, the new shelter for victims of trafficking has welcomed more than 50, in the last three years alone. When they arrive, they undergo screening interviews to determine whether they have been trafficked and forced into prostitution. They then have 3 months to decide to file a complaint with the police. A difficult process, because they often still live in fear. And this is only the first step on a long road to a normal life in Switzerland, or in their country of origin.
Translated with www.DeepL.com/Translator