The Center for Bioethics and Culture produced the documentary "Eggsploitation" which spotlights the booming business of human eggs told through the tragic and revealing stories of real women who became involved and whose lives have been changed forever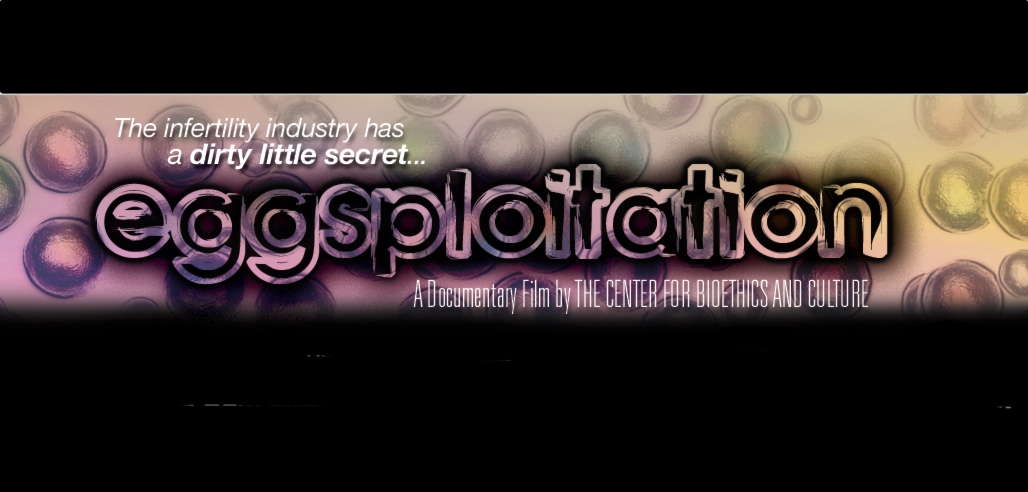 The infer­til­i­ty indus­try in the Unit­ed States has grown to a mul­ti-bil­lion dol­lar busi­ness. What is its main com­mod­i­ty? Human eggs. Young women all over the world are solicit­ed by ads—via col­lege cam­pus bul­letin boards, social media, online classifieds—offering up to $100,000 for their "donat­ed" eggs, to "help make someone's dream come true." But who is this egg donor? Is she treat­ed just­ly? What are the short- and long-term risks to her health? The answers to these ques­tions will dis­turb you …
Avail­able on
iTunes: apple.co/1Wa8D5k
Ama­zonIn­stant: amzn.to/1S1FaKr
Google Play: http://bit.ly/1Gx0ENS
Pro­duced by The Cen­ter for Bioethics and Cul­ture ("Lines That Divide" (2009); "Anony­mous Father's Day" (2011), "Breed­ers: A Sub­class of Women?" (20014)), Eggsploita­tion spot­lights the boom­ing busi­ness of human eggs told through the trag­ic and reveal­ing sto­ries of real women who became involved and whose lives have been changed forever.
Egg Donor Health
From the Experts
The Infertility Industry
Eggsploita­tion makes a pow­er­ful, provoca­tive and, ulti­mate­ly, mod­est pro­pos­al: women who con­sid­er donat­ing eggs have a right to com­plete infor­ma­tion on the risks involved. Lured by promis­es of some­times des­per­ate­ly need­ed mon­ey and a chance to help anoth­er woman, vul­ner­a­ble young women face unknown dan­gers to their health in an unreg­u­lat­ed indus­try. Eggsploita­tion is a com­pelling call for over­sight and research so that egg donors can be tru­ly informed before giv­ing consent.
Patri­cia Ire­land, Pres­i­dent of NOW (Nation­al Orga­ni­za­tion for Women) 1991–2001, author of What Women Want
It is a scan­dal that the infer­til­i­ty indus­try has gone so many years with­out col­lect­ing ade­quate safe­ty data on the risks of mul­ti­ple egg extrac­tion. This makes informed con­sent impos­si­ble for the thou­sands of young women now under­go­ing so-called 'egg dona­tion' pro­ce­dures. Every young woman con­sid­er­ing 'egg dona­tion' as a way to gen­er­ate income for school tuition or oth­er crit­i­cal expen­di­tures should see this film first. And pol­i­cy mak­ers need to insist that we final­ly con­duct the research that should have been done years ago.
Judy Nor­si­gian, Exec­u­tive Direc­tor, Our Bod­ies Ourselves
I've been a wom­en's rights advo­cate since 1963, but this film was an eye-open­er for me because I knew noth­ing about the mul­ti- bil­lion dol­lar egg dona­tion indus­try, the phys­i­cal risks to young women that accom­pa­ny egg dona­tion, and the need for research in this area.
I hope this film gets the wide dis­tri­b­u­tion it deserves because the infor­ma­tion in it is vital for young women in the US and abroad, their sig­nif­i­cant oth­ers, their fam­i­lies, and their societies.
Sonia Press­man Fuentes, Lawyer, Author, Pub­lic Speak­er, Fem­i­nist Activist;
Cofounder of NOW (Nation­al Orga­ni­za­tion for Women); First Woman Attorney,
Office of the Gen­er­al Coun­sel, EEOC (Equal Employ­ment Oppor­tu­ni­ty Commission)
This pow­er­ful, impor­tant and infor­ma­tive doc­u­men­tary gives view­ers true insight into the egg dona­tion indus­try and helps us to bet­ter under­stand the des­per­ate need for reg­u­la­tion and over­sight. All prospec­tive egg donors (and recip­i­ents) as well as all prac­ti­tion­ers and agency employ­ees in the egg dona­tion indus­try should be required to watch this film!
Wendy Kramer, Direc­tor and Co-Founder, Donor Sib­ling Registry
Eggsploita­tion is a pow­er­ful and com­pelling film on the extreme risks and dis­re­gard shown to women … a must see for all egg donors and fer­til­i­ty patients. The infer­til­i­ty indus­try's prac­tice of repro­duc­tive endocrim­inolo­gy is a "dirty lit­tle secret" and should be secret no more.
Lynne Mil­li­can, Founder, LupronVictimsHub.com
What fer­til­i­ty clin­ics and egg dona­tion agen­cies may not tell you. This film should be seen by any woman con­sid­er­ing becoming—or using—an egg donor so that she can bet­ter under­stand the med­ical risks involved.
Diane Allen, Infer­til­i­ty Net­work, Cana­da
Eggsploita­tion is a com­pelling and reveal­ing doc­u­men­tary that gives the view­er an up-close look at the flip­side of the infer­til­i­ty indus­try. You will meet women whose lives were changed for­ev­er after under­go­ing the pro­ce­dure for egg dona­tion. Their dis­turb­ing and heart wrench­ing sto­ries tell a cau­tion­ary tale to all women who are con­sid­er­ing egg dona­tion for the pur­pose of in-vit­ro fer­til­iza­tion or embry­on­ic stem cell research. A must see film for researchers, physi­cians, pro­fes­sors, col­lege stu­dents and feminists.
The documentary