CHINA SUPPLY CHAIN — Since its founding in 2000, CLW has conducted over 400 assessments of labor conditions in Chinese factories making products for multinational companies across industries ranging from furniture to shoes, stationary to toys, and garment to electronics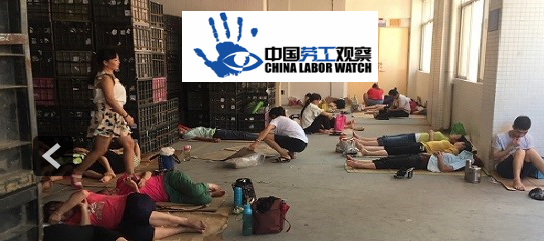 Our Vision:
CLW views Chi­nese work­ers' rights as inalien­able human rights and is ded­i­cat­ed to work­ers' fair share of eco­nom­ic devel­op­ment under globalization.
Our Mis­sion:
CLW increas­es trans­paren­cy of sup­ply chains and fac­to­ry labor con­di­tions, advo­cates for work­ers' rights, and sup­ports the Chi­nese labor movement.
Found­ed in 2000, Chi­na Labor Watch (CLW) is an inde­pen­dent not-for-prof­it 501(c)(3) orga­ni­za­tion. Over the past 17 years, CLW has col­lab­o­rat­ed with unions, labor orga­ni­za­tions, and the media to con­duct in-depth assess­ments of fac­to­ries in Chi­na that pro­duce toys, bikes, shoes, fur­ni­ture, cloth­ing, and elec­tron­ics for some of the largest multi­na­tion­al brand com­pa­nies. CLW's New York office cre­ates reports from these inves­ti­ga­tions, edu­cates the inter­na­tion­al com­mu­ni­ty on sup­ply chain labor issues, and pres­sures cor­po­ra­tions to improve con­di­tions for workers.
CLW's Chi­na office in Shen­zhen inter­acts close­ly with fac­to­ry work­ers, pro­vid­ing a free hot­line ser­vice that offers advice and coun­sel­ing to work­ers fac­ing per­ceived vio­la­tions in the work­place. This office also fur­ther sup­ports the labor move­ment in Chi­na by orga­niz­ing labor rights, col­lec­tive bar­gain­ing, and capac­i­ty-build­ing train­ing pro­grams for work­ers and labor rights advocates.