AN OPPORTUNITY FOR IMPACT — Recommendations for regulating modern slavery in supply chains in Aotearoa New Zealand | May 2022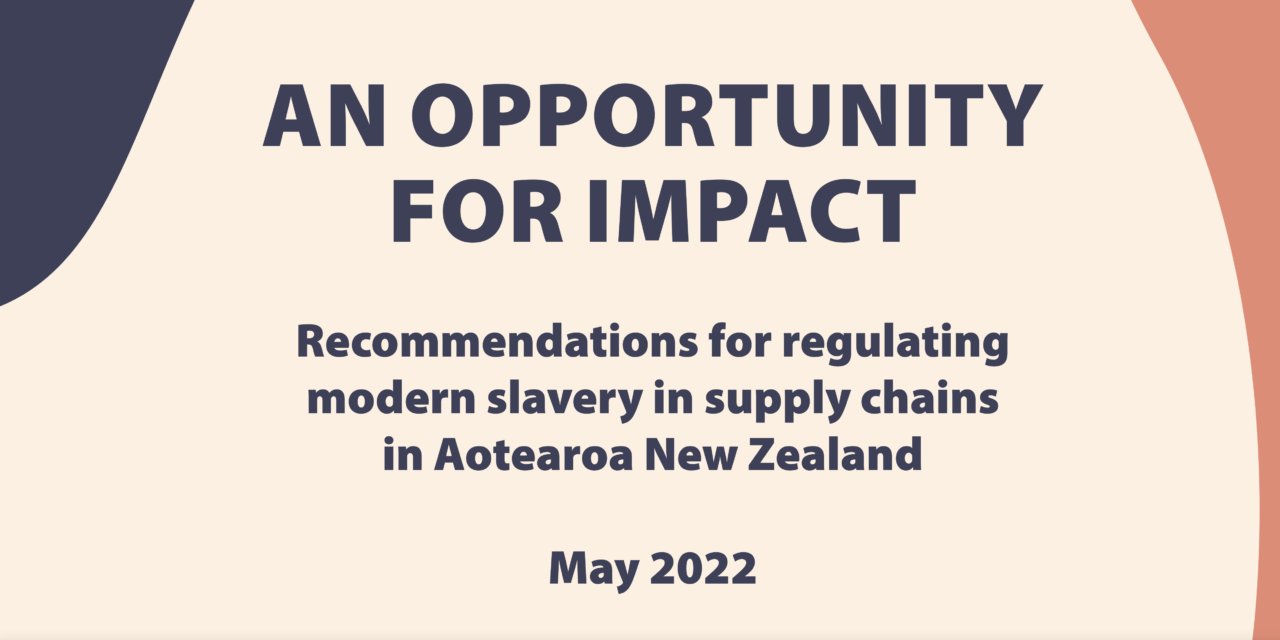 Foreword from the UK's Independent Anti-Slavery Commissioner, Dame Sara Thornton DPE QBM
Mod­ern slav­ery is a heinous crime that gen­er­ates an esti­mat­ed $150 bil­lion in annu­al prof­its glob­al­ly. There are thought to be 40 mil­lion peo­ple in mod­ern slav­ery at any time. Con­ser­v­a­tive esti­mates sug­gest that 25 mil­lion are in forced labour, of which 16 mil­lion are work­ing for the pri­vate sec­tor. Many will be caught up in the sup­ply chains of multi­na­tion­al companies.
The inter­sec­tion of mod­ern slav­ery with legit­i­mate busi­ness is com­plex. While mod­ern slav­ery is per­pe­trat­ed by crim­i­nals, human traf­fick­ers and ruth­less oppor­tunists, it is enabled by lax gov­er­nance, igno­rance and aggres­sive com­mer­cial prac­tices. It feeds off the exploita­tion of the most vul­ner­a­ble in soci­ety, from migrant work­ers to those peo­ple with inse­cure immi­gra­tion sta­tus or those in dire finan­cial pover­ty. Every sec­tor is at risk, from man­u­fac­tur­ing and agri­cul­ture to hos­pi­tal­i­ty and social care.
No respon­si­ble busi­ness would want to ben­e­fit from forced labour, but many are unaware – or pre­fer not to
see – the risks that they car­ry with­in their sup­ply chains. While leg­is­la­tion is no sil­ver bul­let, it is the most pow­er­ful method of forc­ing greater cor­po­rate respon­si­bil­i­ty at scale. As we have seen in the UK, it can also help to raise pub­lic aware­ness and pro­mote more debate in society.
When leg­is­la­tion is echoed across juris­dic­tions, the effect on busi­ness should be even more pow­er­ful, cap­tur­ing and enforc­ing stan­dards across an increas­ing num­ber of sup­pli­ers around the world. I am delight­ed that the New Zealand gov­ern­ment is com­mit­ted to explor­ing leg­isla­tive options for com­bat­ting mod­ern slav­ery,
and that the prin­ci­ples of human dig­ni­ty, fair­ness and equal­i­ty lie at the heart of this consultation.
Foreword
This rec­om­men­da­tion paper is pub­lished in the con­text of Aotearoa New Zealand recent­ly enter­ing pub­lic con­sul­ta­tion for reg­u­lat­ing mod­ern slav­ery in sup­ply chains. It pro­vides direc­tion for a leg­isla­tive design
that is com­pli­ant with inter­na­tion­al devel­op­ments and, at the same time, con­sid­ers Aotearoa New Zealand's geopo­lit­i­cal and cul­tur­al con­text. It is not a response to the Government's con­sul­ta­tion pro­pos­al, but rather an inde­pen­dent resource, set­ting out rec­om­men­da­tions based on research and the authors' mod­ern slav­ery law and prac­tice expertise.
The rec­om­men­da­tions are a resource for com­pa­nies, gov­ern­ments, non-gov­ern­ment organ­i­sa­tions, aca­d­e­mics and civ­il soci­ety, includ­ing to assist with sub­mis­sions that these enti­ties may wish to make as part of the nation­al con­sul­ta­tion process. The fol­low­ing rec­om­men­da­tions are made with an under­stand­ing that the Treaty of Waitangi/Te Tir­i­ti o Wai­t­an­gi prin­ci­ples are ensured and a Te Ao Māori per­spec­tive is con­sid­ered in any future leg­isla­tive and pol­i­cy devel­op­ments in this area.
Authors
The authors of this paper com­bine between them decades of exper­tise in busi­ness and human rights, human traf­fick­ing and oth­er forms of mod­ern slav­ery, pub­lic issues advo­ca­cy, and pol­i­cy devel­op­ment. The pre­sent­ed views and opin­ions remain their own as inde­pen­dent experts and should not be asso­ci­at­ed with any of their cur­rent or past affil­i­ate organisations.
Dr Natalia Szablews­ka is a lawyer and social sci­en­tist with 20 years' expe­ri­ence span­ning the pub­lic sec­tor, gov­ern­men­tal and non-gov­ern­men­tal organ­i­sa­tions, and acad­e­mia in five coun­tries. She is cur­rent­ly Pro­fes­sor in Law and Soci­ety at The Open Uni­ver­si­ty (Unit­ed Kingdom/UK) and holds fur­ther aca­d­e­m­ic affil­i­a­tions in New Zealand, Aus­tralia and Cam­bo­dia. Natalia spe­cialis­es in pub­lic inter­na­tion­al law and (inter­na­tion­al) human rights law, with a par­tic­u­lar focus on cor­po­rate-relat­ed human rights respon­si­bil­i­ties. She is a Chair of Aus­tralian Lawyers for Human Rights (ALHR)'s Busi­ness and Human Rights Com­mit­tee and a mem­ber of the Mod­ern Slav­ery Lead­er­ship Advi­so­ry Group to the New Zealand Government.
Rebec­ca Kin­gi is a senior pol­i­cy advi­sor with spe­cif­ic exper­tise in mod­ern slav­ery, forced migra­tion and labour rights. She has advised gov­ern­ments and civ­il soci­ety on many aspects of mod­ern slav­ery pol­i­cy, includ­ing in the UK as part of the Labour Exploita­tion Advi­so­ry Group, the UK's Anti Traf­fick­ing Mon­i­tor­ing Group and the Government's Mod­ern Slav­ery Strat­e­gy Imple­men­ta­tion Group. Rebec­ca has also worked as a prac­ti­tion­er pro­vid­ing legal rep­re­sen­ta­tion to sur­vivors of mod­ern slav­ery and trained var­i­ous stake­hold­ers on the legal rights and enti­tle­ments of traf­fick­ing sur­vivors. She has been an advi­sor to the New Zealand Gov­ern­ment as a mem­ber of the Mod­ern Slav­ery Lead­er­ship Advi­so­ry Group.
Rebekah Arm­strong is a human rights prac­ti­tion­er with 14 years' expe­ri­ence spe­cial­is­ing in mod­ern slav­ery, human rights and human­i­tar­i­an law. She is the Direc­tor of Busi­ness and Human Rights Con­sul­tants and Head of Advo­ca­cy and Jus­tice at World Vision. Rebekah is Chair of the New Zealand Human Traf­fick­ing Research Coali­tion, respon­si­ble for pub­lish­ing the first research on work­er exploita­tion in New Zealand. She is an advi­so­ry mem­ber for the New Zealand Cen­tre for Research on Mod­ern Slav­ery and a mem­ber of the Mod­ern Slav­ery Lead­er­ship Advi­so­ry Group to the New Zealand Government.
Quintin Lake is co-founder of Fifty Eight, who bring togeth­er research, tech­nol­o­gy and part­ner­ships to address
the chal­lenges of mod­ern slav­ery and improve work­ing con­di­tions in glob­al sup­ply chains. He con­sults glob­al­ly with com­pa­nies and gov­ern­ments on mod­ern slav­ery and eth­i­cal sup­ply chains. He has 18 years' expe­ri­ence and his research has helped to inform devel­op­ment of mod­ern slav­ery leg­is­la­tion in the UK, Aus­tralia and Canada.
Note: the orig­i­nal doc­u­ment can be down­loaded HERE.