ONLINE COURSE ON HUMAN TRAFFICKING _ UNDERSTANDING AND COUNTERACTING TRAFFICKING IN PERSONS – AN ONLINE TRAINING COURSE FOR HELPERS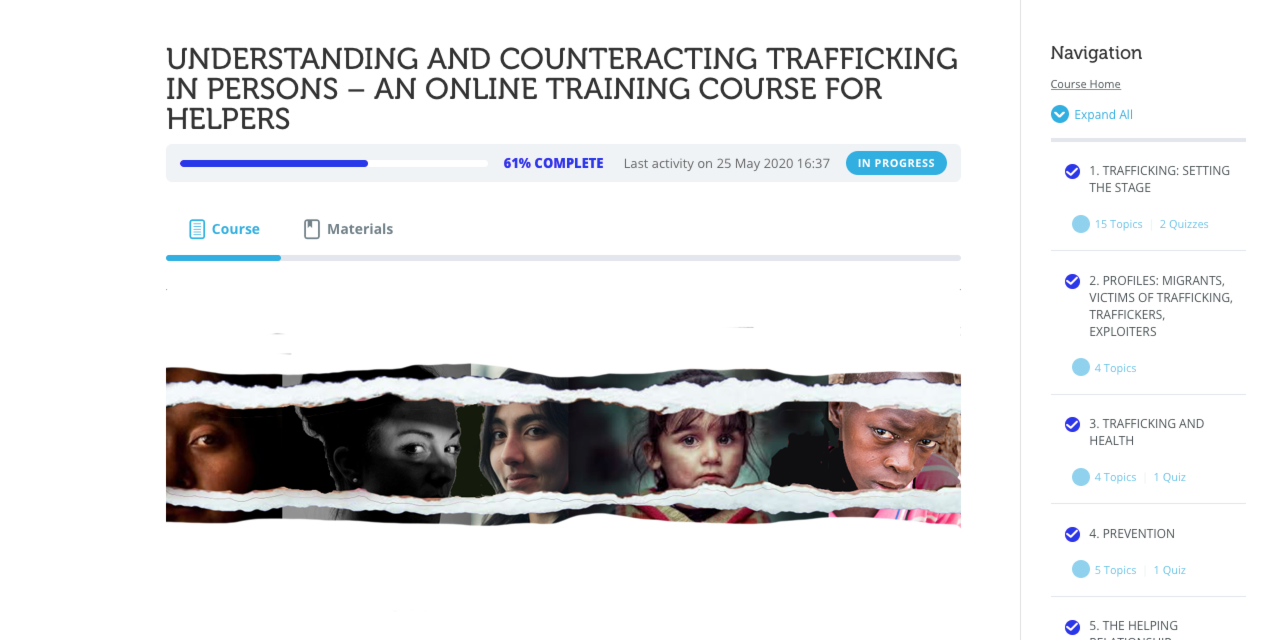 UNDERSTANDING AND COUNTERACTING TRAFFICKING IN PERSONS — ONLINE TRAINING COURSE FOR HELPERS FOR ORDER OF MALTA MEMBERS AND AUXILIARIES
The Ambas­sador of the Order of Mal­ta to mon­i­tor and com­bat traf­fick­ing in per­sons, with the help of a Swiss foun­da­tion, the "Col­lège uni­ver­si­taire Henry-Dunant", is work­ing on an online course against human traf­fick­ing for helpers, which is avail­able freely. Please feel free to par­tic­i­pate in this course!
The online course "Under­stand­ing And Coun­ter­act­ing Traf­fick­ing In Per­sons – A Train­ing Course For Helpers" is built to meet the expec­ta­tions of an audi­ence at dif­fer­ent lev­els:
peo­ple who are active and respon­si­ble for projects in the field of human trafficking,
experts look­ing for a gen­uine ref­er­ence library on traf­fick­ing, leg­is­la­tion and action plans by coun­try, guides and research on traf­fick­ing in human beings from the most impor­tant legal and oper­a­tional actors,
all who wish to under­stand the issue of human traf­fick­ing.
This course strives to offer pro­fes­sion­al and prac­ti­cal tools for coun­ter­act­ing traf­fick­ing and sup­port­ing vic­tims. It does so by pro­mot­ing three fields of action:
Pre­ven­tion of con­di­tions (pover­ty, inequal­i­ty, famil­ial abuse) favor­ing trafficking;
Assis­tance to vic­tims and sur­vivors, sup­port­ing their phys­i­cal and psy­cho­log­i­cal reha­bil­i­ta­tion and assist­ing their social reintegration;
Coor­di­na­tion of activ­i­ties with already exist­ing sup­port networks.
Navi­gate freely through the course and quick­ly reach the top­ic you are inter­est­ed in.
Access the best prac­tices: the course can be used as a library to find doc­u­ments, exam­ples, etc.
It is free of charge in order to make it available to a wide audi­ence.
TABLE OF CONTENTS
1. TRAFFICKING: SETTING THE STAGE
Def­i­n­i­tions & Forms of Trafficking
Traf­fick­ing in Per­sons and Migration
Traf­fick­ing and Gender
Dimen­sions and Process of Trafficking
Tes­ti­monies of Survivors
Respons­es: Institutional
Respons­es: Social
Respons­es: Networking
Pas­toral Ori­en­ta­tions on Human Traf­fick­ing – Holy See
Cur­rent and Emerg­ing Forms of Slav­ery Includ­ing Its Caus­es and Con­se­quences Con­tem­po­rary Forms of Slav­ery Report of the U.N. Spe­cial Rapporteur
Organ­i­sa­tions Fight­ing Against Human Traf­fick­ing & Data
Hand­books on Best Prac­tices on Fight­ing Human Trafficking
Addi­tion­al Resources
2. PROFILES: MIGRANTS, VICTIMS OF TRAFFICKING, TRAFFICKERS, EXPLOITERS
Migrants
Migrants as Vic­tims of Trafficking
Oth­er Actors: A Cast of Antagonists
Addi­tion­al Resources
3. TRAFFICKING AND HEALTH
The Health Risks: Phys­i­cal and Psychological
Sex­u­al­ly Trans­mit­ted Infec­tions (STIS)
Health: A Human Rights Component
Addi­tion­al Resources
4. PREVENTION
The The­o­ret­i­cal Frame­work of Prevention
Pre­ven­tion and Information
Pre­ven­tion Strategies
Pre­ven­tion and Social Stigma
Addi­tion­al Resources
5. THE HELPING RELATIONSHIP
The Evolv­ing Help­ing Relationship
Help­ing Rela­tion­ship Models
Psy­cho­log­i­cal Pro­file of the Sur­vivors in the Help­ing Relationship
Pro­pos­al of an Oper­a­tional Mod­el: "The Basic Postulate"
Pro­pos­al of an Oper­a­tional Mod­el: "The Psy­chic System"
Pro­pos­al of an Oper­a­tional Mod­el: "The Helper Skills"
Test: The Nat­ur­al Response
Pro­pos­al of an Oper­a­tional Mod­el: "The Method­ol­o­gy for the Imple­men­ta­tion of the Help Model"
Nego­ti­at­ing Con­flict in the Help­ing Relationship
Addi­tion­al Resources
6. EMPOWERMENT
Empow­er­ment
Back­ground, Process, Tools of Empowerment
Peer Sup­port
Addi­tion­al Resources
7. BURN OUT
A Psy­cho­log­i­cal Perspective
Burn-Out Syn­drome
Mea­sures for Pre­vent­ing Burn-Out
Spir­i­tu­al Support
Bakhi­ta Prayer
Addi­tion­al Resources