Launch of the Human Trafficking Policy and Protocol for Global Healthcare Providers — The Sovereign Order of Malta Permanent Observer Mission & Global Strategic Operatives / Thursday 29th September / United Nations Headquarters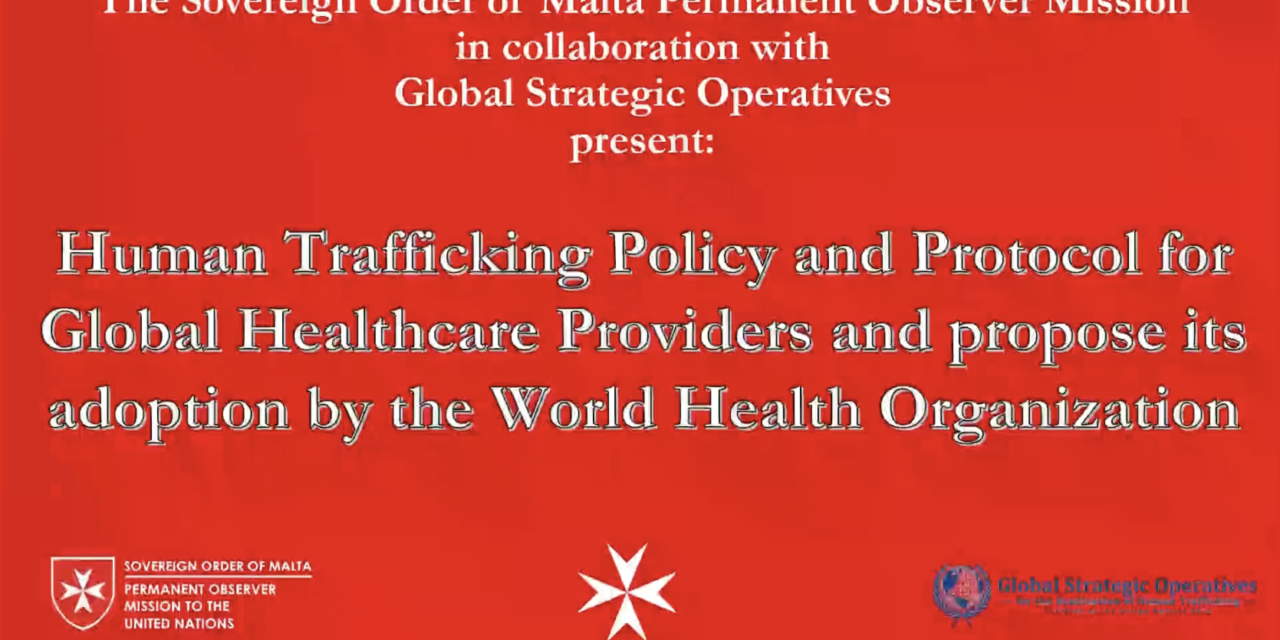 Launch of the Human Trafficking Policy and Protocol for Global Healthcare Providers
Sum­ma­ry
Traf­ficked per­sons vis­it health­care providers for a com­plex vari­ety of acute and chron­ic injuries and dis­eases as well as men­tal health com­plaints, often­times mak­ing repeat­ed vis­its, with­out appro­pri­ate screen­ing. The pur­pose of this pol­i­cy pro­pos­al is to present the World Health Orga­ni­za­tion and their stake­hold­ers with a health care response to TIPs pro­ce­dure frame­work for glob­al adoption.
Descrip­tion
The goal of this pro­pos­al is to sus­tain­ably empow­er orga­ni­za­tions glob­al­ly in adapt­ing and mod­i­fy­ing, (based on local laws, orga­ni­za­tion­al poli­cies, lan­guage, geo­graph­ic regions, and cul­tur­al and eth­nic norms,) poli­cies and pro­ce­dures to guide the trau­ma-informed, sur­vivor-informed response to traf­ficked per­sons pre­sent­ing for treat­ment in health care facilities.
For three years the Sov­er­eign Order of Mal­ta and Glob­al Strate­gic Oper­a­tives have devel­oped a pro­to­col to assist health care providers glob­al­ly iden­ti­fy and assist vic­tims of human traf­fick­ing. Until now there has been no uni­ver­sal­ly rec­og­nized and approved TIP response pro­ce­dure frame­work to guide health care pro­fes­sion­als (HCP) when they encounter vic­tims of human traf­fick­ing in the course of med­ical treat­ment and assistance.