La justice restaurative, un changement de paradigme — Restorative justice, a paradigm shift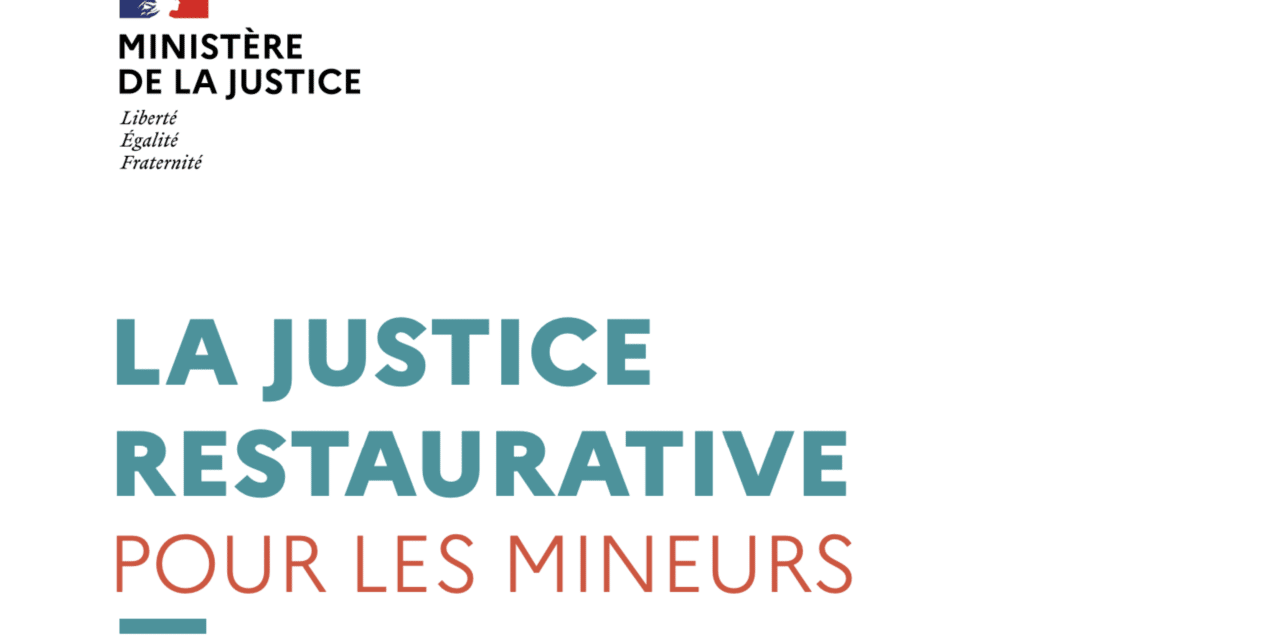 Ce guide de mise en œuvre de la jus­tice restau­ra­tive auprès d'un pub­lic mineur, et notam­ment celui suivi par la pro­tec­tion judi­ci­aire de la jeunesse (PJJ), est le fruit d'un tra­vail mené entre 2017 et 2021 avec les pro­fes­sion­nels de ser­vices du secteur pub­lic et du secteur asso­ci­atif habil­ité. Ces travaux se sont appuyés sur un groupe de tra­vail et sur les expéri­men­ta­tions nationales menées avec le sou­tien d'un comité de pilotage.
Il résulte des réflex­ions, échanges et témoignages de pro­fes­sion­nels qui se sont en- gagés dans les expéri­men­ta­tions, avec le sou­tien de l'ENPJJ, des fédéra­tions asso­cia- tives, des organ­ismes de for­ma­tion et des bureaux de la sous-direc­tion des mis­sions de pro­tec­tion judi­ci­aire et d'éducation de la DPJJ afin de pos­er le périmètre et le con­tenu de cette nou­velle pratique.
En com­plé­ment du guide méthodologique pub­lié par le comité nation­al de jus­tice restau­ra­tive en novem­bre 2020, ce doc­u­ment vise à répon­dre aux inter­ro­ga­tions des pro­fes­sion­nels sur le sens de la jus­tice restau­ra­tive, son intérêt pour le pub­lic mineur et sa valeur ajoutée dans les pra­tiques professionnelles.
Il pro­pose égale­ment, à ceux qui envis­agent de dévelop­per des mesures de jus­tice restau­ra­tive sur leur ter­ri­toire, un cadre de référence, méthodologique et pra­tique qui com­plète les apports indis­pens­ables de la for­ma­tion. Les modal­ités de mise en œuvre des mesures de jus­tice restau­ra­tive s'appuient sur un engage­ment parte­nar­i­al fort, qui passe notam­ment par la sig­na­ture de con­ven­tions et la for­mal­i­sa­tion du cadre méthodologique.
Ce guide est aus­si un out­il de tra­vail qui per­met aux ser­vices et aux pro­fes­sion­nels d'ap- préhen­der pro­gres­sive­ment la con­struc­tion des pro­grammes restau­rat­ifs. Les dis­posi- tifs parte­nar­i­aux étant par­fois long à installer, les pro­fes­sion­nels des ser­vices peu­vent ain­si saisir les dif­férentes modal­ités qui s'offrent à eux et les adapter aux attentes de leurs publics, à leurs parte­nar­i­ats et aux par­tic­u­lar­ités de leurs territoires.
Enfin, le guide pro­pose en lien hyper­texte ou en annexe, des doc­u­ments rédigés au cours des expéri­men­ta­tions, qui témoignent d'une spé­ci­ficité ter­ri­to­ri­ale (con­ven­tion de parte­nar­i­at, cahi­er des charges) ain­si que des doc­u­ments types, à valeur nationale, qui s'inspirent des doc­u­ments con­stru­its par les ser­vices au cours de cette période.
This guide to imple­ment­ing restora­tive jus­tice with minors, par­tic­u­lar­ly those under the care of the Judi­cial Youth Pro­tec­tion Ser­vice (PJJ), is the result of work car­ried out between 2017 and 2021 with pro­fes­sion­als from the pub­lic sec­tor and the accred­it­ed asso­cia­tive sec­tor. This work was based on a work­ing group and on nation­al exper­i­ments con­duct­ed with the sup­port of a steer­ing committee.
It is the result of reflec­tions, exchanges and tes­ti­monies of pro­fes­sion­als who have been involved in the exper­i­ments, with the sup­port of the ENPJJ, asso­cia- tive fed­er­a­tions, train­ing orga­ni­za­tions and offices of the sub-direc­torate of judi­cial pro­tec­tion and edu­ca­tion mis­sions of the DPJJ, in order to define the scope and con­tent of this new practice.
In addi­tion to the method­olog­i­cal guide pub­lished by the Nation­al Com­mit­tee for Restora­tive Jus­tice in Novem­ber 2020, this doc­u­ment aims to answer the ques­tions of pro­fes­sion­als on the mean­ing of restora­tive jus­tice, its inter­est for minors and its added val­ue in pro­fes­sion­al practices.
It also offers those who are con­sid­er­ing devel­op­ing restora­tive jus­tice mea­sures in their area a method­olog­i­cal and prac­ti­cal ref­er­ence frame­work that com­ple­ments the essen­tial con­tri­bu­tions of the train­ing. The imple­men­ta­tion of restora­tive jus­tice mea­sures is based on a strong part­ner­ship com­mit­ment, which includes the sign­ing of agree­ments and the for­mal­iza­tion of the method­olog­i­cal frame­work.
This guide is also a work­ing tool that allows ser­vices and pro­fes­sion­als to grad­u­al­ly learn how to build restora­tive pro­grams. Since part­ner­ship arrange­ments can some­times take a long time to set up, ser­vice pro­fes­sion­als can thus grasp the dif­fer­ent meth­ods avail­able to them and adapt them to the expec­ta­tions of their clients, their part­ner­ships and the par­tic­u­lar­i­ties of their territories.
Final­ly, the guide pro­pos­es, as a hyper­text link or as an appen­dix, doc­u­ments draft­ed dur­ing the exper­i­ments, which reflect a ter­ri­to­r­i­al speci­fici­ty (part­ner­ship agree­ment, spec­i­fi­ca­tions) as well as stan­dard doc­u­ments, with nation­al val­ue, which are inspired by the doc­u­ments devel­oped by the ser­vices dur­ing this period.