Homily for Feast of St. Josephin Bakhita and World Day of Prayer and Reflection against Human Trafficking Church of Sainte Trinité, Geneva, Switzerland By Msgr. Robert J. Vitillo, 8 February 2021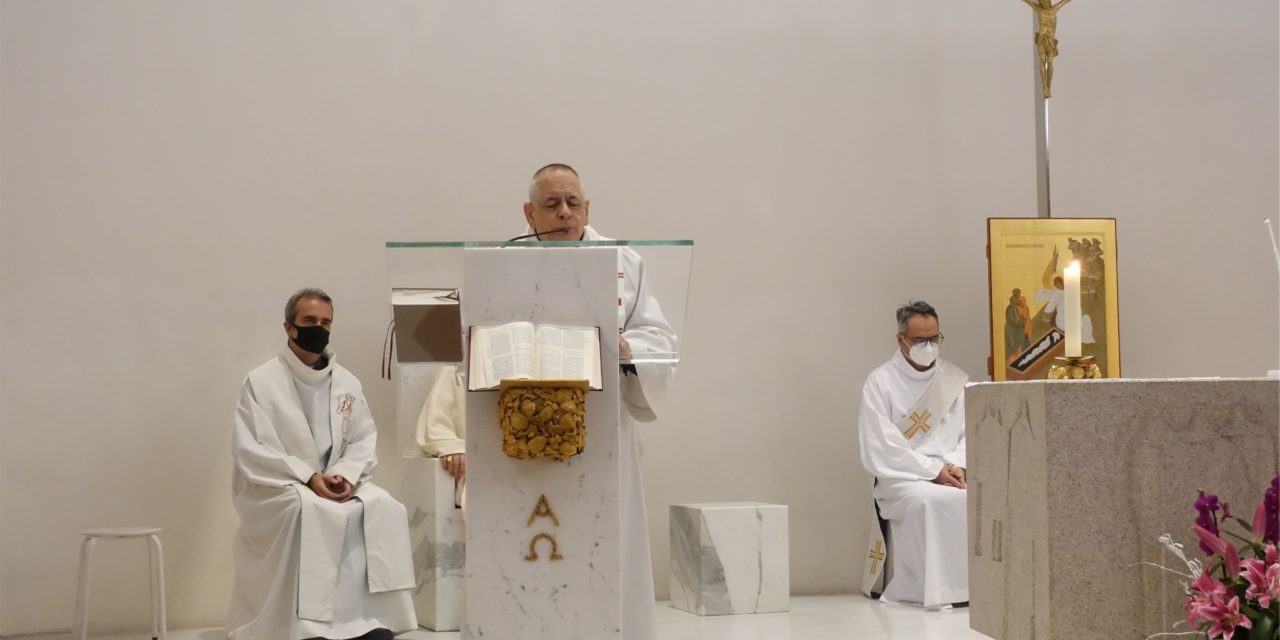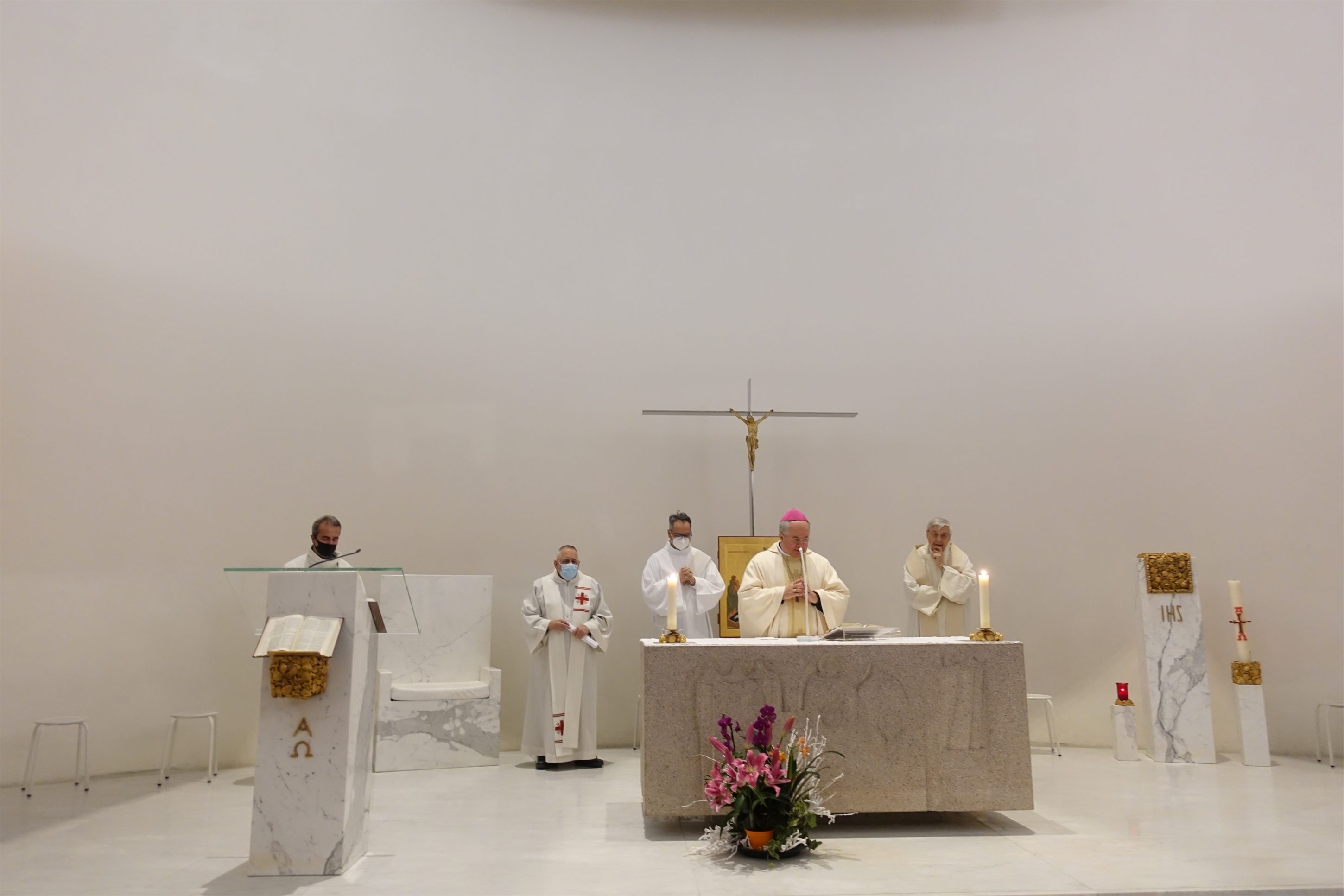 Homi­ly for Feast of St. Josephin Bakhita
and World Day of Prayer and Reflec­tion against Human Trafficking
Church of Sainte Trinité, Gene­va, Switzerland
By Msgr. Robert J. Vit­il­lo, 8 Feb­ru­ary 2021
Scrip­ture Read­ings: Mon­day, 4th Week in Ordi­nary Times – Gen­e­sis 1:1–19; Psalm 103; Mark 6:53–56
Your Excel­len­cies, the Apos­tolic Nun­cio and oth­er Rep­re­sen­ta­tives to the Unit­ed Nations in Gene­va, my broth­er priests, Revered Reli­gious and all my sis­ters and broth­ers in the Lord,
Per­haps upon first lis­ten­ing, the rela­tion­ship between the Scrip­ture Read­ings, assigned for today, and the imme­di­ate pur­pose of our assem­bly this evening, may not seem self-evi­dent. But, with a few moments of joint reflec­tion and open hearts and souls, we can be assured of God's grace and pres­ence among us as we dis­cern his Word and cel­e­brate once again the life, death, and res­ur­rec­tion of His Son and Our Lord Jesus Christ. Indeed, by shar­ing His very Body and Blood through this Eucharis­tic sac­ri­fice and memo­r­i­al, we enter ful­ly into the source and sum­mit of all our prayer.
The first read­ing, tak­en from the begin­ning of the Old Tes­ta­ment, recalls the deci­sive action by the Cre­ator God to form the heav­ens and the earth. We are told that God cre­at­ed light "and saw that it was good." We will fol­low the Cre­ation Sto­ry tomor­row as well, when we will hear that God com­plet­ed this phase of human­ly unimag­in­able cre­ative pow­er by fash­ion­ing man and woman in his own image and like­ness and, once again, rec­og­niz­ing this fruit of His action as "very good".
But, as we know, God gift­ed women and men with free will, and, both at the ori­gins of our uni­verse and to the present time, we often abuse that will by reject­ing God's ever-present love and pre­fer­ring to act under cov­er of dark­ness, deceit, and dis­re­spect, both for our com­mon home in this world, and for our sis­ters and broth­ers in this human family.
Most of us have assem­bled out of deep con­cern and over­whelm­ing sad­ness at the dark and sin­ful action that is con­sti­tut­ed by human traf­fick­ing and oth­er forms of mod­ern-day slav­ery. In fact, our Holy Father Pope Fran­cis has joined his pre­de­ces­sors by, cor­rect­ly and, with­out hes­i­ta­tion, labelling this heinous action as a crime against humanity.
St. Josephine Bakhi­ta, whose mem­o­ry and holy life we hon­our today, expe­ri­enced this crime in her very body, mind, heart, and spir­it. Born in Sudan, she was kid­napped by slave traders, beat­en and phys­i­cal­ly scarred for life, and sold five times in slave mar­kets. Final­ly, she was bought by an Ital­ian mer­chant, traf­ficked to Italy, and served the fam­i­ly of an Ital­ian diplo­mat, who loved her deeply and even­tu­al­ly helped her to dis­cov­er a "mas­ter", or paron, as she learned the word in Venet­ian dialect, who is the source of all good, which became man­i­fest on this earth, through the lov­ing sac­ri­fice of His only Son, the Emmanuel, God-with-us. This was the love for which she thirst­ed for her entire life but which she nev­er hoped to expe­ri­ence. And she was even more amazed that this paron had Him­self been flogged and nailed to a cross – in order to over­come all evil, sin, and death for­ev­er, and to invite her and all of us to a share in the divine and eter­nal good­ness of Par­adise. Josephine had to over­come more bar­ri­ers in life- to receive Bap­tism, to con­front the Ital­ian author­i­ties in order to seek eman­ci­pa­tion, and to be accept­ed into the reli­gious con­gre­ga­tion of the Canoss­ian Sisters.
Sr. Josephine put her reli­gious life into action by pro­mot­ing mis­sion­ary voca­tions in Italy – she want­ed so des­per­ate­ly to pre­serve the charism that helped her to expe­ri­ence lib­er­a­tion, by intro­duc­ing her to the kind, meek, and gen­tle Mas­ter, the Lord Jesus Christ. As Pope Emer­i­tus Bene­dict XVI described her voca­tion, "The hope born in her she could not keep to her­self; this hope had to reach many, to reach everybody."
Today, under the heav­en­ly patron­age and pro­tec­tion of St. Josephine Bakhi­ta, we chal­lenge our­selves to con­front the com­plex, over­whelm­ing, painful, hurt­ful, destruc­tive phe­nom­e­non of human traf­fick­ing. In doing so, we dare to lit­er­al­ly look evil in the eye. For decades upon decades, after slav­ery was offi­cial­ly banned in many parts of the world, we deceived our­selves by think­ing that it had been erad­i­cat­ed by mere leg­isla­tive or judi­cial fiat. But thanks to the coura­geous wit­ness of many believ­ers in Jesus' Gospel and in oth­er reli­gious tra­di­tions, among whom the Catholic Reli­gious Sis­ters have played a hero­ic role, we now are keen­ly and painful­ly aware of the mil­lions of girls and boys, women and men whose God-giv­en dig­ni­ty is denied and abused, on this very day, and through­out the entire world, and who are sub­ject­ed to the same phys­i­cal, emo­tion­al, and spir­i­tu­al scar­ring that was suf­fered, dur­ing the nine­teenth cen­tu­ry by St. Josephine Bakhita.
As we join in hum­ble prayer today, let us not give way to doubts and fears about our abil­i­ty to face such shroud­ed, entwined, but incred­i­bly lucra­tive, glob­al evil as human traf­fick­ing. Let us remind our­selves that, by pre­sent­ing his own back to be scourged, and his own arms and body to hang on the Cross, Jesus restored light to a world dark­ened by sin, and offered the gift of eter­nal life to his sis­ters and broth­ers whose bod­ies and souls are sub­ject to earth­ly suf­fer­ing and death. Let us touch, spir­i­tu­al­ly, the cloak of Jesus, as did his first fol­low­ers, since the Gospel pas­sage for today tells us that, in so doing, they were cured. And let us jour­ney with, and lis­ten to, the sur­vivors of human traf­fick­ing, and be coura­geous enough to learn from them how we could pre­vent this crime from per­pet­u­at­ing itself through our all-too-preva­lent "cul­ture of indif­fer­ence" to the phys­i­cal, social, eco­nom­ic, and social periph­eries that con­tin­ue plague our frag­ile world.
I will close with the words of Pope Fran­cis, ""We Chris­tians believe and know that Christ's res­ur­rec­tion is the true hope of the world, the hope that does not dis­ap­point … it is the pow­er of that love which hum­bles itself and gives itself to the very end, and thus tru­ly renews the world … it bears the fruits of hope and dig­ni­ty … where there are migrants and refugees (so often reject­ed by today's cul­ture of waste), and vic­tims of the drug trade, human traf­fick­ing, and con­tem­po­rary forms of slavery.(Easter, 2018)."
TRADUCTION EN FRANÇAIS
Vos Excel­lences, le Nonce Apos­tolique et les autres Représen­tants des Nations Unies à Genève, mes frères prêtres, les Religieux Révérendis­simes et toutes mes sœurs et frères dans le Seigneur,
Peut-être qu'à pre­mière vue, la rela­tion entre les lec­tures des Écri­t­ures, prévues pour aujour­d'hui, et le but immé­di­at de notre assem­blée de ce soir ne sem­ble pas évi­dente. Mais, avec quelques moments de réflex­ion com­mune et d'ou­ver­ture des cœurs et des âmes, nous pou­vons être assurés de la grâce et de la présence de Dieu par­mi nous alors que nous dis­cer­nons sa Parole et que nous célébrons une fois de plus la vie, la mort et la résur­rec­tion de son Fils et de notre Seigneur Jésus-Christ. En effet, en partageant Son Corps et Son Sang même à tra­vers ce sac­ri­fice et ce mémo­r­i­al eucharis­tique, nous entrons pleine­ment dans la source et le som­met de toute notre prière.
La pre­mière lec­ture, prise au début de l'An­cien Tes­ta­ment, rap­pelle l'ac­tion déci­sive du Dieu créa­teur pour for­mer les cieux et la terre. Il nous est dit que Dieu a créé la lumière "et qu'il a vu qu'elle était bonne". Nous suiv­rons égale­ment l'his­toire de la créa­tion demain, lorsque nous appren­drons que Dieu a achevé cette phase de puis­sance créa­trice humaine­ment inimag­in­able en façon­nant l'homme et la femme à son image et à sa ressem­blance et, une fois encore, en recon­nais­sant ce fruit de Son action comme "très bon".
Mais, comme nous le savons, Dieu a don­né aux femmes et aux hommes le libre arbi­tre et, tant aux orig­ines de notre univers qu'à l'heure actuelle, nous abu­sons sou­vent de cette volon­té en reje­tant l'amour omniprésent de Dieu et en préférant agir sous le cou­vert de l'ob­scu­rité, de la tromperie et du manque de respect, tant pour notre foy­er com­mun dans ce monde que pour nos sœurs et frères de cette famille humaine.
La plu­part d'en­tre nous se sont rassem­blés en rai­son de la pro­fonde inquié­tude et de la tristesse écras­ante que sus­cite l'ac­tion som­bre et pécher­esse que con­stituent la traite des êtres humains et les autres formes d'esclavage mod­erne. En fait, notre Saint-Père le Pape François a rejoint ses prédécesseurs en qual­i­fi­ant, à juste titre et sans hési­ta­tion, cette action odieuse de crime con­tre l'hu­man­ité.
Sainte Joséphine Bakhi­ta, dont nous hon­orons aujour­d'hui la mémoire et la vie sainte, a vécu ce crime dans son corps, son esprit, son cœur et son âme. Née au Soudan, elle a été kid­nap­pée par des marchands d'esclaves, battue et mar­quée à vie, et ven­due cinq fois sur des marchés d'esclaves. Enfin, elle a été achetée par un marc­hand ital­ien, puis trafiquée vers l'I­tal­ie, et a servi la famille d'un diplo­mate ital­ien, qui l'aimait pro­fondé­ment et qui l'a finale­ment aidée à décou­vrir un "maître", ou paron, comme elle l'a appris en dialecte véni­tien, qui est la source de tout le bien, qui s'est man­i­festé sur cette terre, par le sac­ri­fice d'amour de son Fils unique, l'Em­manuel, Dieu-avec-nous. C'é­tait l'amour dont elle avait soif toute sa vie, mais qu'elle n'e­spérait pas con­naître. Et elle était encore plus éton­née que ce paron ait lui-même été fou­et­té et cloué sur une croix — afin de vain­cre tout le mal, le péché et la mort pour tou­jours, et de l'in­viter, elle et nous tous, à par­ticiper à la bon­té divine et éter­nelle du Par­adis. Joséphine a dû sur­mon­ter d'autres obsta­cles dans sa vie pour recevoir le bap­tême, pour affron­ter les autorités ital­i­ennes afin de chercher à s'é­manciper et pour être accep­tée dans la con­gré­ga­tion religieuse des Sœurs Canossi­ennes.
Sœur Joséphine a mis sa vie religieuse en action en pro­mou­vant les voca­tions mis­sion­naires en Ital­ie — elle voulait telle­ment préserv­er le charisme qui l'a aidée à faire l'ex­péri­ence de la libéra­tion, en la présen­tant au gen­til, doux et gen­til Maître, le Seigneur Jésus-Christ. Comme le Pape émérite Benoît XVI l'a décrit dans sa voca­tion, "l'e­spérance née en elle, elle ne pou­vait pas la garder pour elle ; cette espérance devait attein­dre beau­coup de gens, attein­dre tout le monde".
Aujour­d'hui, sous le patron­age et la pro­tec­tion céleste de Sainte Joséphine Bakhi­ta, nous nous met­tons au défi d'af­fron­ter le phénomène com­plexe, acca­blant, douloureux, blessant et destruc­teur de la traite des êtres humains. Ce faisant, nous osons lit­térale­ment regarder le mal dans les yeux. Pen­dant des décen­nies, après l'in­ter­dic­tion offi­cielle de l'esclavage dans de nom­breuses régions du monde, nous nous sommes trompés nous-mêmes en pen­sant qu'il avait été éradiqué par une sim­ple déci­sion lég­isla­tive ou judi­ci­aire. Mais grâce au témoignage courageux de nom­breux croy­ants en l'É­vangile de Jésus et en d'autres tra­di­tions religieuses, par­mi lesquels les religieuses catholiques ont joué un rôle héroïque, nous avons aujour­d'hui une con­science aiguë et douloureuse des mil­lions de filles et de garçons, de femmes et d'hommes dont la dig­nité don­née par Dieu est niée et bafouée, en ce jour même et dans le monde entier, et qui sont soumis aux mêmes cica­tri­ces physiques, émo­tion­nelles et spir­ituelles que celles qu'a subies, au XIXe siè­cle, Sainte Joséphine Bakhi­ta.
Alors que nous nous joignons à l'hum­ble prière d'au­jour­d'hui, ne cédons pas aux doutes et aux craintes con­cer­nant notre capac­ité à faire face à un mal mon­di­al aus­si envelop­pé, enchevêtré, mais incroy­able­ment lucratif que la traite des êtres humains. Rap­pelons-nous qu'en présen­tant son pro­pre dos pour être fla­gel­lé, et ses pro­pres bras et corps pour être pen­du à la croix, Jésus a rétabli la lumière dans un monde assom­bri par le péché, et a offert le don de la vie éter­nelle à ses sœurs et frères dont le corps et l'âme sont soumis à la souf­france et à la mort ter­restres. Tou­chons, spir­ituelle­ment, le man­teau de Jésus, comme l'ont fait ses pre­miers dis­ci­ples, car le pas­sage de l'É­vangile pour aujour­d'hui nous dit que, ce faisant, ils ont été guéris. Et voy­a­geons avec les sur­vivants de la traite des êtres humains, écou­tons ce qu'ils ont à dire, et ayons le courage d'ap­pren­dre d'eux com­ment nous pour­rions empêch­er ce crime de se per­pétuer à tra­vers notre trop fréquente "cul­ture de l'in­dif­férence" à l'é­gard des périphéries physiques, sociales, économiques et sociales qui con­tin­u­ent de sévir dans notre monde frag­ile.
Je ter­min­erai par les mots du pape François : "Nous, les chré­tiens, croyons et savons que la résur­rec­tion du Christ est la véri­ta­ble espérance du monde, l'e­spérance qui ne déçoit pas … c'est la puis­sance de cet amour qui s'hu­m­i­lie et se donne jusqu'au bout, et donc qui renou­velle vrai­ment le monde …". … elle porte les fruits de l'e­spérance et de la dig­nité … là où il y a des migrants et des réfugiés (si sou­vent rejetés par la cul­ture du gaspillage d'au­jour­d'hui), et des vic­times du traf­ic de drogue, de la traite des êtres humains et des formes con­tem­po­raines d'esclavage (Pâques 2018)".