Esclaves du travail en Helvétie — L'émission du 27 janvier 2022 / Human trafficking in Helvetia — The broadcast of January 27, 2022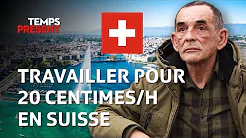 C'est à peine croy­able mais cela se passe sous nos fenêtres. Venus d'Ukraine, de Pologne, de Macé­doine, ils tra­vail­lent sur les chantiers ou dans le net­toy­age par­fois pour 20 cen­times de l'heure. Affamés et bat­tus par des patrons sans scrupules, ils vivent dans la ter­reur. A Genève en par­ti­c­uli­er, plusieurs trafics d'êtres humains sont révélés, grâce à une loi plus répres­sive et des opéra­tions con­tre les négri­ers des temps modernes.
La for­ma­tion des fonc­tion­naires en charge des con­trôles, de la jus­tice et de la police est clé. Mais tant que de nou­velles lois ne seront pas adop­tées, il est très dif­fi­cile de lut­ter effi­cace­ment con­tre ce fléau.
Pour exem­ple depuis de nom­breuses années à Genève et en Suisse en général, la sit­u­a­tion sur les chantiers s'est forte­ment péjorée. La sous-trai­tance y est sys­té­ma­tique et au fil des années avec la pres­sion de prix très bas et dimin­u­ant au fil des négo­ci­a­tions, les prix sont cassés entre don­neurs d'ordre et entre­pris­es sous-trai­tantes, celles-ci enga­gent alors des tra­vailleurs en sit­u­a­tion de traite des êtres humains pour gag­n­er les appels d'offres et effectuer les travaux en gag­nant un béné­fice d'autant plus alléchant qu'ils engan­gent des esclaves contemporains.
Thier­ry Horner, secré­taire syn­di­cal (SIT), con­state que l'utilisation de la force de tra­vail à des fins économiques s'aggrave forte­ment, mais les con­trôles ne suff­isent pas selon lui tant qu'une nou­velle loi ne sera pas mise en place. Il propose :

Mod­i­fi­er les lois pour établir une respon­s­abil­ité sol­idaire des entre­pris­es, si l'entreprise sous-trai­tante défaille dans ses paiements et bien c'est l'entreprise prin­ci­pale qui doit les effectuer dans le domaine des salaires.
Chang­er la loi sur les sociétés, oblig­eant tout admin­is­tra­teur d'entreprises dans la con­struc­tion d'avoir des com­pé­tences établies dans ce domaine. Les admin­is­tra­teurs qui seraient con­damnés pour une fail­lite fraud­uleuse ou des cir­con­stances liées à la traite des êtres humains, devraient subir une inter­dic­tion d'exercer un man­dat d'administrateurs, de pou­voir ouvrir une nou­velle entre­prise dans le domaine de la con­struc­tion et les entre­pris­es sous-trai­tances devraient se voir inter­dites de tra­vailler sur le sol helvé­tique et de par­ticiper à des appels d'offres publics et privés.

Si ces sanc­tions étaient organ­isées, cela per­me­t­trait d'effectuer un tra­vail de net­toy­age des secteurs con­cernés par la traite.
---
It is hard­ly believ­able but it is hap­pen­ing under our win­dows. Com­ing from Ukraine, Poland, Mace­do­nia, they work on build­ing sites or in clean­ing some­times for 20 cents an hour. Starved and beat­en by unscrupu­lous boss­es, they live in ter­ror. In Gene­va in par­tic­u­lar, sev­er­al human traf­fics are revealed, thanks to a more repres­sive law and oper­a­tions against mod­ern day slave traders.
For exam­ple, for many years now in Gene­va and in Switzer­land in gen­er­al, the sit­u­a­tion on build­ing sites has dete­ri­o­rat­ed con­sid­er­ably. Sub­con­tract­ing is sys­tem­at­ic and over the years, with the pres­sure of very low prices and decreas­ing with each nego­ti­a­tion, prices are bro­ken between prin­ci­pals and sub­con­tract­ing com­pa­nies, which then hire work­ers in a sit­u­a­tion of human traf­fick­ing to win the calls for ten­der and car­ry out the work, earn­ing a prof­it that is all the more attrac­tive because they are hir­ing con­tem­po­rary slaves.
Thier­ry Horner, union sec­re­tary (SIT), notes that the use of labor force for eco­nom­ic pur­pos­es is get­ting worse, but con­trols are not enough accord­ing to him as long as a new law is not put in place. He proposes:

Change the laws to estab­lish joint lia­bil­i­ty of the com­pa­nies, if the sub­con­tract­ing com­pa­ny fails to make pay­ments, then the main com­pa­ny must make them in the area of wages.
Change the law on com­pa­nies, oblig­ing all direc­tors of com­pa­nies in the con­struc­tion indus­try to have estab­lished com­pe­tence in this field. Direc­tors who are con­vict­ed of fraud­u­lent bank­rupt­cy or cir­cum­stances relat­ed to human traf­fick­ing should be banned from hold­ing office as direc­tors, from open­ing a new com­pa­ny in the con­struc­tion field and sub­con­tract­ing com­pa­nies should be banned from work­ing in Switzer­land and from par­tic­i­pat­ing in pub­lic and pri­vate tenders.

If these sanc­tions were orga­nized, it would allow for a clean-up of the sec­tors con­cerned by trafficking.