AUSTRALIAN GOVERNMENT / Online pornography: Effects on children & young people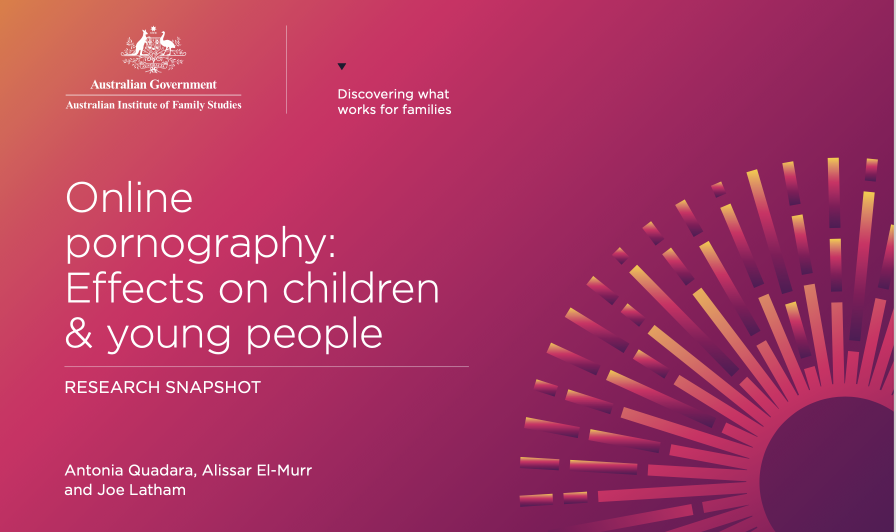 SUMMARY
There is a lot of dis­cus­sion about the pos­si­ble effects of online pornog­ra­phy on chil­dren and young peo­ple and the mes­sages pornog­ra­phy gen­er­ates about gen­der, equal­i­ty and sex­u­al­i­ty. In 2016, the Aus­tralian Insti­tute of Fam­i­ly Stud­ies (AIFS) was engaged by the Depart­ment of Social Ser­vices to review what the avail­able research evi­dence tells us about the issue.1
KEY MESSAGES
Pornog­ra­phy exists with­in a broad­er socio­cul­tur­al con­text in which stereo­types about gen­der, sex­ism, sex­u­al objec­ti­fi­ca­tion and vio­lence-sup­port­ive atti­tudes are also at play.
Near­ly half of chil­dren between the ages of 9–16 expe­ri­ence reg­u­lar expo­sure to sex­u­al images.
Young males are more like­ly than females to delib­er­ate­ly seek out pornog­ra­phy and to do so frequently.
Pornog­ra­phy use can shape sex­u­al prac­tices and is asso­ci­at­ed with unsafe sex­u­al health prac­tices such as not using con­doms and unsafe anal and vagi­nal sex.
Pornog­ra­phy may strength­en atti­tudes sup­port­ive of sex­u­al vio­lence and vio­lence against women.
The best approach for par­ents, care­givers and teach­ers respond­ing to children's expo­sure to pornog­ra­phy is to encour­age open com­mu­ni­ca­tion, dis­cus­sion and crit­i­cal think­ing on the part of
chil­dren, while edu­cat­ing them­selves about the inter­net and social media.
Par­ents and care­givers are less like­ly to be intim­i­dat­ed by online risks if they are informed and take an active role in their children's dig­i­tal lives.