"Mass migration is 'a new form of slavery'", says Catholic cardinal Sarah "and the Bible shouldn't be used to promote it !"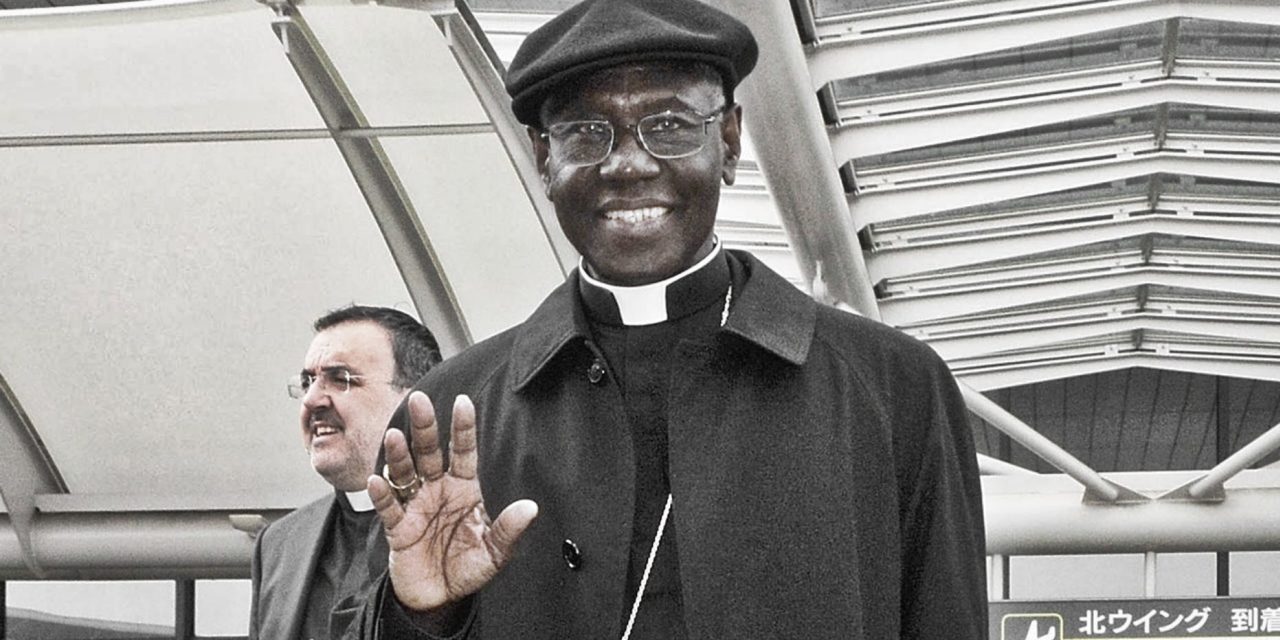 A top African car­di­nal of the Catholic Church brand­ed mass migra­tion a "new form of slav­ery" and said those who seek to use the Bible to pro­mote migra­tion are push­ing a "false" inter­pre­ta­tion of the scriptures.
"It is a false exe­ge­sis to use the Word of God to pro­mote migra­tion. God nev­er want­ed these rifts," Car­di­nal Robert Sarah said in a new inter­view with French pub­li­ca­tion Valeurs Actuelles.
POPE FRANCIS TAKES THINLY VEILED SWIPE AT TRUMP, CALLS OUT LEADERS WHO WANT WALLS
Sarah, who serves as the head of the Vat­i­can's litur­gy office, is often named in tra­di­tion­al­ist cir­cles as their hope to one day suc­ceed Pope Fran­cis. He's fre­quent­ly made waves with his more con­ser­v­a­tive stances on litur­gi­cal prac­tices, Islam, migra­tion and oth­er issues.
Those posi­tions were on full dis­play in the French arti­cle, in which Sarah, from Guinea, blast­ed priests and bish­ops who "say fuzzy things, vague, impre­cise, to escape crit­i­cism, and they mar­ry the stu­pid evo­lu­tion of the world." On Europe, Sarah said that the Church should not coop­er­ate with the increas­ing accep­tance by politi­cians of mass migra­tion into the tra­di­tion­al­ly Chris­t­ian continent.
"All migrants who arrive in Europe are pen­ni­less, with­out work, with­out dignity…This is what the Church wants?" he asked. "The Church can not coop­er­ate with this new form of slav­ery that has become mass migra­tion. If the West con­tin­ues in this fatal way, there is a great risk that, due to a lack of birth, it will dis­ap­pear, invad­ed by for­eign­ers, just as Rome has been invad­ed by barbarians."
Sarah added: "My coun­try is pre­dom­i­nant­ly Mus­lim. I think I know what real­i­ty I'm talk­ing about."
POPE FRANCIS CALLS CHURCH CRITICS 'FRIENDS OF THE DEVIL' AS ABUSE VICTIMS DEMAND TO MEET HIM
Sarah's com­ments are in stark con­trast to those from Pope Fran­cis on the sub­ject. Fran­cis has repeat­ed­ly stressed the val­ue of migra­tion and has encour­aged Euro­pean coun­tries, in par­tic­u­lar, to open their bor­der to flows of migrants com­ing from the third world.
Last week, he spoke in Moroc­co, the main des­ti­na­tion for sub-Saha­ran African migrants seek­ing to reach Europe via Spain, and fre­quent­ly men­tioned migration.
"The issue of migra­tion will nev­er be resolved by rais­ing bar­ri­ers, foment­ing fear of oth­ers or deny­ing assis­tance to those who legit­i­mate­ly aspire to a bet­ter life for them­selves and their fam­i­lies," Fran­cis said.
He also praised Morocco's efforts to allow reli­gious coex­is­tence and to pro­mote mod­er­ate forms of Islam.
But Sarah is much more skep­ti­cal of whether the Church should be open to immi­gra­tion. He cit­ed the exam­ple of Poland, a Catholic coun­try that has strict immi­gra­tion poli­cies, and said he had urged it not to sac­ri­fice its Pol­ish and Catholic iden­ti­ties "on the altar of a tech­no­crat­ic and state­less Europe."
"She is free to tell Europe that every­one was cre­at­ed by God to be placed in a spe­cif­ic place, with its cul­ture, tra­di­tions, and his­to­ry," he told the paper. "This cur­rent desire to glob­al­ize the world by sup­press­ing nations, speci­fici­ties, is pure madness."
CLICK HERE TO GET THE FOX NEWS APP
In the inter­view, he urged Europe to avoid embrac­ing mate­ri­al­ism and for­get­ting its Chris­t­ian her­itage, warn­ing that it could lead to the extinc­tion of Europe itself.
"If Europe dis­ap­pears, and with it the invalu­able val­ues of the old con­ti­nent, Islam will invade the world," Sarah said. "And we will total­ly change cul­ture, anthro­pol­o­gy, and moral vision."