En février, le Pape prie pour les victimes de la traite humaine — In February, the Pope prays for the victims of human trafficking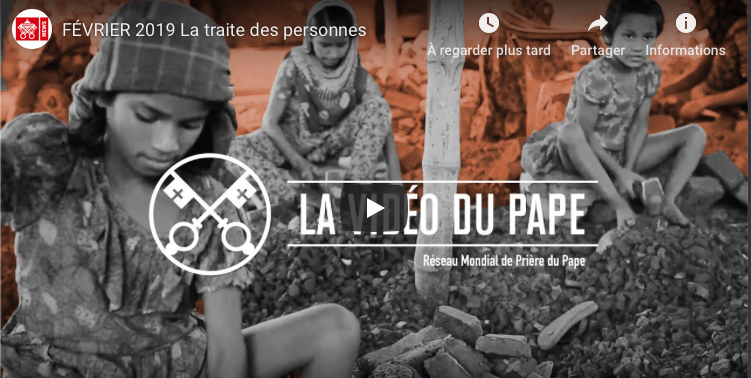 L'in­ten­tion de prière du Pape est dédié aux vic­times de la traite humaine, de la pros­ti­tu­tion for­cée et de la vio­lence, pour févri­er 2019.
«Bien que nous ten­tions de l'ignorer, l'esclavage n'est pas quelque chose d'une autre époque. Face à cette réal­ité trag­ique, per­son­ne ne peut se laver les mains sans être, d'une cer­taine manière, com­plice de ce crime con­tre l'humanité. Nous ne pou­vons pas ignor­er que l'esclavage existe dans le monde, autant ou peut-être plus qu'auparavant. Pri­ons pour l'accueil généreux des vic­times de la traite des per­son­nes, de la pros­ti­tu­tion for­cée et de la violence».
Although we try to ignore it, slav­ery is not some­thing from oth­er times. Faced with this trag­ic real­i­ty, no one can wash their hands of it with­out being, in some way, an accom­plice to this crime against human­i­ty. We can­not ignore the fact that there is as much slav­ery in the world today as there was before, or per­haps more. Let us pray for a gen­er­ous wel­come of the vic­tims of human traf­fick­ing, of enforced pros­ti­tu­tion, and of violence.