CNN: Modern slavery in developed countries more common than thought / In the United States 403,000 people: or 1 in every 800 — In the UK, estimates are 136,000 slaves, almost 12-times higher than previous figures.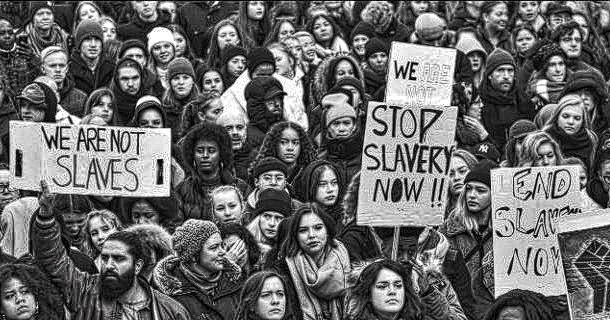 Walk Free Foun­da­tion says the rea­son for the dra­mat­ic increas­es in its slav­ery esti­mates for some coun­tries is that the lat­est report uses far more data sources than previously.
The fig­ures draw on sur­veys car­ried out in 48 coun­tries (near­ly twice the num­ber of coun­tries as in pre­vi­ous years) and face-to-face inter­views with 70,000 people.
The Index found that, as in its 2016 edi­tion, North Korea has the high­est preva­lence of mod­ern slav­ery in the world, with an esti­mat­ed one in 10 peo­ple (2.6 mil­lion) forced to work.
It is fol­lowed by Eritrea, Burun­di, the Cen­tral African Repub­lic and Afghanistan, coun­tries that the report notes suf­fer from con­flict and oppres­sive regimes.