ILO / BETTER WORK – VIETNAM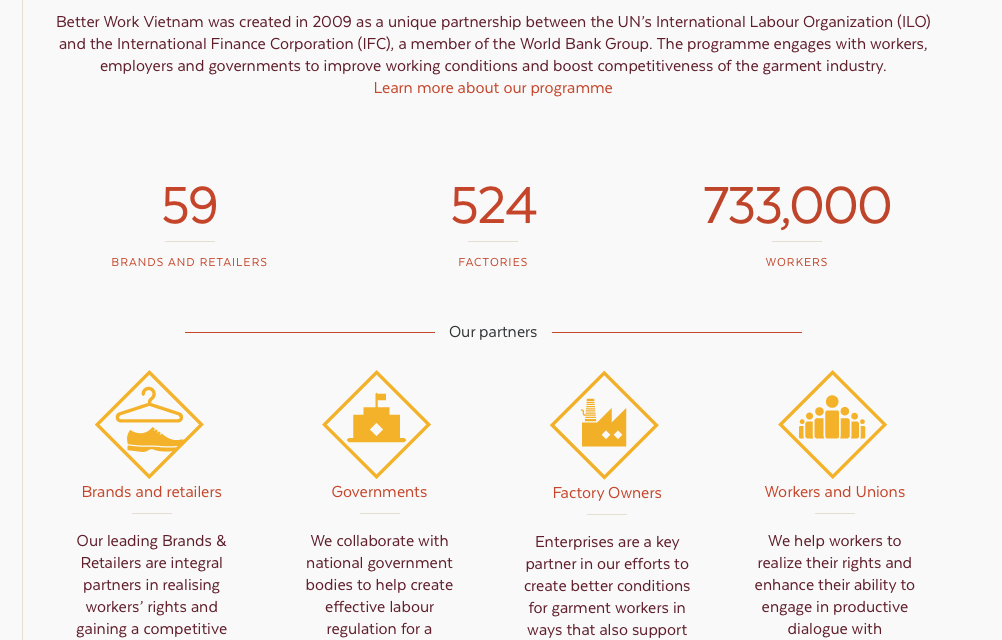 Better Work – a collaboration between the United Nation's International Labour Organization (ILO) and the International Finance Corporation (IFC), a member of the World Bank Group – is a comprehensive programme bringing together all levels of the garment industry to improve working conditions and respect of labour rights for workers, and boost the competitiveness of apparel businesses.
As a result of their participation with Better Work, factories have steadily improved compliance with ILO core labour standards and national legislation covering compensation, contracts, occupational safety and health and working time. This has significantly improved working conditions and, at the same time enhanced factories' productivity and profitability.
Currently, the programme is active in 1,450 factories employing more than 1.9 million workers in seven countries.  As well as advising factories, Better Work collaborates with governments to improve labour laws, and with brands to ensure progress is sustained. We also advise unions on how to give workers a greater say in their lives, and work with donors to help achieve their broader development goals.
Our vision is a global garment industry that lifts millions of people out of poverty by providing decent work, empowering women, driving business competitiveness and promoting inclusive economic growth.
Since 2009, Better Work Vietnam has joined with workers, employers and government to improve working conditions and boost competitiveness of the garment industry.
The programme has nearly 50 staff members working on assessment, advisory and training services. BWV also works closely with the Ministry of Labour (MOLISA) and it has served as a model for the social dialogue adopted in the 2013 national labour code.
The garment sector in Vietnam has enjoyed remarkable growth in the last two decades to become one of the country's largest industries, generating exports of more than USD 28 billion in 2015.
The industry now provides jobs for some 2.5 million people, who in turn support millions of other family members through the wages they earn in the factories.
More than 80 percent of garment workers are women, most of whom are young and most of whom are internal migrants from rural areas. As a source of more secure and better paid jobs for many, the garment sector has grown to become an important driver of poverty reduction and socio-economic development in Vietnam.
There are around 6,000 textile and garment factories in the country, around 70 percent of which are producing readymade garments. Most garment firms produce at the cut-make-trim end of the value chain. Around 800 factories are producing for direct export, mostly to brands and retailers in North America, Europe and Japan.
Better Work started operations in Vietnam in 2009, and now provides supports more than 400 export-oriented factories employing over half a million workers – some 21 percent of the industry's workforce, mainly in the Ho Chi Minh area. To date, the programme has conducted thousands of assessments and advisory visits to help factories identify and improve their working conditions and labour standards.
Better Work Vietnam also works with national stakeholders in the Government, Trade Union and Employer's Organization to build their capacity to support compliance and improvement in the industry and develop practical, evidence based policies for more effective labour market governance.
Recent reforms to the law under the 2012 Labour Code were based in part on the practical experience of the Better Work programme.
See Case Study: Better Work Vietnam Shows Path for Labour Law Reform
In August 2016, Better Work Vietnam signed a much anticipated protocol with the Ministry of Labour (MOLISA) on Zero Tolerance issues, namely child Labour, forced labour and discrimination. The protocol stipulates that cases of forced labour found in factories will be immediately referred to MOLISA for enforcement and remediation.
Our impact
Since 2009, BWV has conducted more than 4,200 advisory visits to help factories improve their labour standards. Researchers from Tufts University studied the impact of Better Work Vietnam in the past five years, and found that significant progress has been made during this period, with potential for further improvements.
Here are some of their findings:
Workers experience greater contract stability along with increased pay. Better Work is preventing the use of insecure or unprotected contracts that leave the worker in a precarious employment situation. The longer a factory participates in the programme, the less frequent their abuse of probationary contracts. Workers' reported take-home pay increases in constant terms. Better Work is driving this effect through ensuring compliance with paying workers as promised in their contracts.
Better working conditions, and participation in Better Work, are linked to higher profitability. Factories with better working conditions are up to 8% more profitable than their counterparts. And, the average firm enrolled in Better Work Vietnam increases its revenue to cost ratio by 25% after four years of participation.
The quality of jobs in the garment sector influences the educational opportunities of workers' children. School enrolment rates in Vietnam are high, including among the children of garment sector workers. Yet researchers establish evidence showing increased ability to pay for schooling among workers in factories committed to improving conditions of work.
HO-CHI-MINH-Ville, Vietnam (OIT Infos) – Le programme Better Work  bénéficie surtout aux femmes qui, au Vietnam, représentent 80 pour cent de la main-d'œuvre employée dans le secteur textile, l'une des plus importantes industries du pays. Pour beaucoup d'entre elles, travailler en usine est leur première expérience d'emploi formel. Voici l'histoire de cinq femmes qui travaillent dans des usines participant à Better Work au Vietnam:
Duyen, directrice principale de production, Binh Duong
Duyen, directrice principale de production, supervise près de 1 400 employés dans une usine de Binh Duong, au nord d'Ho-Chi-Minh-Ville. Duyen a commencé comme ouvrière dans la confection il y a 14 ans, elle n'avait alors que 21 ans. Remarquant son potentiel et son dévouement au travail, les dirigeants l'ont constamment promue, d'abord comme contremaîtresse, puis directrice adjointe, directrice, et enfin comme directrice principale.
«Travaillez dur et vous serez reconnue et récompensée», dit-elle.
Duyen apprend maintenant le chinois dont elle a besoin, dit-elle, pour mieux communiquer avec la haute direction.
Dans le cadre de son programme de formation, Better Work permet aux femmes de perfectionner leurs compétences d'encadrement.
Nga, ouvrière en confection, Binh Duong
Quand elle était enfant, Nga vivait dans la région montagneuse du Dak Lak, où sa famille cultivait le café. A six ans, sur le trajet qui la ramenait de l'école à la maison, elle est tombée et s'est blessée aux jambes. Elle a été prise en charge à l'hôpital local mais une infection a entrainé des complications qui ont affecté sa mobilité et ses perspectives professionnelles. Près de vingt plus tard, Nga a déménagé à Ho-Chi-Minh-Ville où elle s'est inscrite à un cours de couture. Après ses études, elle a trouvé un emploi dans une vaste usine textile produisant des vêtements pour les marques internationales. Ce fut le premier vrai travail de Nga.
«Au début, j'avais peur que l'usine ne veuille pas de moi à cause de mon handicap. Mais ils m'ont acceptée.»
Actuellement, sa ligne de production dépasse systématiquement les objectifs de productivité. «Grâce à mon emploi, j'ai surmonté ma condition physique et je ne me soucie plus de savoir comment je marche.»
Better Work conseille les usines sur la manière d'apporter des modifications faciles et rentables à l'environnement de travail afin d'accueillir des travailleurs handicapés.
Tuyen, ouvrière en confection, Tay Ninh
Tuyen travaille sur une ligne de couture dans une usine à Tay Ninh, au nord-ouest d'Ho-Chi-Minh-Ville. Elle y travaille depuis deux ans, au côté de son mari, qui travaille dans l'atelier de coupe. Quand elle a débuté, Tuyen suivait quelques étapes simples pour coudre des vêtements de sport. Mais en améliorant son niveau de qualification, et vu l'augmentation des commandes passées à l'usine, elle est passée à des articles plus complexes et délicats comme les sous-vêtements. Cela a d'abord été un défi et sa production était bien inférieure à ce qu'attendait ses responsables.
Tuyen s'est rapprochée des contremaîtres qui lui ont montré de nouvelles techniques de couture et l'ont aussi aidée à utiliser des machines plus spécialisées pour fabriquer de nouveaux produits. Avec de la pratique, ses compétences se sont rapidement perfectionnées.
Elle est devenue une experte de cette nouvelle technique de couture. Sa productivité de 750 pièces par jour dépasse de beaucoup les 400 pièces qu'elle produisait quelques années auparavant. Selon Tuyen, la productivité d'une ouvrière dépend du soutien de son contremaître.
«Apprendre en faisant est toujours la meilleure solution pour un travail comme celui-là», dit-elle.
Le programme Better Work a permis de réduire les écarts salariaux entre hommes et femmes en mettant l'accent sur la garantie d'un paiement correct des salaires.
Hanh, ouvrière en confection, Thai Binh
Hanh vient d'une famille de riziculteurs installée dans la province côtière de Thai Binh. En grandissant, elle a trouvé que le travail de cultivateur était dur et peu gratifiant. Elle a décidé de s'essayer au travail d'usine, sachant que son salaire pourrait subvenir aux besoins de sa jeune famille.
Mise au travail sur des machines à coudre, Hanh était nerveuse et ne comprenait rien aux codes-barres, aux étiquettes et aux termes techniques qu'elle rencontrait. Mais elle s'est rapidement adaptée et a très vite commencé à toucher des primes de son usine en récompense de ses efforts.
Hanh est maintenant l'une des plus performantes de son usine. Opératrice multitâches qualifiée, capable de travailler dans divers ateliers, elle peut aussi remplacer ses collègues quand ils sont absents pour cause de maladie. Elle siège également au comité de direction du syndicat.
«Former des femmes contremaîtres peut augmenter la productivité de l'usine de 22 pour cent.»
Université Tufts, Progrès et perspectives 2016
Hau, ouvrière en confection, Hoa Binh
Hau est originaire d'un village rural dans la province montagneuse de Hoa Binh. Avant d'être embauchée par une grande usine de confection, sa famille dépendait presque entièrement du salaire de son mari, employé d'une usine de briques. Les temps étaient durs. Sachant que peu de gens issus des minorités trouvent du travail en dehors de l'agriculture, Hau – qui appartient à l'ethnie Muong – appréhendait de travailler en usine.
«Au début, je ne savais pas si je m'en sortirais avec un emploi dans la confection, mais maintenant je suis très satisfaite de mon travail.»
Hau réfléchit au long et difficile parcours qui l'a conduite jusque là. Elle a dû s'adapter à de nouvelles façons de penser et de travailler pour réussir dans le milieu industriel. Pourtant, la priorité de Hau reste avant tout sa famille. «Le plus important pour moi, c'est d'avoir un travail fixe qui me permette de prendre soin de mes enfants.»
«Offrir des emplois de qualité aux femmes a des effets de développement en cascade, notamment une meilleure santé des travailleurs et des membres de leurs familles et une meilleure éducation de leurs enfants.»
Université Tufts, Progrès et perspectives 2016
Better Work – un programme conjoint de l'OIT et de la Société financière internationale (SFI) – est présent dans huit pays, touchant plus de deux millions de travailleurs, et opère au Vietnam depuis 2009. Un peu plus de 500 usines, avec des effectifs de 700 000 employés, participent au programme dans le pays.
Une grande étude  menée pour le programme a montré que les usines de confection qui offrent des emplois décents, de bonne qualité, et traitent équitablement leurs employés, peuvent être un puissant facteur d'autonomisation pour les femmes et contribuer à des bénéfices durables, pour elles, leurs familles et leurs communautés.
Grâce à leur participation au programme Better Work, les usines ont sans cesse renforcé leur conformité aux normes fondamentales du travail de l'OIT et à la législation nationale concernant la rémunération, les contrats, la sécurité et la santé au travail et la durée du travail. Cela a considérablement amélioré les conditions de travail et, dans le même temps, augmenté la productivité et la rentabilité des usines.