OXFAM – INEGALITY / Richest 1 percent bagged 82 percent of wealth created last year – poorest half of humanity got nothing – Les 1 % les plus riches empochent 82 % des richesses – El 1% más rico de la población mundial acaparó el 82% de la riqueza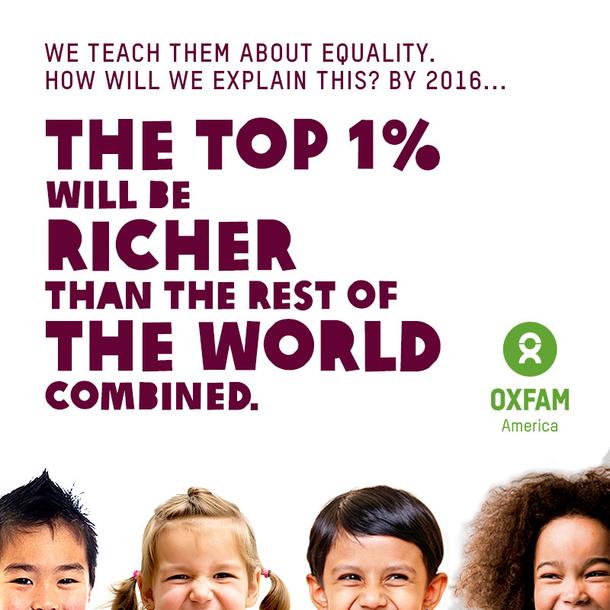 https://www.oxfam.org/en/pressroom/pressreleases/2018-01-22/richest-1-percent-bagged-82-percent-wealth-created-last-year
Richest 1 percent bagged 82 percent of wealth created last year - poorest half of humanity got nothing
Published:
22 January 2018
Eighty two percent of the wealth generated last year went to the richest one percent of the global population, while the 3.7 billion people who make up the poorest half of the world saw no increase in their wealth, according to a new Oxfam report released today.  The report is being launched as political and business elites gather for the World Economic Forum in Davos, Switzerland.'Reward Work, Not Wealth' reveals how the global economy enables a wealthy elite to accumulate vast fortunes while hundreds of millions of people are struggling to survive on poverty pay.
Billionaire wealth has risen by an annual average of 13 percent since 2010 – six times faster than the wages of ordinary workers, which have risen by a yearly average of just 2 percent. The number of billionaires rose at an unprecedented rate of one every two days between March 2016 and March 2017.
It takes just four days for a CEO from one of the top five global fashion brands to earn what a Bangladeshi garment worker will earn in her lifetime. In the US, it takes slightly over one working day for a CEO to earn what an ordinary worker makes in a year.
It would cost $2.2 billion a year to increase the wages of all 2.5 million Vietnamese garment workers to a living wage. This is about a third of the amount paid out to wealthy shareholders by the top 5 companies in the garment sector in 2016.
Oxfam's report outlines the key factors driving up rewards for shareholders and corporate bosses at the expense of workers' pay and conditions. These include the erosion of workers' rights; the excessive influence of big business over government policy-making; and the relentless corporate drive to minimize costs in order to maximize returns to shareholders.
Winnie Byanyima, Executive Director of Oxfam International said: "The billionaire boom is not a sign of a thriving economy but a symptom of a failing economic system. The people who make our clothes, assemble our phones and grow our food are being exploited to ensure a steady supply of cheap goods, and swell the profits of corporations and billionaire investors."
Women workers often find themselves off at the bottom of the heap. Across the world, women consistently earn less than men and are usually in the lowest paid and least secure forms of work. By comparison, 9 out of 10 billionaires are men.
"Oxfam has spoken to women across the world whose lives are blighted by inequality. Women in Vietnamese garment factories who work far from home for poverty pay and don't get to see their children for months at a time. Women working in the US poultry industry who are forced to wear nappies because they are denied toilet breaks," said Byanyima.
Oxfam is calling for governments to ensure our economies work for everyone and not just the fortunate few:
Limit returns to shareholders and top executives, and ensure all workers receive a minimum 'living' wage that would enable them to have a decent quality of life. For example, in Nigeria, the legal minimum wage would need to be tripled to ensure decent living standards.
Eliminate the gender pay gap and protect the rights of women workers. At current rates of change, it will take 217 years to close the gap in pay and employment opportunities between women and men.
Ensure the wealthy pay their fair share of tax through higher taxes and a crackdown on tax avoidance, and increase spending on public services such as healthcare and education. Oxfam estimates a global tax of 1.5 percent on billionaires' wealth could pay for every child to go to school.
Results of a new global survey commissioned by Oxfam demonstrates a groundswell of support for action on inequality. Of the 70,000 people surveyed in 10 countries, nearly two-thirds of all respondents think the gap between the rich and the poor needs to be urgently addressed.
"It's hard to find a political or business leader who doesn't say they are worried about inequality. It's even harder to find one who is doing something about it.  Many are actively making things worse by slashing taxes and scrapping labor rights," said Byanyima.
"People are ready for change. They want to see workers paid a living wage; they want corporations and the super-rich to pay more tax; they want women workers to enjoy the same rights as men; they want a limit on the power and the wealth which sits in the hands of so few. They want action."
Notes to editors
Download 'Reward Work, Not Wealth' and a methodology document that outlines how Oxfam arrived at the key statistics in the report.
Broadcast quality footage and photographs are available here featuring Lan, who works in a garment factory in Vietnam, supplying many global fashion brands. Long hours and poverty pay mean Lan has not been able to get home to see her son for 9 months.
New data from Credit Suisse reveals that 42 people now own the same wealth as the poorest half of humanity. This figure cannot be compared to figures from previous years - including the 2016/17 statistic that eight men owned the same wealth as half the world - because it is based on an updated and expanded data set published by Credit Suisse in November 2017.  When Oxfam recalculated last year's figures using the latest data we found that 61 people owned the same wealth as half the world in 2016 – and not eight.
Oxfam's calculations are based on global wealth distribution data provided by the Credit Suisse Global Wealth Data book published in November 2017.  The wealth of billionaires was calculated using Forbes' billionaires list last published in March 2017.
RIWI and YouGov conducted the online survey for Oxfam in ten countries: India, Nigeria, United States, United Kingdom, Mexico, South Africa, Spain, Morocco, Netherlands and Denmark. For details on the methodology and the full results see here.
Contact information
Anna Ratcliff: +44 7796993288 / anna.ratcliff@oxfam.org / @ratcliff_anna
For updates, please follow @Oxfam.
https://www.oxfam.org/fr/salle-de-presse/communiques/2018-01-22/les-1-les-plus-riches-empochent-82-des-richesses-creees-lan
Les 1 % les plus riches empochent 82 % des richesses créées l'an dernier, la moitié la plus pauvre de l'humanité n'en voit pas une miette
Des richesses générées l'année dernière, 82 % ont profité aux 1 % les plus riches de la population mondiale, alors que les 3,7 milliards de personnes qui forment la moitié la plus pauvre de la planète n'en ont rien vu. C'est ce que révèle un nouveau rapport d'Oxfam, « Partager la richesse avec celles et ceux qui la créent », publié aujourd'hui, à la veille du Forum économique mondial qui rassemblera le gotha du monde politique et des affaires à Davos, en Suisse.Ce rapport montre comment le système économique mondial permet à une élite fortunée d'accumuler d'immenses richesses, tandis que des centaines de millions de personnes peinent à survivre avec un salaire de misère.
Le patrimoine des milliardaires a augmenté en moyenne de 13 % par an depuis 2010, soit six fois plus vite que la rémunération des travailleuses et travailleurs, qui n'a progressé que de 2 % par an en moyenne. Entre mars 2016 et mars 2017, le nombre de milliardaires a augmenté plus rapidement que jamais, à raison d'un nouveau milliardaire tous les deux jours.
Quatre jours suffisent au PDG de l'une des cinq premières marques mondiales de mode pour gagner ce qu'une ouvrière de la confection bangladaise gagnera au cours de sa vie. Aux États-Unis, en à peine plus d'une journée de travail, un PDG gagne autant qu'un simple ouvrier en une année.
Porter les salaires des 2,5 millions d'ouvrières et ouvriers du textile vietnamiens à un niveau décent coûterait 2,2 milliards de dollars par an. Cela équivaut à un tiers des sommes versées aux actionnaires par les cinq plus grands acteurs du secteur de la mode en 2016.
Le rapport d'Oxfam précise les principaux facteurs qui contribuent à accroître les rémunérations des actionnaires et des dirigeant-e-s d'entreprise au détriment du salaire et des conditions de travail : l'érosion des droits des travailleurs, l'influence excessive des grandes entreprises sur les politiques publiques et la constante volonté des entreprises de réduire au minimum les coûts pour maximiser les dividendes des actionnaires.
Pour Winnie Byanyima, directrice générale d'Oxfam International, « le boom des milliardaires n'est pas le signe d'une économie florissante, mais le symptôme d'un système économique défaillant. Les personnes qui fabriquent nos vêtements, assemblent nos téléphones et cultivent notre nourriture sont exploitées pour assurer un approvisionnement continu de produits bon marché et grossir les profits des multinationales et de leurs investisseurs milliardaires. »
Les travailleuses se retrouvent souvent au bas de l'échelle. Partout dans le monde, les femmes gagnent systématiquement moins que les hommes et occupent généralement les types d'emplois les moins rémunérés et les plus précaires. En revanche, 9 milliardaires sur 10 sont des hommes.
« Oxfam a parlé à des femmes du monde entier, dont les inégalités gâchent l'existence, explique Winnie Byanyima. Des ouvrières d'usines de confection, au Vietnam, qui travaillent si loin de chez elles pour gagner un salaire si maigre qu'elles ne peuvent pas voir leurs enfants pendant des mois. Des ouvrières de l'industrie avicole, aux États-Unis, qui sont obligées de porter des couches faute de pouvoir prendre des pauses toilettes. Des employées de l'hôtellerie, au Canada et en République dominicaine, qui taisent le harcèlement sexuel dont elles font l'objet par crainte de perdre leur travail. »
Oxfam appelle les gouvernements à prendre les mesures suivantes, afin que nos économies bénéficient à toutes et tous, et non à quelques privilégié-e-s seulement :
Limiter la rémunération des actionnaires et des dirigeant-e-s d'entreprise, et garantir aux travailleuses et travailleurs un salaire minimum « vital », permettant une qualité de vie décente. Par exemple, au Nigeria, le salaire minimum légal devrait être triplé pour assurer des conditions de vie décentes.
Éliminer l'écart salarial entre les femmes et les hommes et protéger les droits des travailleuses. Au rythme où les choses évoluent, il faudra 217 ans pour parvenir à l'égalité de rémunération et des chances professionnelles entre les femmes et les hommes.
Faire en sorte que les riches paient leur juste part d'impôt en augmentant leur taux d'imposition, en renforçant les mesures de lutte contre l'évasion fiscale et en accroissant les dépenses dans les services publics, comme la santé et l'éducation. Oxfam estime qu'un impôt mondial de 1,5 % sur la fortune des milliardaires pourrait permettre de scolariser tous les enfants.
Les résultats d'une nouvelle enquête mondiale commandée par Oxfam mettent en évidence une vague de soutien en faveur de la lutte contre les inégalités. Au total, 70 000 personnes ont été interrogées dans dix pays. Près des deux tiers pensent qu'il est urgent de réduire le fossé entre les riches et les pauvres.
« Il est difficile de trouver des responsables politiques et des chefs d'entreprise qui affirment ne pas s'inquiéter des inégalités. Il est encore plus difficile d'en trouver qui prennent des mesures pour les combattre. Au contraire, beaucoup aggravent les choses en réduisant les impôts et en affaiblissant les droits du travail, déplore Winnie Byanyima.
« Les citoyennes et citoyens veulent que les choses changent. Ils veulent que les travailleuses et travailleurs soient rémunérés décemment, que les grandes entreprises et les super-riches paient plus d'impôts, que les femmes jouissent des mêmes droits que leurs homologues masculins, qu'il y ait une limite au pouvoir et à la fortune pouvant se concentrer entre si peu de mains. Ils veulent des mesures concrètes. »
Notes aux rédactions
Le rapport « Partager la richesse avec celles et ceux qui la créent » et la méthodologie, qui explique comment Oxfam a obtenu les statistiques y figurant, sont téléchargeables ici.
Vidéos et photos haute définition de Lan, ouvrière dans une usine de confection vietnamienne qui fournit nombre de marques mondiales de la mode. Cela fait neuf mois que Lan n'a pas pu rentrer voir son fils du fait de ses longues heures de travail et de la faiblesse de son salaire.
Selon de nouvelles données du Credit Suisse, 42 personnes possèdent désormais autant que la moitié la plus pauvre de l'humanité. Ce chiffre n'est pas comparable à ceux des années précédentes, notamment la statistique des huit hommes détenant autant de richesses que la moitié du monde (2016-2017), car il repose sur des données actualisées et enrichies, publiées par le Credit Suisse en novembre 2017. En revoyant les chiffres de l'an dernier à la lumière de ces nouvelles données, Oxfam a calculé que 61 personnes possédaient autant que la moitié de la planète en 2016.
Les calculs d'Oxfam sont basés sur les données fournies par le Credit Suisse dans son rapport Global Wealth Databookpublié en novembre 2017. Le patrimoine des milliardaires a été calculé à l'aide du classement des milliardaires publié par le magazine Forbes en mars 2017.
RIWI et YouGov ont réalisé l'enquête en ligne pour Oxfam dans les dix pays suivants : Inde, Nigeria, États-Unis, Royaume-Uni, Mexique, Afrique du Sud, Espagne, Maroc, Pays-Bas et Danemark. Pour plus d'informations sur la méthodologie et l'intégralité des résultats, voir ici.
Contact
Pauline Leclere: +33 7 69 17 49 63 / pleclere@oxfamfrance.org
https://www.oxfam.org/es/sala-de-prensa/notas-de-prensa/2018-01-22/el-1-mas-rico-de-la-poblacion-mundial-acaparo-el-82-de-la
El 1% más rico de la población mundial acaparó el 82% de la riqueza generada el año pasado, mientras que la mitad más pobre no se benefició en absoluto.
De acuerdo con el nuevo informe de Oxfam publicado hoy, el 82% de la riqueza mundial generada durante el pasado año fue a parar a manos del 1% más rico de la población mundial, mientras el 50% más pobre –3 700 millones de personas– no se benefició lo más mínimo de dicho crecimiento. La publicación del informe coincide con el Foro Económico Mundial en Davos (Suiza) que reúne a las élites políticas y empresariales.Premiar el trabajo, no la riqueza muestra cómo la economía mundial posibilita que los más ricos sigan acumulando vastas fortunas, mientras que cientos de millones de personas luchan cada día para sobrevivir con salarios de pobreza.
Desde el año 2010, la riqueza de esta élite económica ha crecido en un promedio del 13% al año; seis veces más rápido que los salarios de las personas trabajadoras que apenas han aumentado un promedio anual del 2%. Entre marzo de 2016 y marzo de 2017 se produjo el mayor aumento de la historia en el número de personas cuyas fortunas superan los mil millones de dólares, con un nuevo milmillonario cada dos días.
El equipo investigador del informe también realizó algunos cálculos para América Latina y el Caribe:
En esta región el 10% más rico de la población concentra el 68% de la riqueza total, mientras el 50% más pobre solo accede al 3.5% de la riqueza total.
La riqueza de los milmillonarios latinoamericanos creció en 155 mil millones de dólares el último año, dicha cantidad de riqueza sería suficiente para acabar casi 2 veces con toda la pobreza monetaria por un año en la región.
En América Latina y el Caribe, el 16% de los trabajadores asalariados y el 28% de los trabajadores por cuenta propia se encuentran en situación de pobreza.
El informe de Oxfam señala los principales motivos por los que las ganancias de accionistas y altos directivos se incrementan, a expensas de las condiciones laborales y salarios de los trabajadores y trabajadoras. Entre ellos cabe destacar la erosión de los derechos de las personas trabajadoras, la excesiva influencia de las grandes empresas en la formulación de políticas públicas y el apremio constante de las empresas por minimizar los costes para, así, maximizar los beneficios de los accionistas.
Winnie Byanyima, directora ejecutiva de Oxfam Internacional, ha señalado: "El boom de los milmillonarios no es signo de una economía próspera, sino un síntoma del fracaso del sistema económico. Se explota a las personas que fabrican nuestras ropas, ensamblan nuestros teléfonos y cultivan los alimentos que consumimos para garantizar un suministro constante de productos baratos, así como engrosar los beneficios de las empresas y sus adinerados inversionistas".
Normalmente, son las mujeres trabajadoras quienes se encuentran en la base de esta pirámide económica. En todo el mundo, las mujeres ganan menos que los hombres y están sobrerrepresentadas en los empleos peor remunerados y más precarios. De igual forma, nueve de cada 10 milmillonarios son hombres.
"Oxfam ha hablado con mujeres de todo el mundo cuyas vidas están marcadas por la desigualdad. Como, por ejemplo, las mujeres que trabajan en fábricas textiles vietnamitas, lejos de sus hogares y sin ver a sus hijos durante meses, a cambio de salarios de pobreza. O como las mujeres que trabajan en la industria avícola de los Estados Unidos, obligadas a llevar pañales porque no tienen descansos para ir al servicio. O las mujeres que trabajan en hoteles de Canadá, víctimas de acoso sexual y obligadas a mantenerlo en secreto por miedo a perder su empleo", señala Byanyima.
Oxfam hace un llamamiento a los Gobiernos para que garanticen que nuestras economías funcionen para todas las personas y no solo para una afortunada minoría:
Limitando los dividendos de los accionistas y altos directivos, y garantizando que todos los trabajadores y trabajadoras reciben un salario digno que les permita disfrutar de una calidad de vida digna.
Acabando con la brecha salarial entre hombres y mujeres, y protegiendo los derechos de las mujeres trabajadoras. Al actual ritmo de cambio, llevará 217 años cerrar la brecha salarial y de oportunidades laborales entre hombres y mujeres a nivel mundial. En América Latina las mujeres trabajan casi el doble de horas que los hombres en trabajos no remunerados.
Garantizando que los más ricos pagan los impuestos que les corresponden aplicando impuestos más elevados y combatiendo la evasión y elusión fiscal, así como incrementando el gasto en servicios públicos como la salud y la educación. Oxfam estima que un impuesto global del 1,5% a las fortunas de los milmillonarios permitiría escolarizar a todos los niños y niñas.
Los resultados de una nueva encuesta encargada por Oxfam demuestran el apoyo cada vez mayor a la lucha contra la desigualdad. De las 70.000 personas encuestadas en 10 países, casi dos tercios piensan que se debe abordar urgentemente la brecha entre ricos y pobres.
"Es difícil encontrar un líder político o un líder empresarial que no exprese públicamente su preocupación por la desigualdad. Resulta aún más difícil encontrar alguno que haga algo al respecto. Es más, muchos están tomando de forma activa medidas que empeoran la situación, reduciendo los impuestos y socavando los derechos laborales", subraya Byanyima.
"Las personas están listas para un cambio. Quieren que los trabajadores y trabajadoras reciban un salario digno, que las grandes empresas y los más ricos paguen más impuestos, que las mujeres trabajadoras disfruten de los mismos derechos que los hombres trabajadores, y que se impongan límites al poder y la riqueza en manos de unos pocos. Quieren ver acciones".
Notas a los editores
Premiar el trabajo, no la riqueza y el documento de metodología explican cómo ha obtenido Oxfam las principales estadísticas del informe, disponible aquí para su descarga.
Imágenes y fotografías de Lan, que trabaja en una fábrica textil en Vietnam, proveedora de las principales marcas de moda. Lan lleva nueve meses sin poder volver a casa y ver a su hijo debido a las largas jornadas laborales y el salario de pobreza que recibe
El indicador, sobre trabajadores Latinoamericanos en situación de pobreza, es un promedio ponderado de las diferentes incidencias por país, como reporta CEPAL.
Nuevos datos de Credit Suisse revelan que, actualmente, 42 personas acumulan la misma riqueza que la mitad más pobre de la humanidad. Esta cifra no es comparable a la de anteriores años (inclusive la del período 2016-2017 que señalaba que ocho hombres poseían la misma riqueza que la mitad del planeta) porque se basa en una serie de datos más amplia y reciente publicada por Credit Suisse en noviembre de 2017. Oxfam ha recalculado las estadísticas del año pasado utilizando estos datos y ha concluido que, en 2016, 61 personas poseían la misma riqueza que la mitad de la población mundial, no ocho.
Los cálculos de Oxfam se basan en los datos del Global Wealth Databook publicado en noviembre de 2017 de Credit Suisse sobre la distribución de la riqueza a nivel global. Se ha calculado la riqueza de las personas más ricas del mundo utilizando la lista de milmillonarios de Forbes publicada en marzo de 2017.
RIWI and YouGov han llevado a cabo una encuesta en línea para Oxfam en 10 países: India, Nigeria, Estados Unidos, Reino Unido, México, Sudáfrica, España, Marruecos, Países Bajos y Dinamarca. Para más datos sobre la metodología y los resultados completos, haga clic aquí.