WALK FREE — THE GLOBAL SLAVERY INDEX 2023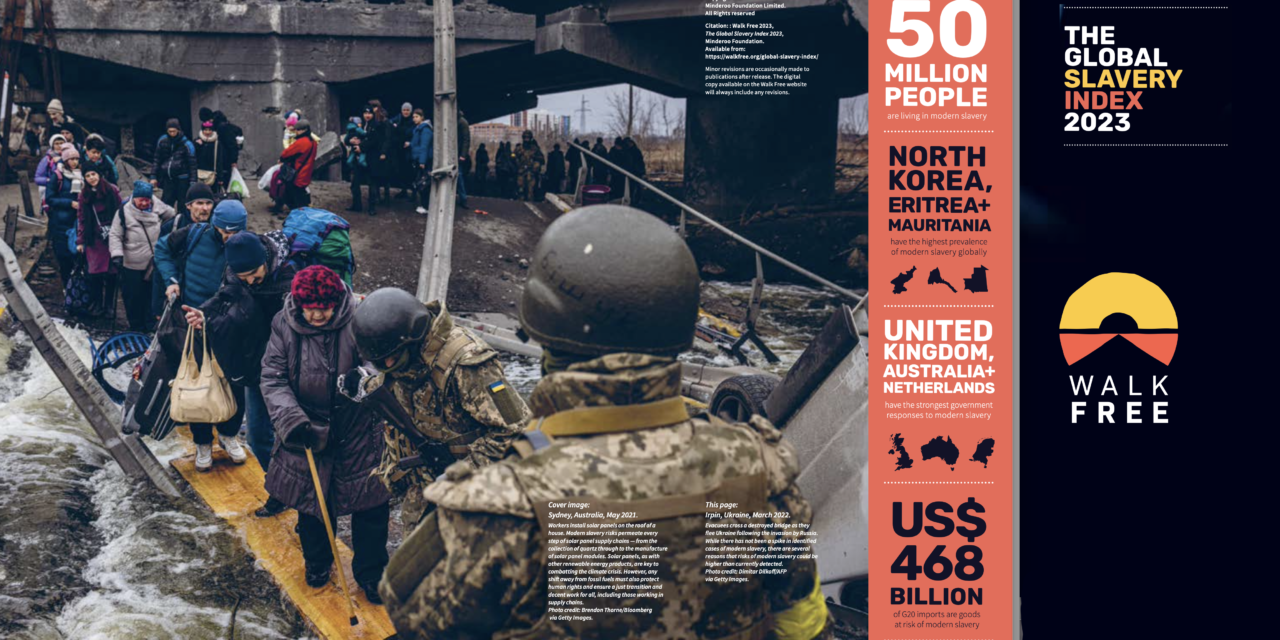 Our international team includes statisticians, criminologists, lawyers, and international development experts, working to create and agitate for mass systems change, to address the root causes of slavery.
Walk Free believes that a strong, multifaceted approach is needed to end modern slavery.
We are build­ing a robust knowl­edge base to inform action, dri­ving leg­isla­tive change in key coun­tries and har­ness­ing the pow­er of busi­ness­es and faiths.
Through a com­bi­na­tion of direct imple­men­ta­tion, grass­roots com­mu­ni­ty engage­ment, and work­ing in part­ner­ship with faiths, busi­ness­es, aca­d­e­mics, NGOs, and gov­ern­ments around the world, we work to address slav­ery and dis­man­tle its core drivers.
Walk Free was estab­lished over a decade ago after Found­ing Direc­tor, Grace For­rest spent time liv­ing and work­ing in Nepal at a res­cue home for chil­dren who had been sub­ject­ed to var­i­ous forms of exploita­tion. It was there that Grace first wit­nessed the extent of the extreme and con­tin­ued com­mod­i­fi­ca­tion of human beings, and soon learnt that mod­ern slav­ery is one of the most prof­itable forms of organ­ised crime in the world, con­tin­u­ing to under­pin our glob­al economy.
At the end of that same year, Walk Free was estab­lished to address the root caus­es of mod­ern slav­ery and cre­ate sys­tems lev­el change.
Now for over a decade, Walk Free has stud­ied the num­ber of peo­ple liv­ing in mod­ern slav­ery around the world. Through each edi­tion of the Glob­al Slav­ery Index, our under­stand­ing of the prob­lem has deep­ened, our esti­mates have become more pre­cise, and our advo­ca­cy has catal­ysed glob­al efforts.
You can't solve a prob­lem if you can't mea­sure it. Know­ing how and where mod­ern slav­ery occurs is key to erad­i­cat­ing it. By com­pil­ing data about slavery's preva­lence and geo­graph­i­cal vari­a­tion, the Glob­al Slav­ery Index pro­vides an impor­tant start­ing point for gov­ern­ments, firms, NGOs, faith com­mu­ni­ties and indi­vid­u­als to act.
The Glob­al Slav­ery Index presents a thor­ough­ly researched, detailed pic­ture of mod­ern slav­ery as it exists across indus­tries and coun­tries today. It also indi­cates the actions gov­ern­ments are tak­ing to com­bat mod­ern slav­ery and the risks that pop­u­la­tions face around the world.
Walk Free uses cut­ting-edge preva­lence esti­ma­tion tech­niques includ­ing nation­al­ly-rep­re­sen­ta­tive sur­veys in part­ner­ship with Gallup, risk-mod­el extrap­o­la­tion and mul­ti­ple sys­tems esti­ma­tion to mea­sure mod­ern slav­ery glob­al­ly. We also assess gov­ern­ment respons­es to this issue and vul­ner­a­bil­i­ty struc­tures that impact pop­u­la­tions around the world.
Pro­vide the most com­pre­hen­sive data on glob­al mod­ern slav­ery at a coun­try level.
Con­tin­ue to refine our method­ol­o­gy to pro­vide the most accu­rate mod­ern slav­ery preva­lence, risk and gov­ern­ment response data.
Use our mea­sure­ment as a foun­da­tion­al resource for effec­tive advo­ca­cy work.
Hold gov­ern­ments account­able for their anti-slav­ery actions.
Con­tin­u­ous­ly improve our evi­dence base to close gaps in the mea­sure­ment of mod­ern slav­ery globally.
Become the bench­mark mea­sure for assess­ment of progress towards the rel­e­vant SDG targets.