US OFFICE FOR VICTIMS OF CRIME — Vicarious Trauma and Burnout — COMPASSION FATIGUE/VICARIOUS TRAUMA TRAINING AND TOOLKIT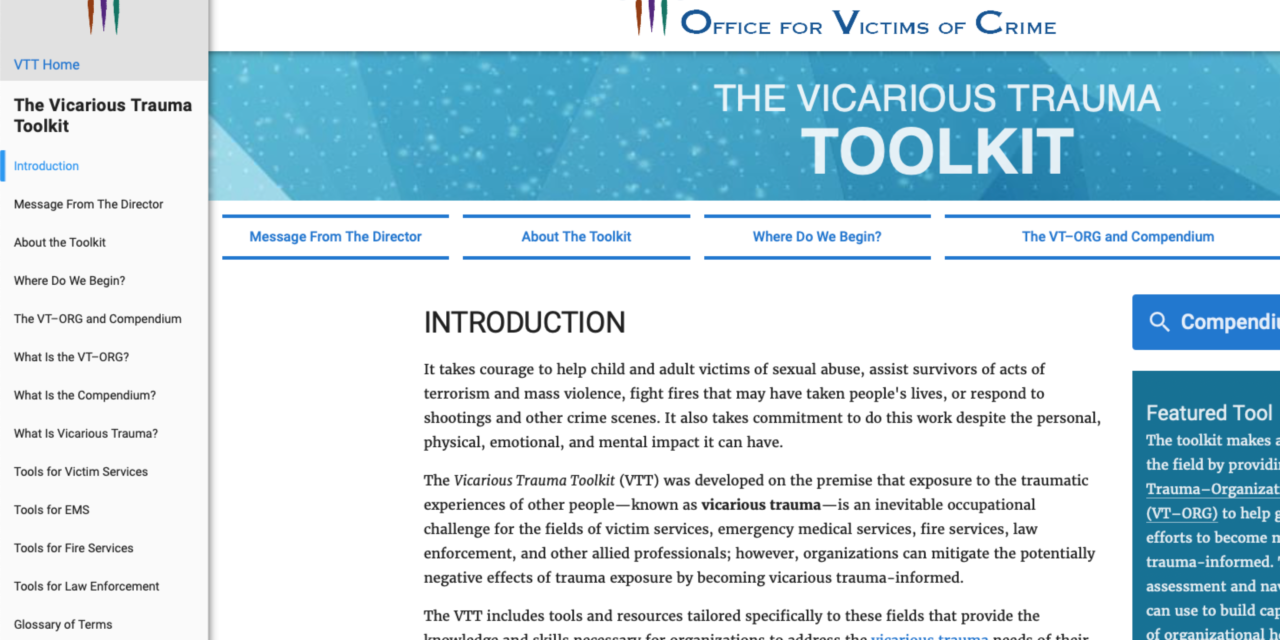 Vicarious Trauma and Burnout
Giv­en the emo­tion­al drain and inten­sive nature of human traf­fick­ing cas­es, every­one involved should take extra care in defin­ing clear bound­aries in assist­ing vic­tims and tak­ing suf­fi­cient time to main­tain per­son­al health.
With­out prop­er sleep, exer­cise, nutri­tion, and occa­sion­al­ly time off, indi­vid­u­als work­ing human traf­fick­ing mat­ters can suf­fer a high degree of burnout. In short, in order to prop­er­ly help vic­tims, law enforce­ment and NGOs need to take care of them­selves as well. Task force mem­bers can share pro­to­cols and train­ing mate­ri­als that will help part­ners to main­tain their bound­aries and their health, while still sup­port­ing traf­fick­ing victims.
Train­ing Resources:
Com­pas­sion Fatigue/Vicarious Trau­ma Train­ingThe goal of this blend­ed-learn­ing train­ing is to iden­ti­fy the five indi­vid­ual ele­ments of resilien­cy, and explore how they can be imple­ment­ed in an orga­ni­za­tion through poli­cies, super­vi­so­ry tech­niques and train­ing. The train­ing on com­pas­sion fatigue explores self-care tech­niques.
The Vic­ar­i­ous Trau­ma Toolk­it This is an online resource to assist pro­fes­sion­als in address­ing vic­ar­i­ous trau­ma needs for orga­ni­za­tions and their staff.