End Demand Switzerland — Switzerland must be held accountable for its lack of political will to put in place policies suitable to prevent human trafficking for sexual exploitation (HTfSE)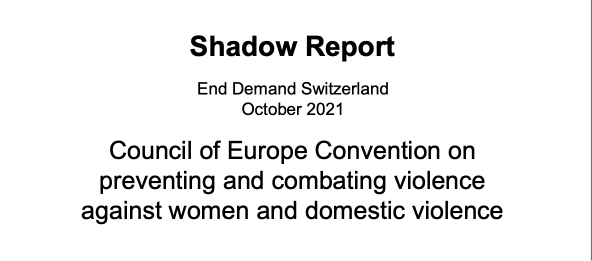 Conclusions
Switzer­land's lib­er­al pros­ti­tu­tion pol­i­cy nor­malis­es traf­fick­ing of women for sex­u­al exploita­tion the in soci­ety. The pol­i­cy approach has result­ed in the expan­sion of the sex indus­try, fuelling demand for com­mer­cial sex, lead­ing to more cas­es of human traf­fick­ing for sex­u­al exploita­tion (HTfSE). Accord­ing to the FEMM Study (2021), which assessed pros­ti­tu­tion reg­u­la­tions in EU mem­ber states and the cur­rent sit­u­a­tion of sex traf­fick­ing, sex traf­fick­ing is linked to the pros­ti­tu­tion mar­kets at des­ti­na­tion in EU Mem­ber States. These mar­kets are char­ac­terised by an increas­ing vol­ume of "for­eign pros­ti­tu­tion" activ­i­ties, and clients who often buy sex­u­al ser­vices from for­eign pros­ti­tutes are very like­ly buy­ing them from traf­ficked victims.
The Swiss author­i­ties con­tin­ue to ignore the core con­cept of cause. The demand that fos­ters exploita­tion and leads to traf­fick­ing. In the con­text of HTfSE, this means all demand for com­mer­cial sex because any increase in demand affects the sup­ply and moti­vates traf­fick­ers to sup­ply more women to the Swiss sex pros­ti­tu­tion mar­ket. Swiss author­i­ties fail to learn from com­pa­ra­ble States'experience; fail­ing to meet the expec­ta­tions of both the Con­ven­tion and the Pro­to­col as to inter­na­tion­al coop­er­a­tion and infor­ma­tion-shar­ing; this require­ment is not lim­it­ed to police files but expe­ri­ence and data as well.
The Swiss gov­ern­ment seems to believe that its oblig­a­tion to dis­cour­age demand is lim­it­ed to the demand for traf­fick­ing vic­tims specif­i­cal­ly. How­ev­er, this is not the case. The Arti­cle 6 for­mu­la­tion in the Con­ven­tion, reflect­ing the same require­ment in the Pro­to­col, must be inter­pret­ed as address­ing cause not just man­i­fes­ta­tion. The OSCE (2021) clar­i­fies that this lan­guage estab­lish­es a con­cept of demand that moves beyond only the "demand for traf­fick­ing" or the "demand for sex­u­al exploita­tion" to address demand that encour­ages exploitation35, which in turn leads to traf­fick­ing. This cre­ates an oblig­a­tion to dis­cour­age demand that extends beyond the know­ing use of traf­fick­ing vic­tims to any act that encour­ages exploita­tion of the pros­ti­tu­tion of others.
Switzer­land must be held account­able for its lack of polit­i­cal will to put in place poli­cies suit­able to pre­vent HTfSE. Its defi­cient insti­tu­tion­al arrange­ments, unmea­sur­able mea­sures, self-sus­tained lack of reli­able data, focus on all legal oblig­a­tions except pre­ven­tion, and lib­er­alised pros­ti­tu­tion poli­cies are incom­pat­i­ble with the Con­ven­tion's legal oblig­a­tion to deploy demand-reduc­tion to address traf­fick­ing in human beings.