Catholic Anti-Slavery Network in Australia becomes model for business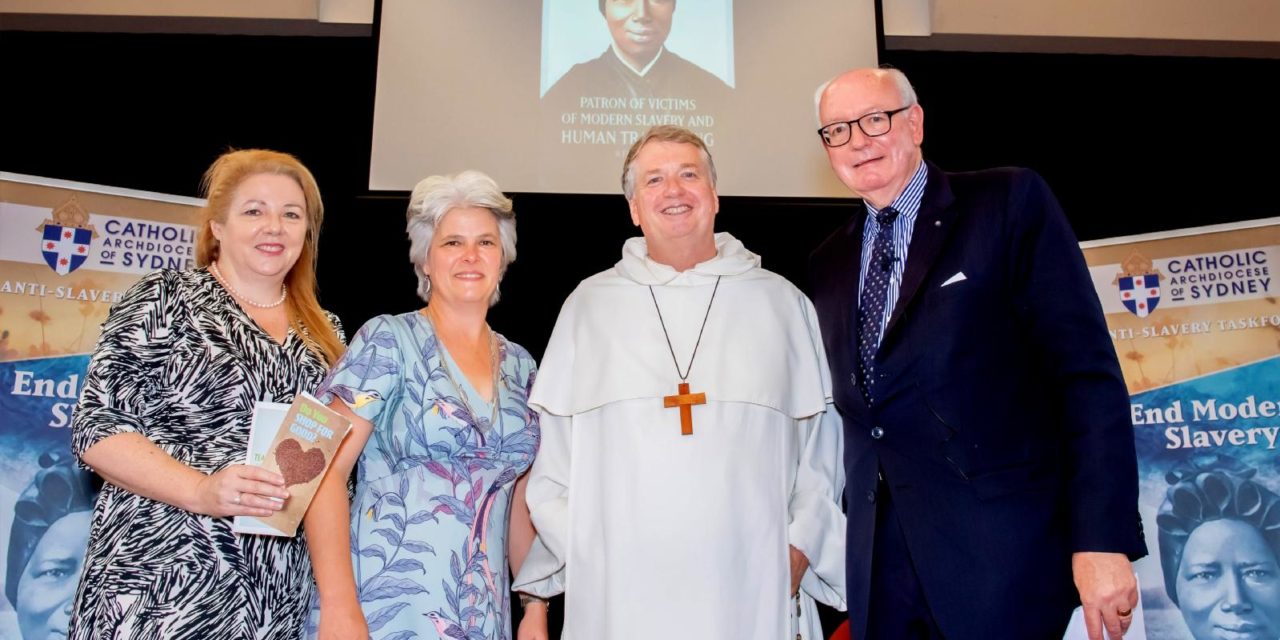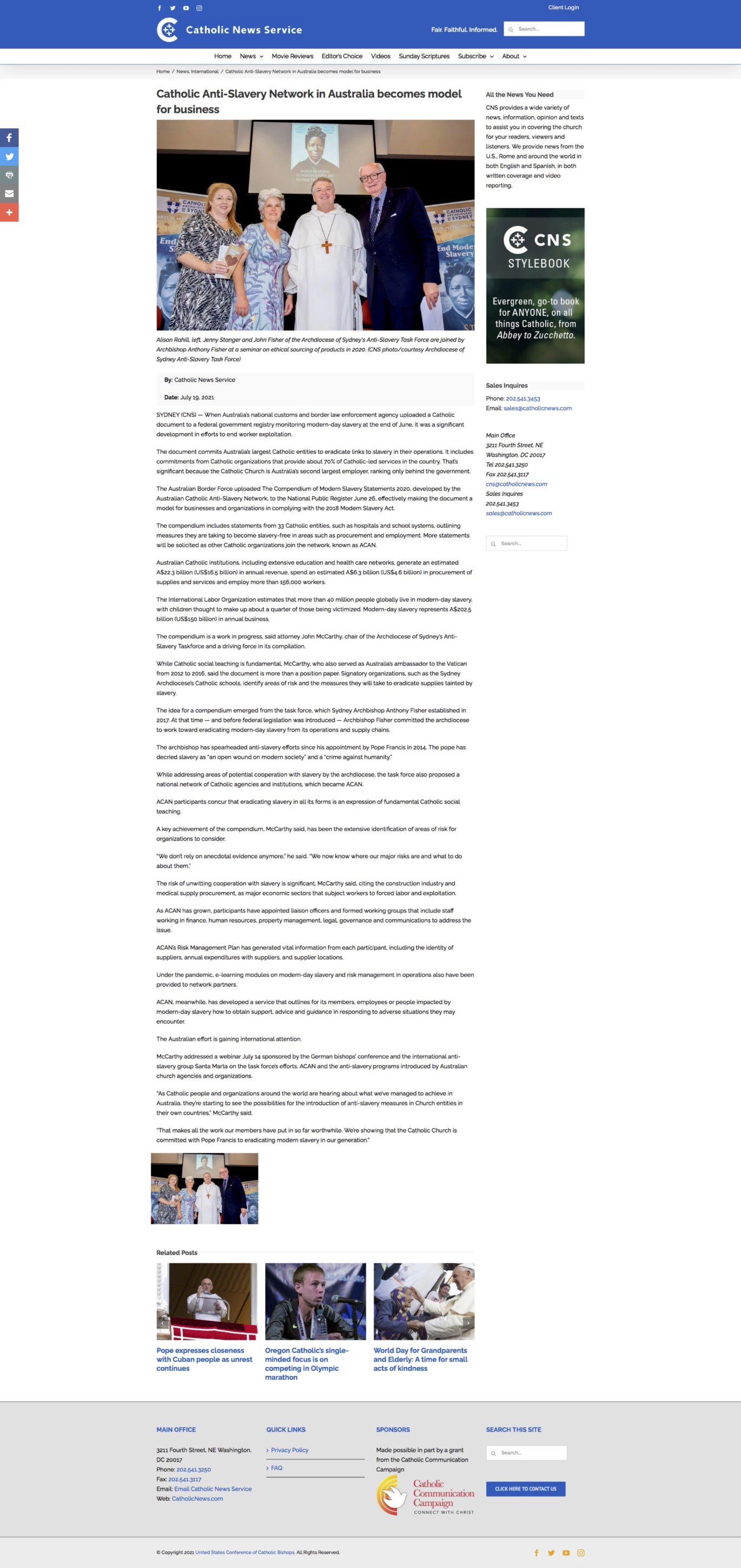 By: Catholic News Service
SYDNEY (CNS) — When Australia's nation­al cus­toms and bor­der law enforce­ment agency uploaded a Catholic doc­u­ment to a fed­er­al gov­ern­ment reg­istry mon­i­tor­ing mod­ern-day slav­ery at the end of June, it was a sig­nif­i­cant devel­op­ment in efforts to end work­er exploitation.
The doc­u­ment com­mits Australia's largest Catholic enti­ties to erad­i­cate links to slav­ery in their oper­a­tions. It includes com­mit­ments from Catholic orga­ni­za­tions that pro­vide about 70% of Catholic-led ser­vices in the coun­try. That's sig­nif­i­cant because the Catholic Church is Australia's sec­ond largest employ­er, rank­ing only behind the government.
The Aus­tralian Bor­der Force uploaded The Com­pendi­um of Mod­ern Slav­ery State­ments 2020, devel­oped by the Aus­tralian Catholic Anti-Slav­ery Net­work, to the Nation­al Pub­lic Reg­is­ter June 26, effec­tive­ly mak­ing the doc­u­ment a mod­el for busi­ness­es and orga­ni­za­tions in com­ply­ing with the 2018 Mod­ern Slav­ery Act.
The com­pendi­um includes state­ments from 33 Catholic enti­ties, such as hos­pi­tals and school sys­tems, out­lin­ing mea­sures they are tak­ing to become slav­ery-free in areas such as pro­cure­ment and employ­ment. More state­ments will be solicit­ed as oth­er Catholic orga­ni­za­tions join the net­work, known as ACAN.
Aus­tralian Catholic insti­tu­tions, includ­ing exten­sive edu­ca­tion and health care net­works, gen­er­ate an esti­mat­ed A$22.3 bil­lion (US$16.5 bil­lion) in annu­al rev­enue, spend an esti­mat­ed A$6.3 bil­lion (US$4.6 bil­lion) in pro­cure­ment of sup­plies and ser­vices and employ more than 156,000 workers.
The Inter­na­tion­al Labor Orga­ni­za­tion esti­mates that more than 40 mil­lion peo­ple glob­al­ly live in mod­ern-day slav­ery, with chil­dren thought to make up about a quar­ter of those being vic­tim­ized. Mod­ern-day slav­ery rep­re­sents A$202.5 bil­lion (US$150 bil­lion) in annu­al business.
The com­pendi­um is a work in progress, said attor­ney John McCarthy, chair of the Arch­dio­cese of Sydney's Anti-Slav­ery Task­force and a dri­ving force in its compilation.
While Catholic social teach­ing is fun­da­men­tal, McCarthy, who also served as Australia's ambas­sador to the Vat­i­can from 2012 to 2016, said the doc­u­ment is more than a posi­tion paper. Sig­na­to­ry orga­ni­za­tions, such as the Syd­ney Archdiocese's Catholic schools, iden­ti­fy areas of risk and the mea­sures they will take to erad­i­cate sup­plies taint­ed by slavery.
The idea for a com­pendi­um emerged from the task force, which Syd­ney Arch­bish­op Antho­ny Fish­er estab­lished in 2017. At that time — and before fed­er­al leg­is­la­tion was intro­duced — Arch­bish­op Fish­er com­mit­ted the arch­dio­cese to work toward erad­i­cat­ing mod­ern-day slav­ery from its oper­a­tions and sup­ply chains.
The arch­bish­op has spear­head­ed anti-slav­ery efforts since his appoint­ment by Pope Fran­cis in 2014. The pope has decried slav­ery as "an open wound on mod­ern soci­ety" and a "crime against humanity."
While address­ing areas of poten­tial coop­er­a­tion with slav­ery by the arch­dio­cese, the task force also pro­posed a nation­al net­work of Catholic agen­cies and insti­tu­tions, which became ACAN.
ACAN par­tic­i­pants con­cur that erad­i­cat­ing slav­ery in all its forms is an expres­sion of fun­da­men­tal Catholic social teaching.
A key achieve­ment of the com­pendi­um, McCarthy said, has been the exten­sive iden­ti­fi­ca­tion of areas of risk for orga­ni­za­tions to consider.
"We don't rely on anec­do­tal evi­dence any­more," he said. "We now know where our major risks are and what to do about them."
The risk of unwit­ting coop­er­a­tion with slav­ery is sig­nif­i­cant, McCarthy said, cit­ing the con­struc­tion indus­try and med­ical sup­ply pro­cure­ment, as major eco­nom­ic sec­tors that sub­ject work­ers to forced labor and exploitation.
As ACAN has grown, par­tic­i­pants have appoint­ed liai­son offi­cers and formed work­ing groups that include staff work­ing in finance, human resources, prop­er­ty man­age­ment, legal, gov­er­nance and com­mu­ni­ca­tions to address the issue.
ACAN's Risk Man­age­ment Plan has gen­er­at­ed vital infor­ma­tion from each par­tic­i­pant, includ­ing the iden­ti­ty of sup­pli­ers, annu­al expen­di­tures with sup­pli­ers, and sup­pli­er locations.
Under the pan­dem­ic, e‑learning mod­ules on mod­ern-day slav­ery and risk man­age­ment in oper­a­tions also have been pro­vid­ed to net­work partners.
ACAN, mean­while, has devel­oped a ser­vice that out­lines for its mem­bers, employ­ees or peo­ple impact­ed by mod­ern-day slav­ery how to obtain sup­port, advice and guid­ance in respond­ing to adverse sit­u­a­tions they may encounter.
The Aus­tralian effort is gain­ing inter­na­tion­al attention.
McCarthy addressed a webi­nar July 14 spon­sored by the Ger­man bish­ops' con­fer­ence and the inter­na­tion­al anti-slav­ery group San­ta Mar­ta on the task force's efforts, ACAN and the anti-slav­ery pro­grams intro­duced by Aus­tralian church agen­cies and organizations.
"As Catholic peo­ple and orga­ni­za­tions around the world are hear­ing about what we've man­aged to achieve in Aus­tralia, they're start­ing to see the pos­si­bil­i­ties for the intro­duc­tion of anti-slav­ery mea­sures in Church enti­ties in their own coun­tries," McCarthy said.
"That makes all the work our mem­bers have put in so far worth­while. We're show­ing that the Catholic Church is com­mit­ted with Pope Fran­cis to erad­i­cat­ing mod­ern slav­ery in our generation."