Demand For Ht: We Are All Responsible As Consumers Of Forced Labor And Sexual Slavery. How Can We End This Cycle?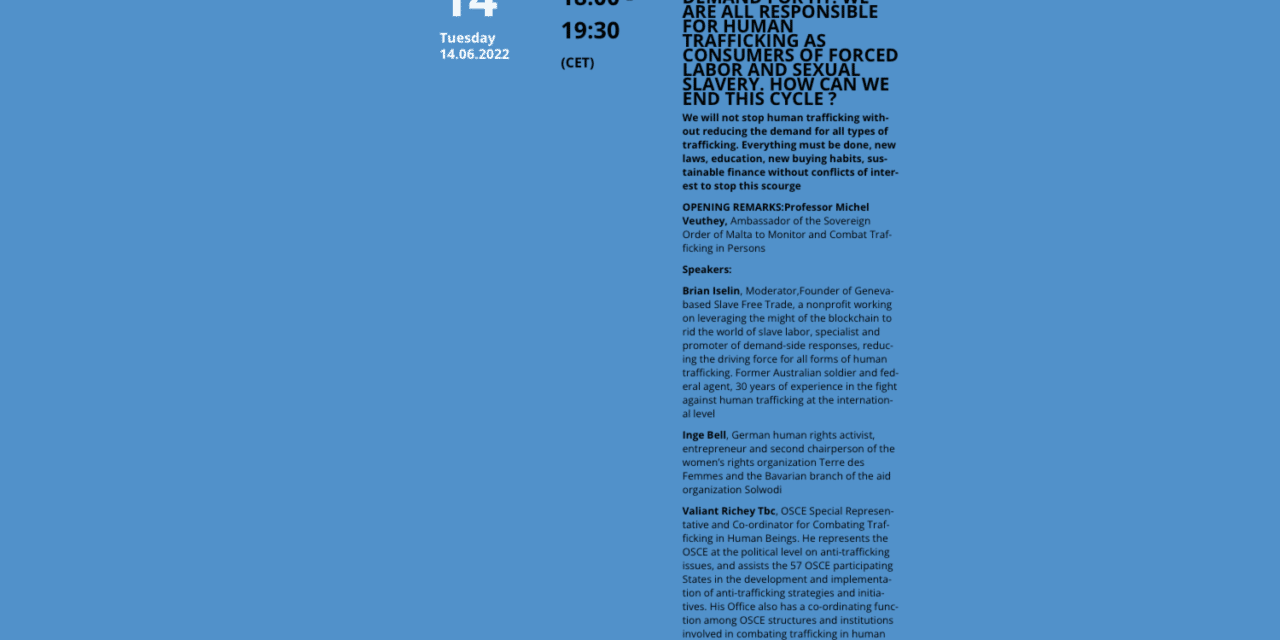 Please access the sub­ti­tles by click­ing on "CC" in the Vimeo menu, avail­able in the fol­low­ing lan­guages: Eng­lish, French, Ger­man, Ital­ian, Russ­ian, Span­ish, Sim­pli­fied Chinese.
In order to end human traf­fick­ing, it is essen­tial that we tar­get demand, rather than focus­ing pure­ly on sup­ply-side mea­sures. Whilst the sta­tus quo is to employ sup­ply-side mea­sures, these can only ever be reac­tive. Where­as, demand-side mea­sures are proac­tive in the pre­ven­tion of human traf­fick­ing, as demand is a root cause of traf­fick­ing and there­fore must be pur­sued in the fight to end this affront to human rights and dignity.
You can access addi­tion­al doc­u­ments by click­ing on the fol­low­ing link:
drive.infomaniak.com/app/share/111675/1d21bc14-3082–46e2-bf5e-0b85cad68e9f
Links to down­load full text inter­ven­tion in Eng­lish, French, Ger­man, Ital­ian, Russ­ian, Span­ish, Sim­pli­fied Chi­nese:
drive.infomaniak.com/app/share/111675/acc5c2db-374f-4168–9d61-3d2531b70b36
Speak­ers:
1. Open­ing Remarks by Pro­fes­sor Michel Veuthey, Ambas­sador of the Sov­er­eign Order of Mal­ta to mon­i­tor and com­bat traf­fick­ing in per­sons
2. Bri­an Iselin, Mod­er­a­tor, Founder of Gene­va-based slave­free­trade, a non­prof­it work­ing on lever­ag­ing the might of the blockchain to rid the world of slave labor, spe­cial­ist and pro­mot­er of demand-side respons­es, reduc­ing the dri­ving force for all forms of human traf­fick­ing. For­mer Aus­tralian sol­dier and fed­er­al agent, 30 years of expe­ri­ence in the fight against human traf­fick­ing at the inter­na­tion­al lev­el
3. Inge Bell, A Ger­man human rights activist, entre­pre­neur and chair­per­son of the women's rights orga­ni­za­tion Terre des Femmes and the Bavar­i­an branch of the aid orga­ni­za­tion Sol­wo­di. She is an advo­cate for the reform of pros­ti­tu­tion laws in Ger­many, a move towards the Nordic mod­el, which focus­es on demand, by penal­iz­ing the buy­ers of sex­u­al slav­ery
4. Valiant Richey, OSCE Spe­cial Rep­re­sen­ta­tive and Co-ordi­na­tor for Com­bat­ing Traf­fick­ing in Human Beings. He rep­re­sents the OSCE at the polit­i­cal lev­el on anti-traf­fick­ing issues, and assists the 57 OSCE par­tic­i­pat­ing States in the devel­op­ment and imple­men­ta­tion of anti-traf­fick­ing strate­gies and ini­tia­tives. His Office also has a co-ordi­nat­ing func­tion among OSCE struc­tures and insti­tu­tions involved in com­bat­ing traf­fick­ing in human beings. Before join­ing the OSCE, Valiant worked for thir­teen years as a pros­e­cu­tor in Seat­tle han­dling sex­u­al assault, child exploita­tion and human traf­fick­ing cases
You can also access the video of this webi­nar avail­able with trans­la­tions in French, Ital­ian, Ger­man, Span­ish, Russ­ian and Chi­nese on the adlaudatosi web­site: adlaudatosi.org
The webi­na­rs are orga­nized by the Ambas­sador of the Sov­er­eign Order of Mal­ta to mon­i­tor and com­bat traf­fick­ing in per­sons with the Col­lège Uni­ver­si­taire Hen­ry-Dunant, in coop­er­a­tion with Sis­ter Mir­jam Beike, RGS, Rep­re­sen­ta­tive at the UN in Gene­va for the Sis­ters of Our Lady of Char­i­ty of the Good Shep­herd.
Please vis­it the fol­low­ing web­sites:
adlaudatosi.org/
nohumantrafficking.orderofmal…
cuhd.org
christusliberat.org/journal/