International Prosecution Of Human Trafficking — Where Are We Now? (ON-DEMAND VIDEO WEBINAR)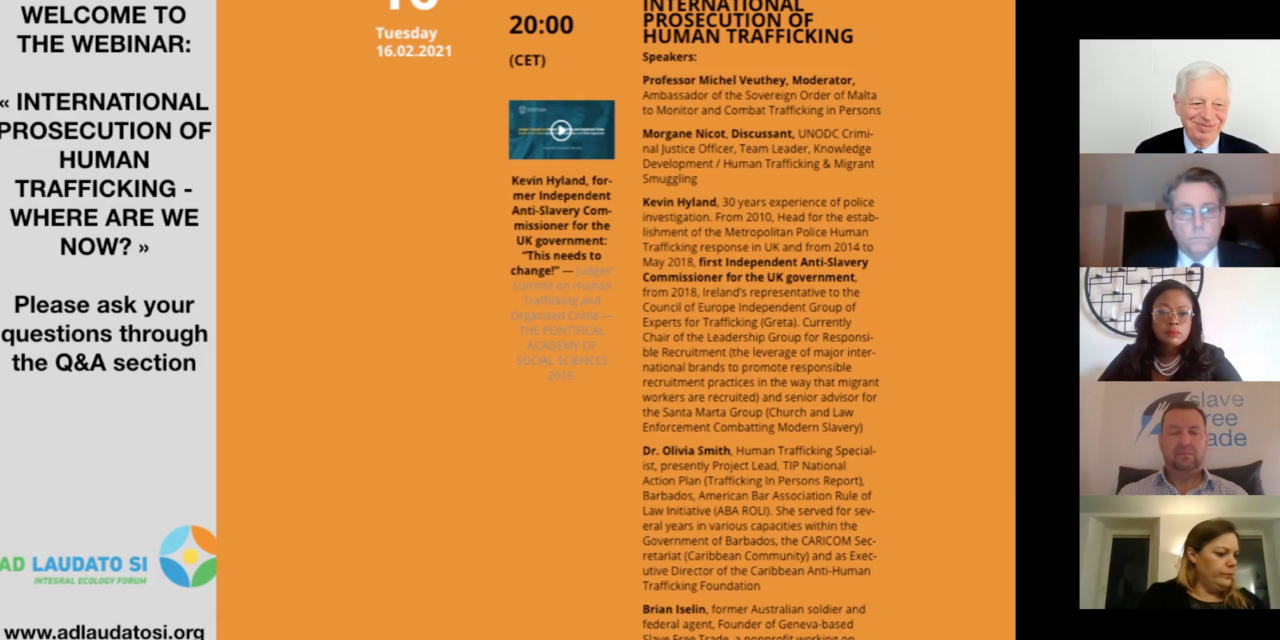 Your are wel­come to watch our first On-Demand Video Webi­nar on "Inter­na­tion­al Pros­e­cu­tion Of Human Traf­fick­ing — Where Are We Now?".
The Ambas­sador of the Order of Mal­ta to mon­i­tor and com­bat traf­fick­ing in per­sons orga­nizes a series of 3 webi­na­rs on the inter­na­tion­al pros­e­cu­tion of human traf­fick­ing. This series of 3 webi­na­rs will assess the imple­men­ta­tion of this treaty, raise aware­ness on the need to effec­tive­ly pros­e­cute traf­fick­ers, and pro­mote action at the inter­na­tion­al, region­al and nation­al levels.
The first webi­nar took place on Tues­day, the 16th of February.
This webi­nar did focus on the present sit­u­a­tion, tak­ing stock of the imple­men­ta­tion of the Paler­mo Pro­to­col, 20 years after its adoption.
The webi­nar high­light­ed how dif­fi­cult it is today to pros­e­cute human traf­fick­ing crim­i­nals: accord­ing to Kevin High­land, first Inde­pen­dent Anti-Slav­ery Com­mis­sion­er for the UK gov­ern­ment, less than one in 1,250 traf­fick­ing cas­es is cur­rent­ly pros­e­cut­ed. Accord­ing to him, it is time to put in place at the inter­na­tion­al lev­el, a plan on the same scale as the one being launched to fight glob­al warm­ing. Very few resources are devot­ed by gov­ern­ments to fight traf­fick­ing, which affects more than 45 mil­lion peo­ple worldwide.
Speak­ers:
Pro­fes­sor Michel Veuthey, Mod­er­a­tor, Ambas­sador of the Sov­er­eign Order of Mal­ta to Mon­i­tor and Com­bat Traf­fick­ing in Persons
Mor­gane Nicot, Dis­cus­sant, UNODC Crim­i­nal Jus­tice Offi­cer, Team Leader, Knowl­edge Devel­op­ment / Human Traf­fick­ing & Migrant Smuggling
Kevin Hyland, 30 years expe­ri­ence of police inves­ti­ga­tion. From 2010, Head for the estab­lish­ment of the Met­ro­pol­i­tan Police Human Traf­fick­ing response in UK and from 2014 to May 2018, first Inde­pen­dent Anti-Slav­ery Com­mis­sion­er for the UK gov­ern­ment, from 2018, Ireland's rep­re­sen­ta­tive to the Coun­cil of Europe Inde­pen­dent Group of Experts for Traf­fick­ing (Gre­ta). Cur­rent­ly Chair of the Lead­er­ship Group for Respon­si­ble Recruit­ment (the lever­age of major inter­na­tion­al brands to pro­mote respon­si­ble recruit­ment prac­tices in the way that migrant work­ers are recruit­ed) and senior advi­sor for the San­ta Mar­ta Group (Church and Law Enforce­ment Com­bat­ting Mod­ern Slavery)
Dr. Olivia Smith, Human Traf­fick­ing Spe­cial­ist, present­ly Project Lead, TIP Nation­al Action Plan (Traf­fick­ing In Per­sons Report), Bar­ba­dos, Amer­i­can Bar Asso­ci­a­tion Rule of Law Ini­tia­tive (ABA ROLI). She served for sev­er­al years in var­i­ous capac­i­ties with­in the Gov­ern­ment of Bar­ba­dos, the CARICOM Sec­re­tari­at (Caribbean Com­mu­ni­ty) and as Exec­u­tive Direc­tor of the Caribbean Anti-Human Traf­fick­ing Foundation
Bri­an Iselin, for­mer Aus­tralian sol­dier and fed­er­al agent, Founder of Gene­va-based Slave Free Trade, a non­prof­it work­ing on lever­ag­ing the might of the blockchain to rid the world of slave labor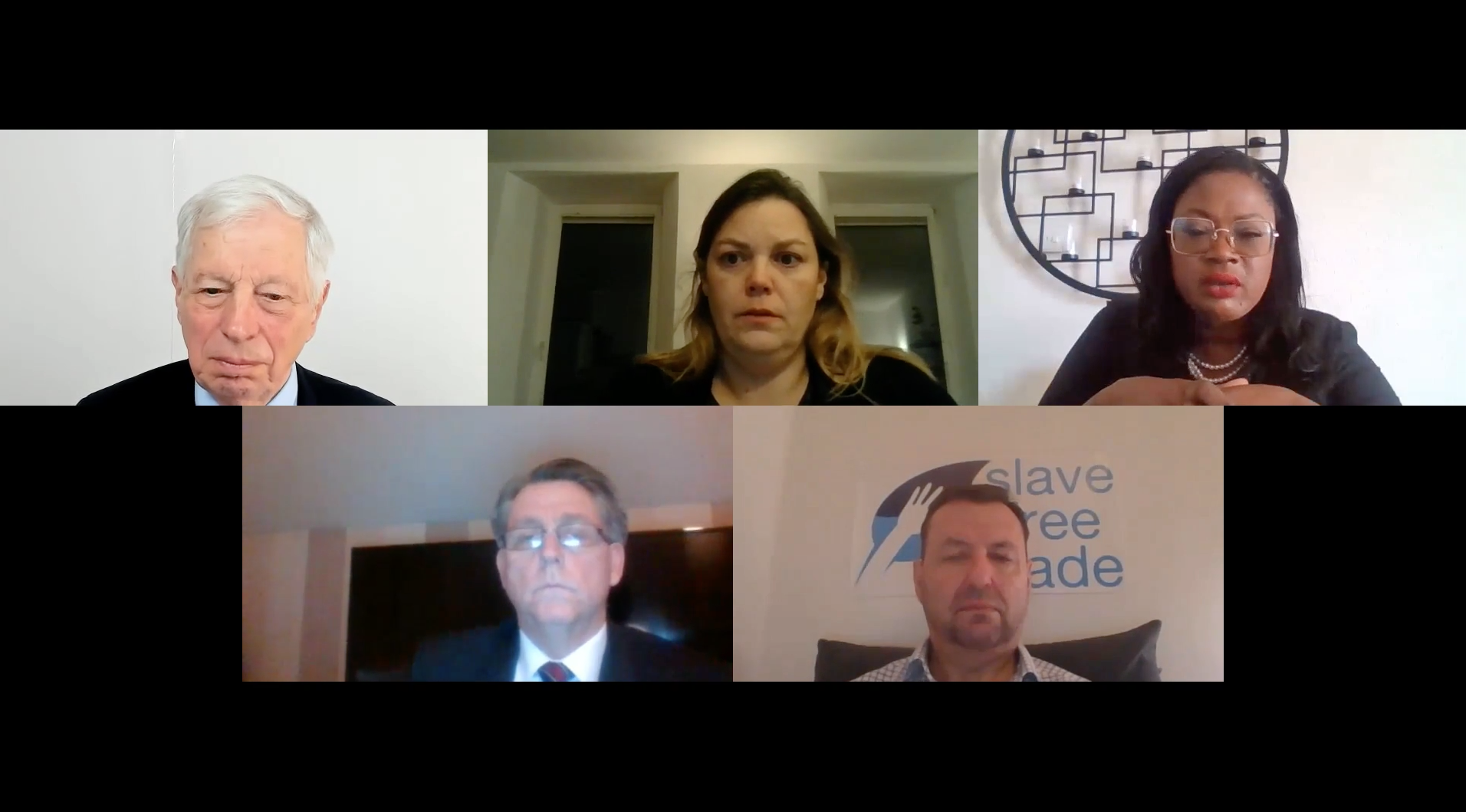 Feb­ru­ary 16, 2021 Webi­nar Report
WHERE DO WE STAND? — INTERNATIONAL CRIMINAL PROSECUTION OF HUMAN TRAFFICKING
PARTICIPANTS
Michel Veuthey
Kevin HYLAND
Olivia SMITH
Bri­an ISELIN
Mor­gane NICOT
INTRODUCTION — Michel VEUTHEY
This webi­nar is the first of 3 webi­na­rs on the inter­na­tion­al pros­e­cu­tion of human trafficking.
It focus­es on the imple­men­ta­tion of the Paler­mo Pro­to­col, 20 years after its adoption.
Kevin HYLAND
Like the fight against glob­al warm­ing, we must all com­mit to the fight against human traf­fick­ing on a glob­al scale.
Find­ings:

Today, there are 40 mil­lion peo­ple and 151 mil­lion chil­dren in forced labor or work­ing in unac­cept­able conditions.
The first leg­is­la­tion con­cern­ing these crimes dates back to 326 BC. This is not a new phenomenon.
This human traf­fick­ing is a real busi­ness, gen­er­at­ing 150 bil­lion dol­lars a year.
Many com­mit­ments have been made: UN pro­to­col, Coun­cil of Europe, EU direc­tives, OSCE com­mit­ments and guide­lines, UN human rights, SDG, G20, G7, leg­is­la­tion in most coun­tries of the world. But the crime continues.
Legal pro­ceed­ings are nec­es­sary but not suf­fi­cient to stop the phenomenon.

They are very lim­it­ed: 9548 con­vic­tions against 40 mil­lion vic­tims. Only 498 con­vic­tions for forced labor. 99.98% impuni­ty rate.
Con­vic­tion times are par­tic­u­lar­ly long com­pared to oth­er crimes: immi­gra­tion prob­lem, wrong deci­sion-mak­er involved (e.g. in the UK, deci­sions are tak­en by the Home Office, even though it does not con­cern it.

Pro­pos­als:

We also need to think about demand in busi­ness models.
There is a need for strict con­trol over the sup­ply chain. Ex. Boohoo com­pa­ny in Leices­ter or the man­u­fac­ture of sur­gi­cal gloves in Malaysia.
At the nation­al lev­el: There is a need for part­ner­ships: civ­il soci­ety, NGOs, police, offi­cial bod­ies (health, hous­ing, edu­ca­tion, trans­port) with :

Holis­tic think­ing about what can help the victim
Clar­i­fi­ca­tion of roles: the police have the tech­ni­cal means, but they must coop­er­ate with oth­er civ­il soci­ety orga­ni­za­tions (includ­ing reli­gious congregations).
a mul­ti-agency approach: courts and labour inspectorates

The Church has a place in this collaboration:

San­ta Mar­ta group (formed by Pope Fran­cis in 2014) with col­lab­o­ra­tion between police chiefs, bish­ops and civ­il society.
It can offer hous­ing, support.
It pro­vides ser­vices and must there­fore be exem­plary in its sup­ply chain (cf. Arch­bish­op of Syd­ney's approach)
It can use diplo­ma­cy, which it has done by sup­port­ing Goal 8 of the SDGs (Sus­tain­able Devel­op­ment Goals), to be achieved by 2030

In terms of gov­er­nance, the States must each take their respon­si­bil­i­ties with:

Fis­cal, penal, etc. incen­tives to avoid this traffic
Strong and trans­par­ent pro­cure­ment systems
The estab­lish­ment of a new legal con­cept: dirty mon­ey, i.e. mon­ey taint­ed by mod­ern slav­ery with incen­tives not to use it.
Bet­ter con­trol over the inter­net to pre­vent trafficking.
An adjust­ment of legal tools (1926 Slav­ery Convention)
The gath­er­ing of inter­na­tion­al actors (UN, World Bank, World Food Program)
Dr. Olivia SMITH
Find­ings: 27 mil­lion peo­ple enslaved world­wide. The Paler­mo Pro­to­col was estab­lished to pre­vent, sup­press and pun­ish traf­fick­ers and to com­ple­ment the pro­to­cols on transna­tion­al orga­nized crime.
Analy­sis of the TIP Report (TIP Report, Traf­fick­ing in Per­sons Report, US) and :

This inter­na­tion­al report is an annu­al report that out­lines the mea­sures gov­ern­ments are expect­ed to take to elim­i­nate human trafficking.
It clas­si­fies 188 coun­tries into 3 levels:

Lev­el 1: max­i­mum mea­sure­ment level
Lev­el 2: Some coun­tries are tak­ing action but are not ful­ly compliant
Tier 3 Watch­list: some coun­tries are not ful­ly com­pli­ant but have made efforts
Lev­el 3: not real­ly complying

A tool used glob­al­ly to nego­ti­ate and encour­age States to pri­or­i­tize human trafficking.
Sit­u­a­tion in Cen­tral America:

Impov­er­ished region, gang vio­lence and human traf­fick­ing. 3rd largest crime indus­try in the world. Source of migrants to the US
Well-estab­lished net­works in Guatemala, Hon­duras, El Sal­vador and Belize (impor­tant tran­sit point from Guatemala, Mex­i­co and the US border)
Nation­al and intra-region­al routes fol­low the eco­nom­ic path
Involve­ment of crim­i­nal gangs but also of indi­vid­u­als and large orga­ni­za­tions, immi­gra­tion ser­vices, police.

Sit­u­a­tion in the Caribbean:

Region with dynam­ic migra­tion flows, coun­tries of ori­gin, tran­sit and destination.
Pol­i­cy ini­tia­tives: (2012) with CARICOM coun­tries, (2010) Caribbean Basin Secu­ri­ty Ini­tia­tive, (2020) U.S./Caribbean Mul­ti-Year Strategy

Sys­tem Gap:

Tech­nol­o­gy: Knowl­edge of tech­nol­o­gy but lag­ging behind those who pros­e­cute traf­fick­ers in knowl­edge of these rapid­ly evolv­ing systems.
Legal tools :

Unit­ed Nations Con­ven­tion on Human Traf­fick­ing, Pre­ven­tion Pro­to­cols, Extra­or­di­nary Dec­la­ra­tion of Mala­ga, Law on the Strength­en­ing of the Com­mit­ment of the US and the North­ern Tri­an­gle, etc.
BUT nation­al leg­is­la­tions have not yet been reviewed OR no sig­nif­i­cant actions at nation­al level.
Lack of knowl­edge of inter­na­tion­al law by judges and courts.
In nation­al leg­is­la­tions, a vic­tim has to prove that he or she was a vic­tim. Very dif­fi­cult to prove.
Traf­fick­ing remains a silent crime. Real denial that traf­fick­ing exists.

Inter­na­tion­al level:

Lack of region­al strat­e­gy: Exam­ple of Venezuela with more than 100,000 migrants in the Caribbean countries
The sit­u­a­tion is rein­forced by the COVID cri­sis, with migrants trapped in the Caribbean states and with greater opac­i­ty of actions, dur­ing the peri­od of confinement.

Nation­al level:

Strength­en nation­al state legislation
Need for a vic­tim-cen­tered approach (with empowerment)
Deal­ing with pub­lic officials
Bri­an ISELIN:
At the time of the rat­i­fi­ca­tion of the Paler­mo Pro­to­col in 2000, there was almost no fund­ing to fight human traf­fick­ing. Paler­mo was a hope, a shin­ing light for a moment. In 2021: a glob­al indus­try has developed.
Find­ings:

Lit­tle action oth­er than a pre­pon­der­ance of focus on law enforce­ment and crim­i­nal jus­tice respons­es. E.g., Aus­tralia focused 100% on sex­u­al exploita­tion, 100% on sup­ply-side measures.
Bud­gets have been allo­cat­ed to aware­ness cam­paigns, etc., but with­out regard to effectiveness.
Paler­mo allowed a par­a­digm shift with the empha­sis on human traf­fick­ing: a vic­tim can be a vic­tim of child labor, forced labor, slav­ery or servi­tude. Great com­plex­i­ty of situations.
Treaty focused on enforce­ment, pun­ish­ment, sup­ply reduction.

Reflect­ing on the demand from the obser­va­tion of oth­er illic­it markets:

Vul­ner­a­bil­i­ty fac­tors are not the cause of the mar­ket. Just because peo­ple are poor before they are traf­ficked does not mean that pover­ty is the cause. They are push factors.
The mar­ket remains unchanged no mat­ter what is done with the sup­ply. Police actions against gangs dis­place traf­fick­ing but do not change mar­ket dynam­ics. Insuf­fi­cient police resources.
So we have to focus on the demand side, on the slave trade, like what Slave Free Trade does: pos­i­tive and behav­ioral solu­tions, reduc­ing the num­ber of jobs in the world where peo­ple are exploit­ed. ( Cf. Human Rights Infor­ma­tion Platform)
Mor­gane NICOT :
Inter­na­tion­al legal tool:

Pro­to­col that is 20 years old and com­pletes a col­lab­o­ra­tive instru­ment to tack­le crimes, espe­cial­ly for law enforcement.
147 sig­na­to­ries and 190 par­tic­i­pat­ing countries

For what purpose?

To fight the crimes they are sup­posed to face, to solve the prob­lems the vic­tims are fac­ing, to ensure prevention.
It pro­vides a legal frame­work to com­bat impuni­ty. We need sev­er­al levers.
It pro­pos­es to define com­mon terms, which is not so easy.
Explain what this crime means, look­ing at the sup­ply chain (not just the end)
Recall that it is the respon­si­bil­i­ty of the States
Ini­ti­ate pub­lic-pri­vate partnerships.

Find­ings:

Gath­ered many coun­tries around the table, with a more holis­tic per­spec­tive on migration.
Need for law enforce­ment but also for civ­il society
Impact at nation­al, region­al and inter­na­tion­al level
UNODC report show the lev­el of crim­i­nal jus­tice response. That means: how many peo­ple have been iden­ti­fied as vic­tims, how many inves­ti­ga­tions, etc., and we see that there is more and more detec­tion of var­i­ous forms of exploitation.
Gen­er­al questions?
What is the role of the Inter­na­tion­al Crim­i­nal Tri­bunals (ICC) in pros­e­cut­ing human traf­fick­ing cases?

Com­bat­ing state-spon­sored human trafficking
Encour­age inter­na­tion­al com­pa­nies to act, fight cor­rup­tion, iden­ti­fy vic­tims, etc…
Very slow process­es but ICCs can take excep­tion­al sanctions
Human traf­fick­ing is a transna­tion­al crime, so mul­ti­lat­er­al coop­er­a­tion must be strength­ened while tak­ing into account cul­tur­al realities.
What are the first steps to be tak­en in the fight against mod­ern slavery?

Com­mu­ni­cate with peo­ple with reli­able, sim­ple information.
Deal­ing with cog­ni­tive dis­so­nance: Pro­vide infor­ma­tion and then a sim­ple action to take: indi­ca­tor on the NYC stock mar­ket. This helps in pur­chas­ing deci­sions and allows for boy­cotting cer­tain com­pa­nies. We need to give sim­ple actions to do that thou­sands of peo­ple can do. This is where action is possible.
Engage com­mu­ni­ties and indi­vid­u­als with what they can achieve.
Need for broad com­mu­ni­ty aware­ness: edu­ca­tion, pre­ven­tion. Need to address broad­er devel­op­ment and eco­nom­ic issues
CONCLUSION — Michel VEUTHEY
In 1997 and 1998, there were two major con­ven­tions on the ban­ning of anti-per­son­nel mines and for the ICC.
These con­ven­tions have brought togeth­er gov­ern­ments, inter­na­tion­al orga­ni­za­tions, NGOs, nation­al soci­eties and indi­vid­u­als: this is what needs to be done on the sub­ject of human trafficking.