US STATE GOVERNMENT TIP REPORT 2020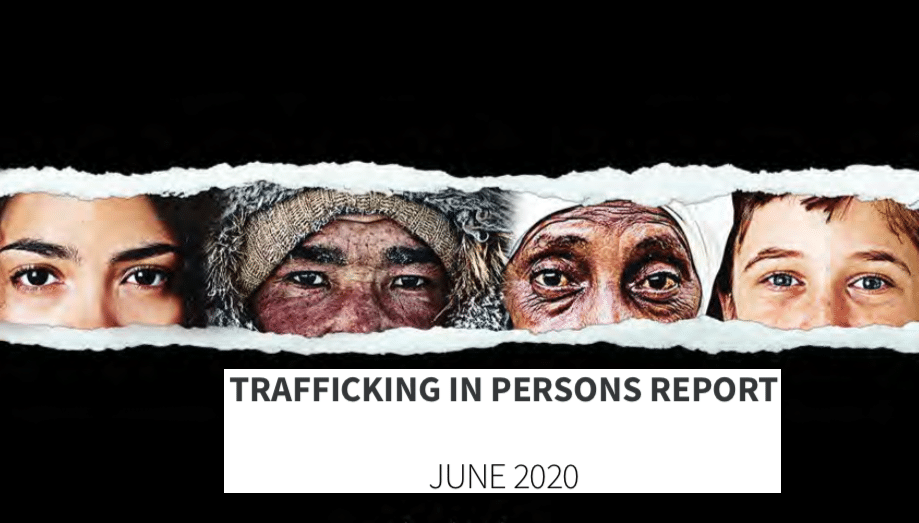 THE EVOLUTION OF THE TIP REPORT
Since 2001, the TIP Report has continued to evolve in both substance and design. Stylistically, the 2003 TIP Report went through one of the most noticeable visual transformations. This report was the first to feature a colorful front cover with the signature eyes and a letter from the Secretary of State, as well as compelling photos and images, victim stories, and a list of international "promising practices" in combating human trafficking. The narrative text of the introductory section evolved from providing minimal explanation of human trafficking and the purpose of the report, to covering a variety of human trafficking issues and current trends. Over time, the introduction began to cover concrete themes and a collection of special topics interspersed throughout. Though not mandated by Congress, the introduction has in many ways become a public outreach tool in and of itself.
VICTIMS OF TRAFFICKING AND VIOLENCE PROTECTION ACT OF 2000
TRAFFICKING IN PERSONS REPORT
Every person, everywhere, is inherently vested with profound, inherent, equal dignity. America was founded on a promise to defend those rights— including life, liberty, and the pursuit of justice. But too often we've fallen short, and we cannot fall short on this challenge.
Michael R. Pompeo
U.S. Secretary of State
In addition, the report methodology and content changed as the years progressed. Congress made many of these alterations through amendments to the TVPA and its reauthorizations. Others reflect policy priorities and efforts to provide clarification and justification for the tier rankings and country narratives. Some of the most important changes are listed on pages 6-7.