Holy See's priorities for migrations : "We must work together to create conditions that allow communities and individuals to live in safety and dignity in their own countries." — Global Compact for Safe, Orderly and Regular Migration, Marrakech Dec. 2018

DECEMBER 10, 2018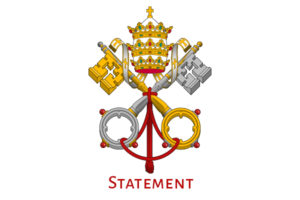 First Dia­logue: Pro­mot­ing Action On The Com­mit­ments Of The GCM
Statement of His Eminence Cardinal Pietro Parolin,
Secretary of State of His Holiness Pope Francis and
Head of the Delegation of the Holy See
At the First Dia­logue: "Pro­mot­ing Action on the Com­mit­ments of the Glob­al Com­pact for Safe, Order­ly and Reg­u­lar Migra­tion," Inter­gov­ern­men­tal Con­fer­ence to Adopt the Glob­al Com­pact for Safe, Order­ly and Reg­u­lar Migration
Mar­rakech, Moroc­co, 10 Decem­ber 2018
Mr. Chair,
In this dia­logue, ded­i­cat­ed to pro­mot­ing action on the com­mit­ments of the Glob­al Com­pact for Safe, Order­ly and Reg­u­lar Migra­tion, the Holy See would like to focus above all on two of those com­mit­ments, which it con­sid­ers among the most fun­da­men­tal and indis­pens­able if the inter­na­tion­al com­mu­ni­ty is going to respond ade­quate­ly to the chal­lenges and oppor­tu­ni­ties we face in front of increased migra­tion flows.
The first is the com­mit­ment to peace and devel­op­ment. If we are to ful­fill our pledge to mak­ing migra­tion vol­un­tary and safe, order­ly and reg­u­lar, we must address the root caus­es of the migra­to­ry flows. As is clear­ly stat­ed in para­graph 13 of the Glob­al Com­pact, of which the Holy See is proud to be a lead­ing contributor :
"We must work togeth­er to cre­ate con­di­tions that allow com­mu­ni­ties and indi­vid­u­als to live in safe­ty and dig­ni­ty in their own coun­tries." There­fore, ade­quate respons­es to the adverse dri­vers of migra­tion, most espe­cial­ly, vio­lent con­flicts and extreme pover­ty, must be addressed.
These solu­tions should not be con­sid­ered the respon­si­bil­i­ty sole­ly of the coun­try of ori­gin. The inter­na­tion­al com­mu­ni­ty must also assist if we are to be sure that those con­strained to flee might remain in their coun­tries of ori­gin in peace and secu­ri­ty. Sit­u­a­tions of vio­lence, inhu­mane liv­ing con­di­tions, and eco­nom­ic hard­ship, as well as nat­ur­al dis­as­ters and envi­ron­men­tal degra­da­tion, affect not only those coun­tries where they arise but also those coun­tries of tran­sit and destination.
This is not only a mat­ter of ful­fill­ing com­mit­ments to pro­vide inter­na­tion­al devel­op­ment assis­tance and human­i­tar­i­an aid, but also involves the com­mit­ment to the inte­gral human devel­op­ment of every indi­vid­ual, pro­vid­ing each per­son with the basic con­di­tions and oppor­tu­ni­ties to live a decent life. Few would leave if they had access to jobs, edu­ca­tion, health-care and oth­er basic goods and ser­vices that are fun­da­men­tal to every person's ful­fill­ment and basic well-being. Also essen­tial to sta­bil­i­ty are the fun­da­men­tal rights to be able to prac­tise one's reli­gion freely, with­out fear of per­se­cu­tion or dis­crim­i­na­tion, as well as the right to polit­i­cal par­tic­i­pa­tion and free­dom of expres­sion. These con­cerns form an inte­gral part of the "the right to remain".
The sec­ond com­mit­ment is to integration.
Those on the move must be wel­comed and treat­ed with dig­ni­ty, even if it is deter­mined lat­er that they must be safe­ly returned to their coun­try of origin.
As laid out in the Glob­al Com­pact on Migra­tion, all migrants regard­less of sta­tus, should be guar­an­teed due process and receive an indi­vid­ual assess­ment that will deter­mine their sta­tus. In the case of chil­dren and vic­tims of traf­fick­ing, such mea­sures are cru­cial if we are to respond ade­quate­ly to their needs and be sure that they not find them­selves in the very same sit­u­a­tion that they sought to leave behind. We must give pref­er­ence to poli­cies that favour fam­i­ly reuni­fi­ca­tion and pre­vent their sep­a­ra­tion through­out the migra­tion process, while work­ing towards end­ing the prac­tice of deten­tion, par­tic­u­lar­ly of minors.
For those who are giv­en reg­u­lar sta­tus and the pos­si­bil­i­ty of remain­ing in the coun­try of des­ti­na­tion, either tem­porar­i­ly or per­ma­nent­ly, it is impor­tant to empha­size that inte­gra­tion is nei­ther mere­ly assim­i­la­tion nor incor­po­ra­tion, but a two-way process root­ed in the mutu­al recog­ni­tion of the fun­da­men­tal equal­i­ty and dig­ni­ty of all. Such an approach will also help to stem the tide of racism and xeno­pho­bia. Those who arrive are, as Pope Fran­cis under­lines, "duty bound not to close them­selves from the cul­ture and tra­di­tions of the receiv­ing coun­try, respect­ing above all its laws." At the same time, inte­gra­tion "is not the super­im­po­si­tion of one cul­ture over anoth­er, nor mutu­al iso­la­tion, with the insid­i­ous and dan­ger­ous risk of cre­at­ing ghet­tos." It is rather a mutu­al enrich­ment based on mutu­al and inter­per­son­al respect.
These two objec­tives require an urgent response on the part of the inter­na­tion­al com­mu­ni­ty. As migra­tions, even mass migra­tions, are very like­ly to con­tin­ue in the com­ing years, we con­sid­er it nec­es­sary to widen the reg­u­lar and sure chan­nels of emi­gra­tion through gen­er­ous and respon­si­ble poli­cies, inspired by sol­i­dar­i­ty and co responsibility.
Mr. Chair,
Peace, devel­op­ment and true inte­gra­tion are fun­da­men­tal to ensur­ing the imple­men­ta­tion of the Glob­al Com­pact. Like book­ends, these two com­mit­ments keep the oth­er com­mit­ments upright and order­ly, from min­i­miz­ing the adverse dri­vers of migra­tion through peace and devel­op­ment to a suc­cess­ful con­clu­sion of the migra­to­ry process in the har­mo­nious inte­gra­tion of the migrant in the new homeland.
Thank you, Mr. Chair.