Pope Francis has sent a video message to the Forum on modern day slavery, which runs from 5th-8th May, 2018 in Buenos Aires, Argentina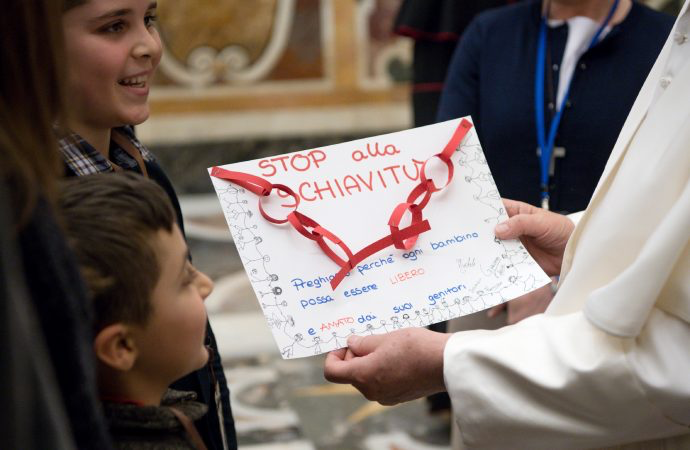 In this file photo, Pope Francis holds a sheet of paper reading in Italian "Stop Slavery, let's pray so that every child can be free and loved by his parents" as he meets participants in the "World Day of Prayer, Reflection and Action Against Human Trafficking", at the Vatican, Monday, Feb. 12, 2018. (Credit: L'Osservatore Romano/Pool Photo via AP.)
ROME - In a new video directed at his home country of Argentina, Pope Francis on Monday renewed his appeals to fight modern-day slavery and applauded ecumenical efforts among various Christian churches to join forces in the struggle.
"Slavery is not something from the past," Francis said in the video. "It's a practice that has deep roots and it manifests itself today and in many forms: human trafficking, exploitation through debt, exploitation of children, sexual exploitation and forced domestic work are some of its many forms."
According to the latest statistics shared by Francis in his message, there are more than 40 million people, men, but above all women and children, who are enslaved today. The pope said those numbers are "probably underestimated."
Most experts say there are more slaves today than ever before, and it's often considered among the top three most profitable illegal industries in the world, together with drug and arms trafficking.
Francis was addressing a May 5-8 forum on slavery promoted by Ecumenical Patriarch Bartholomew of Constantinople, as well as the Archdiocese of Buenos Aires, which Francis once led, and the Patriarch Athenagoras Orthodox Institute of Berkley. It's being hosted by Buenos Aires's Ecumenical patriarchate.
Francis begins his video thanking Bartholomew and Anglican Archbishop Justin Welby of Westminister for inaugurating the forums: "It consoles me to know that we share the same concern for the victims of modern slavery," he said.
The scope of the forum is to gather professionals, politicians, theologians and experts from around the world to continue the dialogue that began last year, with the first such meeting held in Istanbul under the heading of "Sins in front of our eyes."
"Seeing the tragic reality [of modern day slavery], no one can wash their hands if they don't want to be accomplices in this crime against humanity," the pope said in the video, released by the Vatican on Monday.
A first step to fight it, he said, would be to develop a strategy that allows for further knowledge on the issue, breaking the "veil of indifference" that seems to "cover this portion of humanity that suffers."
According to Francis, there seem to be some who don't want to fully grasp the scope of the problem, perhaps because they're "directly involved with criminal organizations, they don't want for this to be spoken about, simply because they receive high benefits thanks to the new forms of slavery."
But, there are also those who, even knowing of the problem, the pontiff said, refuse to speak out because it would put an end to the "chain of consumption," of the "services that men, women and children turned into slaves offer," and which consumers enjoy.
"We cannot turn our eyes: we are all called to abandon every form of hypocrisy, confronting the fact that we are part of the problem," he said. "We are not allowed to look away and claim ignorance or innocence."
Another strategy to fight this crime against humanity, the pope said, is to work in favor of victims, not allowing corrupt people and criminals to escape justice.
Yet having strong laws to punish criminals, he said, is not enough if "afterwards, the causes, the deeper roots of the problem are not addressed." Countries with extreme poverty, he said, are unable to guarantee the safety or the essential rights of the citizens, making them easier prey for organized crime.
"Organized crime and illegal human trafficking chose their victims among those who today have scarce means to survive and even less hope for the future," Francis said. "To be more clear: among the poorest, the most relegated, the most discarded."
Therefore, he said, the answer is to create opportunities for integral human development, starting with education, and continuing with job opportunities. In turn, he acknowledged, this requires "courage, patience and perseverance, a common and global effort from all the actors of society."
"The churches too must work on this," he said. "We Christians, together, are called to develop an ever-greater collaboration, so that all kinds of inequality and discrimination are overcome, since these are what make it possible for a man to make another man a slave."
Francis has been involved in the struggle against modern-day slavery since his time as archbishop of Buenos Aires, where he sponsored a local NGO called "La Alameda" that fed him information about slave labor in Argentina's clandestine sewing shops and also human trafficking for prostitution. The future pope would often help find work and asylum for survivors.