15th February 2018 — 23rd International Humanitarian and Security Conference, presented by Webster University Geneva, at the International Conference Center Geneva with the theme of THE NEED FOR EFFECTIVE GLOBAL COMPACTS ON REFUGEES AND MIGRATION.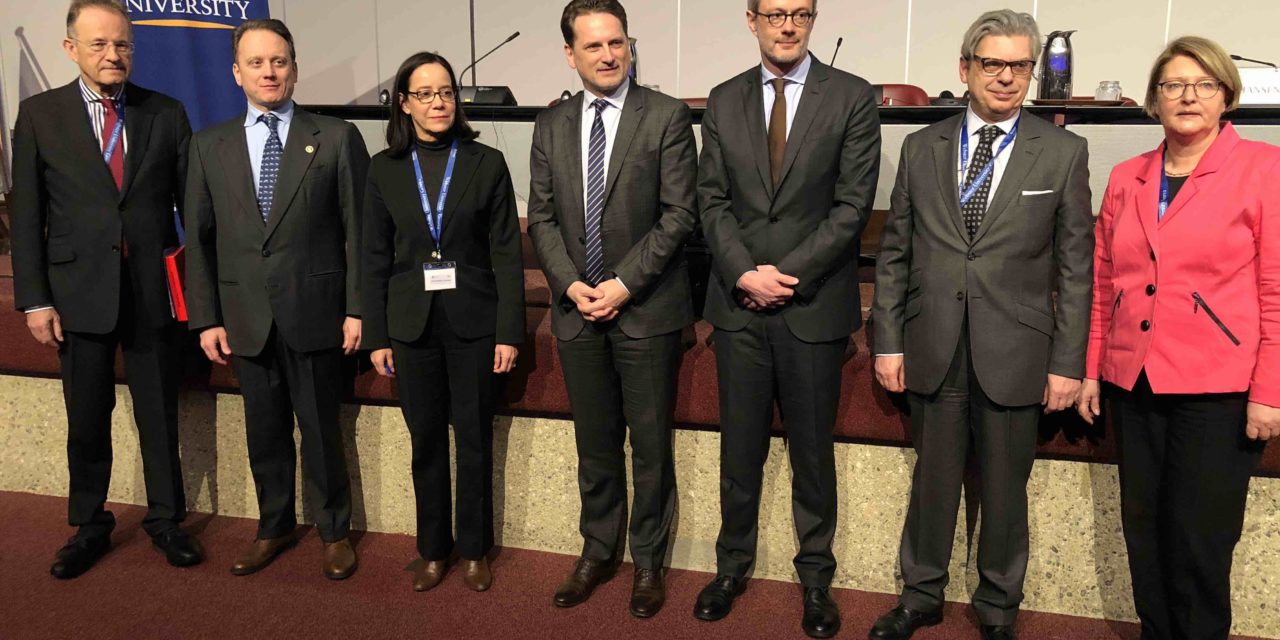 SEE THE TEXT OF PROFESSOR MICHEL VEUTHEY'S PRESENTATION BELOW.
The 23rd Inter­na­tion­al Human­i­tar­i­an and Secu­ri­ty Con­fer­ence, pre­sent­ed by Web­ster Uni­ver­si­ty Gene­va took place on Feb­ru­ary 15–16, 2018, at the Inter­na­tion­al Con­fer­ence Cen­ter Gene­va with the theme of THE NEED FOR EFFECTIVE GLOBAL COMPACTS ON REFUGEES AND MIGRATION.
The acute world-wide cri­sis of refugees, inter­nal­ly dis­placed peo­ple and of migrants dri­ven by eco­nom­ic fac­tors rep­re­sents one of the most impor­tant human­i­tar­i­an and polit­i­cal chal­lenges for indi­vid­ual coun­tries and for the inter­na­tion­al com­mu­ni­ty as a whole. There is a broad con­sen­sus that beside emer­gency relief and pro­tec­tion there is a need for a long-term strength­en­ing of the inter­na­tion­al refugee regime and for a more effec­tive and humane approach to labor migration.
It is the recog­ni­tion of these needs that is at the ori­gin of the process, launched in the fall of 2016, of defin­ing two close­ly relat­ed but still dis­tinct "glob­al com­pacts," one on refugees and the oth­er on migra­tion, to be adopt­ed by the mem­bers of the Unit­ed Nations before the end of 2018.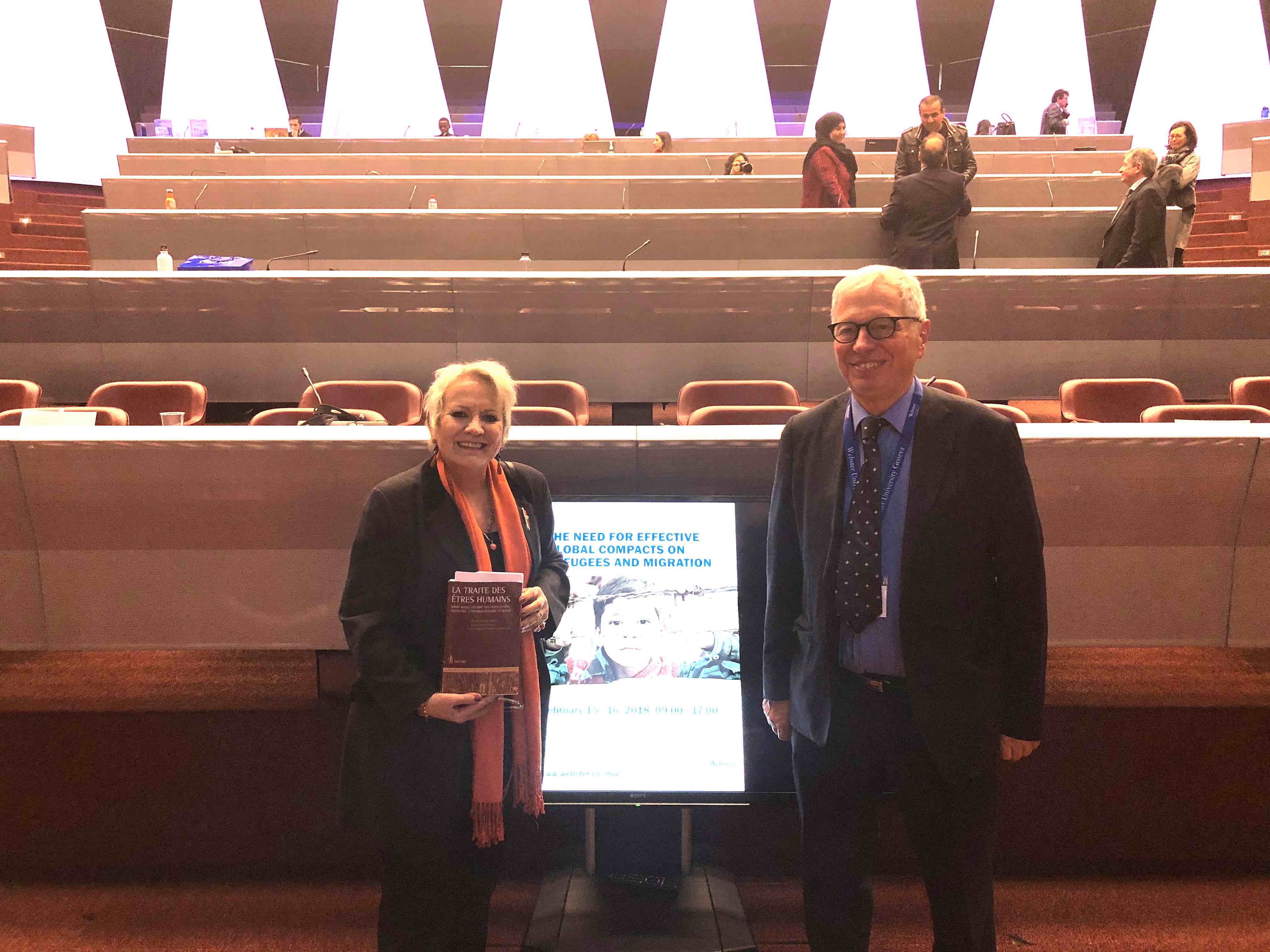 WEBSTER 15 FEBRUARY 2018
HUMAN TRAFFICKING
Thank you to the orga­niz­ers for choos­ing this top­i­cal theme, impor­tant in both human­i­tar­i­an action, human­i­tar­i­an diplo­ma­cy in Gene­va and New York, and also in the heart of pas­sion­ate polit­i­cal debates.
I will not talk about migra­tion in gen­er­al, nor about refugees and migrants in par­tic­u­lar, but about a cat­e­go­ry of peo­ple reduced to des­per­ate sit­u­a­tions, deprived of almost all their rights as vic­tims of human trafficking.
Traf­fick­ing in human beings is too often mis­un­der­stood, in its extent and even in its exis­tence. And yet this form of mod­ern slav­ery is a scourge that today affects tens of mil­lions of peo­ple around the world, in all coun­tries, whether in the form of forced labor, forced pros­ti­tu­tion or organ harvesting.
And the issue of this resur­gence of slav­ery and tor­ture, the denial of vir­tu­al­ly all fun­da­men­tal human rights comes in a year when we should cel­e­brate the 70th anniver­sary of the Uni­ver­sal Dec­la­ra­tion of Human Rights, adopt­ed on the 10th of Decem­ber of 1948.
What can Gov­ern­ments and civ­il soci­ety do to pre­vent traf­fick­ing, to pro­tect vic­tims, to reha­bil­i­tate sur­vivors, to pros­e­cute the per­pe­tra­tors of this crime, which could often be described as a crime against humanity?
The first pri­or­i­ty seems to me to be trig­ger an alert, to make Gov­ern­ments and civ­il soci­ety aware of the grav­i­ty, extent of this form of con­tem­po­rary slav­ery and also of the need and pos­si­bil­i­ty to pre­vent human traf­fick­ing and to abol­ish it.
The sec­ond pri­or­i­ty is to train, edu­cate a wide range of polit­i­cal, police, judi­cial, med­ical and social lead­ers, not to men­tion mil­i­tary, human­i­tar­i­an and reli­gious per­son­nel. It is nec­es­sary to teach how to iden­ti­fy, how to save, how to reha­bil­i­tate the vic­tims. And also to research and share good practices.
How could the two Glob­al Com­pact, one on refugees led by UNHCR and the oth­er on migra­tion led by IOM, help to pre­vent or even com­bat human trafficking?
My response will be cau­tious­ly opti­mistic, based on the text of the two "Zero Projects", made pub­lic a few days ago, and on the nego­ti­a­tions that have just start­ed in Gene­va yes­ter­day and the day before yes­ter­day at the Palais des Nations.
The urgency is not to have a new legal instru­ment, espe­cial­ly non-bind­ing as will be the two "Covenants": we have indeed already many treaties, pro­to­cols, dec­la­ra­tions and res­o­lu­tions con­demn­ing traf­fick­ing in human beings in sev­er­al areas of domes­tic and inter­na­tion­al law: crim­i­nal law, human rights, mar­itime law, etc.
On the oth­er hand, the nego­ti­a­tion of the two Covenants — and their imple­men­ta­tion and fol­low-up — should cre­ate oppor­tu­ni­ties and plat­forms to facil­i­tate the exchange of reflec­tions and, above all, good prac­tices to com­bat human traf­fick­ing with­out fur­ther delay.
The two Glob­al Covenants are root­ed in a New York Dec­la­ra­tion, adopt­ed by the Gen­er­al Assem­bly on 19 Sep­tem­ber 2016. This New York Dec­la­ra­tion on Refugees and Migrants already con­tains sev­er­al ref­er­ences to traf­fick­ing, based on Human Rights, Refugee Law, Inter­na­tion­al Human­i­tar­i­an Law Applic­a­ble in Armed Con­flicts, also recall­ing the impor­tance of the Unit­ed Nations Con­ven­tion against Orga­nized Crime and its Pro­to­col, also com­mit­ting States to pro­vide sup­port to vic­tims traf­fick­ing in human beings, whether migrants or refugees. The New York Dec­la­ra­tion also refers to region­al ini­tia­tives against traf­fick­ing, such as the Bali Process, the Khar­toum Process, the Euro­pean Union Ini­tia­tive in the Horn of Africa, the Rabat Process, the Valet­ta, the Euro­pean Union Strat­e­gy, the ASEAN Action Plan.
The two draft Glob­al Com­pacts also address the issue of trafficking:
The Draft Refugee Com­pact calls for the pros­e­cu­tion and extra­di­tion of per­sons engaged in crim­i­nal activ­i­ties of traf­fick­ing. He also asks for iden­ti­fi­ca­tion of and assis­tance to vic­tims of trafficking.
The draft "Glob­al Com­pact for Safe, Ordained and Reg­u­lar Migra­tion" is more explic­it. It requires an approach from all sec­tors of gov­ern­ment (whole-of-gov­ern­ment) and soci­ety (whole-of-soci­ety). It con­tains an Objec­tive 10 on "Pre­vent­ing and com­bat­ing traf­fick­ing in per­sons in the con­text of inter­na­tion­al migra­tion", which includes the need to har­mo­nize def­i­n­i­tions of traf­fick­ing, to pros­e­cute crim­i­nals and to pre­vent the crim­i­nal­iza­tion of vic­tims. Oth­er objec­tives of this draft Migra­tion Com­pact high­light the need to share infor­ma­tion on migra­tion trends, includ­ing traf­fick­ing, to strength­en the transna­tion­al response to migration.
Tp pros­e­cute migrant smug­glers, to build con­sular pro­tec­tion capac­i­ties to iden­ti­fy and assist vic­tims of trafficking.
The two projects will be nego­ti­at­ed, one in Gene­va (Refugees), the oth­er in New York (Migra­tions). They should be adopt­ed one by the Gen­er­al Assem­bly of the Unit­ed Nations, the oth­er by a Con­fer­ence in Mar­rakesh on 10 and 11 Decem­ber this year. Accord­ing to the Direc­tor Gen­er­al of IOM, Ambas­sador William Swing, and to the High Com­mis­sion­er Assis­tant for Pro­tec­tion, Dr. Volk­er Türk, the two Pro­to­cols should be action-ori­ent­ed, should pro­vide tools for migrants and refugees and be adapt­ed to par­tic­u­lar sit­u­a­tions. The aim would be to make the actions for mas­sive move­ments of refugees and migrants more effec­tive, to draw lessons for the future. It is dif­fi­cult to say at this stage how the Gov­ern­ments will wel­come these Glob­al Com­pacts, even non-bind­ing, and these pro­pos­als for action.
The ques­tion of col­lab­o­ra­tion between dif­fer­ent orga­ni­za­tions will also be high­light­ed, per­haps dis­cussed: the role of UNHCR does not exclude that of IOM, UNICEF, ILO , the Office of the High Com­mis­sion­er for Human Rights, and the ICRC. These are not the heavy coor­di­na­tion mech­a­nisms that should be sought, but effec­tive oper­a­tional coop­er­a­tion, on the ground, between human­i­tar­i­an lead­ers moti­vat­ed by the same cause in favor of life and the dig­ni­ty of the human person.
Includ­ing oth­er orga­ni­za­tions, in par­tic­u­lar region­al and sub­re­gion­al, is often a guar­an­tee of suc­cess. Sim­i­lar­ly, donor or recip­i­ent Gov­ern­ments, coun­tries of ori­gin, tran­sit des­ti­na­tions often exchange their expe­ri­ences for­mal­ly or infor­mal­ly, region­al­ly and sub­re­gion­al­ly, includ­ing on human trafficking.
The Draft Com­pacts do not aim to include every issue: even some fun­da­men­tal prin­ci­ples, such as non-refoule­ment, are not includ­ed, for fear of see­ing a rule that has until now been con­sid­ered cus­tom­ary, sub­ject to dis­cus­sion, dimin­ished or relativized.
The two nego­ti­at­ing process­es, as well as the infor­mal con­sul­ta­tions that could be held between the month­ly ses­sions in Gene­va and New York, should high­light both the exist­ing stan­dards of pro­tec­tion of refugees and migrants, includ­ing against traf­fick­ing, and also high­light long­stand­ing coop­er­a­tion agree­ments such as those between IOM and UNHCR in 2010 ("Frame­work for the Devel­op­ment of Stan­dard Oper­at­ing Pro­ce­dures (SOPs) to Facil­i­tate the Pro­tec­tion and Assis­tance of Refugees and Oth­er Per­sons on the Move (see the exam­ple of "Pro­tect­ing Refugees and Oth­ers on the Move in the ECOWAS Space" (http: // www.refworld.org/pdfid/4e54961d2.pdf) where human traf­fick­ing is exten­sive­ly dealt with in Chap­ters 7, 8, 9 and 10. This pub­li­ca­tion was the prod­uct of col­lab­o­ra­tive efforts. It was pro­duced by the IOM and UNHCR, with con­tri­bu­tions from ECOWAS, OHCHR, ILO and UNICEF.
Sim­i­lar­ly, a "Dig­i­tal Plat­form for Best Prac­tices", a dig­i­tal plat­form for shar­ing good prac­tices, is an excel­lent idea, as long as you know who will set it up, will keep it in the long run and how will the choice of doc­u­ments and lan­guages be made on this platform.
In short, we are, with the two draft Pact, at the begin­ning of a long road. A good start, judg­ing the first steps of these last days. And an effort that will not only be the work of UNHCR and IOM or some gov­ern­men­tal or non-gov­ern­men­tal organizations.
Uni­ver­si­ties have been repeat­ed­ly iden­ti­fied as actors. Gene­va, with its uni­ver­si­ties, inter­na­tion­al civ­il ser­vants and diplo­mats, could thus play a role that would sur­pass that of a nego­ti­a­tion plat­form in 2018, and, in 2019, var­i­ous con­fer­ences relat­ed to traf­fick­ing: the cen­te­nary of the ILO in 2019, the Glob­al Plat­form for Dis­as­ter Risk Reduc­tion (fol­low­ing Can­cún in 2017 and Sendai in 2015), the anniver­sary of the four Gene­va Con­ven­tions of 1949 on the pro­tec­tion of war vic­tims, the Inter­na­tion­al Con­fer­ence on Dis­as­ter Risk Reduc­tion, the Red Cross and Red Cres­cent in Novem­ber 2019.
The Refugee Glob­al Com­pact Mon­i­tor­ing Pro­gram pro­vides for a Min­is­te­r­i­al Con­fer­ence in 2021 to take stock of the 70th anniver­sary of the 1951 Refugee Con­ven­tion and of the 1961 Con­ven­tion state­less­ness). With­out neglect­ing the aware­ness­es, the gen­er­ous dec­la­ra­tions, the texts under dis­cus­sion of the Covenants and the action pro­grams, it is imper­a­tive act­ing both urgent­ly and in the long term by pro­tect­ing and reha­bil­i­tat­ing the vic­tims and by address­ing the root caus­es of human traf­fick­ing, defend­ing the life and dig­ni­ty of all, end­ing impuni­ty for crim­i­nals, putting lim­its to vio­lence and research
unlim­it­ed prof­it, even if it means reduc­ing mil­lions to slavery.Vast pro­gram, in which the two Covenants will be use­ful sup­ports and inevitably incom­plete and imper­fect. But we must already pay trib­ute to those who have thought and writ­ten, and to those who will com­plete them and espe­cial­ly to strength­en the implementation.
This imple­men­ta­tion will be main­ly local, and, as the two Covenants say, the work of a mul­ti­tude of actors, all sec­tors of the Gov­ern­ment and all sec­tors of soci­ety, not to men­tion the vic­tims themselves.
The vic­tims them­selves, I have met some of them, are often the most con­vinc­ing actors in res­cu­ing and reha­bil­i­tat­ing vic­tims of trafficking.
As for us, we are spoiled for choice as to where to engage in pre­vent­ing and con­tribut­ing to the elim­i­na­tion of traf­fick­ing. If you want address­es, I will give them to you will­ing­ly and if you have good ideas, know that they are very nec­es­sary and very welcome.
The mil­lions of vic­tims of mod­ern slav­ery deserve our atten­tion and support.
The hon­or of our gen­er­a­tion and the legit­i­ma­cy of our civ­i­liza­tion are at stake.
MV 15.2.2018 1200