ILO September 2022: Global Estimates of Modern Slavery Report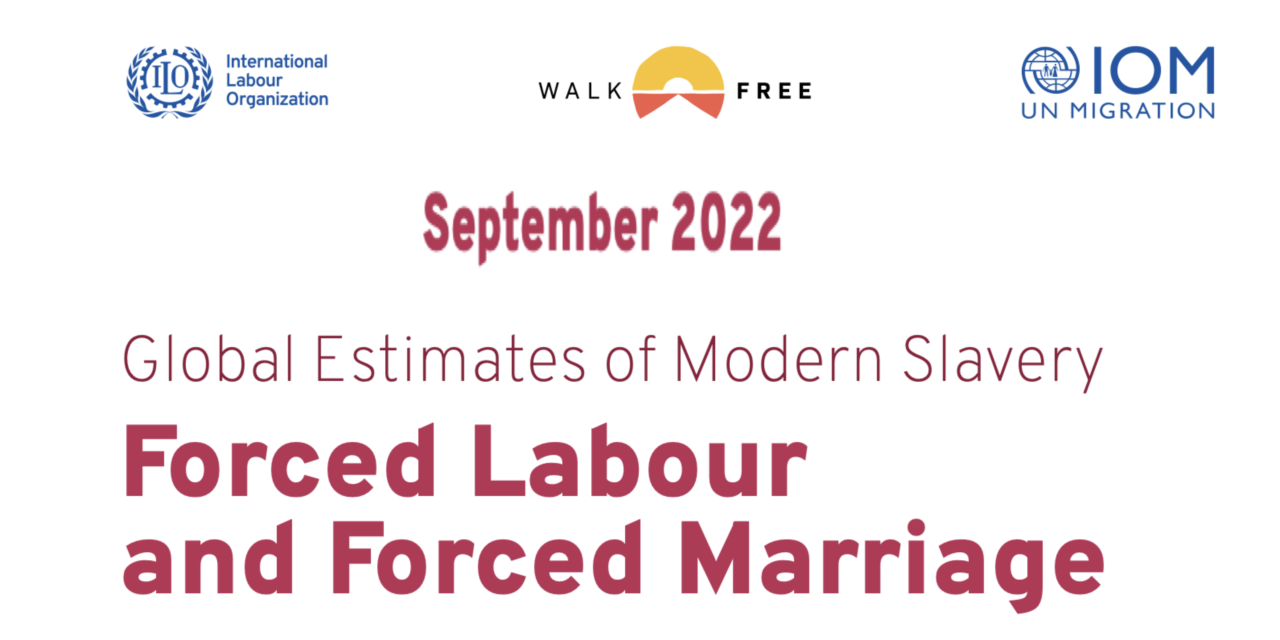 INTRODUCTION
Mod­ern slav­ery is the very antithe­sis of social jus­tice and sus­tain­able devel­op- ment. The 2021 Glob­al Esti­mates indi­cate there are 50 mil­lion peo­ple in situa- tions of mod­ern slav­ery on any giv­en day, either forced to work against their will or in a mar­riage that they were forced into. This num­ber trans­lates to near­ly one of every 150 peo­ple in the world. The esti­mates also indi­cate that sit­u­a­tions of mod­ern slav­ery are by no means tran­sient – entrap­ment in forced labour can last years, while in most cas­es forced mar­riage is a life sen­tence. And sad­ly, the sit­u­a­tion is not improv­ing. The 2021 Glob­al Esti­mates show that mil­lions more men, women, and chil­dren have been forced to work or mar­ry in the peri­od since the pre­vi­ous esti­mates were released in 2017.
Through the adop­tion of the Sus­tain­able Devel­op­ment Goals (SDGs), the glob­al com­mu­ni­ty has com­mit­ted to end­ing mod­ern slav­ery among chil­dren by 2025, and uni­ver­sal­ly by 2030 (Tar­get 8.7). This report under­scores the scale of the chal­lenge fac­ing the glob­al com­mu­ni­ty in the short peri­od remain­ing to meet these ambi­tious targets.
Com­pound­ing crises – the COVID-19 pan­dem­ic, armed con­flicts, and cli­mate change – in recent years have led to unprece­dent­ed dis­rup­tion to employ­ment and edu­ca­tion, increas­es in extreme pover­ty and forced and unsafe migra- tion, and an upsurge in reports of gen­der-based vio­lence, togeth­er serv­ing to height­en the risk of all forms of mod­ern slav­ery. As is usu­al­ly the case, it is those who are already in sit­u­a­tions of great­est vul­ner­a­bil­i­ty – includ­ing the poor and social­ly exclud­ed, work­ers in the infor­mal econ­o­my, irreg­u­lar or oth­er­wise un- pro­tect­ed migrant work­ers, and peo­ple sub­ject to dis­crim­i­na­tion – who are most affected.
It is urgent that the glob­al com­mu­ni­ty gath­ers the will and resources to over- come these obsta­cles and get progress towards end­ing mod­ern slav­ery back on track. Promis­es and state­ments of good intent are not enough. While the prin- cipal respon­si­bil­i­ty for change lies with nation­al gov­ern­ments, a whole of soci­ety approach is need­ed – the social part­ners, par­tic­i­pants in the social and sol­i­dar­i­ty econ­o­my, busi­ness­es, investors, sur­vivor groups, civ­il soci­ety, and an array of oth­er actors have crit­i­cal roles to play. Tech­ni­cal coop­er­a­tion and assis­tance from UN agen­cies, oth­er mul­ti­lat­er­al and bilat­er­al orga­ni­za­tions, inter­na­tion­al non-gov­ern­men­tal orga­ni­za­tions, and oth­er groups will also be impor­tant to progress. Social dia­logue pro­vides an essen­tial frame­work for build­ing last­ing, con­sen­sus-based solu­tions to the chal­lenge of mod­ern slavery.
The glob­al and region­al esti­mates pre­sent­ed in this report were devel­oped by the Inter­na­tion­al Labour Orga­ni­za­tion (ILO), Walk Free, and the Inter­na­tion­al Orga­ni­za­tion for Migra­tion (IOM). The esti­mates are based on a joint­ly dev­el- oped method­ol­o­gy sum­marised in the Annex and described in detail in the method­ol­o­gy report pro­duced along with this 2021 Glob­al Esti­mates report. As was the case for the 2016 glob­al esti­mates, the 2021 cal­cu­la­tions are derived from mul­ti­ple data sources, as no sin­gle source was suf­fi­cient­ly reli­able. The prin­ci­pal sources are data from nation­al­ly rep­re­sen­ta­tive house­hold sur­veys – 68 forced labour sur­veys and 75 forced mar­riage sur­veys – joint­ly con­duct­ed by ILO and Walk Free, as well as the Counter Traf­fick­ing Data Col­lab­o­ra­tive (CTDC) anonymised case dataset on vic­tims of traf­fick­ing col­lect­ed by IOM and its part- ners in the process of pro­vid­ing pro­tec­tion and assis­tance ser­vices to traf­ficked persons.