High-Level Event on Trafficking in Persons and Sustainable Procurement New York, 26 September 2021 An event in the margins of the 76th session of the U.N. General Assembly to launch the Issue Brief on "Preventing Trafficking in Persons: The Role of Public Procurement" by the Inter-Agency Coordination Group Against Trafficking in Persons (ICAT)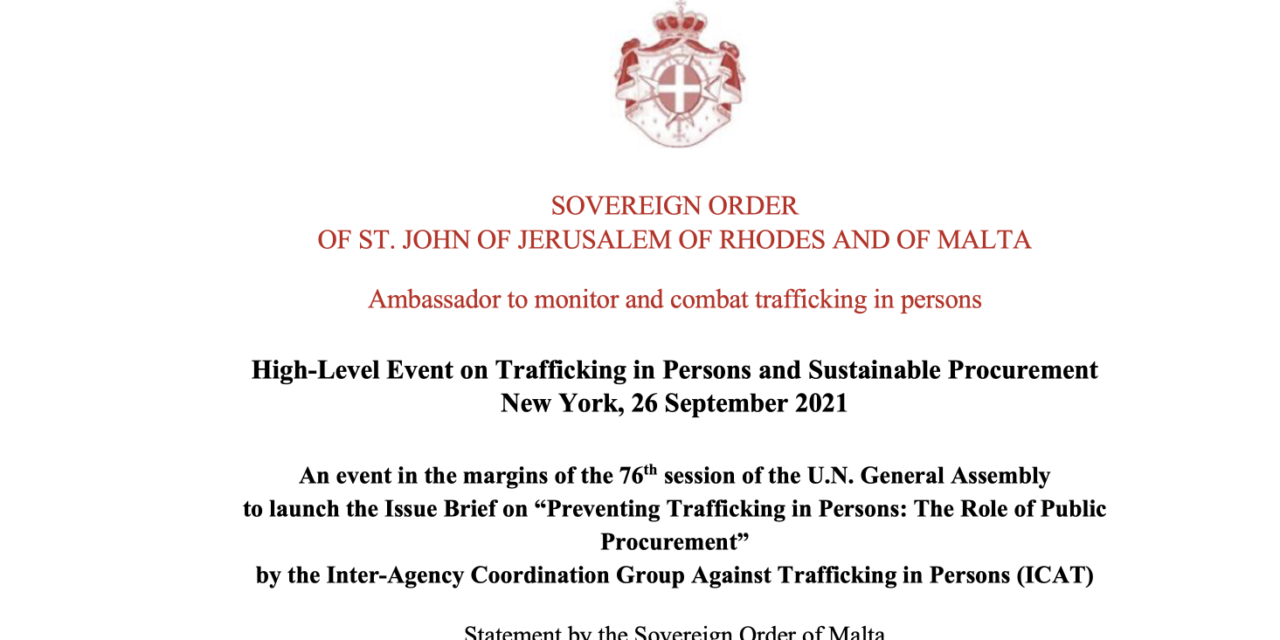 SOVEREIGN ORDER
OF ST. JOHN OF JERUSALEM OF RHODES AND OF MALTA
Ambas­sador to mon­i­tor and com­bat traf­fick­ing in persons
High-Level Event on Trafficking in Persons and Sustainable Procurement
New York, 26 September 2021
An event in the margins of the 76th session of the U.N. General Assembly
to launch the Issue Brief on "Preventing Trafficking in Persons: The Role of Public Procurement"
by the Inter-Agency Coordination Group Against Trafficking in Persons (ICAT)
Statement by the Sovereign Order of Malta
Professor Michel Veuthey
Ambassador of the Sovereign Order of Malta
to Monitor and Combat Trafficking in Persons
Mr. Pres­i­dent, Excellencies,
The Sov­er­eign Order of Mal­ta would like to thank ICAT for orga­niz­ing this "High-Lev­el Event on Traf­fick­ing in Per­sons and Sus­tain­able Pro­cure­ment" to launch the Issue Brief on "Pre­vent­ing Traf­fick­ing in Per­sons: The Role of Pub­lic Procurement".
While law enforce­ment respons­es to human traf­fick­ing are the clear focus glob­al­ly, they are entire­ly sup­ply side. Sup­ply-side mea­sures can deter, dis­place, and dis­rupt spe­cif­ic oper­a­tions, but do not sig­nif­i­cant­ly impact nei­ther the size nor the nature of the illic­it mar­kets for labor. They also fail to counter the per­pet­u­al upward spi­ral of demand that dri­ves the traf­fick­ing of peo­ple. This over­whelm­ing sup­ply-side focus has meant that legal respons­es on the demand side of the equa­tion are seri­ous­ly lacking.
The Order of Mal­ta, in coop­er­a­tion with IOM, orga­nizes a Webi­nar on the 12th of October
on "Legal Approach­es to reduce the demand behind human traf­fick­ing" with Bri­an Iselin, founder of "Slave­Free­Trade", Judge Marc Stein­er, spe­cial­ist of pub­lic pro­cure­ment in Switzer­land, and John Antho­ny McCarthy, QC, Chair of the Catholic Arch­dio­cese of Syd­ney (Aus­tralia) Anti-Slav­ery Task Force.
You are all invit­ed to reg­is­ter on www.adlaudatosi.org
This webi­nar is designed to pro­voke ideas about how the law can be used to dri­ve demand-side respons­es, reduc­ing the dri­ving force for all forms of human trafficking.
The new pub­lic pro­cure­ment reg­u­la­tions should put the impor­tance of price into per­spec­tive in favor of qual­i­ty. The key words of the new laws should be: qual­i­ty, inno­va­tion and sus­tain­abil­i­ty. An exam­ple is the com­plete­ly revised Swiss Fed­er­al Law on Pub­lic Pro­cure­ment (LMP). It entered into force on Jan­u­ary 1, 2021. It is no longer the most eco­nom­i­cal­ly advan­ta­geous offer that wins the ten­der, but the one that offers the most advan­tages in the broad­est social and eco­log­i­cal sense.
Turn­ing away from the "greed first" men­tal­i­ty is obvi­ous­ly of para­mount impor­tance. The focus on price has led to dump­ing phe­nom­e­na, result­ing in the relo­ca­tion of cer­tain tasks abroad, often at the expense of the envi­ron­ment and the respect of social stan­dards. Fur­ther­more, this focus on price has led many bid­ders not to include their best prod­ucts and ser­vices in the bid, since these would have pushed up the price. Select­ing bids accord­ing to cri­te­ria such as sus­tain­abil­i­ty or inno­v­a­tive capac­i­ty puts an end to the neo-lib­er­al par­a­digm of the 1990s, in which mar­ket open­ness, com­pe­ti­tion, and price were para­mount. It can be said that the focus on price has sti­fled inno­va­tion. Com­pe­ti­tion on qual­i­ty is more ben­e­fi­cial for inno­va­tion than com­pe­ti­tion on price.
Allow me to briefly describe the Order of Mal­ta's con­tri­bu­tions to the fight against human trafficking
(1) Rais­ing awareness
(2) Assist­ing vic­tims through med­ical and social programs
(3) Train­ing care­givers online (in Eng­lish and soon French on www.cuhd.org)
and estab­lish­ing part­ner­ships with uni­ver­si­ties (Web­ster, Gene­va, and Nice)
Thank you.